Geoff here again.
There's no shortage of traveling this year. A few weeks back I found myself in D.C. This time around, I went to Orlando. My priority in Orlando was a rock concert, but that didn't mean food took a backseat. In fact, I think this is the Orlando trip with the most calories consumed (thanks to a certain restaurant I'll introduce you to.).
First things first: alcohol is damn cheap in Orlando. Whereas I would spend 10-12 dollars on a cocktail in Miami, the average price in Orlando was 6-8 dollars. Beer was even cheaper. I was in heaven. But enough about alcohol. What about the food?
Good question. I never associated Orlando with good food, but I was very surprised this time around. This is partially due to my foodie friend. Instead of visiting parks, we visited restaurants and bars (and more bars…). Here are the places you should visit the next time you're in O-Town.
Hash House a Go Go 
The reviews made this Orlando restaurant seem akin to the Cheesecake Factory – at least in portion size. After eating here, I can honestly say the portions here are twice the size of the chain favorite. Hash House a Go Go is in its own league. The comfort food joint is no slouch when it comes to filling food. I opted for the Friend Chicken Benedict during my visit.
I should have heeded the Man Vs. Food warning on the menu next to this item, but I was extremely hungry. No amount of hunger could have helped me down this beast, though. The benedict came with a handful of biscuits, insane amounts of gravy and enough fried chicken to clog my arteries for good. Needless to say, I almost didn't eat the rest of the day; the portion could have easily fed a family of four. The dish was damn good, though. If you don't feel like eating for a few days, the benedict is a swell choice. Their famous Bloody Mary left a lot to be desired, though.
Sea Dog Brewing Company
Before this Orlando restaurant review continues, I need to be completely honest: Most of this vacation was spent drinking rather than eating. After all, Orlando Beer Tour 2014 would be pretty disappointing if we didn't live up to the name. Following our adventure at Hash House a Go Go, we ended up at this local brewpub.
The service was impeccable. Our friendly bartenders were more than happy to make some recommendations (and provide some very tasty samples). When you visit, we highly recommend you ask for a flight of four beers. For just $7, you can enjoy any of the drafts they have – and they have quite a few. I opted for the Trick or Treater, the Blue Fin Stout, Sunfish Ale and Monkey Fist.
The Trick or Treater lived up to its name and definitely made its fall flavors known. I'm a sucker for peanut butter, and this beer was full of its flavor. Something was off about the Blue Fin Stout – it was just too…fishy. Plus, it didn't taste like much of a stout – definitely on the lighter side. The Sunfish Ale was refreshing and had a nice crisp kick that is definitely worth a look. I decided to be a little adventurous and order an IPA, but Monkey didn't do it for me. I'll stick to less hoppy brews going forward. We didn't have a chance to try the food, but the happy hour prices on apps looked hard to beat.
CRAFTED 
This Orlando newcomer caught my attention. Not because of the beer selection but because of the furniture and décor. Wide open spaces, quirky wall quotes and a modern flare really made this place stick out. Ian, my favorite bartender ever, was extremely helpful and recommended some great items on the menu. I opted for some seasonal beer, but what really got my attention was the tomato soup. It cost only $2.95, but it was worth three or four times as much. I will definitely be back and catch some sporting events on the televisions – there's one everywhere you look.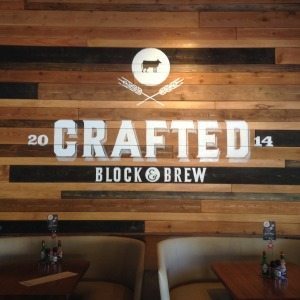 Frank & Steins 
Don't let the clever name deceive you. This Orlando restaurant doesn't mess around when it comes to quality brews and food. I opted for a Terrapin Pumpkinfest to wash down the amazing French Dip Frank. The hot dog was delicious; the frank was wrapped in prime rib and smothered in provolone cheese. Served alongside the obligatory au jus for dipping, the frank did not fail to impress. Best of all, it was dirt cheap – only $7 (and it included chips!).
Brick House Tavern and Tap 
Brunch is the ultimate hangover cure, and Brick House was no exception. After a rough night at Halloween Horror Nights, we decided to swing by Brick House for some filling brunch and – more important — $2 mimosas. The mimosas were strong at this Orlando restaurant, and the food was on point. For starters, we chose the deviled eggs. The bacon… I have no words. It was that mouthwatering. For entrees, we opted for the turkey club and the meatloaf and eggs. Both were huge portions that packed a lot of flavor and filled us up before we headed back to Miami.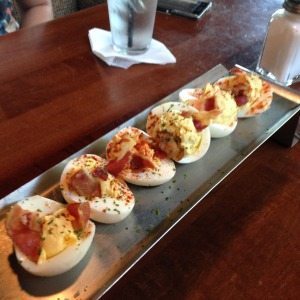 So there you have it: my top picks for Orlando eats. I never took Orlando for a foodie neighborhood, but it definitely left me impressed this time around. I can't wait to head back and keep eating.
UPDATE: On a whim, Dianne and I decided to make a trip together to Orlando. It was our first time going to Disney together. Since we were at the park most of the day, we had ample opportunities to try out the theme park food. Most of it was typical stuff, but there were a few standouts.
Golden Oak Outpost
This charming quick-service offering is right by Splash Mountain in Frontierland. One glance at the menu makes it immediately obvious what they specialize in: fries. If you're looking for something healthy, look elsewhere. Among the options were BBQ pork fries with coleslaw as well as BLT fries that are pretty self-explanatory.
Not wanting something too heavy, we opted for waffle fries with brown gravy and white cheddar cheese curds. They served us up a generous portion, and we scarfed them right down. Although they were doused in gravy, it didn't overpower the fries. The curds were the highlight, though: The sharp cheddar really makes the dish. A few couples around us had the BBQ pork fries, and we could hear them talk about how good they were, too. When the lines at Splash Mountain are long, make sure to stop by and pick up some fries to tide you over during the wait.
Food Carts
Eating at Disney can eat up your budget fast. If you're really trying to keep costs low, stick to the different food carts throughout the park — that's what we did. Granted, the selection isn't as wide but the lines are typically shorter and — more importantly — the prices are more reasonable. Full disclosure: Since this was Dianne's first time at Disney in over a decade, we had to eat some of the touristy stuff. Our favorite Disney-branded treats included the ever-popular Mickey Mouse Premium Ice Cream (Note to self: This thing melts fast) and the Mickey Mouse Pretzel. Both items were filling and held us over for a few hours until we had time for real food.
Not pictured: The pot roast mac n' cheese from Friar's Nook because we scarfed it down to quickly. The meat was tender, juicy and well seasoned. The mac n' cheese was surprisingly tasty and flavorful.
Overall, we both left pretty full and excited to return. Whether that happens this year or next year remains to be seen. What's for sure is that our stomachs will be ready. Do you have any favorite Disney/Orlando restaurants? Tweet us at @miamifoodpug!