It's hard finding a good food tour, especially a good Miami food tour. A lot of factors come into play that can either make your experience an awesome one or turn it a disappointing one.  In the case of Miami Culinary Tours, you can expect an attention to detail that ensures a satisfying and informative time.
We were invited to check out the company's Wynwood tour by Grace Della, the founder of Miami Culinary Tours. Grace, who hails from Argentina, is a culinary guru; it's in her blood: Her mother runs her own food tour in Buenos Aires, and Grace herself has judged a number of food competitions and built solid relationships with Miami's top restaurants.
We knew we were in good hands upon meeting Richie, our tour guide. If there's one word that describes him perfectly, it's "talented." The Panama native was a riot, cracking jokes left and right while also presenting us with fun facts about the Wynwood neighborhood. We thought we were experts about Wynwood, but Richie really opened our eyes to the area's rich history.
But what about the food? This is a culinary tour after all. Well, hats off to Grace: Her restaurant picks were impressive.
We started our tour at Wynwood Kitchen and Bar, where we were treated to a trio of delicious Latin-influenced cuisine from Chef Miguel Aguilar: ropa vieja empanadas, plantains with queso fresco and cheese tequeños (as well as a Funky Buddha beer). Each item was exceptional, particularly the plantains. The cheese was definitely fresco and tickled our tastebuds. The same can be said for the tequeños, which were loaded with cheesy goodness. As for the ropa vieja empanadas, they are a WKB signature dish for a reason. Taste them for yourself and try not to order 20 more.
Next up was Jimmy'z Kitchen, an eatery known for its mofongo. The popular Puerto Rican dish is comprised of mashed up green plantains with your choice of meat or seafood (chicken, pork, etc.) along with some other goodies. We had been to Jimmy'z Kitchen before (for their delicious sandwiches) but never for the mofongo. Big mistake. The meat was tender, and the base really complemented the rest of the dish. Dianne isn't a big fan of Latin food, but the dish changed her mind.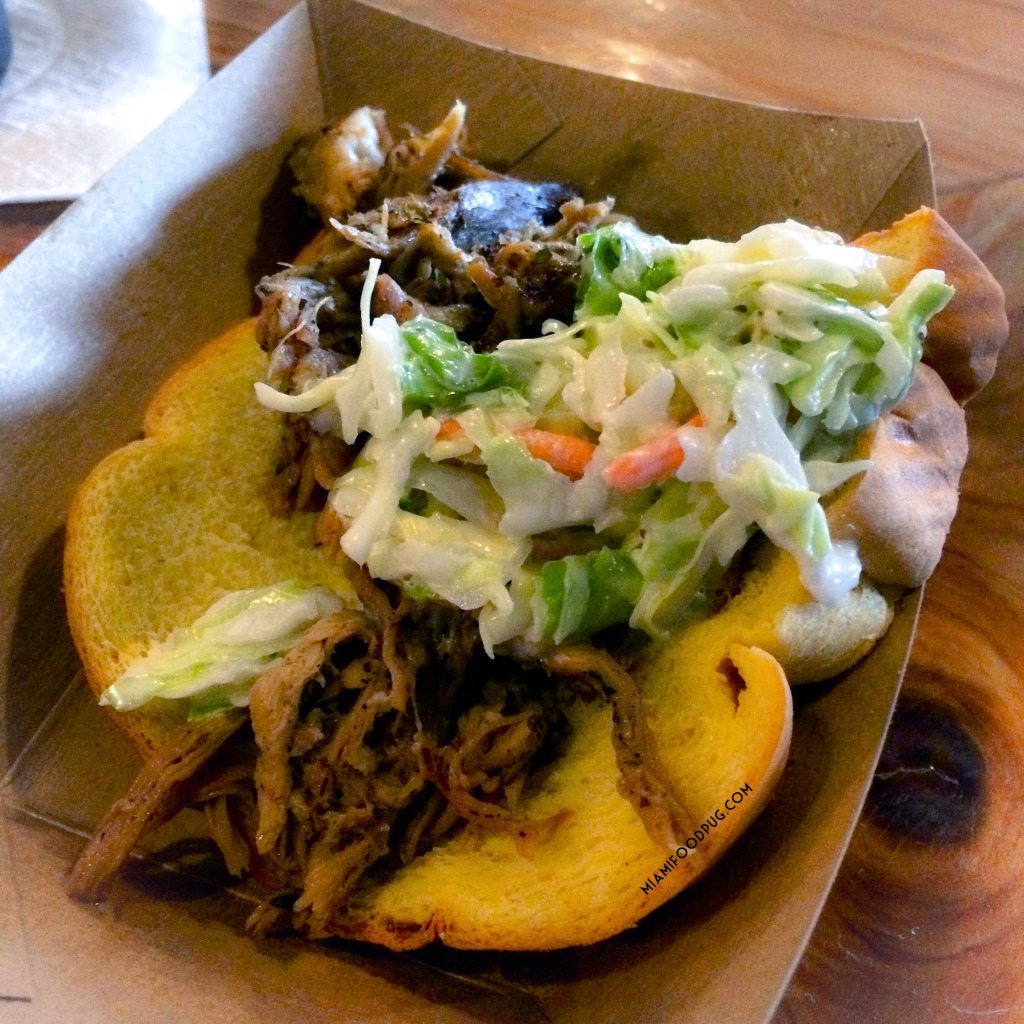 After a short walk — literally across the street — we ended up at Pride & Joy. We've had mixed experiences at this BBQ restaurant before (inconsistent food/service), so we were a little apprehensive about this stop. Well, a lot of things can change with time. We were met by a friendly wait staff and sat down at the bar to consume some tasty pulled pork and coleslaw on toast. The toast was buttery and the pulled pork was nice and moist. Topped with coleslaw, the dish served as a delicious tease of the restaurant's extensive menu.
Suviche, a Peruvian-Japanese joint that settled into the former Bloom location, provided us with a light ceviche that was a welcome break from heavier fare. The traditional ceviche, made with diced white fish, was refreshing and fused a variety of ethnic flavors that made our stomachs happy.
One thing we haven't mentioned about Miami Culinary Tours is that they also cater to vegetarians. With advanced notice, the restaurants on the tour can put together equally delicious vegetarian dishes. At Suviche, the ceviche was made with quinoa instead of fish for one vegetarian patron, who could not stop raving about it.
The tour ended on a sweet note with a trip to Fireman Derek's, the ever-popular pie shop. This was our first time at his actual store; we've previously enjoyed his pies at Sweet Dogs by Coral Gables. Upon our arrival, we were greeted with hearty slices of Fireman Derek's famous Key Lime Pie. The sweet-and-tart combination was perfectly balanced (We'd eat that graham crust by itself #fatkids).
And that was it. We were extremely sad to see the tour come to an end and bid farewell to our awesome guide, who taught us a thing or two about the amazing neighborhood that is Wynwood.
Whether you want to learn more about the area or just enjoy some delicious food, Miami Culinary Tours is a must. Oh yeah, one more thing: Don't forget your camera. There's a ton of street art you'll want to take photos of.
For information about Miami Culinary Tours' Wynwood tour and their other tours visit miamiculinarytours.com or call 786-942-8856.