Randazzo's Little Italy has been a Miracle Mile staple for years. The joint has been serving up delicious Italian food to locals, tourists and celebrities alike — the walls of Randazzo's are adorned with photos of patrons posing next to owner Marc Randazzo. There's a reason people come from all over to eat here: the generous, tasty portions never fail to leave one satisfied.
Our first time at Randazzo's was Valentine's Day 2012. We haven't had a chance to make it back — until now. We were invited to check out "an offer you can't refuse" to celebrate Randazzo's new happy hour and its latest schedule change; the restaurant will be open on Mondays for the holiday season.
By the end of the feast, we were stuffed. Below, you'll find our thoughts on the night's dishes.
It's hard finding good calamari in Miami. Up until now, we thought Earl's at Dadeland had the best in town. Alas, the crown now changes hands to Randazzo's. What makes this calamari the best? The gorgonzola cheese. We couldn't get enough and wanted to cry upon seeing the plate empty.
If there's one word to describe the sausage and peppers, it's hearty. This appetizer can double as an entree, so make sure you have enough room. The peppers give the dish a nice kick that's not overwhelming — very enjoyable.
Randazzo's is known for its meatballs. These things are huge!  The spaghetti with Sunday gravy didn't disappoint. The meatballs are firm but soft enough to cut with just a fork, the spaghetti was cooked to a perfect al dente, and the sauce was thick and a bit tangy. It's a dish so simple but it packs a ton of flavor. We still can't over how big these balls are — Marc Randazzo doesn't play around.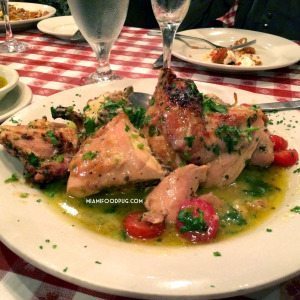 Luigi's Broiled Chicken was an interesting plate. While we liked it, we can see how the lemon and garlic may not be for everyone. If the lemony-ness doesn't deter you, then you're in for a delectable treat. The soft, moist chicken was Geoff's favorite part of the evening.
If you look at Randazzo's menu, you'll find the following description next to the snapper francese: "YOU'RE GONNA LOVE IT- EVEN IF YOU HATE FISH." Neither of us here at MFP is a big fish fan, but the dish was surprisingly tasty. It was light, flaky and like the broiled chicken, the snapper also featured lemon butter. This time, though, it didn't overpower the food. Even if you hate fish, it's worth trying out at least once.
The entrees at Randazzo's aren't the only things that are huge. The desserts are equally large. We were treated a wealth of sweets including cheesecake, carrot cake, chocolate cake, tiramisu and cannolis. The standouts were the carrot cake and the cannolis (see below for a closer look). The former was not overly carroty or sweet — it was moist and had a nice bit of spice that stuck with us after the meal. As for the cannolis, they don't really need any introduction — just read the countless rave reviews on Yelp.
Overall, we were left very impressed by the feast at Randazzo's. Good food is just one reason Randazzo's has stuck around for so long. The other reason is the service: Marc Randazzo is always checking in on tables to see how everyone is enjoying their meal. The fact that you feel like family the minute you step into the restaurant speaks volumes.
We took two years between visits to Randazzo's. We definitely won't be making that mistake again.
Randazzo's Little Italy is located at 385 Miracle Mile and open Monday-Sunday. Call (305) 448-7002 for reservations and hours of operation.