As you can probably tell, we've eaten a lot this year. Our 2014 journey has taken us to some memorable restaurants, and we wanted to show them some love to close out the year. These restaurants have either been consistently great — both in terms of service and food — or they were so damn good the first time that we have to recommend them.
Without further ado, here are our top picks.
5. Sweet Dogs
If you look up Sweet Dogs on Yelp, you'll see that this humble hot dog shop has more than 240 positive reviews and a 5-star rating. Why? Delicious, reasonably priced food served by an outstanding staff. The second you set foot through the door, Owner Victor Ruiz and his team will treat you like family and offer up their delicious recommendations. Ruiz is a huge sports fan, and you'll find a hot dog named after practically every local sports team.
Our favorite franks are the Mac, which is topped with Ruiz's homemade mac and cheese and garlic croutons, and the Dolphins, which is comprised of grilled ham, smoked bacon, mozzarella cheese, pineapple, papitas and home sauce. No meal is complete here without one of Ruiz's milkshakes – particularly the Oreo milkshake. Don't let its location in an old strip mall on SW 8th Street fool you: Sweet Dogs is Miami's best spot for a great hot dog.
4. Il Mulino South Beach
Italian places are a dime a dozen in Miami, but Il Mulino South Beach is definitely one of the better ones. We checked it out during Miami Spice, and we were so impressed by the food and impeccable service that we started planning our second and third visits before we even got our entrees.
The food is simple but executed perfectly. Their meatballs melt in your mouth. The orecchiette with meatballs and broccoli rabe is divine, and the dessert platter is filled with tons of delicious Italian treats. Even something as simple as a Caesar salad is light and fresh and perfect. Before your meal even begins, you are offered an assortment of complimentary starters — including bread, cheese, salami, bruschetta and fried zucchinis — that you could easily fill up on. It's rare that an initial visit to a restaurant would make such a huge impression on us, but Il Mulino definitely proved it was a cut above the rest.
3. Mignonette
This recent addition to the Edgewater area is Chef Danny Serfer's latest project. The Blue Collar owner teamed up with renowned food dude Ryan Roman to bring an oyster bar to town. Oh, did we mention that a pug is one of their mascots? Because it totally is. #browniepoints
The stars here are the oysters, but we're particularly fond of the lobster roll and prime rib. Both items deserve your attention as does the popcorn shrimp. Make sure you also get an order of the potato chips with old bay seasoning – or make it two because they are ridiculously addicting. We love Blue Collar, but we love Mignonette just a little bit more.
2. Chef Adrianne's
This incredible restaurant, located in the middle of nowhere in West Kendall, is worth the long journey. We've eaten here a number of times – first for Miami Spice and most recently for her cookbook launch – and we've left satisfied each time. The food is exceptional and well-portioned; the monster filet mignon is among the best anywhere ever (or at least in South Florida), and the Nutella croissant bread pudding is mouthwatering. Seriously, it's heaven in your mouth.
But the experience at Chef Adrianne's is more than the food. What's awesome is that she truly loves her patrons. Check out her social media accounts, and you'll see her interacting with her fans left and right. Oh, and she has an awesome new cookbook out (shameless plug).
And numero uno is…….
1. The Seven Dials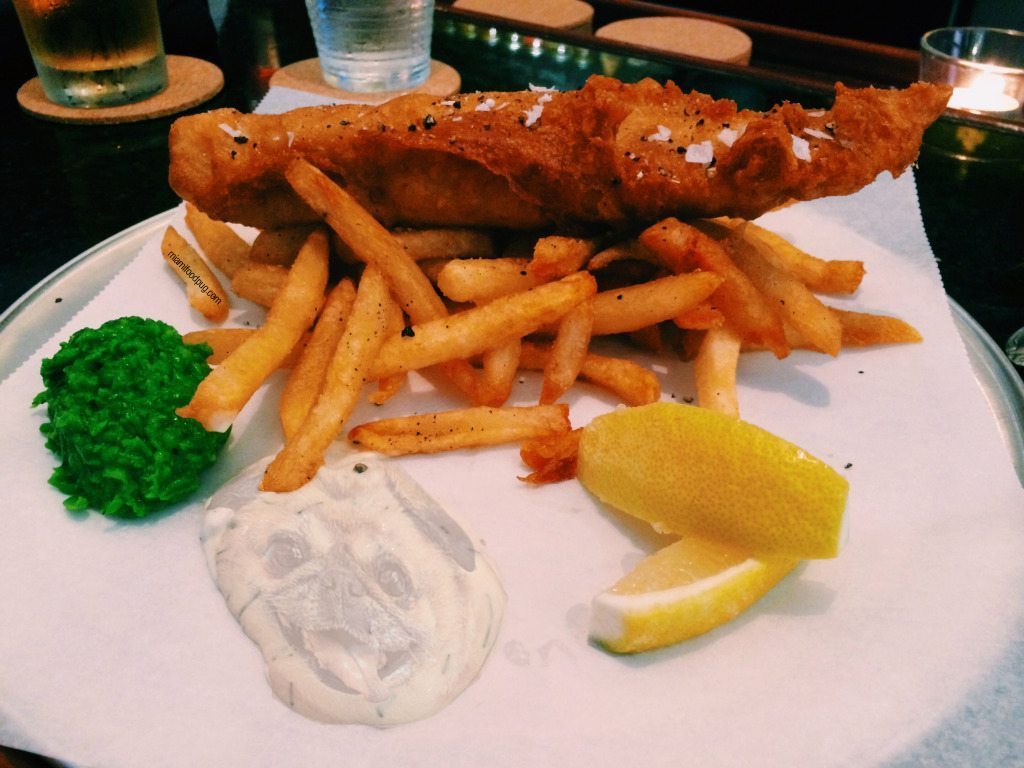 If you follow the MFP IG or our personal accounts, you'll know The Seven Dials is practically our second home. We've probably been here well over 20 times, and it never disappoints (emphasis on never). Andrew Gilbert and his team serve up some delicious British fare including the best-in-town fish and chips (those mushy peas ::drools::). Other notable menu items include the roasted eggplant, crumpets (when available) and tomato soup. Hell, just order everything. We did.
We also love that they are huge supporters of local vendors like Proper Sausages, Zak the Baker and Wynwood Brewing Company. This Coral Gables gem is located on a quiet street away from the hustle and bustle of Miracle Mile. Take a walk off the beaten path and grab a bite here – trust us.
Here's to many more delicious meals in 2015!
– Dianne and Geoff