Oyster fans have a new Miami eatery to visit and dig into their favorite mollusk: Midtown Oyster Bar. Helmed by Angelo Masarin of Salumeria 104 fame, MOB brings an exceptional — and extensive — New England oyster menu to the bustling Midtown Miami neighborhood; touches of Mediterranean and Latin influence have been brought along for the ride as well.  We had a chance to try out some of the menu and speak with Masarin himself about the new concept.
The concept started to come together in November 2013, when Masarin was in Boston for a wedding. While visiting a number of oysters bars in the area, inspiration hit him. "I thought could do something like this down here," Marasarin said. He wasted no time when he returned to Miami, After coming across an empty space in Midtown Mall while walking his dog, he approached his partners with the idea. Two days later, Masarin wrote up a business plan. A week after that, they contacted the landlord. A month later, the space was theirs.
This all happened very quickly for someone who used to dislike oysters. Prior to moving to Miami, Masarin lived in Hartford, Connecticut and Fisher Island, NY. It wasn't until his time selling them in the latter area that he started to overcome his initial disdain. Now, he can't stop eating them and hopes MOB patrons will share his love after trying the delectable menu at the restaurant.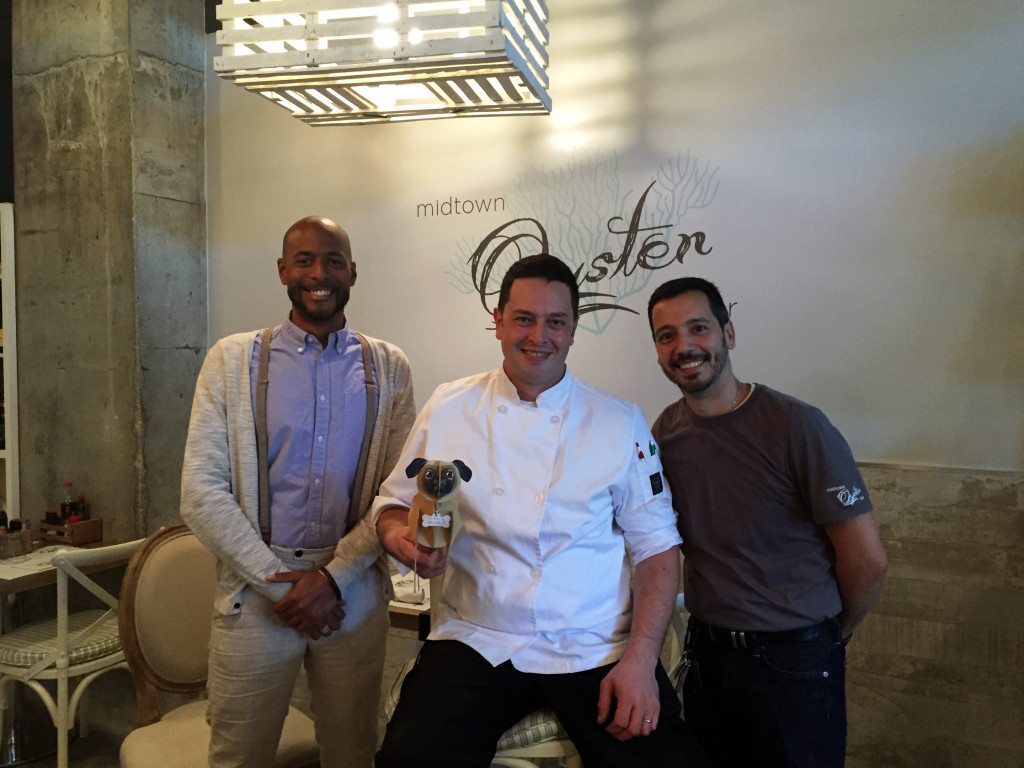 Speaking of the restaurant, one word describes it perfectly: cozy. The intimate space houses no more than 27 guests inside (with 30 or so additional seats outside). Masarin prefers the smaller space because it's easier to manage and oversee, thus ensuring a consistent, high-quality experience.
The decor makes the most of the charming space, with lobster crates hanging from the ceilings and oyster cages serving as wall fixtures. The crates were hand-painted and cemented to be used as lamp shades, while the oyster cages were inspired by something Masarin saw in a Boston restaurant. His seller sent him a box of oysters that Masarin cleaned out by hand with bleach and water; he then placed them into the cages that greet high-top guests.
Upon walking in, you'll see that a lot of thought was put into every single detail of the location. That includes the menu, too. While the oysters are the main stars, hungry patrons can enjoy a wealth of tasty land and sea options to satisfy any palette. According to Masarin, the most popular non-oyster items include the Key Largo Amberjack Pate, the Lobster Roll and the Branzino. As for oysters, Masarin recommends Island Creek — his personal favorite.
We had a chance to sample the oysters ourselves, and we can see why Island Creek is his favorite: It's shucking awesome with a distinct brininess that made a favorable lasting impression. Other standouts for us include the Kumamotos — a sweeter, milder oyster that's perfect for beginners — as well as the Oysters Kilpatrick, which feature Worcestershire sauce and God's greatest gift to man (aka bacon).
The restaurant recently launched a weekday happy hour that features half-price oysters and $4 glasses of prosecco. If you're an oyster novice, this is the perfect way to get acquainted with all the different types.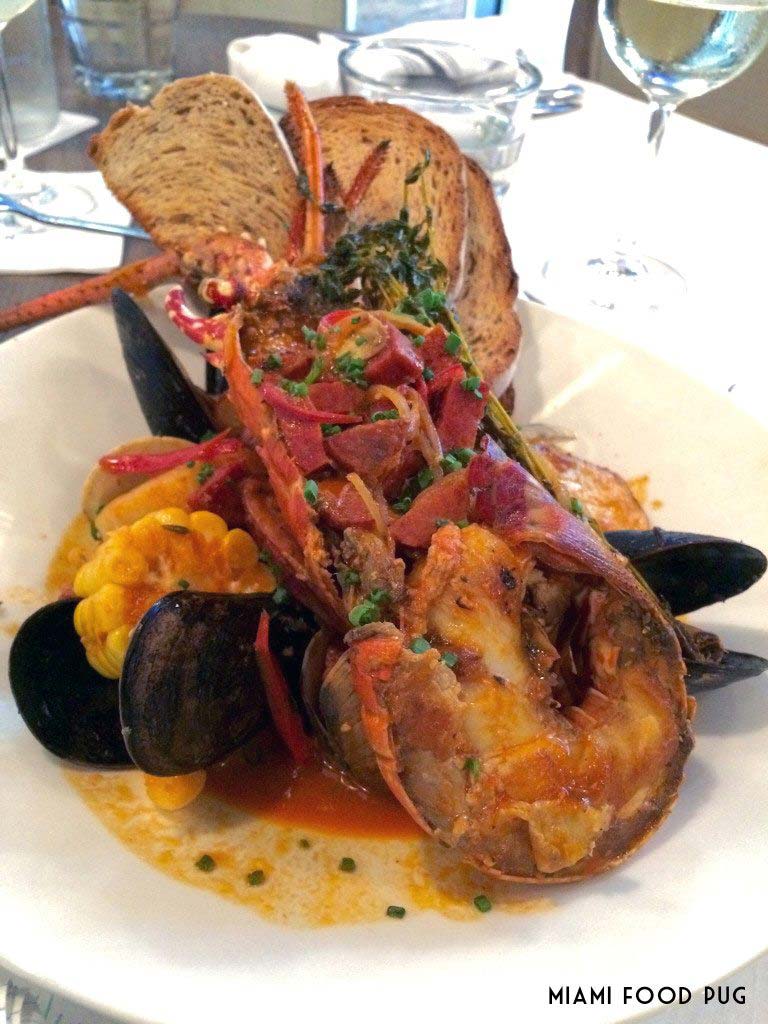 There are hints of Masarin's Italian roots peppered throughout the menu. One dish that reflects that is the Cioppino, which is a massive portion. One order of the seafood stew easily filled up both of us (We had some for dinner the next day, too.). The mix of lobster, clams, mussels and chorizo made for a hearty meal that was equal parts fresh and delicious. The saffron broth was the icing on the cake.
The favorite item of the meal aside from the oysters was the Amberjack Pate. Wow. We could eat the cranberry jelly on top of the pate by itself — it's amazingly tasty with just some subtle tartness. There's ample crostini to spread the pate onto, and you're going to need it since you won't want to leave any pate behind — trust us.
Before we left, we had Masarin show us the proper way to shuck an oyster. Here's the video:
Overall, we were extremely happy with our experience and will definitely be back. Midtown Oyster Bar is worth a visit (and a 2nd and 3rd one, too). Having only been open a month, MOB is already leaving its mark on Midtown with delicious seafood and shellfish. We're excited to see what future plans Masarin has in store for this new neighborhood addition.
Midtown Oyster Bar is located at 3301 NE 1st Avenue, Suite 103-1, in the bottom of Midtown 4 and is open Monday-Sunday. Call (786) 220-2070 or visit midtownoysterbar.com for reservations and hours of operation.