The Democratic Republic of Beer has seen its fair share of changes since opening its doors in 2009. Originally located by the old Miami Herald building, the cozy little craft beer spot gave way to a much larger space in the heart of downtown a few years later.
The DRB experienced its biggest overhaul yet late last year: Chef Ryan Martin took over and revamped the menu, redesigned the interior and turned up the house lights. Rechristened 180 Degrees at the DRB, the new concept proves that change can be good. We sat down with Chef Martin to talk about turning the place around and his vision for the gastropub.
For over a decade, Chef Martin has wanted to open a gastropub. "I've been wanting to open a gastropub since before the word even existed," he said. But before he could bring his idea to fruition, he wanted to make sure it would be done right. He spent time in several kitchens throughout Miami, including the Clevelander, Haven and Juvia. These opportunities allowed him to hone his skills and become well-rounded enough to open his own place.
What ultimately brought Chef Martin's vision to Downtown Miami was the booming real estate scene. After buying the location, he got to work preparing for a reopening. In just one week, 180 Degrees was remodeled and open for business. Two words accurately describe the new menu: global fusion — there's a wide range of flavors to be found on the menu. The concept adheres to a shared plate style, and we see why: Everything is so delicious that you'll want to try it all.
The most surprising part of the menu isn't the food, though — it's the prices. A meal here won't break the bank; most plates are within the $8-$13 range. For this quality of food, those prices are a steal. According to Chef Martin, some of the most popular items on the menu have been the 50/50 Burger (a tasty mix of chorizo, Angus beer, queso frito, maduro, a fried egg and spicy aioli), snow crab rolls and fried chicken sliders. He's working on introducing some higher-end dishes that include foie gras, scallops and lobster.
The beer menu has also undergone a transformation. Gone is the laundry list of beers from all over the world. Chef Martin has focused on quality over quantity, paring down the selections and emphasizing India Pale Ales; thirsty patrons can select from more than 35 IPAs as well as local and rare beers. His favorites include Ballast Point's Sculpin and Bear Republic's Hop Rod Rye. He intends to have monthly beer pairing events.
Chef Martin has been drinking craft beers since the 80s and wanted to make 180 Degrees a great beer place that also offers great food. After checking out the beer selection and trying out some of his specialties, we can safely say he's succeeded. We've been back multiple times since our initial visit. Below, you'll find our thoughts on some of the food from our latest visit:
At 180, there's a chalkboard with daily specials. That chalkboard includes a Corn of the Day, Lemonade of the Day and a few other tasty items. The daily corn we had — parmesan jalapeño Maldon corn — was light, cheesy and came with a little kick. It's a nice prelude to Chef Martin's main plates and makes for a great snack. Geoff has gone in just for the corn when he's hungry but not hungry hungry. We also tried a sesame soy daily corn that was equally impressive. If you see either on the menu, order one.
Chef Ryan Martin suggested we try his snow crab rolls. After all, it's one of his top sellers. Just one bite, and we were sold. The creaminess of the cream cheese and crab work together wonderfully in the crunchy roll, creating a bite-sized version of heaven. The rolls stand out on their own, but you can dip them into the yuzu soy sauce for even more flavor if you desire.
The Brussels sprouts were the highlight of the night. We love sprouts and throwing in some chorizo just makes us like them even more. We were intrigued by the addition of frizzled onion on the dish. Chef Ryan Martin made the whole plate work — everything was fresh and the onion added a nice crunch that offered a yummy contrast to the textures of the sprouts and chorizo. If you have to try one dish here, we strongly recommend this one.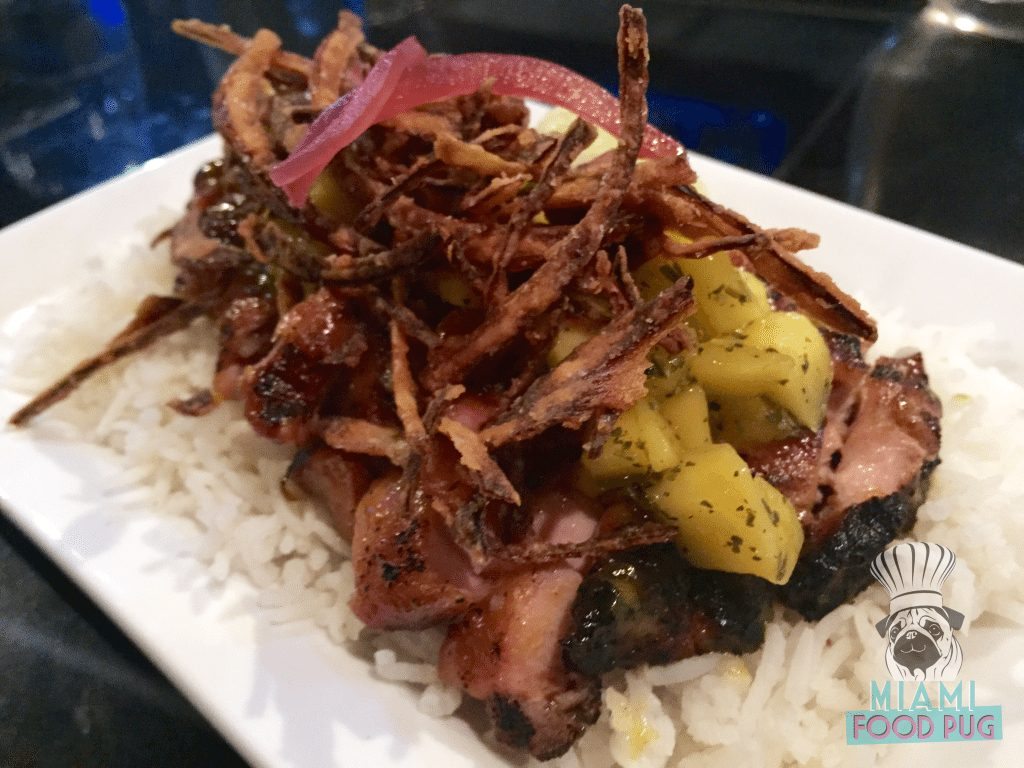 Chef Martin does not skimp on portions; you get what you pay for (and a lot more). This is especially true of the chicken thigh, which is a generous size to say the least. The chicken thigh is moist and flavorful and has a nice tropical flair due to the mango salsa. Frizzled onions make their appearance again– much to our delight — and the basmati rice layer brings everything full circle. Although it appears there's a lot going on with this particular dish, it's perfectly balanced.
180 Degrees at the DRB has come a long way in just a few months. The food has improved significantly and the beer menu has been tightened up. Overall, the place seems much more focused than its previous iteration.
Chef Martin isn't resting on his laurels, though. He's constantly experimenting and working on the menu. Brunch is launching soon and he's working on more events. The future looks bright for this already impressive gastropub, and we're excited to see what's in store.
180 Degrees @ the DRB is located at 501 NE 1st Avenue in Downtown Miami. Call (305) 809-7564 or visit gastronomyredefined.com for hours of operation.