On Valentine's Day, boxes of chocolate always seem to get the spotlight. This year, pick up something a little more special for your significant other. The following seven vendors serve up some tasty, innovative treats that will make your V-Day all the more memorable.
There's something for every sweets lover on this list. Please note that some of these places only deliver while others also offer dine-in and take-out options.
Nutella Chocolate Hearts from The Cupcake Bar
Ana at The Cupcake Bar creates some impressive cake balls. We had them for Christmas, and we still think about them fondly. They're moist, soft and come in a variety of scrumptious flavors to please any palette. Our personal favorites are the Death by Oreo and Coconut. For Valentine's Day, she's creating some unbelievable Nutella-filled chocolate hearts. Gah! Visit thecupcakebarr.com for ordering information.
Macarons from Ticety Iced Tea Bar
If you're looking for something lighter, we recommend the macarons at Ticety Iced Tea Bar in the Gables. They're sweet, soft macarons filled with a light vanilla cream. You have your choice of individual macarons or a larger raspberry one that's perfect for sharing with your partner. You can either get them to go, or you can dine in and enjoy some delicious tea, too.
Panna Cotta at The Federal
When we visit The Federal, we usually opt for their Krispy Kreme bread pudding.  We decided to switch things up on our last visit and ordered their buttermilk panna cotta instead. You can't go wrong with either, but we have to give the edge to the panna cotta. It's silky and light; you won't really hate yourself if you have this to cap a satisfying meal at the Federal. If there's one word to describe it, it's this: balanced. It's the right amount of sweetness and guilt.
Chocolate Mousse with Choco-Rice Krispies from Sugar Yummy Mama
Our good friend Sugar Yummy Mama is holding nothing back for this special holiday.  She's selling a variety of items to capture the V-Day spirit: chocolate mousse with choco-Rice Krispies, berry meringues filled with dulce de leche, vanilla meringues filled with nutella, and delicious cupcakes topped with hearts. If you find yourself at Brickell's OTC, you can order some of her passionfruit cheesecake, too. To order, check out SugarYummyMama.com or visit her storefront at 2600 North Miami Avenue.
Azucar's Flan Ice Cream
The Little Havana legend Azucar offers some of the best ice creams in town. Its most popular flavor is Abuela Maria, which is vanilla ice cream mixed with guava, cream cheese and Maria cookies. We love it, but we're partial to the flan ice cream. It looks plain, but it tastes anything but — it packs layers of flavor that make it taste exactly like the real thing. If neither of the two flavors does it for you, there are more than 20 others to choose from.
The Nutellino at Spris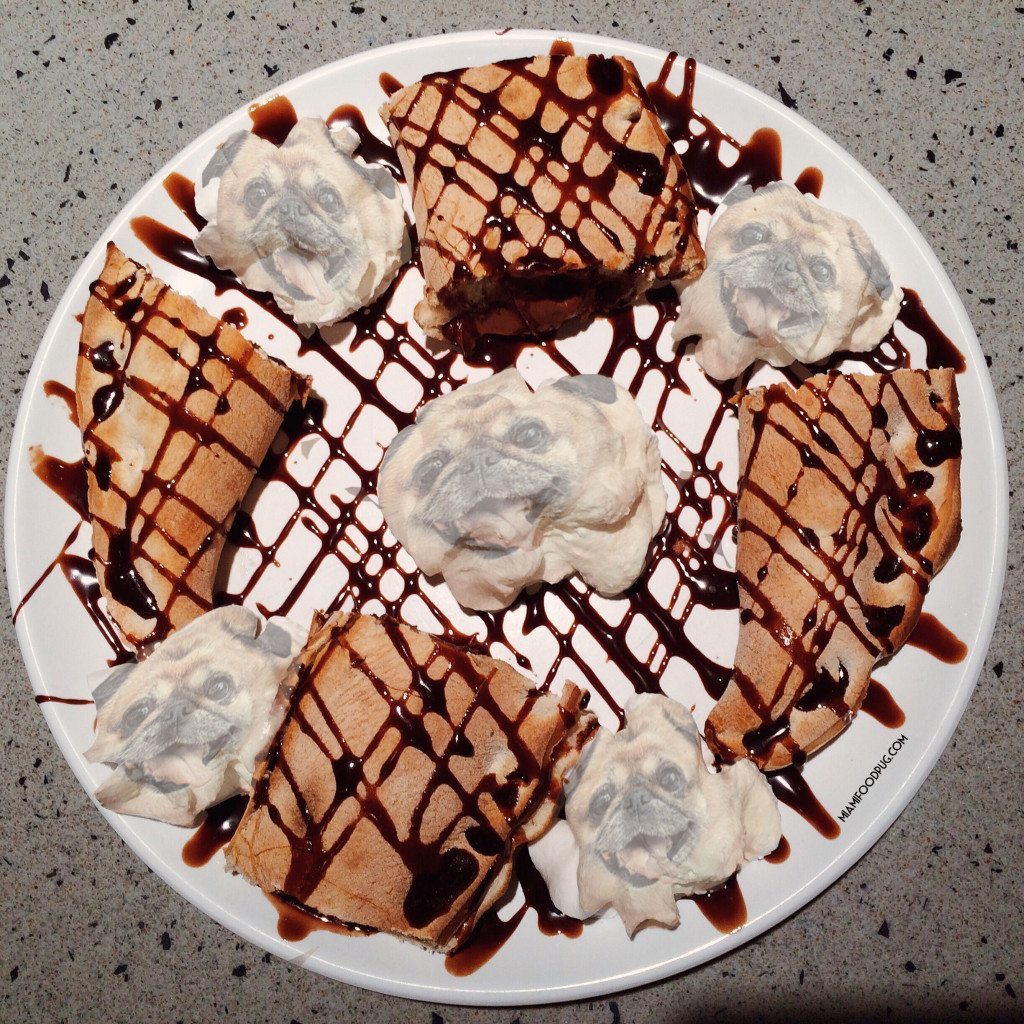 We love Nutella. We'll put it on practically anything. The Nutellino at Spris Artisan Pizza takes our love of Nutella to a whole new level. It's super simple yet super awesome — it's calzone dough stuffed with globs of hazelnut spread heated up to warm, gooey perfection. Best of all, it's only $6 and comes in a generous portion size. Make sure you follow us on Instagram: We'll be giving one away next week!
Nutella Croissant Bread Pudding at Chef Adrianne's
While we're on the topic of Nutella, we also have to mention Chef Adrianne's Nutella-rich take on bread pudding. This croissant bread pudding alone is worth the trip to the West Kendall restaurant. Each spoonful feels like heaven in your mouth; the combination of flavors will have you yearning for another one (and another one…). Go ahead and indulge. It's worth the extra time in the gym — trust us.
Happy Valentine's Day!