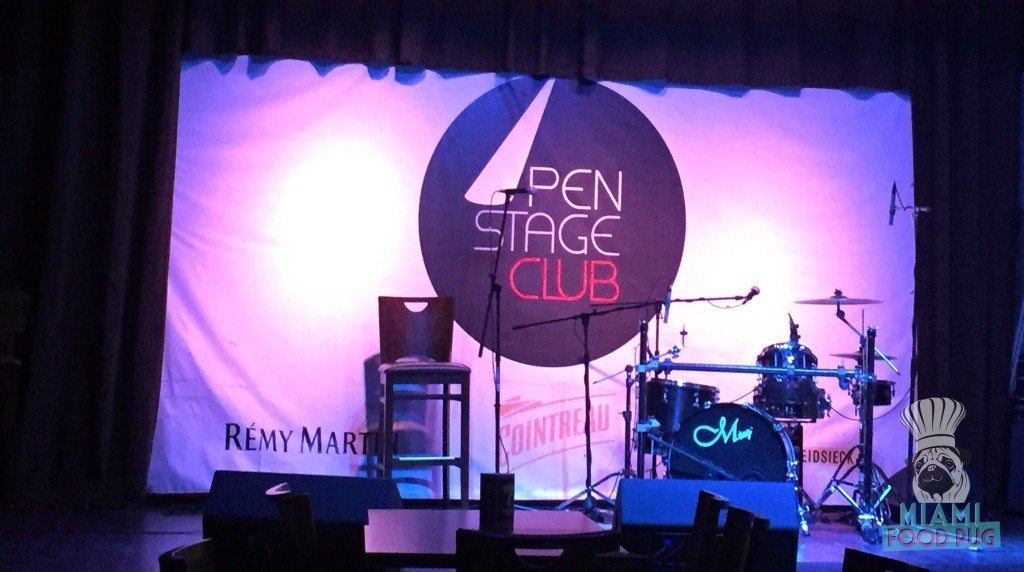 Coral Gables isn't really known for its live entertainment, but one place has been trying to change that: Open Stage Club. The club, which opened in the summer of 2013, has been bringing live acts such as comedians and bands to the stage since its inception. Now, OSC is undergoing a transformation – not just with its entertainment schedule, but also with its food menu. The new gastropub vibe is set to position OSC as the premier spot for a memorable night of good food, good company and good entertainment.
We were invited to experience some of the changes firsthand, and we feel very hopeful about OSC's future. The interior hasn't changed since this new transition began, but there's a marked improvement in the food. Head Chef Nitza Mendoza, who hails from Peru, adds a loving and homey touch to the menu. Originally, the food was more upscale in nature but that has been toned down in favor of homemade, family-style plates. It's a welcome change that we'll elaborate on later.
First, let's talk about the entertainment. The event schedule highlights a different theme each night. Wednesday nights, patrons can expect reggae performers to grace the stage. Jazz Mondays shines the spotlight on the smooth sounds of local talent. Speaking of local talent, karaoke is a regular occurrence at the locale. During happy hour on Wednesday, Thursday and Friday, you can enjoy delicious 2-for-1 drink specials as well as show off/embarrass yourself with your own rendition of popular songs. Overall, the entertainment schedule looks solid.
With that said, we're more excited about the food changes (We are Miami Food Pug, after all). We were introduced to a number of tasty dishes  from Chef Mendoza along with some delicious drinks. Here's what we thought.
The Coco-Rita is one of OSC's signature cocktails. We've had it before, and it's definitely a unique take on the typical margarita. The coconut complements the tequila very well, resulting in a balanced drink that's stiff and not overwhelmingly sweet. We can see why it's a signature drink.
The tuna tartar here was also a different take on a traditional dish. This particular tuna tartar is mixed with red onions and comes with ginger carrot marmalade and dressed lettuce. We thoroughly enjoyed it as a nice, light bite that should pair well with a fine wine.
The stars of the evening were the empanadas. One word: damn. Filled with beef, these heavenly empanadas burst with flavor. The dish kicks things up a notch with a side of spicy mayo that's to die for. If you only try one dish here, make it this one.
The next plate we had was the pear fiocchi. The generous portion of pasta combined saltiness and sweetness in perfect harmony; the saltiness from the cheese and the sweetness of the pear worked together well. Our only gripe with the dish was that it was a little heavy on the cheese sauce. Otherwise, a solid entree.
Another highlight was the Coral Gables ceviche. Since OSC's chef is Peruvian, we had high expectations; Nitza met those expectations. The ceviche was a memorable mix of sweet and sour. The combination of cooked sweet corn and marinated fish was so appetizing that we immediately wanted more afterward.
No meal is complete without a sweet ending. To cap the evening, we scarfed down dulce de leche ice cream and some raspberry sorbet. The dulce de leche definitely made an impression — we're salivating as we type this. It was very rich and creamy; it's up there with Azucar. The raspberry sorbet made us feel a lot less guilty but was equally satisfying. It was sweet, airy and melted in your mouth.
In the end, we're happy with the changes that OSC has made. We think they have made some drastic improvements, and we look forward to what's in store in the future. We'll be back very soon for coco-ritas, empanadas and some karaoke. Cheers!
Open Stage Club is located at 2325 Galiano Street and is open Monday – Saturday. Call (305) 441-7902 or visit openstageclub.com for more information and hours of operation.