Finding a good grilled cheese sandwich can be hard. It may seem easy to make but many factors come into play: the bread, the cheese, the timing… it's a science.  Fortunately, Daily Melt Owner Gregg Lurie has perfected that science to serve up consistently delicious grilled cheese creations to patrons.
The eatery recently opened their Downtown outpost late last year. We sat down with Lurie and Director of Marketing Jean De Boyrie to learn more about this latest location, their love for grilled cheese and future plans.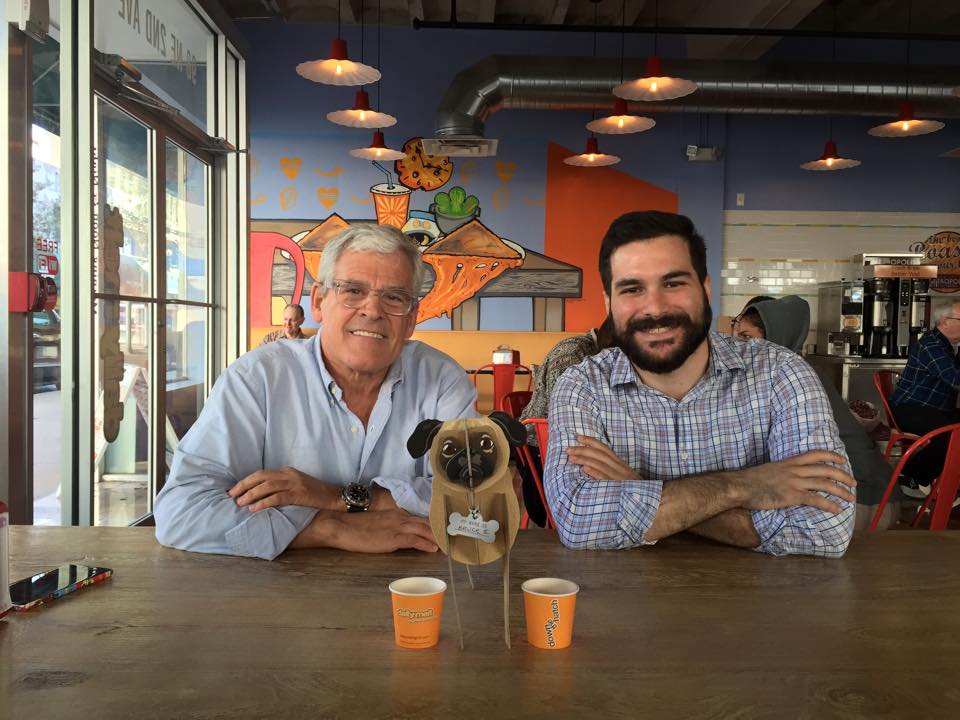 There's one thing you need to know about Lurie: The man loves great food. When we spoke with him, he had some of our favorite Chicago items in his trunk, including Portillo's Italian Beef sandwiches and some deep dish pies; he travels a lot, so his food knowledge is extensive. It should come as no surprise that he's employed this knowledge and love of quality food into Daily Melt.
The restaurant offers a range of grilled cheese options to satisfy practically every cheesy urge. You have your classics like The Original (grilled American cheese on sourdough) as well as favorites such as Royal Roast Beef (Monterrey Jack cheese, mushrooms, caramelized onions and special sauce on sourdough). Gourmet melts like White Truffle Bacon Cheddar and Chicken Cordon Bleu round out the menu. Despite those fancy-sounding names, none of them will break the bank. You won't find anything over $10 on the menu.
Downtown Miami is home to the newest location of Daily Melt, which currently has two other locations in Midtown Miami and Fort Lauderdale. Opened in September 2014, the Downtown Daily Melt locale was a no-brainer for them, according to De Boyrie. "We have a good mix of clients here. You have all the business people but also college students and area residents all coming in for a bite." The space is roomy with ample seating for the lunch rush and large groups. No matter where you sit, you can't avoid seeing the grilled cheese mural on the wall. Created by a local artist, the impressive mural will eventually extend outside.
De Boyrie describes the DM concept as a "fast casual experience." Ticket times average 7 to 8 minutes, making it an ideal place to pick up a quick bite. Although you might think there's only so much you can do with grilled cheese sandwiches, Lurie proves otherwise.  He is constantly experimenting with different flavors and ingredients; the menu is always evolving and improving. One of the big changes coming soon is the addition of a "Make Your Own Melt" section. Visitors will be able to create their own cheesy version of heaven by choosing from 10 cheeses and five breads (final number subject to change). A Melt of the Month as well as healthier options featuring kale, eggplant and other veggies are also in the works.
Lunch tends to be the busiest time for Daily Melt, but hungry early-risers can also get their breakfast fix here. Items like the Egg in the Nest (crispy bacon, muenster, egg on sourdough) and the Maple Bacon Melt (crispy bacon, maple syrup, egg and cheddar on sourdough) provide a unique and filling start to one's day. Combine that with Chicago's Metropolis Coffee — which the company proudly serves — and you have yourself an inexpensive, quality meal. More breakfast sandwiches are also on the way.
The Daily Melt menu extends beyond just grilled cheese. The other big draw is their pickle bar. Lurie is very particular about which pickles pair with each sandwich; there are seven pickles to choose from including bread +butter and dill. After trying a variety of different vendors, it was decided to go with Dr. Pickle. The Broward pickle expert was a 9/11 first responder who cooked for the station and included a pickled product with each meal. After developing a following, he refined his recipes and now sells delicious 100% organic, non-GMO pickles. Various soups are also available in cup and shot form at DM.
We had a chance to try several of the sandwiches, soups and pickles during our talk with the Daily Melt team. Among our favorite sandwiches were the Royal Roast Beef and the White Truffle Bacon Cheddar. The roast beef sandwich's flavor was great on its own, but the mushrooms and caramelized onions really elevated the dish as did Lurie's special steak sauce.
We scarfed down that sandwich pretty quickly — almost as quickly as the White Truffle Cheddar Bacon. According to De Boyrie, the truffle sandwich was served at the renowned culinary event Taste of the Nation alongside much fancier fare; more people started opting for their sandwich than the finer cuisine. We can see why: For $8, you get yourself a rich, tasty ode to our favorite fungi. Another notable sandwich was the Italiano, which comes with a wealth of Italian meats peppered with chili flakes in-between garlic bread.
As for soups, the roasted red pepper gouda is an absolute must. It's the right balance of cheese and spice. The clam chowder was also a solid choice, but the roasted red pepper gouda floored us. Go get it now. Run — don't walk. If you want to try different soups, you can always opt for a shot instead of a full cup. All of the pickle bar selections are memorable, too. Not one bad one in the bunch. As a result, we had a tough time deciding on our favorites. Ultimately, we settled on bread + butter and ginger.  Did we mention they do dessert? You wouldn't normally think of getting dessert at a place like this, but you'll regret it if you skip on the s'mores. Comfort food at its finest.
The existing menu options are delicious, and we can't wait to see some of the team's future plans come to fruition. Lurie is working on bringing beer and wine selections to the Midtown Miami and Downtown Miami locations; the Las Olas location is currently the only one selling alcohol. Specific plans for the Downtown location include the addition of a ping-pong table and other entertainment to turn it into a Miami Dade College hangout. A Daily Melt happy hour is coming soon as well.  What we're looking forward to the most, though, is the grilled cheese eating competition in April (which just so happens to be National Grilled Cheese Month).
Can't make it to one of their locations? Daily Melt delivers throughout Midtown and Downtown. You can call the locations directly or order online through Eat24 and Grubhub. Whether you're looking for a quick bite in the morning, afternoon or evening, Daily Melt offers a tasty solution that fits your budget. As for us, we'll be back soon for that awesome soup, roast beef sandwich and all seven pickles.
Daily Melt's Downtown Miami outpost is located at 98 NE 2nd Avenue. Call 305-415-MELT (6358) or visit dailymelt.com for hours of operation and delivery options.