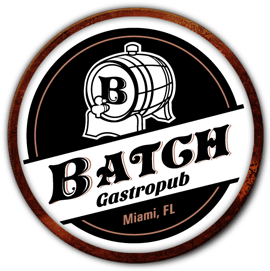 Spring is a time for new beginnings, and there are certainly new beginnings at Batch. The kitchen at the Brickell gastropub has a new leader: Roberto Ferrer. Ferrer brings more than 25 years of experience to Batch, most recently spending four years in New York City running the highest-volume restaurant in the East Coast. Now he's back home and excited to use his classical training to transform bar food into headline-grabbing fare.
"The beauty of creating at a place like Batch is the idea that your imagination can run wild, you can be innovative and fun and give customers the delicious food they crave," said Chef Ferrer in a press release.
Batch, known for its approachable menu and extensive drink list, is launching a seasonal menu that captures the spirit of spring. Hungry patrons can expect seasonal small plates like Truffle Spinach and Artichoke Dip, Blacked Grouper Tacos and Roasted Veggie Pizza — to name a few. Larger dishes like the Sesame Encrusted Ahi Tuna (made with stir fry soba noodles, veggies and ponzu) and a 12 oz. Hand Cut Ribeye (accompanied by whipped garlic mash, sautéed spinach and green peppercorn-cognac) will also be available on the expansive menu.
We were invited to try out some of the new dishes on the spring menu. There were four courses in total, three of which featured three food items and a drink. Each of the courses had a stand-out item, and not one of the drinks disappointed. Please note that the items pictured below are not actual size; these were mini-portions specifically for the tasting.
The first course was comprised of the Spring Spinach Salad, the Spicy Bourbon Honey Mustard Wings, and Truffle Artichoke and Spinach Dip. Both of us agreed that the Spinach Spinach Salad was the star here. The greens were fresh, the candied walnuts and rum-soaked raisins added a nice sweetness, and the strawberry seed vinaigrette was light and refreshing. It was truly representative of the new season.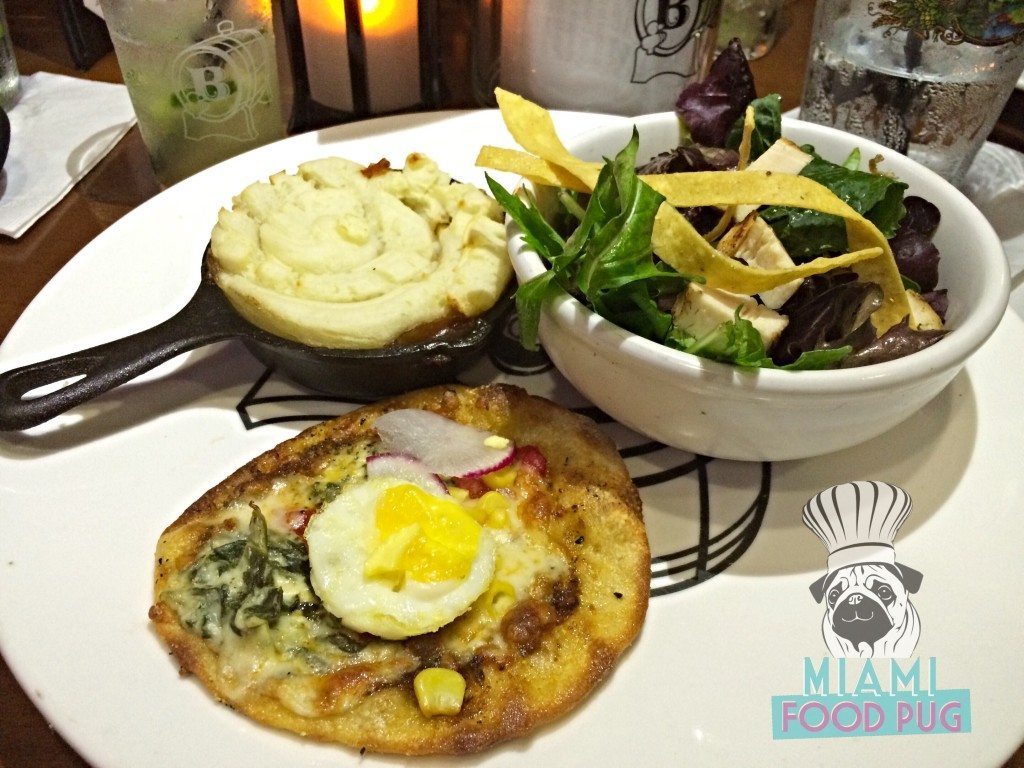 In the second course, the roasted veggie pizza was a hit. This nontraditional pie featured arugula and sun-dried tomato pesto, roasted red pepper, artichoke, spinach, radish and an egg. It sounds like a lot, but the dish works well. Together, the ingredients create a memorable burst of flavor that recalls spring.
The winner in the final course was the famous Mac Attack Burger. This particular burger won the Amstel Light Burger Beast Challenge 2015, and you'll see why once you take your first bite of this delicious creation. The burger is made up of prime brisket topped with Pecan Jameson candied bacon and a crispy Mac Attack patty. We had a mini-portion of the burger, which was already filling. We've seen pictures of the full-size burger, and you definitely get your money's worth. If you only try one dish on the spring menu, this should be it.
Like we mentioned earlier, each course came with a drink (with the final fourth course being just a drink). We didn't write about them sooner because these drinks deserve their own section.
The four drinks (from top left to bottom right)– a Biscayne Bay Saison, the Sake-It-To-Me, the Spanish American War and the Strawberry Colada — were awesome to say the least. The Sake-It-To-Me was our favorite: The refreshing Beefeater gin cocktail featured muddled cucumber and house-infused coconut/lemongrass sake. The Spanish American War was another notable entry; it combined Patron Tequila and George Dickel Rye with mango, citrus and strawberry/ginger foam for a unique flavor profile. Batch has always served up great drinks, and we're happy to see that tradition still alive and well.
With that said, this is an exciting time for Batch. And with Chef Ferrer in the kitchen, it should be an exciting time for customers as well.
Batch is located at 30 SW 12th Street in Brickell. Hours of operation are 11:30 a.m. to 5 a.m. daily. For more information, visit www.batchmiami.com.