Midtown Miami is now home to a new Italian eatery: Latteria Italiana. The place, which opened last month amid the hustle and bustle of Art Wynwood, serves up a range of tasty Italian treats including gelato, flatbreads and cheeses. Antonio Carrozza, one of the masterminds behind Latteria Italiana, took some time to sit down with us and talk about the new concept and his vision.
In Italy, latterias are shops where one can buy milk, cheese, gelato and other goods — they're your typical markets. But there's more to a latteria than meets the eye. "A latteria is a point of aggregation … a meeting place where you can come in and see your friends and hang out," said Antonio. This cozy, homey feel is exactly what Latteria Italiana aims to capture in Midtown.
And indeed it does. You'll find a variety of Italian products for sale as well as ample seating and a friendly staff. Sit down, relax and enjoy a Nutella latte, a delicious Piadina Romagna (warm flat Italian bread, squacquerone cream cheese, arugula, prosciutto di parma DOP, black pepper) and your choice of over a dozen gelatos.
According to Antonio, the original idea for Latteria Italiana came about during a visit to Florence and Rome. "We wanted to bring fresh, handmade express food to people in a cozy place," he said. Antonio, who already had a restaurant in Italy, tossed around the idea of expanding on the concept in Europe, but it was full of these types of places. Plans to open one stateside started developing after a trip to the U.S.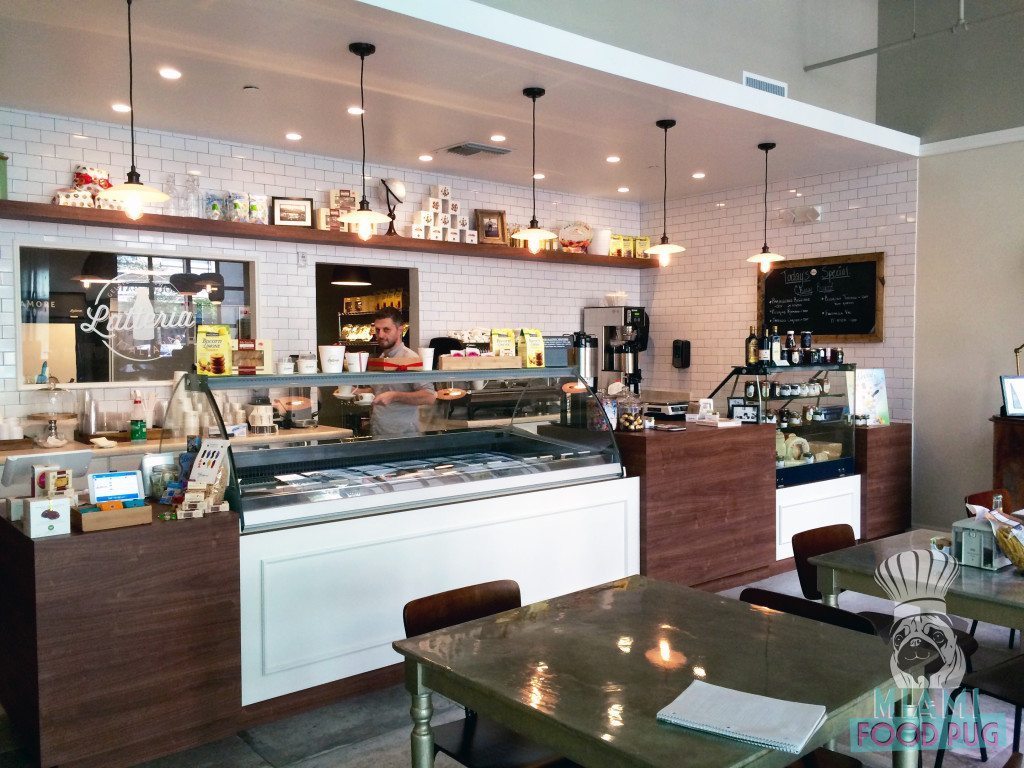 The cozy concept played a big role in selecting the right neighborhood in Miami. Various neighborhoods including South Beach were considered, but ultimately Midtown came out on top.  "We wouldn't fit in at South Beach. We want people to stay for a while. This is not a 'get in get out" place," Antonio noted. After signing the lease last summer, Antonio and his partners Marco Pavone and Francesca Pisano got to work preparing for the early 2015 opening.
Gelato has been a top seller since the shop's opening, and it's no surprise considering a lot of thought was put into the gelato menu. Antonio took a year-long course in gelato, learning all about flavor combinations and how to make it properly. The in-house gelato expert hails from Sicily, and LI also has a partnership with the Milan-based company Antartico SRL for gelato-making support and taste testing.
Retail is another big part of LI. Visitors can pick up a number of Italian products like jams, sauces and sweets to take home. Antonio's business partner Francesca, who has experience working for a luxury retailer in Italy, helped select the products seen around the store. "We are all about quality, and we picked Italian companies that offer high-quality items," Antonio said.
The eatery is now starting to push its lunch and snacks menu, which is comprised of delectable items like Piadina Capri (Italian flatbread with mozzarella, basil, olive oil and lemon zest-seasoned tomatoes) and Croissant Salato (fresh croissant with prosciutto di parma DOP and Valle d'Aosta fontina cheese). Practically everything here is from Italy. The mozzarella, for example, is brought in from Italy every Monday. "We're passionate about what we do here," said Antonio.
The menu is still subject to change. There are plans to introduce egg and omelette dishes into the breakfast menu; these savory dishes will balance out the sweet items like the Pane e Nutella (Nutella sandwich) and homemade cakes. Events are also in store, including a grand opening celebration and several collaborations with local businesses. Delivery service is something that is being considered as well, but nothing is set in stone.
Eventually, Antonio hopes to expand — but not turn Latteria Italiana into a chain. "We don't want to lose quality by opening a chain," he said. Instead, a branded wine shop, grocery store or produce shop with a local feel would be ideal. Regardless of what their future plans are, one thing's for sure: There will be a top-notch staff. "We want committed people here. People really need to be involved and passionate about the business to maintain high quality. That's what we look for."
The quality service and food made a lasting first impression on us, so much so that we suggest you pay a visit to this charming store sooner rather than later. Midtown Miami continues to grow, and Latteria Italiana is a fine addition to the bustling neighborhood.
Latteria Italiana is located at 3301 NE 1st Avenue, Suite 101, in the bottom of Midtown 4.  Call 786-577-4362 or visit latteriaitaliana.com for more information, including hours of operation.