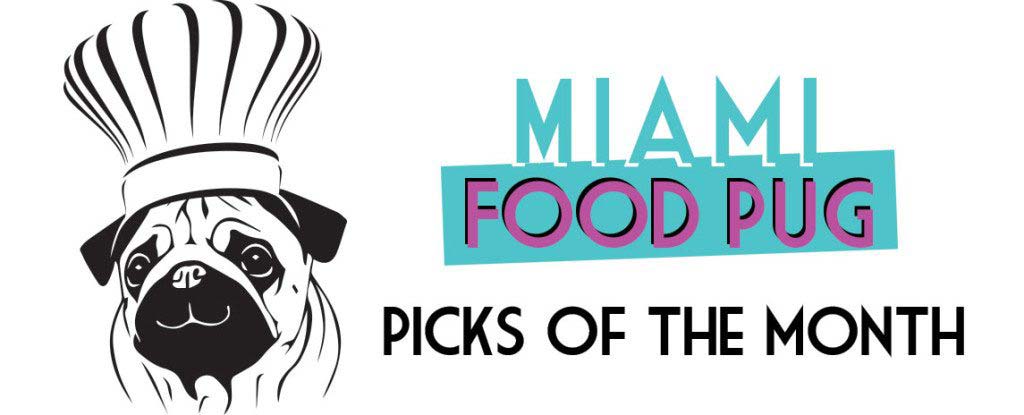 If you haven't noticed, we go out to eat a lot. It's sometimes hard to keep track of the best spots we've visited each month (and week and day). That's why we've decided to put together a monthly list of our top picks. You can expect restaurants both young and old on this list — we're always discovering new spots on our foodie adventures.
Here are our top picks for April 2015. We selected an inventive Spanish restaurant in Merrick Park, a Midtown gelateria, a Sunset Harbor bakery, Miami River crudo and hot stone restaurant, and a coastal Italian restaurant in the heart of Brickell.
Piripi
Chef Najat Kaanache 's playful and creative plating is refreshing at this new Coral Gables restaurant. Unlike other places that focus on presentation at the expense of quality, Chef Najat's dishes deliver on both ends. Our recommendations are the setas salteadas (a simple dish with tons of flavor) and the choco planeta, which is basically a delicious galaxy of chocolate. Be sure to order a gin drink from the bar to see their incredibly cool glass chiller in action.
Latteria Italiana
We've been to Latteria Italiana numerous times since interviewing one of the owners back in March, and we are consistently blown away by their inventive gelato flavors and the incredible taste. If they say it's toasted almonds, you taste creamy almonds. Coconut curry? The sweetness of coconut is followed the punch of curry. Watermelon? You bet it tastes like a fresh piece of fruit.  Co-owner Antonio said they want to create a neighborhood spot that people could spend all day at, and that's exactly what they've created.
True Loaf Bakery
We stopped by True Loaf before a morning of kayaking, and the croissants there were heavenly — crispy, buttery and delectable. We had the almond croissant and a chocolate croissant; both of them floored us. There's a wide range of items here, and we're definitely coming back to try the rest of the menu. Don't be deterred by the long lines; they go by pretty fast. Bakeries are a dime a dozen in this town, but we found true love at True Loaf.
Modern Garden
Wow. That's really the only word to describe this waterfront gem. Executive Chef Benjamin Goldman and Pastry Chef Jill Montinola form a formidable duo in the kitchen. The menu here is essentially divided into two sections: crudos and hot stone items. If you decide to go the crudo route, opt for the salmon rosettes. These little rolls wage a tasty war in your mouth; so many flavors in one tiny bite. Should you choose to cook your own food with the hot stones, get the Muscovy duck breast. It's nice, fatty and rich — and worth every penny. Finish your meal with the Guanaja Chocolate Cremoso if you're a chocolate lover (and even if you're not — you'll be converted).
Tamarina
Full disclosure: We celebrated our anniversary at Tamarina, and they knew we were coming — they pulled out all the stops. With that said, we've been there about 20 other times unannounced and received the same exceptional service every damn time. Tamarina is known for its Italian Mediterranean cuisine, and there are two areas you should focus on: crudos and fish.
The yellowtail snapper and the octopus carpaccio (a special) are ideal starters that are light and shareable. The sea bass is a definite must (and a local favorite) as is the tagliatelle alla bolognese, which combines three types of meats — veal, pork and braised beef — for some of the best pasta we've ever had. You can't go wrong with any dessert (our favorite: the tiramisu sphere – It's like a delicious velvety Death Star topped with gold). Seriously, all of them are good. Make sure to wash everything down with something from the stellar bar program put together by Head Bartender Nathan Rogers.
What restaurants did you like in April? Let us know in the comments.