There are over 190 restaurants participating in this year's Miami Spice. That's a lot of places to hit up from now through September 30. To make sure you don't waste any time on Miami Spice duds, we've put together this list of restaurants that we think are worth throwing down at least $23 for lunch or $39 for dinner.
Please note that our list is based off the menus presented on the official Miami Spice website. While we've previewed some of the Miami Spice dinners — we'll note them below — we haven't had a chance to visit every place on this list. We're just going by how good the restaurant's offerings sound on paper (e.g, variety, value).
Without further ado:
Beaches
Offered: Dinner Sunday through Thursday
Sounds Delish: Persian Fried Rice, Handrolled Couscous, Chargrilled Hen, Pizzelle Baklava.
We were enchanted by the creativity and diversity of Byblos' dishes after dining there two weeks ago. For Spice, they are offering a ridiculous amount of items to choose from for each course; it's too long to list here. You've just gotta visit and take advantage of this great offer.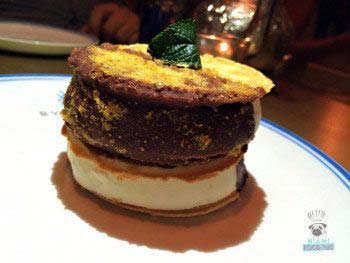 Offered: Dinner Sunday through Friday
Sounds Delish: Grilled Octopus, Lemon Risotto with Gulf Shrimp
We've been curious about Dolce every since they won Bravo's Best New Restaurant. Each course is served family style with a total of 7 dishes served to guests. You get pizza, pasta, salad, some seafood and dessert for $39/person. Not a bad deal.
Offered: Lunch on Saturday and Sunday; Dinner Sunday through Thursday. 
Sounds Delish: Steamed Red Snapper With Dried Turnips In Soy Sauce, Stir-Fried Beef With Szechuan Sauce, Crispy Duck Salad
Hakkasan may only offer you one app for dinner, but you get three entrees to make up for it. Plus, they all sound delicious. If you've been meaning to check this place out and haven't had the chance, now is the time.
Offered: Dinner every day
Sounds Delish: New England Clam Chowder, IPA Battered Fish & Chips, Classic Whoopies
This is the latest restaurant from Tongue & Cheek's Jamie DeRosa.  We've been waiting forever for Izzy's to open, so you know we're checking it out. Plus one of our favorite bartenders, Max, is behind the bar — make sure you say hi. As of this writing, though, Izzy's is still preparing to open its doors. We'll update the post once that changes.
Offered: Dinner every day
Sounds Delish: Summer Crab Roll, Lamb Meatballs, Churros
We recently went there for drinks and were impressed with the decor and atmosphere — it's a gorgeous space. We told ourselves we had to come back for food one day, so what better time than now?
Offered: Lunch and Dinner errday
Sounds Delish: House-Cured Slab Bacon, Green Goddess Salad, Grilled Bavette Steak, Honey-Glazed Baby Back Ribs, Everything-Crusted Branzino, Ice Cream
We've only had dessert at Quality Meat, and it was awesome. Miami Spice is a perfect chance to try even more of what we expect to be a stellar meal. We'll actually be checking out the menu next week, so expect to get our full thoughts soon.
Offered: Dinner every day
Sounds Delish: Lobster Fra Diavolo, Petite Filet Mignon, Snapper Picatta, Chocolate Silk Pie, Popcorn Sundae
Last week, we had the chance to try dishes from all four of Red's spice menus. There were so many dishes offered, all of them tasty, sumptuous and flavorful. Plus, the theme changes each week with each one better than the next. You can read our preview here.
Offered: Lunch every day; Dinner every day except Saturday
Sounds Delish: Corn Bisque, Moules Frites, Ricotta Agnolotti, Brûlée Key Lime Tart.
What better time to try one of Michelle Bernstein's new restaurants than during Spice? Although the restaurant offers both lunch and dinner Spice menus, we'd go with lunch. There are some substantial lunch offerings like hanger steak, mussels, agnolloti and a corn bisque. Grab a good lunch and then hit the beach.
Offered: Dinner errday
Sounds Delish: Seabass Carpaccio Seasoned With Japanese Lime And Soy Sauce, Risotto With Lobster And Fresh Peas, Stuffed Bone In Marrow With Braised Beef Short Ribs, Classic Panna Cotta Infused With Espresso And Whiskey Flavor
It's been months since we've been to Semilla, but we remember it fondly. They have an awesome happy hour that offers many of the regular items at a deep discount. And did we mention mini hamburger ice cream sandwiches? Anyway, it looks like Semilla continues to have fantastic offerings that warrant a second visit from us.
Offered: Dinner errday except Friday and Saturday
Sounds Delish: Grilled Ribeye, Buttermilk Fried Poussin, Chocolate Dipped Ice Cream Sandwiches.
If their mini burgers are any reflection of the quality of their meat, then you better run to STK. You can obviously get the ribeye, but they also have fried chicken with a mango and chili remoulade; the shrimp and grits and the chocolate dipped ice cream sandwiches sound divine, too. Our mouth is watering already.
Offered: Lunch and dinner errday
Sounds Delish: Oven Roasted Free Ranch Chicken With Truffled Mac And Cheese, Risotto Paella, Petit-Pois, Tarte Auz Pommes Grand-Mere.
We didn't even know there was a restaurant inside the National Hotel. While the offerings are limited, they sound wonderful. Plus. it's a chance to explore an iconic Miami hotel.
Mainland
Offered: Lunch every day except Saturday and Sunday; Dinner Tuesday to Saturday
Sounds Delish: Bloody Mary Gazpacho, Patacon Pisao Braised Short Rib, Seafood Bolognese With Squid Ink Spaghetti, Roasted Chicken B.L.A.S.T.,Summer Fruit Stuffed Pork Loin, Fried Apple Pie, Pan Roasted Monkfish, Slow Cooked Braised Spiced Lamb Shank,
An abundance of creative dishes for both lunch and dinner, all with a killer view of Brickell. Can't ask for more.
Offered: Lunch Monday through Friday, Dinner errday
Sounds Delish: Shrimp-Asparagus Ravioli, Jumbo Chicken Cannelloni, Pork Chop Milanese, Crab Cake Served Over Lobster Sauce
It's a very solid lunch menu. We've heard good things about this longstanding Italian restaurant in the Gables, and we're looking forward to visiting.
Offered: Lunch and Dinner Tuesday through Saturday
Sounds Delish: Lobster Gnocchi, Portuguese Fisherman's Stew, Lamb Osso Bucco, Gruyere Gougeres
This place has a plethora of lunch and dinner options. We've eaten here for Spice before, and it's a fantastic value. 
Offered: Lunch and dinner errday
Sounds Delish: Wings & Watermelon, Bahamian Conch Chowder, Texas Pastrami Melt
We had an uber-filling and delicious Spice dinner at Biscayne Tavern last year. This year, though, lunch looks like the better option. Make sure to get the cookies and milk if available. They're some of the softest and gooiest cookies we've tried.
Offered: Lunch Monday through Friday, Dinner Sunday through Thursday
Sounds Delish: Supplì Di Riso Crispy Carnaroli Rice, Mozzarella, Tomato, Risotto Salsiccia E Aceto, 1/2 Branzino Al Forno,Brasato Di Manzo, Semifreddo All'amaretto
We're been fans of Bocce for some time now, and they've always delivered a quality experience. Miami Spice should be no different, especially with their delicious menus.
Offered: Dinner every day
Sounds Delish: Lobster Risotto, BBQ Glazed Angus Rib Eye, Cracker Jack Sundae
Bro, you can get Surf and Turf for $39 at a well-known and well-respected steakhouse. Hurry up and make your reservation.
Offered: Lunch Monday through Friday; Dinner Thursday through Sunday
Sounds Delish: In Cranberry, Apricot And Almond Fried Brie, Bacon Wrapped Scallop, Octopus Carpaccio, New Zealand Rack Of Lamb, Steamed Mussels In White Wine
Dinner at this quint French bistro consists of 4 courses – 1 app, 2 entrees, and a dessert – and the dishes sound delectable. Don't miss this hidden gem in Downtown Miami.
Offered: Lunch Thursday through Saturday, Dinner Tuesday through Sunday.
Sounds Delish: BBQ'd Deviled Eggs, Grits And Shrooms, Ceez's Smoky Fried Chicken, Surf And Turf Jumbalya
Get ready for some good Southern food with a twist. The lunch and dinner menus are the same, so go for lunch to save yourself some money.
Offered: Lunch Tuesday through Thursday; Dinner on Monday, Wednesday and Thursday.
Sounds Delish: Votano Meatballs, Fooq's Burger, Crispy Honey Glazed Brussels Sprouts, Asian Marinated Skirt Steak, Persian Sundae
As huge fans of Fooq's, we're happy to see that their Spice menus feature some of our favorites. If you haven't tried Fooq's yet, you're in for a treat.
Offered: Lunch Monday through Saturday; Dinner Monday through Wednesday
Sounds Delish: Sope Con Pollo, Gordita De Chicharron Prensado, Churros
Located in Downtown, both Spice menus are filled with the same delicious Mexican plates. To save yourself a few bucks,  enjoy a leisurely lunch break here (and take in the gorgeous view of Brickell Key while you're at it).
Offered: Dinner errday
Sounds Delish: Roasted Prime Rib, Chicken Thanksgiving, Butterscotch and Heath Bar Bread Pudding.
Having had many a delicious meal at Mignonette, we highly recommend visiting them for Spice. The food is top notch (especially that prime rib), and Chef Danny Serfer owns a pug, which is always a plus in our book.
Offered: Lunch Monday through Friday; Dinner errday
Sounds Delish: Yuzu Ponzu Octopus "Tiradito," Braised Oxtail Raviolis, Caribbean Seared Ahi Tuna, Passion Fruit Sabayon.
There's a wide range of items on this menu to please just about any palate. Chef Cindy Hutson is a culinary genius, so expect a memorable dining experience. Also, make sure to get a mojito — they have some of the best in town. Please note that the menu changes daily, so you may want to call in advance to avoid any surprises.
Offered: Dinner errday
Sounds Delish: Creamy Sea Urchin Polenta, Spiny Lobster Flatbread, A Slice Of Summer Sundae
This Brickell staple is home to one of the city's best happy hours. For the next two months, it's also home to a killer Spice menu that available every single day. We'll be there in a few weeks ourselves, and we'll be sure to report back.
Offered: Lunch Tuesday through Saturday, Dinner Tuesday through Thursday
Sounds Delish: Chocolate Cremoso, BBQ Spiced Brisket Melt, Yellowtail Snapper, Watermelon Radish Salad, Vichyssoise 
Amazing food and an equally amazing view. We sat down for a life-changing dinner at Seaspice's sister restaurant Modern Garden earlier this year, which has since merged menus. Make sure you save room for the chocolate cremoso, which is easily the best dessert on this list.
Offered: Lunch Monday through Friday; Dinner Sunday through Thursday
Sounds Delish: Watermelon Kimchee, Hot Fried Chicken, Tamarind Mojo Pork Sandwich
Chef Timon Balloo's food packs some incredible flavor, and that trend continues with the restaurant's Miami Spice menus. Even if the Spice menus don't catch your eye, there's plenty of great stuff on the regular menu (including the famous bacon-wrapped dates).
Offered: Lunch Monday through Saturday; Dinner errday
Sounds Delish: Pescado Frito, Roasted Lamb, Lomo Saltado Empanada, Achiote BBQ Salmon, Toro Toro Tres Leches
There are a crazy number of appetizer and entree options for both lunch and dinner. Each day has a different single entree, and Saturdays and Sundays offer taco bars. Whether you're going for lunch or dinner, this is a winner.
Maybe we've made your decision easier. Maybe we've made it worse. Either way, happy Miami Spice!