The eighth-annual Artopia, presented by Miracle Mile and Downtown Coral Gables, will bring together Miami's best creative talent Thursday, February 18, 2016, at the Coral Gables Museum. Art aficionados will enjoy an eclectic and unique artistic experience provided by artists, musicians, fashion designers, culinary masters, and cocktail creators.
Expect to enjoy a wealth of food and drinks as many local businesses will join in on the fun. Satisfy your appetite with bites from Trust & Company, MesaMar Seafood Table, Divino Ceviche and Donut Divas (to name a few). To help you wash it all down, Finlandia Vodka, Beck's Beer, Monster Energy Drink, Dunkin' Donuts and Caribe Exotic Juice will be serving up tasty beverages throughout the night.
Confirmed entertainment includes live performance art by Torek Le Fresh, chalk artist Zero, award-winning tattoo artist TATTOO GIT, and many others to come. Along the musical performance line, Artopia will also feature a musical performance by LIV House DJ/producer Anthony Pisano.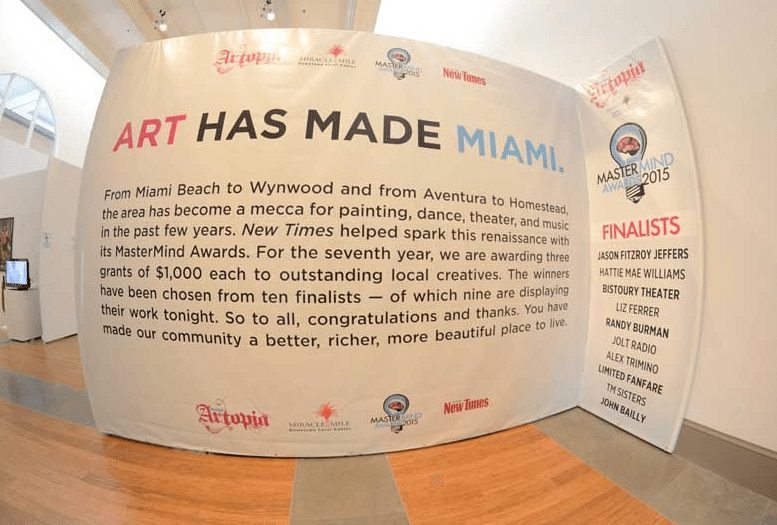 In addition, MasterMind Awards will be presented to local artists, writers, craftspeople, and other performers whose work stands out for its enterprise, creativity, and genius. Each winning artist will receive a $1,000 grant. Recipients of the 2015 MasterMind Awards include Bistoury Theatre, TM Sisters, and Randy Bowman. Past winners include Bleeding Palm, Jesse Perez, Rosie Herrera, Jillian Mayer, the End/Spring Break, Drugged Conscience Records, Christy Gast, Jorge Rubiera, Jen Stark, Susan Lee-Chun, Otto Von Schirach, Julien Yuri Rodriguez, and Kevin Arrow. Finalists for the 2016 MasterMinds Awards will be announced in late January and will display their talents at Artopia.
The multi-sensory event will take place starting at 6pm for VIP ticket-holders, and 7pm to 10 pm for general admission. Artopia annually draws thousands of young professionals, local businesses, and gallery-goers for an evening of art, gourmet food, and tasty libations, including exclusive beer courtesy of Beck's. The VIP Experience includes entrance one hour earlier into the event, access to an exclusive lounge featuring a private DJ, premium restaurant samplings not available in general admission, a sponsored bar, as well as full access to the Artopia event.
GA tickets are available online for $25 ($45 for VIP). Tickets will also be available at the door for $40 and $65, respectively. Purchase yours today at NewTimesArtopia.com.
Images courtesy of Miami New Times.