February 12, 2016
Each Friday, we compile South Florida food-related news and events that we couldn't fit on the site earlier in the week. Want to be included in next week's roundup? Shoot us an email at bark@miamifoodpug.com.

Here's your weekly dose of nom.
Bazi Hosts Chinese New Year Gathering
Crawdaddy Wednesday at The Federal
Spasso Opens in Coconut Grove
President's Day Brunch With Big Time Restaurant Group
Puppy Love at Ms. Cheezious
Sushi Garage Opens at Sunset Harbour
Valentine's Day Cocktail at AC Lounge
New Desserts at Verde
Secret Garden Celebrates 3-Year Anniversary
The Salty Donut Pops Up at Hyatt Centric
Lip Service Thursdays at STK
Bazi Hosts Chinese New Year Gathering
To celebrate the Year of the Monkey, Miami's cooking instructor and Wok Star Eleanor Hoh will be bringing her HOH WOK CLUB to Bazi for a delightful Chinese New Year dinner, Sunday, February 21st from 4-6pm. The 3 course scrumptious dinner set at $50 includes tips and tax. Only 50 lucky guests get to join Hoh inside Bazi's dramatic dining room with red and gold accents, replete with elegant tufted banquettes, artfully shaped bonsai, and a massive dragon with glittering golden scales. Bazi is located inside the legendary Marlin Hotel at 1200 Collins Avenue, Miami Beach.
Bazi will offer guests a festive communal dining experience rich with traditional Asian touches. Diners can get their year off to a lucky start by enjoying menu items such as house made sweet potato dumplings for prosperity, long noodles to symbolize longevity and crispy snapper signifying abundance. The dinner ends with two dessert choices of chocolate bowl and pan dan rice pudding.
Visit Hoh's blog for the complete menu and how to make your reservations. Guests are advised to make their reservations as soon as possible to avoid disappointment as her Chinese New Year gatherings have proved very popular.
Crawdaddy Wednesdays at The Federal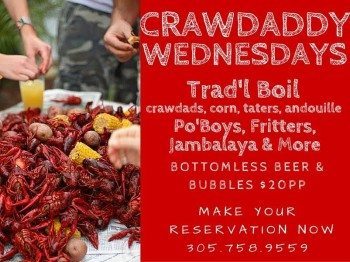 Great news, Crawdaddy Wednesdays at The Federal is kicking off early this year. The fourth annual throwdown will launch this Wednesday, February 10and will be held weekly through the end of spring. The traditional boil, priced at $15 per pound or $50 for five pounds, is served with taters, corn and andouille sausage.  Bottomless beer and bubbly will be offered at an additional $20 per person.
Due to Cesar's time spent in Houston and traveling through Mississippi, Zapata has an affinity for crawfish and Cajun cuisine, making this his favorite time of year. Not only does the restaurant offer crawfish boils, but the special menu will also offer po'boys, jambalaya, fritters and more. Also to note, the restaurant brings the crawfish live weekly where they are then purged of the mud in a saltwater bath.
Spasso Opens in Coconut Grove
Miami's oldest tropical oasis, Coconut Grove, has introduced a new fresh approach to Italian dining called Spasso (3540 Main Highway). Staying true to the restaurant's name, an experience at Spasso is surrounded by pure enjoyment from the authentic cuisine and ambiance.  Italian native Chef Gaetano helms the kitchen and operations, executing dishes that are focused around his Italian heritage.
The menu is divided into appetizers, salads, proteins, sides, homemade and imported pastas, handcrafted pizza and traditional desserts. The beginning act of Spasso will start with a light and refreshing Asparagi ($9) consisting of steamed pencil asparagus, gorgonzola, boiled egg, tomatoes drizzled with thyme dressing, or a savory Polpettine ($10) beef and veal meatball with blonde raisins, basil-infused tomato sauce.
Thin crust pizzas are baked in a stone-fired oven with versions like a classic Margherita ($16), or an indulgent Funghi ($18) complimented by wild mushrooms, goat cheese, mozzarella, basil pesto drizzled with truffle oil. Pastas include a Linguini ($18) mixed with manila clams, baby calamari, tomatoes and pine nuts, homemade Orecchiete ($16) paired with oxtail meat, tomatoes, arugula, and parmesan and two types ofrich Risottos ($16-19). Other main attractions showcase a Branzino ($24) served atop a puttanesca sauce, a 16 oz. bone-in ribeye known as Intercoastato ($36), or the Scottadito ($36) which is a Colorado Lamb Chop.
As a grand finale, dessert admirers can fall in love with a signature Tiramisu, seasonal red wine poached pear or Tahitian vanilla crème brulee or a homemade gelato and sorbet trio. All sweet selections are priced at $10.
President's Day Brunch With
Big Time Restaurant Group
Finally, a Monday we can get excited about. This Presidents' Day, Monday, Feb. 15th your favorite Big Time Restaurant Group locations will be celebrating by serving up their photo-worthy weekend brunches. Big City Tavern, City Cellar Wine Bar & Grill, City Oyster & Sushi Bar, Louie Bossi's, and all Rocco's Tacos & Tequila Bar locations will be serving their weekend brunch menus, composed of mouth watering dishes that cover everything from pancakes to sushi.
For the sweet-tooth, Big City Tavern offers Banana Nutella French Toast; for something less traditional but equally delicious, try the Breakfast Pizza at City Cellar Wine Bar & Grill. The options are endless, and what better way to accompany this tasty brunch than with Unlimited Mimosas and Endless Bloody Marys. Reservations are recommended for guaranteed seating.
Puppy Love at Ms. Cheezious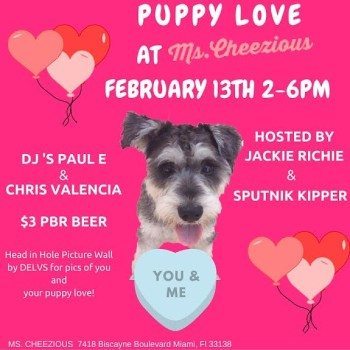 Celebrate your true puppy love at Ms. Cheezious this Saturday (February 13) from 2 p.m. to 6 p.m. Hosted by Jackie Richie, the event should be a fun-filled afternoon. Come have some beers, eat some ooey gooey grilled cheese and hang out with furry four-legged friends.
Guests can take advantage of $3 Pabst Blue Ribbon and enjoy sounds from DJs Paul E. and Chris Valencia while playing Connect Four and other entertaining games. There will also be a photo wall, so you can get pictures with your pup.
RSVP for the event through Eventbrite.
Sushi Garage Opens in Sunset Harbor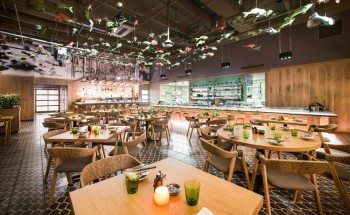 Restaurateurs Jonas and Alexandra Millán and Chef Partner Sunny Oh of Juvia Miami Beach and Bonito St. Barth are thrilled to announce the opening of Sushi Garage. The 100-seat, 4,000 square foot restaurant is located on the newly dubbed "Restaurant Row" of the locals-friendly and foodie-centric Sunset Harbour neighborhood. Now open to the public, the restaurant honors Japanese culinary philosophy by utilizing the freshest and finest ingredients, with bold and innovative takes on traditional classics.
Helming the kitchen is Partner Chef Sunny Oh, who also oversees the kitchen at Juvia. Prior to joining the Milláns, he was executive chef of Nobu Restaurant on South Beach for more than a decade. Joining Oh at Sushi Garage is award-winning corporate pastry Chef Gregory Gourreau, who has worked extensively in both France and The United States alongside iconic toques including Alain Ducasse and Francois Payard.
Sushi Garage offers a number of hot & cold appetizers such as Kampachi Yuzu – Cilantro Salt Tiradito and Chicken Shrimp Gyoza. Main entrées include items like Miso Maple Seabass and Sliced Tenderloin Teriyaki along with a number of unique nigiris ranging from Truffle Shitake Nigiri to the delectable Hamachi Chili Tosazu.  Refreshing libations, crafted by Bonito St. Barth's awardwinning mixologist Jerome Hurtado, perfectly pair with Chef Sunny's delectable menu.
Keeping it simple and Japanese to its core, Sushi Garage also pays homage to its neighborhood, which was once a bustling warehouse district that has fast become one of the most desirable neighborhoods in Miami Beach. The Japanese restaurant also plans to incorporate a lifestyle retail component in the near future, allowing patrons to take away a piece of Sushi Garage with them. Sushi Garage is located at 1784 West Ave. serving dinner seven days a week. For more information visit SushiGarage.com or call (305) 763-8355.
Valentine's Day Cocktail at AC Lounge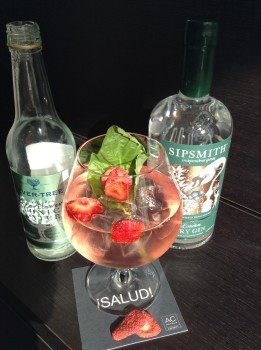 To celebrate the lovers' holiday, AC Lounge has added a romantic twist to one of their signature cocktails. On February 14, stop by to try the Dear Prudence. Sipsmith-Made in London, this namesake dry artisan gin is distilled in "Prudence," a unique and handsome copper still.
Expect notes of meadow flowers, juniper and citrus abound, with a dollop of orange marmalade on the palate. The drink also uses Fevertree Elderflower Tonic. Freeze dried strawberries, which are regularly used in creating Spanish style gin tonics, add a pop of red to the cocktail and give it a Valentine's Day flair. The cocktail is available for $11.
New Desserts at Verde
After seeing the newest additions to the menu at Verde at PAMM, you'll be sure to save room for dessert. Chef Kaytlin Brakefield has created four new dishes appealing to all guests ranging from the those who prefer light desserts to the sweet-toothed dessert fanatics.
For something on the lighter side, there's the Greek Yogurt Panna Cotta combining Greek Yogurt and Heavy Cream, topped with a fresh Mango Sauce. For chocolate lovers, the Chocolate Bread Pudding is made with Baguette bread, 70% Chocolate, Orange Anglaise, and a side of Vanilla Ice Cream. And if warm donuts aren't delicious enough alone, Verde's Brown Butter Sugar Donuts are now served with Guava Sauce and Dulce de Leche for dipping. Additionally, Chef Brakefield is putting modern twist on a signature Florida flavor with Key Lime in a Jar. This zesty treat is made with Key Lime Curd, Graham Crumble, and Whipped Cream all served in a jar.
To make a reservation, please call 305.375.8282.


Secret Garden Celebrates 3-Year Anniversary
The most attended yet secretive pop-up party during Wynwood's Art Walk, Secret Garden, celebrates its three-year anniversary, welcoming all experience seekers to an "Enchanted" journey. On February 13th, starting at 7pm until 3am, Secret Garden's creators bring the Enchanted edition to Wynwood's most exclusive venue… MANA. This unique venue spans over six acres with 32-foot ceilings and is known for bringing Miami's culture to life by hosting only high-quality productions.
Enchanted brings you an innovative kind of art walk, different from any before. As soon as you step into MANA, you will be transported into the magical world of Alice in Wonderland, feeling the eerie moss underneath your feet as the enchanting forest swarms over you. Siglo will be presenting Down the Rabbit Hole with a full on maze incorporated into the art gallery, as well as a special installation presented by Poetry of I.
After finding your way out of the Rabbit Hole, you will be cordially invited to the Mad Hatter Tea Party taking place on the main stage with a special performance by PILLOWTALK, Superlounge and many more. This month, Secret Garden is taking Art Walk to the next level by building a special room to make you feel as small as Alice when she drank the famous Drink Me Potion. One room will make you feel as small as a ladybug on the forest floor, while the other room will make you feel like you have grown 15 feet in two seconds! You can even confess your deepest and darkest secrets at the HGAB Magazine confession installation. This art walk will have you trembling on your feet at the intricate details of this garden.
As you get lost exploring the Secret Garden, you will be in the presence of 20+ local artists showcasing new and exciting works of art within the art exhibit. Great local DJ talent, such as Jeremy Ismael, Ohashi, Loud Silence, Puma and Harry and many others will set the mood after local bands WNWD and Bedside present their live entertainment.The headliner of the night PILLOWTALK will not disappoint with an exclusive live performance at the main stage.
Limited free passes and more information are available on Eventbrite.


The Salty Donut Pops Up at Hyatt Centric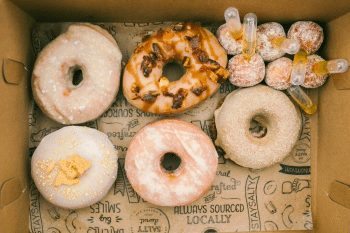 For one day only, Hyatt Centric South Beach will be home to The Salty Donut's first South Beach pop-up on Saturday, February 13th from 8 AM to 2 PM in the hotel lobby.
This is the first time The Salty Donut will venture to the Beach since the opening of their pop-up shop in Wynwood during Art Basel 2015. There will be a variety of the sought-after donuts for sale including their 'Traditional' Glazed Buttermilk donut, Maple Bacon donut, Guava & Cheese donut, and a special heart-shaped Valentine's Day donut.
Hotel guests, tourists in the area and Miami Beach locals are all welcome to stop in and get a taste of Miami's first artisanal donut shoppe, whose highly anticipated shoppe is set to open in Wynwood this Spring. Be sure to stop in early before they sell out!
Lip Service Thursdays at STK
STK Miami recently launched their weekly Thursday night party, Lip Service. The party takes place in STK's bar and lounge area, offering guests the signature 'Bubbles, Bites & Booze' happy hour menu every Thursday, all night long!
Happy hour offerings include prosecco, house selected wines & specialty cocktail favorites as well as $5 shot specials. Guests may also enjoy STK's famous Lil' BRGS with parmesan truffle fries, and mini tuna tartare.
Signature shots include:
SXchachacha
Reposado Tequila – hint of lemon & honey
SXmojito
Aged rum – hint of lemon & mint
Tennessee Toddy
Jack Daniels Honey – lemon juice

Flower Power
Fernet Branca – St. Germain
Raspberry Mama
Herradura Silver Tequila – Chambord