March 18, 2016
Each Friday, we compile South Florida food-related news and events that we couldn't fit on the site earlier in the week. Want to be included in next week's roundup? Shoot us an email at bark@miamifoodpug.com.
Here's your weekly dose of nom.
Juvia Launches Sunset Menu
TacoCraft to Open in South Miami
New Bar Program at the Wynwood Yard
Miami's First Donut Festival
Brunch for Every Lunch at Blue Collar
Tanuki Makes U.S. Debut in May
Mignonette's Mollusk March Madness
db Bistro Hosts Wine Dinner
Byblos Celebrates the Persian New Year
della Now Delivers and Caters
Miami Open Viewing Party Cocktail
The Brooklyn Express Opens in Fort Lauderdale
Juvia Launches Sunset Menu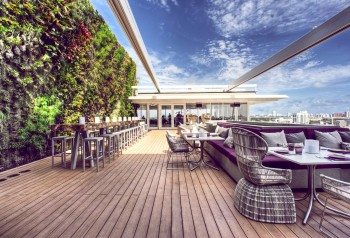 Who doesn't love more sunlight? On March 13, Juvia Miami celebrated the beginning of Daylight Savings with the launch of their new Sunset Menu. Available seven days a week from 6pm to 8pm, specialty cocktails are available at $11 and snacks at $10. Cocktails include the Fresh Sunset prosecco, elder flower syrup, fresh mint and Ginger White Fizz gin, ginger beer, fresh lemon juice, orange bitters, eggs white. For snacks, guests can nosh on Shrimp Anticucho black tiger shrimp, Peruvian olive aioli, micro cilantro and Hamachi Tacos avocado, cilantro, jalapeno, huacatay. Access Juvia via private elevators to the Penthouse level to see one of the best sunset views in Miami.
TacoCraft to Open in South Miami
South Florida restaurant industry leader, JEY Hospitality Group, is pleased to announce the launch of its new TacoCraft taqueria & tequila Bar location, slated to open its doors later this year at 5829 SW 73rd Street in South Miami across from its sister restaurant, ROK:BRGR. The taqueria and tequila bar concept will open in May and will feature similar menu items, weekday specials and Happy Hour deals as its flagship location in Fort Lauderdale. The restaurant will be open for lunch, dinner, late night bites and will also serve Sunday Brunch.
The menu will feature TacoCraft's already popular Mexican street food inspired dishes created with the best of local, seasonal and sustainable ingredients. Menu items will include a wide variety of tacos made with hand-crafted tortillas, homemade guacamole, hearty entrees, a quesadilla bar and more. Tequila lovers can indulge with a selection of more than 150 types of tequila and mescal.
TacoCraft South Miami will occupy a 3,000 square foot space offering indoor and outdoor seating for approximately 100 guests. Keeping with the concept's urban artistic theme, the restaurant will be decorated with street art and hand painted murals created by local artists especially selected for the project. Overseeing day to day operations, will be general manager Nicholas Carmona, who is also the current general manager at ROK:BRGR South Miami. The restaurant will be open Sunday through Thursday from 11:30 a.m. to 2 a.m., Friday and Saturday from 11:30 a.m. to 4 a.m. with a late night taco window.
New Bar Program at the Wynwood Yard
In March, The Wynwood Yard celebrates a relaunch and some exciting new developments, including a partnership with Tactivate, the group that created the Active Collaborative Workspaces with Brooklyn Boulders around the country which mesh open offices with physical activities like rock climbing walls. Tactivate has spearheaded the creation of a dynamic craft cocktail and Per'La Roasters coffee program at The Wynwood Yard's new bar, The Mortar & Pistil.
Tactivate has also kicked off a series of events that transcend traditional notions of fitness and adventure and that further hone the site's soulful, active vibe.  The Wynwood Yard is now a place to eat, play, sweat and learn like nowhere else in Miami!
Tactivate aims to deepen the connection between physicality and the mental work most of us do all day at the office. To that end, Mortar & Pistil mashes up fun physical challenges, skills training and craft cocktails in a way that has never been seen in Miami. For example, a patron might learn to tie a special knot while the bartender prepares their Sophisticated Savage cocktail (gin, citrus juice, star anise simple syrup).
In addition, Tactivate has kicked off a slate of events that reinvent notions of traditional happy hours or fitness classes, including Wednesday's evening's Battle Balls event in conjunction with Weekend PE, in which guests get inside of inflatable human hamster balls and hurl themselves at each other. Afterwards, they can have drinks together and feel like all is right with the world again. Or they can learn emergency preparedness from a special operations veteran and sip a Shit I'm Balding cocktail (Tequila Reposado, jalapeño, agave, lime juice, pineapple juice) in the rustic-chic new Tactivate tent during Tourniquets and Tequila. (Find all of these events at thewynwoodyard.com/events)
The Wynwood Yard will celebrate the exciting changes on March 26th at the SaturDaze Drinking event in collaboration with Prism Music Group. Enjoy live music, food from The Wynwood Yard's resident culinary concepts, group drink specials and some surprises. Admission to the event is free; RSVP here.
Donuts!: Miami's First Donut Festival
Presented by Vine PR, Donuts! will bring together the best and most buzzed about donut shops for a night celebrating the comeback of America's favorite sugary confection. Guests will enjoy delicious donut samplings from a variety of donut shops and restaurants as well as have the opportunity to cast their vote for the people's choice Golden Donut Award. To date, donut participants include:
• Donut Divas & Fun Foods
• I Heart Mac & Cheese
• Parlour Vegan Bakery
• YoNutz ~ Gourmet Donuts, Ice Cream & More
Donuts!, the first and only event of its kind, will take place on Thursday, March 31st 2016 from 7p.m. – 10 p.m. at The Wynwood Yard – 56 NW 29th St, Miami, FL 33127. Sponsored by Mar Media and Doink Design, Donuts! will also feature a number of different beverage partners including: Concrete Beach Brewery, Elephantea, Neuro Drinks, VOSS, and hot coffee provided by Dunkin' Donuts.
Guests will also be able to enjoy traditional yard games such as corn hole, ping-pong and a life-sized Jenga provided by The Wynwood Yard.
To purchase tickets, visit: https://goo.gl/S9EhYl. Ticketing details include:
• General Admission ($25) – unlimited donuts & 2 beer tickets
• VIP ($45) – 1 hour early entrance (6 p.m.), open bar all night + GA
For more information, please contact Vine PR at (305) 447 – 8678.
Brunch for Every Lunch at Blue Collar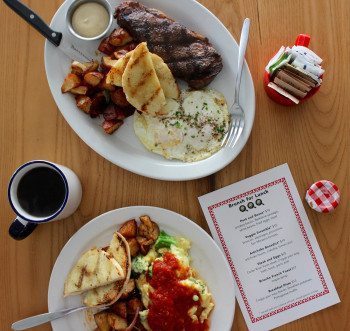 The only thing longer than the line at a South Beach club on a Saturday night is the line for Blue Collar's brunch on Sunday morning.  Chef/Owner Danny Serfer and Chef de Cuisine Ervin Bryant had an idea – why restrict brunch to weekends? Miami isn't beholden to society's constructs and restrictions – especially when it comes to egg intake! Brunch for Every Lunch was born. Starting today, Blue Collar will offer six of its top-selling, most popular best brunch offerings during lunch service, Monday through Friday, in addition to the restaurant's "usual" complete lunch menu.
"True – breakfast is the most important meal of the day–but brunch is like is like breakfast's older, cooler friend who can buy beer," Chef Danny Serfer extols.  "Blue Collar has been a brunch destination since opening in 2012. What better way to follow up an epic night out than with an incredibly satisfying meal?," he adds.  "And since it's always the weekend here in Miami, serving brunch daily keeps everybody on schedule!"
There will be no shortage of egg porn on weekdays anymore! The Brunch for Every Lunch menu will feature Blue Collar's signature Pork and Beans ($16) with smoky Neuske bacon, Berkshire sausage, white beans, toast and a fried egg on top. For veggie fiends, the Veggie Scramble ($15) with broccoli, asparagus, provolone cheese and San Marzano tomatoes; Artichoke Benedict combines artichoke hearts, ciabatta and lemon aioli. It's just not Brunch without the classics; Steak and Eggs ($25) Cedar River Farm steak, two eggs, hash, toast and garlic aioli; Brioche French Toast ($17) with maple syrup and a Breakfast Plate ($13) three eggs your way, bacon, breakfast potatoes and a Portuguese muffin.
"Most chefs demonize Brunch, but it's really my time to shine" Bryant chimes in.  Guests of Blue Collar can find Ervin behind the line, singing to each cheeseburger and serenading the jambalaya. "I love to cook, it's so much fun! Feed you at The Collar, make your taste buds holla!"
They say you can't make an omelet without breaking a few eggs.  Blue Collar plans to crack a lot of eggs, seven days a week!
Tanuki Makes U.S. Debut This May
Tanuki, the international Pan-Asian concept with more than 60 locations around the world will open at the corner of Alton Road and 11th street this May, bringing the Tanuki experience to South Beach – and the U.S. – for the first time.  Tanuki is brought to the U.S. by the world-renowned dining and entertainment company, Bulldozer Group, known for its high-end brand management and investments.  It will bring a much needed unique spirit to the renovated neighborhood that currently houses a Whole Foods, where locals go for the freshest organic groceries and the quaint Flamingo Park, where families gather for quality time under the South Florida sun.
Featuring 100 indoor and outdoor seats within a 3,500-square-foot space, Tanuki is surrounded by lush greenery and, in true Tanuki fashion, welcomes guests with a towering statue of the mythical creature in the center of the dining room, which will create a unique atmosphere for any kind of event. Upon entering, guests will be surrounded by Asian-inspired art and digital imagery reminiscent of Tokyo's bustling Shibuya Crossing District displaying live ticker from the world's stock exchanges for those conducting business meetings.  All of this is combined with a traditional Japanese style and a hint of industrialism with its reclaimed barn-wood walls, steel beams and exposed lofty original 1940's Miami-Dade Pine ceiling. The outdoor terrace will serve as the perfect setting for locals looking for a pet-friendly dining experience.
Based on centuries of rich Japanese  recipes and flavors, Tanuki cuisine is the perfect accompaniment for any occasion or group size.  The chef, whose name is not being released just yet, will surprise many in the industry as it will bring a classic yet creative execution to dishes that will satisfy everyone, from a group of girlfriends lunching after yoga  to friends and family enjoying a fun evening out, to a late night snacker swinging by after work.  The Tanuki menu features more than 150 items, including Sushi, Sashimi, creative Rolls and Dim Sum; Signature entrees will feature the Tanuki take on Peking duck, chicken, seafood, beef, veggies and noodles; snacks for sharing; soups and salads; and desserts. Tanuki will also offer healthy options for those looking to enjoy a vegan, gluten free, vegetarian, or a pre-fixe calorie controlled meal.  Menu items coming in generous portions will range from $12 – $35 per dish. The bar won't skip a beat with its vibrant scene offering hand-crafted cocktails that range from $12-$15 in price, world class sake selection and wine list along with a traditional Japanese tea service and fresh-pressed juices.
Tanuki South Beach is located at 1080 Alton Road, one block north of Whole Foods. Tanuki will be open for lunch, dinner and late night seven days a week, from 11am to 2am. With the complete menu available for delivery and take-out nightly until 2am, everyone is invited to bring the Tanuki experience home. Valet parking will be available, as well as dedicated self-parking spaces for Tanuki customers in its rear parking lot.  For more information, visit www.Tanuki-Miami.com
Mignonette's Mollusk March Madness
March Madness is here and Mignonette wants in on the action!  Chef Danny Serfer has stacked his bracket with the top seeded writers, local foodies and basketball experts to compete in Mignonette's first-ever Mollusk March Madness.  Mignonette will pit contestants against each other in pairs and give each a platter of shucked oysters.  With 60 seconds on the clock, the slurp-fest will commence!  Whichever pair has devoured the most oysters moves onto the next round, and so on.  Beginning Monday, March 21st at 6pm, Mignonette's Elite Eight will compete. Keeping in step with the NCAA, the Final Four will go on to the next day, Tuesday, March 22nd and the Championships will be held the following, Monday, April 4th at 6pm.
"There's one thing I've always been good at," Chef Danny Serfer says, "and it's not sports.  But I take my sport-adjacent activities very seriously. Both of our restaurants –Mignonette and Blue Collar – have Fantasy leagues, and my partner Ryan and I consider it serious business.  This year, instead of filling out our brackets like the rest of the world, we're making this about slurping oysters.  We're changing the game."
233. That is the number of oysters World-Record holder, Colin Shirlow, slurped in four minutes. The projections look good for Mignonette's record-hopeful participants.  The Miami Herald's Adam Beasley will match up against The Chowfather himself, Steven Scharf.  Carla Torres talks a big game and will be going head-to-head with sports-radio king Jonathan Zaslo.  Lee Klein squares off against Gio Guitierrez of ChatChow/Instagram fame. PR maven Larry Carrino will pair up against a special Wild Card contestant in the final match up of the Elite Eight. Their names will be featured on the restaurant's marquee and blank brackets will be provided at the restaurant.  Any guest who fills out their bracket correctly will win a half dozen oysters, which they can consume at their leisure.
The smack-talk has begun.  Who will be this March's Cinderella story?  Come out to Mignonette at 6pm on Monday, March 21st to see the action! And remember, winner takes all.  The glory, the bragging rights and a Kobe-apology-sized trophy.
db Bistro Hosts Wine Dinner
Next up in db Bistro Moderne Miami's 2016 Winner Dinner Series is a battle of the ages: Old World French wines compared with New World American wines. Each course from Executive Chef Clark Bowen will be accompanied by a New World and an Old World wine of the same varietal to compare and contrast various expressions and winemaking styles of both. Inspiring dishes from Chef Clark include Crab salad with cucumber, orange and fennel, and Beef Bourguingnonne with pearl onions, heirloom carrots and mushrooms. Tickets are on sale now.
WINE DINNER MENU:
CRAB SALAD
Cucumber, Orange, Fennel
Pascal Jolivet, Sancerre, Loire Valley, France 2014
v.
Duckhorn, Sauvignon Blanc, Napa Valley, California 2014
PAN ROASTED SALMON
Tarragon, Asparagus, Buerre Blanc
Faiveley, Bourgogne, Burgundy, France 2012
v.
Fogdog, Pinot Noir, Sonoma, California 2012
BEEF BOURGUIGNONNE
Pearl Onions, Heirloom Carrots, Mushrooms
Delas, Crozes-Hermitage, Rhône Valley, Fran
v.
Qupe, Syrah, Santa Barbara, California 2012
FLAN DUO
Flan Parisien & Rhubarb-Pistachio Flan, Cream Cheese Ice Cream
Byblos Celebrates the Persian New Year
In honor of "Nowruz", also known as the Persian New Year, Byblos Miami has created a celebratory four-course prix fixe menu to welcome in the New Year. Celebrated by Iranian people worldwide as the start of the year and the first day of spring.  Byblos has created a menu with traditional Persian New Year dishes. The special menu will be available from March 21st – April 3rd and guests will enjoy an array of Eastern Mediterranean delicacies. The menu is $70 per person.
Guests will begin their Persian New Year with a first course featuring Eggplant Roll with Braised Lamb, Toum (garlic sauce), Pucked Turnips and Dukkah (Egyptian spices and nuts). The second course offers patrons a choice between Kookoo Sabzi (a Persian frittata) with organic eggs, herbs, and sumac (a spice) and Hamachi and Jalapeno Labnah (yogurt) with sweet red onion. The third course offers a choice between Pan Fried Branzino with harissa and rose, Basmati Rice and Brussel Sprouts with tahini and yogurt. For dessert, guests can indulge with a choice between Pavlova (a merengue cake) with Vanilla Labnah (yogurt) with raspberries and apple jelly, Hibiscus Chocolate Truffle or Walnut Ice Cream.
della Now Delivers and Caters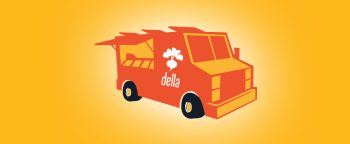 della test kitchen, offering plant-based "healthy bowls of happy," now offers delivery to Wynwood, Edgewater and Midtown. Housed at The Wynwood Yard, della test kitchen has delighted locals with healthy, quick meals made with passion and love, layering each customizable bowl with a colorful array of warming grains, energizing proteins, healthy fats and vibrant vegetables since it opened last fall.  Delivery orders can be made through chownow.com or via the della app (text "DELLA" to 33733 to download) with a 10% discount on the first order, as well as through the apps trycaviar.com or speedetab. della test kitchen is also catering for groups of 10 or more. For inquiries, visit www.dellabowls.com/catering.
Create your own healthy and tasty bowl from a thoughtful and varied list of ingredients: a base like brown rice or quinoa, a protein, earthy veggies, and an addictive sauce–all pulsating with flavor and wellness.  Add extras like raw roots (beets + carrots + jicama) or herbs picked from the flourishing onsite garden to boost flavor and nutrition!
Too much on your mind to create your own bowl? della test kitchen offers house favorites like the Mediterranean bowl loaded with hearty brown rice and chickpeas, sweet potatoes, earthy kale, crunchy raw roots and hummus, topped with the kitchen's own sweet citrus tahini sauce, otherwise known as orange sauce.
The curry bowl satisfies hunger with hearty brown rice, seasoned tempeh, broccoli, raw roots, toasted almonds and a creamy coconut-curry-cashew sauce (yellow sauce).
della test kitchen is open for lunch and dinner Tuesday through Sunday, as well as late nights on Friday and Saturday.
Miami Open Viewing Party Cocktail
Federer or Nadal? Williams or Wozniacki? No matter who may be your favorite tennis pro, enjoy this year's Miami Open with the official champagne of the tournament, Moët & Chandon. There's no better duo than backhands and bubbly, and this year Moët has created its first-ever Moët Ice Impérial cocktail, Moët Afternoon Ice,  in honor of the annual event.
Spectators at the Key Biscayne stadium will be able to cool off with goblets of Moët & Chandon in the stands, while watching players heat it up on the court. Though champagne is always a classic celebratory libation, you can mix things up for at-home tennis viewing parties with this cocktail made with the first champagne designed to be served over ice.
MOËT AFTERNOON ICE
4 oz Moët & Chandon Ice Impérial
2 oz Grapefruit Juice
1 oz St. Germain
Pinch of salt
6 mint leaves
4 quarter wedges grapefruit
METHOD: In a large rocks or wine glass
Build: pour grapefruit juice and St. Germain over ice.
Stir in the salt, mint and grapefruit wedges
Top with Moët Ice
The Brooklyn Express Opens in Fort Lauderdale
Founder and Co-Chairman of The Original Brooklyn Water Bagel Co., Steve M. Fassberg is pleased to announce the company's latest iteration of its QSR concept:  The Brooklyn Express.  The first Brooklyn Express opens Friday, March 18 in a 731 square feet state of the art facility on the first floor of The Broward Financial Centre  also known as The Sun-Sentinel Building at 500 E. Broward Blvd., just north of Las Olas Blvd.
The Brooklyn Express takes the company's branding and operational efficiency to the next level by utilizing a hub-and-spoke model, while continuing to produce its world class products on a consistent artesian basis.  Fassberg opened the first The Original Brooklyn Water Bagel Co. Fort Lauderdale location this past summer at 601 SE 3rd Avenue directly across from the new Broward County Justice Complex and south of the New River. The 4,000 square feet full service restaurant and commissary (hub) will literally "feed" The Brooklyn Express on an hourly basis, insuring the freshness of The Original Brooklyn Water Bagel Co.'s bagels, muffins and cookies.
Launched in 2009 in Delray Beach, Florida, The Original Brooklyn Water Bagel Co.'s core products revolve around its proprietary 14 step water filtration system which recreates the water found in the Catskill Mountains in upstate New York 50 years ago.  This "Brooklynized" water is one of the key reasons The Original Brooklyn Water Bagel Co. can make a world class New York style bagel anywhere in the world. The water is also used in their hot coffee, famous Cubsta, iced teas, muffins and cookies.
Open seven days a week from 6:30 a.m. to 8 p.m. with indoor and outdoor seating for 45 guests, The Brooklyn Express menu features healthy, value-driven items, all prepared the "old fashioned way," such as authentic bagels, bagelwiches, muffins and omelets among breakfast items served all day.  In true "appetizing" style, smoked fish, Old Brooklyn deli sandwiches, soups, salads, colossal cookies and much more will satisfy any food craving.