Thursday, March 17, is St. Patrick's Day. Where will you be celebrating? If you still don't have plans for the holiday, use our roundup to find the closest place with green beer, U2 cover bands and other fun stuff. Some specials are subject to change, so call ahead to confirm the details just in case.
Without further ado …
Shake Shack
The older the fiddle, the sweeter the tune. You're in luck this St. Patrick's Day. Celebrate the big green with shakes and chocolate mint custards. Shakes will be going for $5.59, single concretes will be going for $4.59, and double concretes will be going for $6.79. Good shakes and custards are hard to find and lucky to have. So stop by the shack and enjoy a special treat this St. Patrick's Day.


Kitchen 305
Kitchen 305, located in the Newport Beachside Hotel & Resort in Sunny Isles Beach, is celebrating this St. Patrick's Day with a wide variety of specialty drinks and a traditional Irish dinner on Thursday, March 17th while enticing guests with Irish tunes for an authentic experience.
Guests will have the luck of the Irish when they order from the diverse selection of specialty Irish cocktails, beers and Irish-themed concoctions at Kitchen 305, featuring $6 green beer, $9 Irishpolitans, $5 Irish cream shots, $9 Baby Guinness shots and spiked $9 Irish coffee. The Irish twist on the Cosmopolitan includes Jameson Irish Whiskey, Triple Sec, a splash of cranberry juice and lime. For $17, guests can complement their green colored drinks and Irish cream-infused blends with the traditional Emerald Isle dish of Corned Beef and Cabbage with Irish style potatoes.
For reservations, please call 305-749-2110 or visit http://www.newportbeachsideresort.com/kitchen-305.shtml. To connect with Kitchen 305, visit https://www.facebook.com/kitchen305 or https://twitter.com/kitchen_305.


JohnMartin's Irish Pub and Restaurant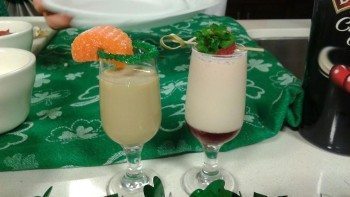 To officially celebrate St. Patrick, join the authentic Irish pub & restaurant as they party all day long. There will be all-day entertainment starting at noon with live music by Paddy Kelleghan and a bagpiper. Guests will feel like they are celebrating on the streets of Ireland. Da Infamous DJ Q will keep the party going from 8 p.m. until close. Expect Irish trivia, Irish-themed drinks and more.
For additional information or reservations, call (305) 445-3777, or go to www.johnmartins.com and don't forget to follow us on Facebook and Instagram.


Drake's at the JW Marriott Miami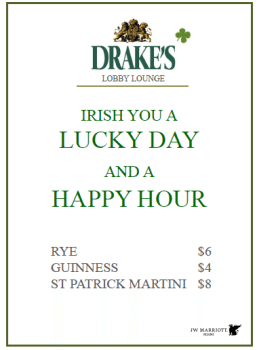 The JW Marriott Miami will be offering a special happy hour on March 17th in honor of St. Patrick's Day at Drake's Bar. The special hour will feature $4 Guinness, $6 Rye and $8 St. Patrick's Martini.
The Local Craft Food and Drink
Executive Chef Phil Bryant and his team at The Local Craft Food & Drink are channeling their inner-Irish for a fun-filled St. Patty's Day celebration, Thursday, March 17, 2016. Held behind the restaurant in their spacious back alley, Bryant, a known master of the Caja China, will be serving up Irish-inspired barbeque ($8 – $14) including Guinness Braised Spare Ribs – tender, fall-off-the-bone pork ribs in a tangy, slightly sweet and spicy Guinness and cider vinegar mop sauce;Corned Beef Sliders – house cured corned beef with melted Swiss cheese and house mustard on Guinness beer bread; Disco Chips – thick cut grilled potatoes, beer cheese sauce and bacon gravy; Lamb Andouille sausage on a hoagie roll with Creole cabbage and house mustard; and Guinness Bread Pudding – torn Guinness beer bread with white chocolate and Guinness blonde toffee, fried and served on a stick. To wash it down, they will be featuringGuinness pints and Jameson shots for $5 each. The back-alley cook-out will be held from 6pm to midnight, and drink specials will be available all day.
The full food and craft cocktail menus will be served inside during regular business hours.


St. Pat's Wynwood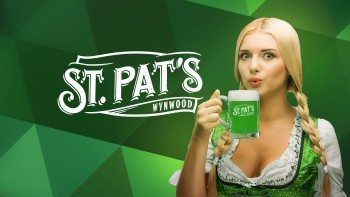 From 5 p.m. to 2 a.m., MANA Wynwood will host the ultimate Irish celebration: St. Pat's Wynwood. Guests can enjoy food trucks, lots of beer, local DJs and much more during this free celebration. Visit the official website for more details.