By Sam Brannan of Trulia
Do you want to enjoy the great eats of Miami with your furry companion? There are a variety of restaurants to choose from in Miami's animal-loving neighborhoods. Ranked 21st in the U.S. with most pet-friendly landlords in Trulia's article on America's Most Paw-some Rental Markets, The Magic City is an exceptional place to live for pet owners. In addition, these neighborhoods are packed with great pet-friendly eateries serving up scrumptious Miami cuisine perfect for a night out with the whole family – including your loving dog.
Coconut Grove
You'll find a great escape from the bustling city life of Downtown Miami on the quiet streets of Coconut Grove. If you're taking your Labrador for a jaunt down Grand Avenue, be sure to check out LoKal, which serves up an array of comfort food like chicken and waffles and burgers.  LoKal proudly boasts sustainable Florida-raised beef and locally grown ingredients.
Don't forget the "Doggy" menu, which includes great treats like Marmaduke's Meatloaf or Yeyo's Chicken and Rice. You can make sure that your pup can keep its up-tuck by taking them the dog park at Blanche Park, which is a hop, skip and jump away. Also, pay a visit to GreenStreet Café, whose philosophy is "Where there is Love, there is Life."  Its laid back atmosphere is a great place for you and your furry pal to socialize and enjoy a tasty meal.
Brickell
Over the last decade, Brickell has evolved from purely a financial district into one of Miami's premier foodie hotspots. Batch Gastropub in the heart of Brickell serves up a locally sourced approachable menu of American fare.  Stay for Batch's late night menu on Saturdays, which is served until 5 a.m. Make sure to return with FiFi for the "Hair of the Dog" Sunday brunch to enjoy bottomless sangria, Bellinis and mimosas on Batch's dog-friendly patio. If you fall in love with the Brickell food scene and want a place of your own in this thriving neighborhood, there are lots of pet-friendly Brickell rentals available.
Coral Gables
The city of Coral Gables is now almost a century old and home to many historic attractions, a great food culture, and a wide range of activities. If you're looking for a casual Friday afternoon meal with the entire family, check out Shake Shack for delicious burgers and milkshakes, and be sure to order your poodle a famous Poochini – a vanilla custard covered with peanut butter sauce and dog biscuits.
If you feel like you need to walk off the big meal, take a saunter down the M-Path, or take the crew over to the nearby William H. Kerdyk family Park. Another Coral Gables must-try is Buns and Buns, which offers freshly baked hot buns from around the world.  They serve up "gastro-fast" cuisine and have dog-friendly outdoor seating, too.
Miami Beach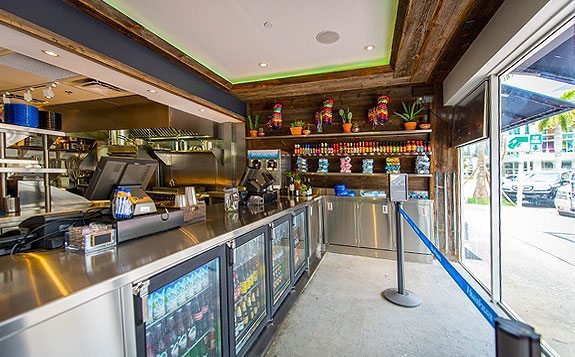 To enjoy exquisite ocean views and gastronomy with your pup, look no further than Miami beach. Take a stroll down Collins Avenue to admire the Art Deco district and stop by the amazing Mexican food options on Lincoln Road like Huahua's Taqueria, a fast and casual restaurant serving gourmet Mexican dishes that deliver in presentation and flavor;  your four-legged friend can enjoy a healthy helping of biscuits and water while there. After a quick bite at Huahua's, take your pup to socialize and exercise at Flamingo Park's dog park.
Design District/Midtown
If you're in this area known for remarkable art and food, be sure to check out Michael's Genuine Food and Drink, where you and your Golden Retriever can chill on the dog-friendly patio. Enjoy delicious contemporary dishes  including breakfast pizza and wood-oven roasted golden tilefish. Dexter will appreciate any scraps from your plate, which is completely comprised of local ingredients.
If you're up for something different head a few block down into Midtown Miami and stop in at Bocce Ristorante. Play a game of Bocce with your friends and family. Even furry friends are invited on the dog-friendly patio, but fetch is probably not advised.