April 1, 2016
Each Friday, we compile South Florida food-related news and events that we couldn't fit on the site earlier in the week. Want to be included in next week's roundup? Shoot us an email at bark@miamifoodpug.com.
Here's your weekly dose of nom.
Common Threads Hosts Happy Hour at GKB
Cabo Flats Grand Opening Party
Midtown Oyster Bar Debuts Revamped Menu
New BBQ Concept from The Local
Mini-Golf Happy Hour at Viceroy Miami
Slow Food Miami's 'Snail Social' Happy Hour
March Madness at E11VEN
Giralda Under the Stars Finale
Quattro's Monday Night Wine Special
Local Pop Party at the Gale
AC Hotel's Featured Cocktail for April
Apothecary 330's Upcoming Tastemakers Event
Spris Launches New Daily Deals
Common Threads Hosts Happy Hour at GKB
Common Threads' Associate Board is hosting a happy hour Wednesday, April 6, 6 – 8 p.m. at GK Bistronomie in Wynwood (218 NW 25th Street, Miami). Tickets for the event, sponsored by GK Bistronomie, cost $25 and include appetizers and two cocktails. 100% of the proceeds will benefit Common Threads' cooking and nutrition programming for low-income children in Miami. Tickets may be purchased in advance at http://www.commonthreads.org/events/Miami-Happy-Hour.
Cabo Flats Grand Opening Party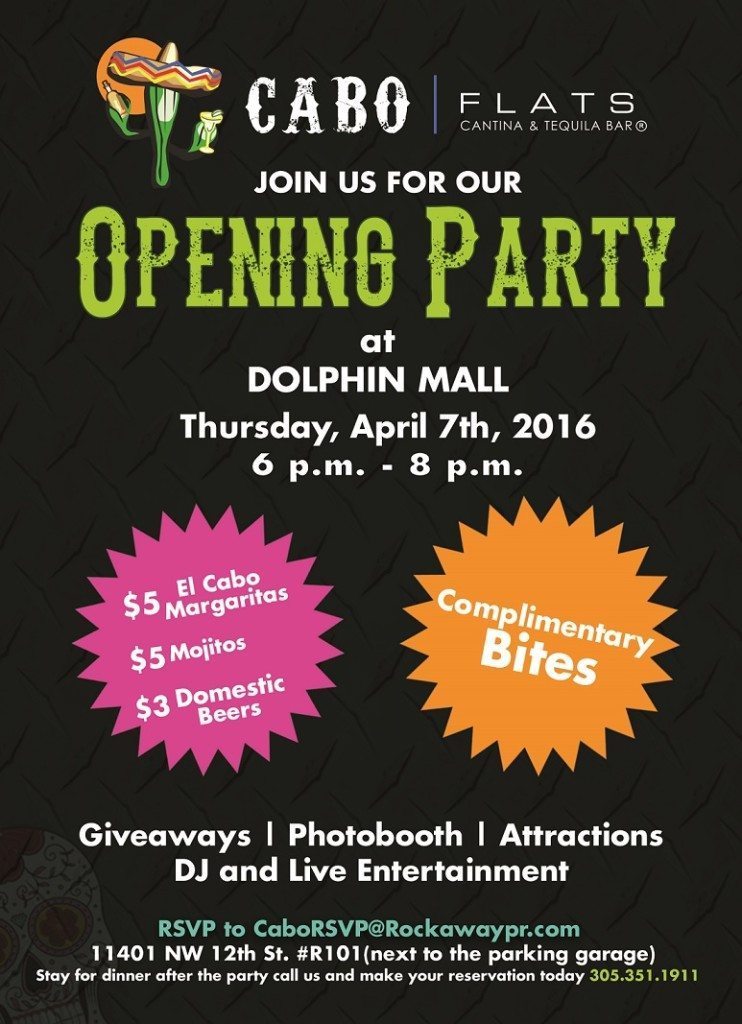 From 6 to 8 p.m. on April 7, Cabo Flats will hold a grand opening party at its new Dolphin Mall location. The cantina and tequila bar will be serving up a number of specials including $5 El Cabo Margaritas, $5 mojitos and $3 domestic beers. Guests can also expect complimentary bites as well as  giveaways, a photo booth and other fun activities.
Midtown Oyster Bar Debuts Revamped Menu
One year after opening, Midtown Oyster Bar updates its concept to emulate a Mediterranean seaside eatery but keeping its American classics and jeweled oysters.
The new appetizers, salads and main courses, following the new tagline "A Fish Kitchen," tour the coastline of Spain, Italy, France and Greece with dishes incorporating sardines, mussels, baby smelt, shrimp, clams, octopus and calamari.
Novelties include the "Crudo" section, which showcases seafood at its best such as the the salmon tiradito – marinated salmon with orange and pink peppercorn – and the Branzino carpaccio – thinly-sliced served with fennel, Tuscan pecorino and caramelized walnut – for example. New appetizers include the Spanish octopus, the mussels (two ways: garlic or tomato sauce) and the Fritto Misto, served with tartar sauce.
The Entrepan (Catalan for "in between bread") section mixes the new with the old, the American with the Mediterranean. The Smoked Salmon Rustico is an open-faced sandwich on house-made rustic bread layered with smoked salmon, cream cheese, crispy onions, arugula and capers while the White Fish Ciabatta is the fresh fish of the day prepared Milanese and served with romaine lettuce and tzatziki sauce on a house-made soft white bread. Overall, spices and garnishes are approachable from a simple splash of e.v.o.o. to the more elaborate traditional tzatziki sauce.
The Clam Chowder, Crab Cakes, Cod Croquettes and two signature sandwiches remain: MOB Burger and Lobster Roll. Daily specials will also incorporate American classics.
Sourcing from the most reputable farms on the East and West coasts of the United States, Midtown Oyster Bar will continue to showcase the freshest selection of oysters in its revamped menu including favorites such as Island Creek, Malabar, Chatham, Hama Hama, Blue Pool and more.
Front of the house guru, Nicola Abbate, joins the wave of changes as the newest addition to the team.
"Midtown Oyster Bar is amazing, a little gem hidden in Midtown," states Abbate. "I am so excited to be part of it. The new menu has kept what was working very well such as the extraordinary oysters but now we focus on Mediterranean flavors."
New BBQ Concept From The Local
The Local Craft Food & Drink and Executive Chef Phil Bryant will unveil their never before disclosed barbeque concept – The Local 'Q – with a pop-up preview at the final  installment of Coral Gables'  Giralda Under the Stars onFriday, April 1, 2016, from 7:00 p.m. – midnight.
The Local 'Q pop-up barbeque stand will be located on the east end of Giralda with a limited menu of honest, straight forward barbeque, amazing yet simple sides, and select beers and cocktails. The crew will also be selling some of their housemade products, such as their signature smoky hot sauce, Papi's BBQ sauce, The Local's house mustard, and more.
The 'Q preview happens to coincide with the fifth anniversary celebration for The Local Craft Food & Drink and Bryant could not be happier to honor the accomplishment and thank loyal regulars by debuting his plans for a second restaurant concept.  "I've always been a huge fan of barbeque," explains Bryant. "There's just something so therapeutic about the process; it makes me feel connected to something bigger. I firmly believe that southern barbeque is America's most unique culinary contribution and I'm excited to make myself a part of it."
For the pop-up event, Bryant will be teaming up with local barbeque pit master and City of Coral Gables firefighter Joe Fantigrassi who is a quite successful regional competitor and has consulted with Bryant at prior gigs. The cash only menu ($8-$14) for the night includes Dry Rubbed Spare Ribs – dry rub, house smoke and pepper mop; Kansas City Style Burnt Ends with papi's bbq sauce and spiced peanuts; Slow Smoked Pulled Pork with uncle Phil's smoky hot sauce and housemade dill pickles; Pastrami Spiced Chicken Wings with coriander and cabbage; Macaroni with housemade Velveeta; and Cabbage And Fennel Coleslaw with herbed buttermilk dressing.
As for the upcoming restaurant, Bryant and his team are currently looking for a location in the area with hopes to open in 2016. The Local 'Q will be a casual, no fuss barbeque house serving up a straightforward menu of Bryant's favorite kinds of barbeque and sides from around the South, using unique, high quality cuts of meat, time honored traditions and his deft artistic touch. There are also plans to add a bar scene to the mix with a courtyard featuring a Southern Beer Garden.  "There will of course be some chef driven ingredients," says Bryant, "but this will more so be my attempt at giving Miami something relatable and, finally, some really great bbq."
Mini-Golf Happy Hour at the Viceroy
On Wednesday, April 6th from 5 to 10 p.m., stop by the Viceroy's FIFTY Ultra Lounge for the kickoff of Miami's only rooftop mini–golf happy hour. Guests can play a friendly game of putt-putt on a 9-hole course set-up around the club's private pool while enjoying incomparable views of the city and Biscayne Bay. Then savor delectable snacks from a pop-up taco stand presented by COYO Taco and sip on specialty drinks including spiked Arnold Palmer cocktails.
At the COYO Taco pop-up, Chef Scott Linquist scores a hole-in-one with his signature tacos (handmade using fresh corn tortillas), quesadillas and churros. Menu highlights include Cochinita Pibil made with slow roasted achiote marinated Yucatan-style pork with pickled onions and aged cotija cheese; Pollo al Carbon with grilled marinated chicken breast, pico de gallo, mixed Mexican cheeses; and Hongos y Huitlacoche filled with a variety of mushrooms and Mexican "corn truffle," fresh epazote and queso fresco. Chef Scott plans to also serve his signature guacamole with chips, choice of salsas, and Churros with Cajeta.
Viceroy Miami's rooftop happy hour takes place from 5 to 10 p.m. on April 6, 15 (tax relief themed happy hour), 20 & 27, and celebrates Miami Sports & Wellness Month, a program created by the Greater Miami Convention & Visitors Bureau to celebrate all the recreational activities that the city has to offer. Note: COYO Taco will be present at the April 6th and 15th events only. Happy hour pricing applies. For a round of mini–golf, the cost is $10 per person.
Slow Food Miami Hosts 'Snail Social' Happy Hour
Slow Food Miami will hold the latest in its series of monthly "Snail Social"  Happy Hours on Tuesday, April 12, 2016 from 6PM-8PM at Essensia Restaurant + Lounge, the farm-to-table restaurant at The Palms Hotel & Spa in Miami Beach, featuring Executive Chef Venoy Rogers, winner of Food Network's Chef Wanted.
Attendees can look forward to savoring appetizers featuring such ingredients as kale, cilantro and arugula from the Chef's organic garden. What you see is what you get (to eat)! In true farm-to-tablefashion, take a garden tour with Chef Venoy before sunset to get a peek at where your ingredients are grown.
In addition to some of the regular menu favorites like the Tempura Avocado, garnished with cilantro lime crème fraîche and tomato chipotle jam, there will also be special off-the-menu appetizers created just for Slow Food guests. Depending on what Chef Venoy harvests from the garden that day, guests can expect to enjoy hors d'oeuvres that might possibly include:
Garden Kale & Organic South Florida Wild Mushroom Albondigas drizzled with nasturtium vinaigrette
Buffalo Cauliflower with a garden herb ranch dressing
Fresh From Florida Certified Angus Beef garnished with pickled onions, tomato and an avocado crema
Each guest will receive one complimentary glass of wine, and drinks are half-off until 8PM. Guests are invited to stick around for dinner afterwards to savor more of Chef Venoy's specialties. Slow Food attendees wishing to stay will receive 20% off dinner at the restaurant.
This event is open to the public. Snail Socials are hosted by different Snail of Approval chefs and restaurants throughout Miami on the second Tuesday of every month.
Experience March Madness at E11EVEN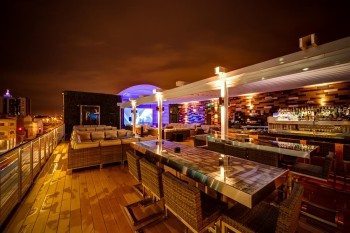 The best of the best of the NCAA are down to the wire and E11EVEN Miami has your watch parties covered! Guests are invited to The Rooftop at E11EVEN to watch the Final Four on Saturday, April 2nd. While The Rooftop at E11EVEN is usually closed on Mondays, it will open on Monday, April 4th at 7 p.m. to catch the two best college basketball teams compete for the 2016 NCAA Championship title. Guests will be able to watch the game come to life from Downtown Miami's best open-air spot on a 16-ft LED screen with surround sound, comfy sofa and table seating. The kitchen and bar will serve its full menu each night starting at 7:30 p.m. with beer & wing specials ($30 beer buckets & $50 beer and wing special).
These events are free and open to the public; seating is by reservation or first serve basis, please call 305.358.9848 or visit http://11miamirooftop.com/event-tables/2016040269297/final-four-watch-party
Giralda Under the Stars Finale
For its last event of the season on April 1st, Giralda Under the Stars will be celebrating the end of Giralda Avenue and the beginning of Giralda Plaza with the new Streetscape project occurring in the summer. The rejuvenation of Giralda Avenue will be completed at the end of the summer and the new and improved Giralda Plaza will be ready to host the next series of Giralda Under the Stars starting again in November. A new Giralda, but same great food.
From Mexican cuisine by Talavera, Spanish cuisine by La Dorada, Thai cuisine by Bangkok Bangkok, Italian by Spritz, and more, Giralda has and always will provide guests the chance to dine around the world. As guests celebrate the future of Giralda, the Local will also be celebrating their 5-year anniversary the same night and will be having a party at Giralda Under the Stars. The Bar also has a new menu that they will be celebrating as well.
For April, the musical guests for the evening is the Sunghosts, voted as "Miami's Best Band." There will also be exclusive sneak peak for guests of what Giralda Plaza will look like after the Streetscape.
Quattro's Monday Night Wine Special
Quattro Gastronomia Italiana, Lincoln Road's top destination for authentic regional Italian cuisine, is introducing Bacco Night, a new Monday night special that is sure to delight oenophiles.
All bottles of wine on La Bucca di Bacco – Quattro's impressively diverse wine list – will be 50% off every Monday during dinner service. Guests can choose from over 200 bottles from 20 Italian regions. Wines-by-the-glass are not included in the Bacco Night special.
Each selection on Quattro's wine list contains the perfect dinner menu counterpart for an unforgettable Northern Italian meal, such as a bottle of Gavi Di Gavi enjoyed with Spaghetto Tradizionale Alle Vongole Veraci – spaghetti with clams, garlic, chili flakes, white wine and extra virgin olive oil. Fans of Tuscan wines would be prudent to pair a Le Serre Nuove Tenuta dell' Ornellaia with the Costatine Brasate Di Manzo E Risotto Ai Funghi – braised short ribs with mushroom risotto, while pasta lovers will find Quattro's Agnolotti alla Piemontese – beef stew ravioli – the ideal dish to enjoy with a bottle of Marchesi Di Barolo Barbaresco.
Local Pop Party at the Gale Rooftop
On Sunday, April 10th, LDV Hospitality and Sprouted Chef Sarah Myers are teaming up to host a community pop-up party, Local Pop at the Gale Rooftop. From 2 p.m. – 8 p.m., guests will enjoy delicious healthy bites by Chef Myers, who goes by the name Sprouted Chef from her company namesake. Items by Chef Myers include an eggie toast with a farm fresh tomato basil tartare on sprouted bread or charred carrot hot dogs, bites by Bravo's "Best New Restaurant 2015" Dolce Italian, and craft beer by Wynwood Brewery.
Setting the vibe, DJ Daniel V will be spinning beats while special guest and singer Gaby Duran will add beautiful vocals. Partygoers will also enjoy a performance by the Miami-based Alma Dance Theater and artist Jay Robert Watson will have on display a unique art exhibit featuring a special piece for Local Pop.
Tickets for the event are $25. To purchase, please visit https://www.eventbrite.com/e/local-pop-community-roof-top-party-tickets-23856738146.
AC Hotel's New Featured Cocktail
This month, AC Hotel Miami Beach is celebrating Latin culture in Miami with the classic mojito, adding a strawberry twist for spring. The drink is available all month long for $14. Can't make it out? Here's what you need to make it at home: Bacardi Silver Rum, lime, mint, club soda, simple syrup and fresh strawberries.
Apothecary 330's April Tastemakers Series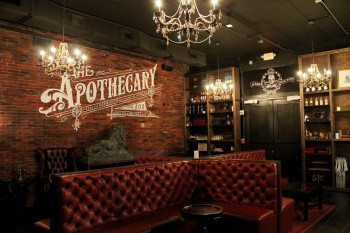 JEY Hospitality Group's Tastemakers Series continues this upcoming month with a Johnnie Walker Scotch Whisky tasting and trunk show on April 14th at 8 p.m. inside Apothecary 330. The evening will begin with a brief presentation of Johnnie Walker's heritage and will continue with a sampling of the brand's six marquees, as guests discover the art of blending scotch. Attendees will also enjoy a variety of paired seasonal spring bites from the Pizza Craft kitchen.
The cost is $45 per person for Apothecary Coin Members and $55 for non-members. Availability is limited. To RSVP, please contact events@apothecary330.com.
Spris Launches New Daily Deals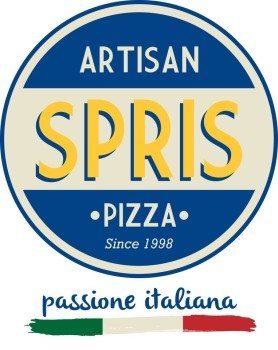 Spris Artisan Pizza's Downtown and Midtown locations have launched their new "Beat the Clock" deals including half off on pitchers of beer and bottles of wine from Monday through Friday from 5:30pm to 7pm.
Every day Spris Downtown and Midtown will offer a different menu item during its famous, and patented, "Beat The Clock" deal when you pay the price equivalent to the time you order – you order at5:35pm, you pay $5.35. The daily BTC specials are:
–       Margherita pizzas on Mondays,
–       Prosciutto e Mozzarella on Tuesdays,
–       Diavola pizzas on Wednesdays,
–       Meatballs on Thursdays
–       Calamari Fritti on Fridays, and
–       Monday through Friday: half off pitcher of beer and bottle of wine
"In addition to Beat the Clock being an unbelievable deal, we wanted to add more options to the customers and a reason to come back every day of the week for something different," explains Oscar Varona, Director of Operations. "And we topped off the whole experience by offering the best deal in town for beer or wine, so if you want to celebrate the end of the work day every day, you can do that at Spris pizza."