April 29, 2016
Each Friday, we compile South Florida food-related news and events that we couldn't fit on the site earlier in the week. Want to be included in next week's roundup? Shoot us an email at bark@miamifoodpug.com.
Here's your weekly dose of nom.
Mother's Day Yappy Hour at Lique
National Burger Month at Michael Mina 74
Bulla to Open Second Location in Doral
The Sarsaparilla Club Introduces New Options
New Social Hour at CORSAIR
Poke Party at The Hall
Teacher Appreciation Day at Hoffman's Chocolates
Seaspice to Host Fundraising Event
Yoga at Concrete Beach Brewery
Gulfstream Park Celebrates Free Cone Day
Mother's Day Yappy Hour at Lique
To celebrate the furry, four-legged children and their moms this Mother's Day, Lique Miami will host a Sunset Cocktail Yappy Hour on Friday, May 6th from 6 to 8 p.m.
A donation of $30 at the door entitles guests to two drink tickets and complimentary passed hors d'oeurves. All event proceeds will be donated to the Human Society of Greater Miami. The pet friendly outdoor lounge is located in the Intracoastal Mall at 3945 NE 163rd St. To RSVP or for more information, contact info@humanesocietymiami.com.
National Burger Month at Michael Mina 74
In honor of National Burger Month, Michael Mina 74, the casual bistro known for its legendary burgers, has created a stellar burger menu available throughout the month of May. For a limited time, guests can partake in one of the most highly-anticipated MM74 food holidays of the year. Burger lovers can treat themselves to enticing new burgers, savory lobster corn dogs or – for the kid in all of us –enjoy crispy tater tots with house-smoked bacon and good old-fashioned floats with a boozy twist. From MM74 classics such as the Dry-Aged Steak Burger and the Peanut Butter Crunch Burger to a new Vegetable Mille Feuille with smoked eggplant, grilled zucchini and mozzarella cheese, burger enthusiasts will have plenty of options to choose from.
Available nightly during dinner service; MM74's burger selections are as follows.
BURGERS
LAMB SLIDERS
Foie Gras, Watercress, Truffle Vinaigrette Pineapple, Pickled Vegetables | 20
VEGETABLE MILLE FEUILLE
Smoked Eggplant, Tomato, Grilled Zucchini, Mozzarella Cheese, Romesco | 22
DRY-AGED STEAK BURGER
Double-Smoked bacon, American Cheese Sauce, Romaine, Secret Sauce | 26
PEANUT BUTTER CRUNCH BURGER
Pimento Cheese, Bacon, Potato Chips | 26
HERITAGE TURKEY BURGER
Guacamole, Jack Cheese, Arugula, Harissa Aioli | 24
For more information, visit https://fontainebleau.com/packages/miami-beach-restaurant-deals
Bulla to Open Second Location in Doral
Centurion Restaurant Group announces the expansion of Coral Gables' notable restaurant Bulla Gastrobar (boo-ya) to Doral. Based on the critical acclaim and success of the original Bulla Gastrobar in Coral Gables and demand for refined cuisine in the area, the brand expands west to the newly developed Downtown Doral area.
Boasting private dining spaces, indoor and outdoor seating all in a 5,500-square-foot restaurant, Bulla will continue to focus on straightforward cooking techniques utilizing the best ingredients with authentic Spanish flair. The main dining room will offer traditional seating accented by deep blue, rich leather, and dark and light woods.  A raw bar and tapas bar will be highlighted by an open expo kitchen and a large bar for a place to gather, similar to the Coral Gables location.
Under the culinary direction of El Bulli alum Chef Miguel Rebolledo, the menu will highlight Bulla Coral Gables classics with Chef Rebolledo's added touches. Executive Chef Rebolledo will bring his extensive culinary experience, talents and unending love for Spain to the Doral location. Working with the restaurant's flagship location and Centurion Restaurant Group's Regional Chef Diego Solano, Chef Rebolledo will incorporate some of his favorite dishes from Spain, tapas, and paellas including the Arroz Caldoso.
Menu highlights include Huevos 'Bulla' eggs, homemade potato chips, Serrano ham, potato foam, truffle oil; Croquetas de Jamón Ibérico ham croquettes, fig jelly; and Arroz a Banda arroz bomba, calamari, clams, shrimp, branzino. Chef Rebolledo and his team will work with a Josper Oven, a coveted and important aspect of the Bulla kitchen only seen in a few restaurants throughout the United States.
Bulla Gastrobar will be located in The Shops at Downtown Doral at 5335 NW 87th Avenue, #C102 and open daily for lunch, dinner and brunch on Saturdays and Sundays.
The Sarsaparilla Club Introduces New Options
Chefs Jeff McInnis and Janine Booth announces three additional options for guests to indulge at their newly opened American Dim Sum restaurant, The Sarsaparilla Club. The restaurant is now open seven days a week for dinner and in honor of the occasion, the duo has unveiled its 'all day, all night' Sunday Brunch featuring an a la carte Sarsaparilla-style menu. Beginning Sunday, May 1, from 11:30 a.m. – 10 p.m., guests will delight in new brunch dim sum cart items including Ooey Gooey Cinnamon Rolls, Florida Strawberry Panna Cotta, Homemade Sausage Dumplings, and Fried Chicken Steamed Buns. The brunch menu includes salads and sides such as Charred Grapefruit Brulee, Organic Lake Meadow Eggs, and Sticky Pork Belly Bacon and is topped off with their medium and large plates including Persian Skillet Ricotta Hotcake, Pig and Khao Fried Rice, and Crispy Duck Leg French Toast.
In addition, beginning Monday, May 2, The Sarsaparilla Club will start its Dim Sum Happy Hour featuring beat the clock prices Monday through Friday from 5 p.m. – 7:30 p.m. for dim sum and cocktails. When the restaurant opens at 5 p.m., dim sum cart items including dishes such as – Carrot & Beet Tartare, Black Pepper Pork Dumplings, Spring Peas & Carrots Chilled Soup and Drunken Deviled Eggs will be $5. As the clock strikes 6 p.m., the price will go up one dollar and will continue its steady rise until 7:30 p.m. Draft beers, select wines by the glass, and The Sarsaparilla Club's cocktails using house made sarsaparilla soda will be available during the happy for $5, $6, and $7 dollars depending on where the clock lands.
New Social Hour at CORSAIR
Thursdays just got a lot more interesting. Every Thursday from 4:30 p.m. – 6:30 p.m., enjoy the new Social Hour at CORSAIR kitchen & bar featuring lighter comfort food from chef Gordon Maybury, innovative cocktails and excellent service. Specials include:
$9 Dishes
$9 Specialty Cocktails
$6 Well Mixed Drinks
$5 Draft Beers
$7 Wines by the Glass
Poke Party at The Hall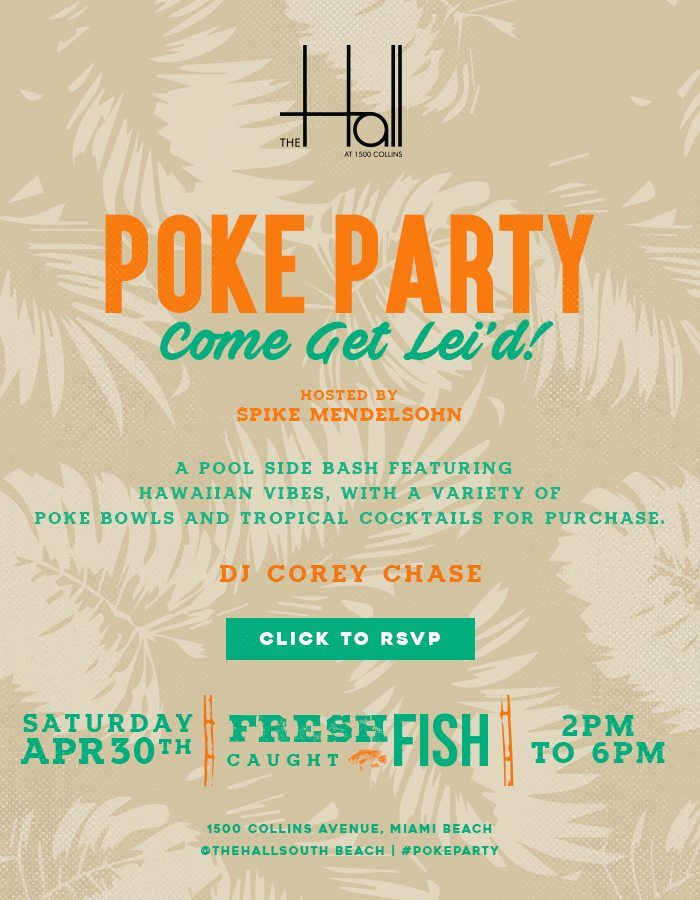 The Hall and Spike Mendelsohn are thrilled to debut a new poolside bash this Saturday (April 30), the "Poke Party." Known for its super-sized pool and bohemian culture, this boutique hotel is the perfect spot for a tropical celebration. From 2 p.m. to 6 p.m.,  a selection of fresh poke bowls will be offered at $15 each, as well as a selection of special tropical cocktails. Guests can expect island vibes, with music by DJ Corey Chase, known for his reggae sound.
Teacher Appreciation Day at Hoffman's Chocolates
In celebration of Teacher Appreciation Day on Tuesday, May 3rd, Hoffman's Chocolates is offering a special BOGO promotion all week long– Buy one box of your choice of 5.5 oz. Mint Meltaways or 4 oz. box ofMilk or Dark Chocolate Marshmallows, get your choice of one 5.5 oz. box of Mint Meltaways or 4 oz. box of Milk or Dark Chocolate Marshmallows free ($9.95 value).
This special BOGO offer will be available for in-store purchases only at all eight of Hoffman's Chocolates Palm Beach and Broward County locations from Tuesday, April 26th to Friday, May 6th or while supplies last.This offer is only valid for the Hoffman's 5.5 oz. pre-packaged box of Mint Meltaways and 4 oz. boxes of Milk or Dark Chocolate Marshmallows. Free gift wrapping will also be available at participating locations.
In addition, Hoffman's Chocolates recently introduced its decadent new line of Gourmet Caramel Apples to its vast selection of chocolates and confections. The Gourmet Caramel Apples are available, for a favorite teacher, in the chocolatier's eight retail locations in Palm Beach and Broward Counties.  Prices range from $6.25 – $9.75 each.
Seaspice to Host Fundraising Event
On Wednesday, May 11, Seaspice will host a fundraising event benefitting Design Techo, a charity that mobilizes our youth globally and empowers them to eradicate poverty, transform slums into sustainable and organized communities, while highlighting what makes Brazilian culture beautiful.
The 4th annual fundraising evening will be filled with musical live performances including Brazilian Singer Rose Max, pianist Ana Nikolec, a Brazilian Carnival by Escola de Samba, a demonstration by Capoeira Escola and a rock concert by Latin band Pampa y la Via, as guests are welcomed with complimentary caipirinhas and hors d'oeuvres.
Often credited as leading force in the revitalization of the Miami River neighborhood, Seaspice is no stranger to breathing life to forgotten communities and their dedication to Design Techo is no different! Minimum donation for admission is $30.
Yoga at Concrete Beach Brewery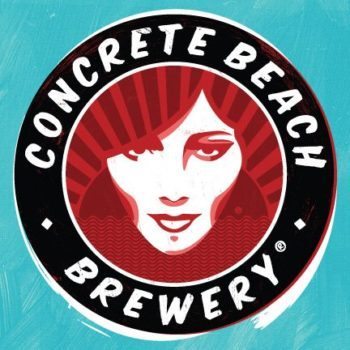 Na'Ima Stay and Have a Pint. On May 11 from 8 p.m.-9 p.m., Concrete Beach Brewery is teaming up with an instructor from the Miami Life Center to host a beginners yoga class on their patio. After the class, participants can quench their thirst with a cold beer, included in the $15 ticket price. All tickets are available for purchase at the Social Hall on a first come, first served basis.
Gulfstream Park Celebrates Free Cone Day
Gulfstream Park, the lavish open-air entertainment, dining and retail center, invites ice cream lovers to celebrate Free Cone Day on Tuesday, May 10th at Häagen-Dazs. From 4 p.m. to 8 p.m., the ice cream shop will offer all guests a free cone with the ice cream flavor of their choice. In addition, Gulfstream Park will be hosting an afternoon of free entertainment at Champions Plaza featuring an interactive DJ, face painting, sing-alongs, and appearances by characters from Frozen. There will be an Olaf Meet and Greet starting at 4:30 p.m., which will be followed by a character show at 6 p.m.
Last year, Häagen-Dazs Shops served 315,000 scoops throughout the country on Free Cone Day and hope to surpass that number this year by inviting customers to welcome summer with a sweet and refreshing treat.
Häagen-Dazs is located at 801 Silks Run in Hallandale Beach on the south side of Gulfstream Park. For more information, call 954-455-8804 or visit www.GulfstreamPark.com.