April 8, 2016
Each Friday, we compile South Florida food-related news and events that we couldn't fit on the site earlier in the week. Want to be included in next week's roundup? Shoot us an email at bark@miamifoodpug.com.
Here's your weekly dose of nom.
COYO Taco to Open in Brickell
Pinch Kitchen Announces Craft Collab 2.0
Taxes Schmaxes Day at Mignonette and Blue Collar
Scarpetta to Host Opus One Wine Dinner
Wok Star Eleanor Hoh's Upcoming Cooking Classes
Bulla Celebrates Administrative Professionals Day
Shanghai Nights at Bazi Miami
Komodo Launches 'Lucky 9' Happy Hour
Jalapeño Mexican Kitchen + Maya Tapas and Grill Launch Bottomless Brunch
Captain Jim's Seafood Market Restaurant Unveils New Renovations
Friday Night Sessions at Nautilus
Pacquiao Vs. Bradley Watch Party at E11EVEN Miami
COYO Taco to Open in Brickell
COYO Taco is pleased to announce the opening of its second location in the heart of Miami's burgeoning Brickell neighborhood. The trendy Mexican taqueria will be located on the ground floor of residential building, Axis Brickell, bringing locals and visitors alike, a fresh new option for delicious Mexican fare in a casual atmosphere. Slated to open early May, the new Brickell location boasts a larger restaurant space, with 74 seats inside, and an additional 74 seats outside.
The menu at the Brickell outpost will be similar to the one at COYO Wynwood. "We're going to start with our current menu and add some items from the Shore Club pop-up, like the grouper taco and the lobster taco," says Linquist.  The menu will still feature signature items such as the popular carnitas de pato, and quinoa tacos for vegetarians, but will add an exclusive and traditionally Mexican sandwich item known as "Tortas" as well as reinvent COYO's signature octopus tacos. "We were just in Peru doing a pop-up, and we did a lot of food tasting. I'm going to do a crispy octopus with an ají amarillo aioli," says Linquist. "We'll also have some more new and exciting stuff that we're adding to the menu."
With partner Sven Vogtland's direction, music will be prevalent in the new location. Streaming live from the Wynwood location Monday through Saturday nights, COYO Bickell will give guests the same high-energy experience they have grown accustomed to in the Wynwood speakeasy lounge. Sounds from COYO's popular parties such as "Murk Mondays" with Oscar G and Tuesday's "Rum & Bass" featuring Major Lazer's Walshy Fire and friends, will stream throughout the night, recreating the high-energy vibe that COYO is known for. Partner Sven Vogtland says the bar menu will start out with beer and wine. "We want to focus on great local beers and Mexican classics. We'll also do micheladas and sangrias," says Vogtland
COYO Taco in Brickell is slated to open early May and will be located at 1111 SW 1st Ave, Miami, FL 33130. The restaurant will be open seven days a week, with daily hours of operation from 11am-11pm from Sunday to Thursday and 11am-3am Friday and Saturday.
Pinch Kitchen Announces Craft Collab 2.0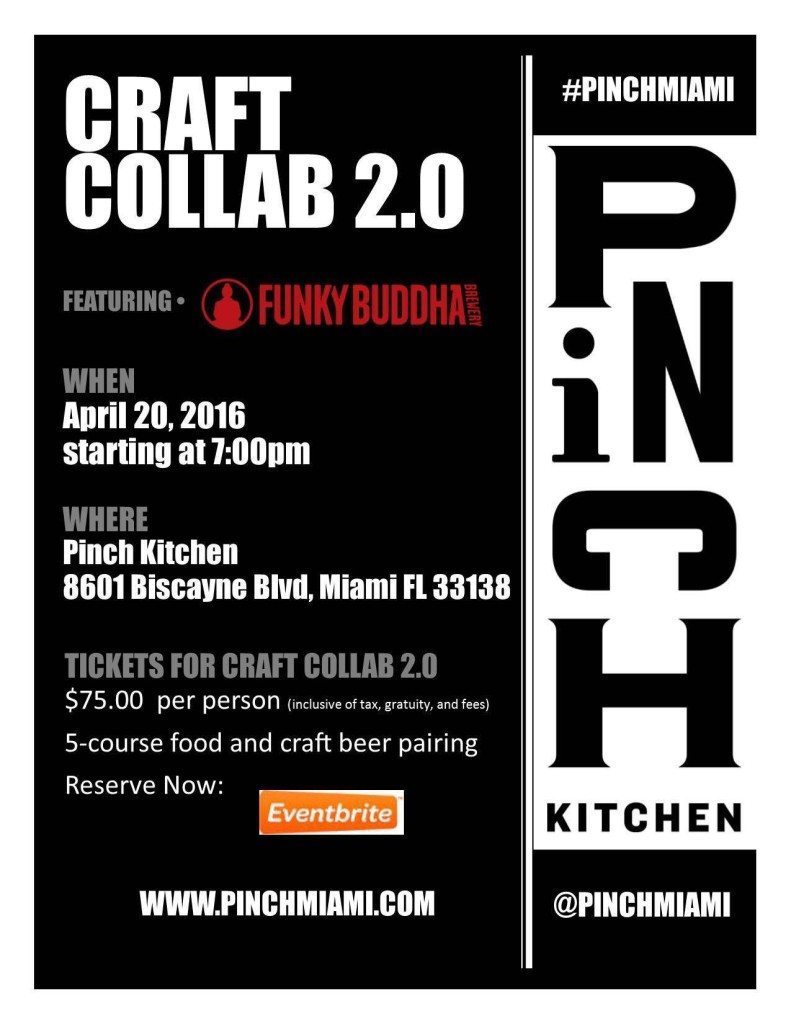 Pinch Kitchen has announced that for the second installment of its food and beer pairing series, Craft Collab, it will be teaming up with Funky Buddha Brewery. Craft Collab 2.0 will take place on Wednesday, April 20th and promises to bring some nice surprises to its 5-course food and beer pairing dinner including a special beer being released on April 19th that will only be available at the brewery and during Craft Collab.
"We're really excited to be working with Funky Buddha for Craft Collab 2.0," says Rene Reyes, chef and partner at Pinch Kitchen. "They're a little bit further north, so not everyone in Miami may have the opportunity to visit them too often. So to be able to bring some of their beers down here for the pairing – especially those that are only available at the brewery – will make for a really fun night and a great dinner," added John Gallo, chef and partner at Pinch Kitchen.
Funky Buddha Brewery was founded in 2010 in Boca Raton and since then has grown to include a second location producing bold craft beers that include culinary inspired flavors. Craft Collab 2.0 will take place from 7 p.m. to 9:30 p.m. on Wednesday, April 20th at Pinch Kitchen.
Tickets for Craft Collab are $75 inclusive of tax, gratuity, and fees. They may be purchased by visiting www.pinchcraftcollab2.eventbrite.com.
For questions regarding Craft Collab, email food and beverage manager, Alex Coello, at alex@pinchmiami.com or call 305.631.2018.
Taxes Schmaxes Day at Mignonette and Blue Collar
Alleviate the pain of Tax Day this year with a beer (or two) on the house.  Keeping with its theme of celebrating minor holidays, Mignonette and Blue Collar declare Tax Day, Monday, April 18th to be Taxes Schmaxes Day!  Mignonette and Blue Collar will 'refund' every-other bottle of beer or glass of wine on 4/18 – just declare your order to your waiter and your second MegaMix or glass of red will be free!
"Tax Day can bring on a lot of stress.  We want to lighten things up a bit and offer a beer and wine 'refund' on what we are calling 'Taxes Schmaxes Day,'" chef/owner Serfer says.  "Sure, we know that as Floridians, we are saved from the dreaded State Income Tax, but April 18th still hurts on the Federal level, so we're going drink-for-drink – – the first one's on you; your second drink is on us!"
Serfer appreciates a great value and passes it along to the guests at both Mignonette and Blue Collar.  For instance, Mignonette's Champagne & Caviar Happy hour is priced at only $90 – a bottle of Ouidinot Champagne and an ounce of Siberian Baerii are a steal.  Blue Collar's daily specials could feed a small family and cost less than filing your taxes online. Mignonette and Blue Collar are perfect places to decompress after Tax Day and now, customers have the benefit of a guaranteed and even better refund.
Scarpetta to Host Opus One Wine Dinner
Paying homage to Fontainebleau Miami Beach's opening in 1954, Cellar 1954 Wine & Dinner Series pairs the world's most prestigious wines and winemakers with the award-winning cuisine of Fontainebleau Miami Beach's signature restaurants. The 2016 season continues with a lavish dinner on Thursday, April 14, 2016 at Scarpetta at 8 p.m. with Napa Valley's legendary Opus One Winery – hosted by France Posener, sales director for the winery. The 2016 series will continue on Thursday, May 19, 2016 at StripSteak with Northern Spain wines – Rioja.
On April 14th, diners will enjoy a decadent five-course menu, prepared by Scarpetta's chef de cuisine Neil O'Connell, complemented by Opus One Wines. Each of the five courses will be paired with a different varietal from the winery. Priced at $350 per person, inclusive of tax and gratuity, the luxurious evening will begin at 8 p.m. The menu, with pairings, follows:
Canapés
SHORT RIB AND FONTINA CROQUETTE
SCALLOP AND TUNA CRUDO
CRISPY POLENTA
Robert Mondavi Oakville Fume Blanc 2012
Robert Mondavi Unoaked Chardonnay 2014
Appetizer
DUCK AND FOIE GRAS PRESSING
Cherry, Focaccia, Pistachio
Robert Mondavi Momentum Red Wine Blend 2012
Pasta
CAVATELLI
Fennel Rabbit Sausage, Ricotta, Arugula
Overture by Opus One
Entrée
VEAL "SALTIMBOCCA"
Marble Potatoes, Spinach, Wild Mushrooms
Opus One 2008 and 2012
Dessert
LEMON AND OLIVE OIL TART
Coconut Shortbread, Basil-Blackberry Sorbet
Chateau Coutet Sauternes 2009
Upcoming Cooking Classes With Eleanor Hoh
Wok star Eleanor Hoh's cooking class takes you from zero to Cooking Like a Wok Star! Enjoy an unforgettable experience in unique spaces and learn her no-recipe, no-measuring technique!  Her simple technique together with her WOK STAR KIT makes cooking fun and creative for busy corporate executives!
Wed. April 27, 6:30-9:30pm
ALNO, upscale kitchen design showroom
3650 North Miami Ave, Design District, FL 33127.
To celebrate Mother's Day
Sat. May 7, 12-2pm
BOFFI, upscale Italian kitchen design showroom,
3800 NE 2nd Ave, Design District, FL 33137
Tues. May 17, 6:30-9:00pm
ZONIN, Italian winery's penthouse loft HQ
8101 Biscayne Blvd., Shorecrest, FL 33138
For more information, click here.
Bulla Celebrates Administrative Professionals Day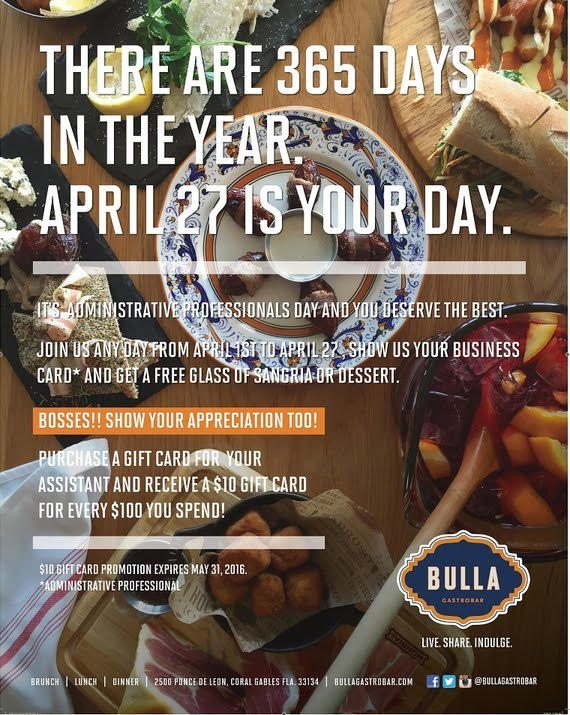 Bulla Gastrobar in Coral Gables is featuring a promotion for Administrative Professionals Day, running from now through April 27th. Over the next few weeks, administrative professionals will receive their choice of a free glass of sangria or free dessert. Just show your business card to claim the offer.
Bosses can also join in on the festivities with a special gift card deal. Purchase a gift card for your assistant and get a $10 gift card for every $100 you spend.
Shanghai Nights at Bazi Miami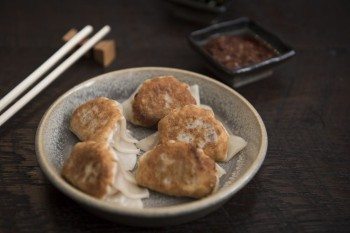 This spring at Bazi, kick back and enjoy classic Asian staples every Sunday beginning on April 10th. The special Shanghai Nights menu will offer guests a delectable way to indulge in some of their favorite dishes for only $10 each including Lo Mein (chicken, beef or shrimp), Beef and Broccoli, General Tso Chicken, and Mu Shu Pork.
Classic dishes pair perfectly with Chef Mike Pirolo's modern Asian-inspired plates such as irresistible Steamed Buns made with grass fed short rib and topped with pickled cucumber; Whole Crispy Local Snapper served with sweet soy, pickled green papaya  and lettuce wraps; and Shortrib Chow Fun tossed with scallions, shaoxing wine and sesame oil.
Bazi's Shanghai Nights menu will be available every Sunday. Bazi is located at The Marlin Hotel, 1200 Collins Avenue on Miami Beach. The restaurant is open for dinner nightly at 6PM; the bar is open nightly at 5PM.
Komodo Launches 'Lucky 9' Happy Hour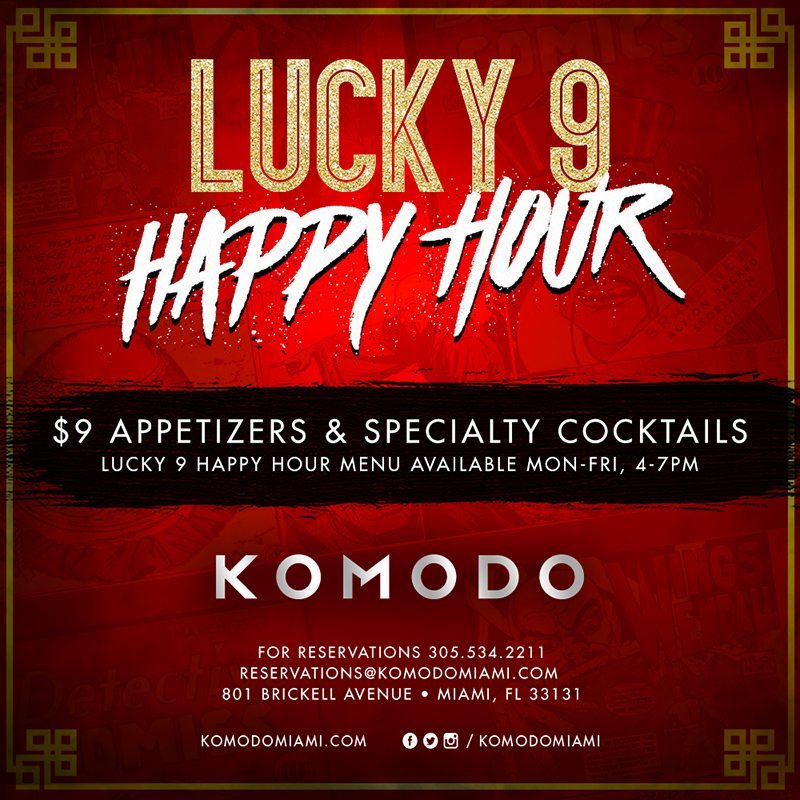 Brickell's new pan-Asian gem, Komodo, has launched its weekday 'Lucky 9' happy hour menu, featuring an assortment of its best specialty cocktails and appetizers. Named after the Chinese lucky number "9", guests can sip on Cucumber Basil Martinis, Lemongrass Mojitos, or Rhubarb Mules, while enjoying Tuna Tacos, the famed Grutman Pastrami Egg Roll, the Komodo Roll as well as a variety of other favorite menu items for $9 each. On Friday nights, Komodo turns it up a notch with a DJ spinning cool vibes all night on the outdoor terrace. The happy hour is offered at the outdoor garden and bar and inside bar.
For more information, please visit KomodoMiami.com or call 305.534.2211.
Bottomless Brunch at Maya Tapas and Grill + Jalapeño Mexican Kitchen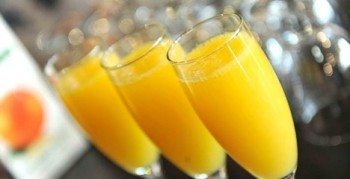 Maya Tapas and Grill announces the launch of their bottomless Mimosas, Bellinis, and Bloody Marys during brunch on Saturdays and Sundays! The bottomless brunch option is now available for $19.95. Their brunch menu includes traditional Chorizo Argentino Breakfast, Lox Breakfast, Maya Eggs Benedict, and Waffle Breakfast — to name a few. Maya Tapas and Grill is located at 809 Lincoln Road in Miami Beach.
Sister restaurant Jalapeño Mexican Kitchen has also launched bottomless Mimosas, Bellinis, and House Margaritas during brunch on Saturdays and Sundays for just $19.95. Their brunch menu includes French Toast, Burrito Revuelto, Ranchera Omelette, and Scrambled Eggs Quesadilla to name a few. Jalapeño Mexican Kitchen is located at 530 Ocean Drive in Miami Beach.
Captain Jim's Seafood Market Restaurant Unveils New Renovations
Captain Jim's Seafood Market Restaurant (Captain Jim's Seafood), a cornerstone seafood market and restaurant in North Miami's Downtown, celebrates two years of its new ownership with the unveiling of a new sign and sleek renovations.  Since the arrival of its new owners two years ago, famed restaurateur Jeffrey Ross and his cousin Larry Cohen, the market restaurant has undergone a ​major transformation thanks to the generous support of North Miami's Community Redevelopment Agency (NMCRA). The market restaurant has also been able to maintain its historic integrity of boat-to-table quality seafood.  The new update provides customers with the perfect lunch and dinner setting served up with an array of fresh seafood as well as unlikely delightful dishes and friendly service where everybody knows your name."
This is the first remodel of the establishment since 1998 and the beginning of a new era.  This month, they celebrate their two year anniversary at Captain Jim's Seafood with a couple events sponsored by NMCRA, which supports businesses and organizations searching for a new home in the Downtown NoMi area.
In the market of the restaurant, a lobster crate is used as a light fixture, and strategically lit market cases display large variety of fish and seafood along with freshly prepared seafood salads. A raw-bar showcases oysters and clams from the Northeast and a stone crab station features claws of various sizes with a "cracking station" where the claws are prepared before you.
In addition to the market area renovation, the restaurant has modern ceramic floors that mimic wood, a chic bar area and plenty of booths to accommodate the lunch and dinner rush. The exterior of the market restaurant features a nostalgic front sign, reminiscent of a vintage neon display, and soon Captain Jim's will be announcing an exciting partnership with a Wynwood artist who will paint a piece special to Captain Jim's on the exterior north wall.
Captain Jim's Seafood offers guests the same great quality service throughout the entire space, from its food to the sea-inspired ambiance. It is the ideal spot for the ultimate Miami seafood experience. The restaurant serves up delicious classic seafood items as well as chef-inspired dishes by Chef Wilfrid Charles. At the bar, options on draft from local breweries including the Wynwood Brewing Company can be enjoyed, as well as a display of the vast wine selection. The restaurant has a strong connection to its community and believes in the strength of partnerships, so in addition to its offerings of local beers, Zak the Baker bread is enjoyed.
For more information about Captain Jim's Seafood Market Restaurant, follow the market restaurant on Facebook, Twitter and Instagram.
Friday Night Sessions at Nautilus
Nautilus, a SIXTY Hotel, is launching Friday Night Sessions today (April 8) starting at 9pm in the Lobby Bar. Each Friday, locals and guests are invited to enjoy live jazz music while savoring hand-crafted cocktails, drink specials, and bar bites. This week's sessions will feature local jazz artists including Derek Fairholm, Brian Tate, Jean Caze, and Mike Piolet with vinyl selections from Greg Foat.
Pacquiao Vs. Bradley Watch Party at E11EVEN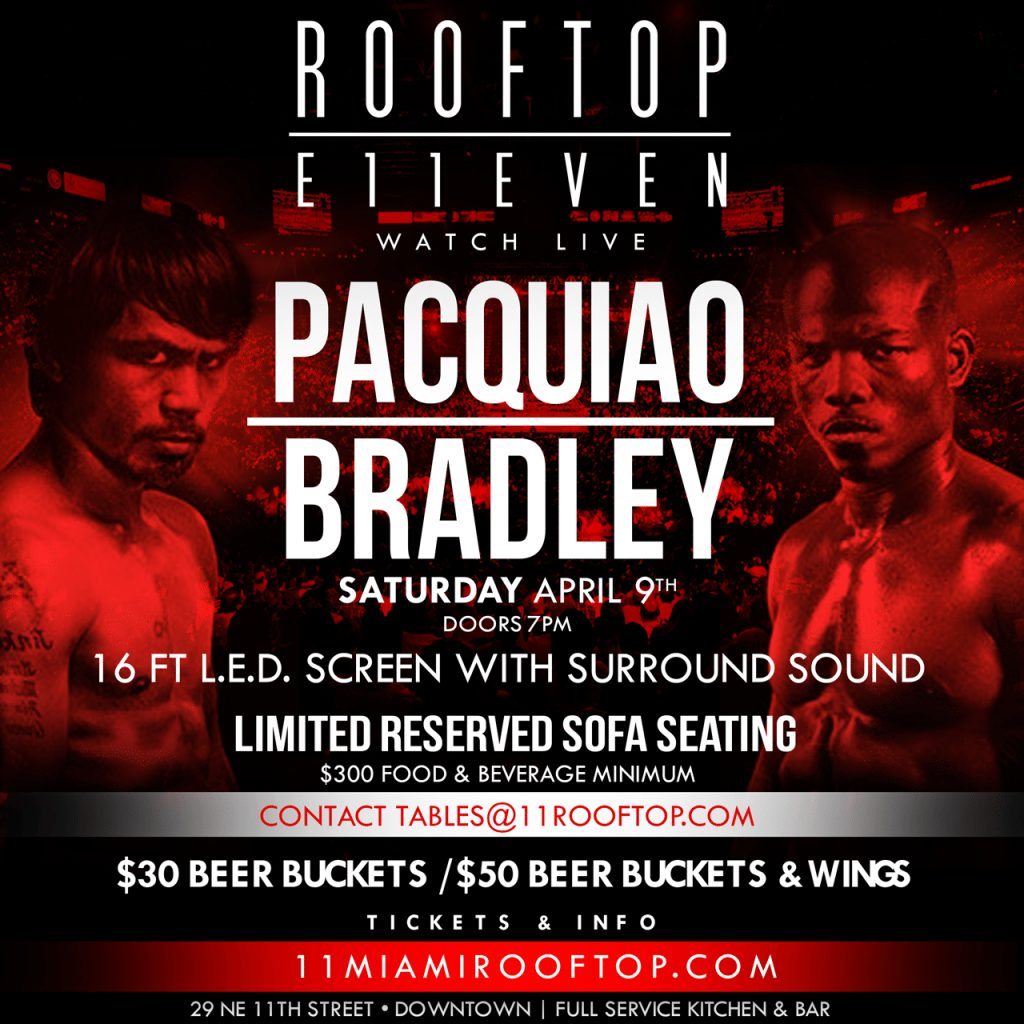 This weekend, don't miss E11EVEN's Pacquiao vs. Bradley watch party on Saturday, April 9 at The Rooftop at E11EVEN. Experience the fight in the best possible setting– with doors opening at 7 p.m., a 16-foot L.E.D. screen with surround sound, comfy sofa and table seating, $30 beer buckets & $50 beer bucket and wing specials!
To reserve your table, please email tables@11rooftop.com. For tickets and more information visit, www.11miamirooftop.com.