StarChefs, the restaurant industry trends magazine, has announced its 2016 South Florida Rising Stars Awards, honoring up-and-coming chefs and hospitality professionals, who represent the vanguard of the contemporary American dining scene. From the Keys to Jupiter, the StarChefs team visited more than 100 chefs, pastry chefs, bartenders, sommeliers, restaurateurs, and artisans.
"Wynwood and the Biscayne Corridor have supplanted South Beach as food destinations—even Coral Gables and Downtown have emerging scenes," said Antoinette Bruno, CEO and Editor-in-Chief of StarChefs. "It's a sure sign that locals, instead of tourists, are driving restaurant business, and they're making it possible for young chefs to build successful, community-oriented businesses."
"There's no defining cuisine at the top of the market," said Will Blunt, managing editor of StarChefs. "Whether it's traditional Vietnamese or high-end and conceptual, the best food in South Florida is personal. It's not trendy or derivative—and it has attitude."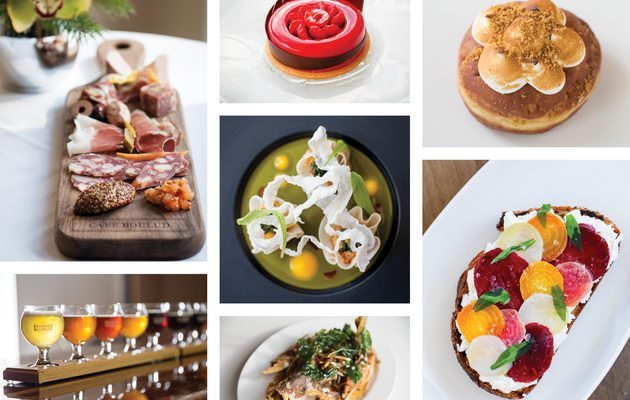 The winners will be honored at the StarChefs Rising Stars Gala on Wednesday, April 13 at Marlins Park, beginning with an awards ceremony at 6:30pm and followed by a tasting gala from 7:15pm to 9:30pm. Guests will experience 20 of South Florida's most exciting restaurants with beverage pairings and cocktails by the winning sommeliers and bartenders, in one location for one night only—hosted by Levy Restaurants.
General Admission is $85.00 per person. VIP tickets are $125.00 which includes a private VIP reception with a Cava tasting and Northern Divine Caviar, beginning at 5:45 p.m. Tickets can be purchased on their website at www.starchefs.com/risingstars. A portion of the ticket sales will be donated to Feeding South Florida, a nonprofit food bank that distributes more than 40 million pounds of food per year. More than 98 percent of all donations are put back into the community. Learn more at feedingsouthflorida.org.
The 2016 StarChefs South Florida Rising Stars Award Winners are:
Chefs
Alex Chang | Vagabond | @VagabondFood
Featured dish: Sweet Bread Milanese, Country Ham, Swiss Cheese Foam, and Mustard
Jimmy Everett | Valentino Cucina Italiana | @ValentinoCucina
Featured dish: Cauliflower Panna Cotta, White Chocolate, Caviar, and Micro Chives
Brad Kilgore | Alter | @brad_kilgore
Featured dish: Blue Crab Shumai, Thai Green Curry, Culantro, Kumquat, and Rice Crisps
Diego Oka | La Mar | @diegooka
Featured dish: Beet-Potato Causa, King Crab, Huancaina, and Salmon Roe
Niven Patel | Michael's Genuine | @michaelsgenuine
Featured dish: Short Rib, Romesco, Hazelnuts, and Roasted Cipollinis
Phuket Thongsodchareondee | Cake Thai Kitchen | @cakethai
Featured dish: Fried Yellowtail and Choo Chee Curry
Cesar Zapata | The Federal | @CeeRoks
Featured dish: Banh Can, Ground Pork, Shrimp, Chinese Sausage, Chiles, and Nouc Mam
Hotel Chef
Rick Mace | Cafe Boulud at the Brazilian Court Hotel | @CafeBouludPB
Featured dish: Assortment of Charcuterie featuring Chicken Liver Mousse

Community Chef
William Crandall | Izzy's Fish and Oyster | @wrcrandall
Featured dish: Hot Lobster Roll and Lobster Butter Bernaise
Pastry Chefs
Presented by KitchenAid
Sylvain Bortolini | Faena Hotel Miami Beach | @FaenaMiami
Featured dish: Chambord-Almond Jocund, Raspberry Mousse, and Sablé
Megan Pidgeon | Glazed Donuts
Featured dish: Key Lime Pie Donut
Artisans
Rauf Khoffner | Khoffner Brewery| @KhoffnerUSA
Featured beers: Riot Blood Irish Red Lager and Cream Head Cream Ale
Steve Santana | Taquiza | @SliceDiceCode
Featured dish: Totopos and Guacamole
Zak Stern | Zak the Baker | @zakthebaker
Featured bread: Country Sourdough
Brandon Wells | Wells Coffee Co. | @WellsCoffees
Featured coffee: Brazil Cerrado Mineiro
Bartenders
Presented by House of Angostura
Gui Jaroschy | Broken Shaker | @TheBrokenShaker
Featured drink: Tequila, Mezcal, Shishito Pepper Vinegar, Lime, Morita Chile Syrup, and Cucumber
Christian Rolon | Regent Cocktail Club | @TheRegentCC
Featured drink: Il Viaggiatore: Fernet Branca, Cognac, Vemouth, Dry Curaçao, Mole Bitters, and Orange Swath
Sommeliers
Presented by Wines from Spain
Jeremy Broto-Mur | Cafe Boulud | @CafeBouludPB
Pairings with winners' dishes
Daniel Toral | 50 Eggs | @GinAndButter
Pairings with winners' dishes
Restaurateur
Presented by Edward Don
José Mendín, Sergio Navarro and Andreas Schreiner | Pubbelly Restaurant Group | @ChefMendin
Featured dish: Suckling Pig, Fennel-Apple Salad, and Green Apple Purée
Concept
Presented by Kikkoman
Jeff Latulippe | DIRT | @DirtEatClean
Featured dish: Beet and Goat Cheese Toast
Host Chef
Vince Navarrete | Levy Restaurants | @LevyRestaurants
Featured dish: VIP Reception Hors D'oeuvres featuring Northern Divine Caviar
Additional awards, the Art of Presentation Award, presented by Steelite International, and the Mentor Award, presented by Vitamix, will be announced at the Gala.
Supporters of 2016 StarChefs South Florida Rising Stars Awards
Steelite International, House of Angostura, Symrise, ARAEX/Spanish Fine Wines, Vitamix, KitchenAid, Kikkoman, Meat & Livestock Australia, Edward Don, Wines from Spain, Foods from Spain, New Zealand, Roland Foods, Meyer Natural Foods, Fresh Origins, Valrhona, Meiko, Electrolux Professional, Northern Divine Caviar, VerTerra, Levy Restaurants, Marlins Park, Johnson & Wales University North Miami, Feeding South Florida