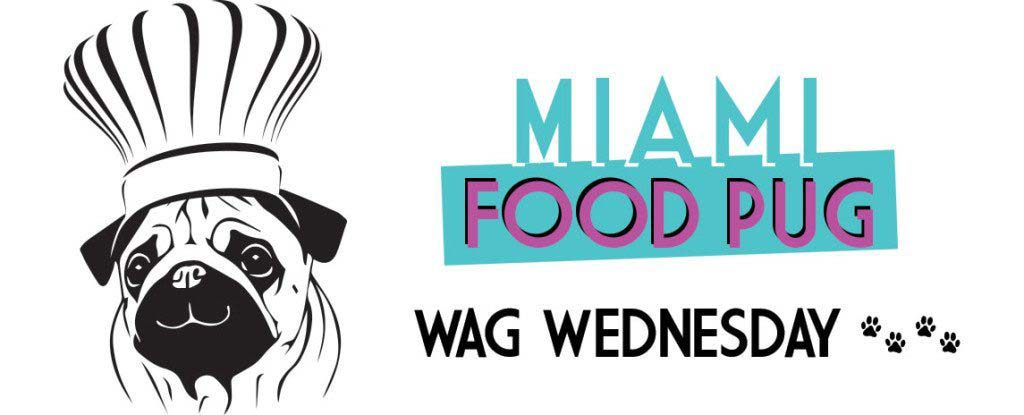 Over the past year, we've interviewed many members of the hospitality industry, and one constant among the interviewees has been a profound love for their pets. We thought it would be great to share this love with our readers. That's why we launched an ongoing feature called "Wag Wednesday" to showcase industry peeps and their pets. Know someone who wants to be featured? Email us at bark@miamifoodpug.com.
This week, we're featuring Ashley and Franco Stanzione, Owners of Stanzione 87 and Ash by Stanzione at the Wynwood Yard, and their pup, Blu Stanzione. 
Your Names: Ashley and Franco Stanzione
Your Pet's Name: Blu Stanzione
Sex: Male
Age: 2
Breed: Wolf Hybrid Husky Shepard Mix
How did you come to own your dog? What drew you to them?
A year after the passing of Franco's childhood dog, Gangster, there was an absence in our home. One day, our beloved dishwasher Jeronimo brought Azul (Blu) to our restaurant. Azul was the size of an eggplant — scared and helpless. It was love at first sight.
He came from living in a home with 60 other dogs. Needless to say, the conditions were far from perfect for that many dogs in that place, let alone one. (Animal control has since been notified of this issue.) We had to have him. We held him in our arms for hours. He was shaking, scared and a little sweaty. His belly was swollen from worms, and he was infested with ticks the size of silver dollars. It took about four months to get him completely cured and during that time our bond grew strong.
We didn't traditionally train him. Rather, we encouraged his wild, loving spirit.
What's the story behind your dog's name?
Blu was first called Azul ("Blue" in Spanish) because he was born with blue eyes like blueberries. We changed it slightly to Blu, which is the Italian spelling, because you know everything we do is a little Italian.
How would you describe your dog's personality?
Blu is perfect. He is the sweetest, most loving dog. He is truly like a human baby, extremely facially expressive and hilarious. His favorite thing to do is snuggle in bed and play with other dogs that live in our building. He even watches TV and loves the dog shows, as well as anything to do with animals .
How has owning a pet made your life richer?
Blu has completely changed our lives and our view of the world. He reminds us to stop and smell the roses and that we only have this one life and to have as much fun as we can. We make sure that no matter how busy we get, that we go to the dog park, the beach or a stroll around town as much as we can.
It's said that dogs reflect their owners and vice versa. How does this apply to you and yours?
Blu is so much like me (Ashley), it's actually scary. We love to give kisses and steal Franco's food. Blu is super silly and sweet just like us.
He loves going on adventures and trying new things but ultimately lying in bed all day trumps everything.
Tell us a funny story about your and your dog.
Blu has many talents: swimming in the ocean or in pools, eating watermelon, sharing an ice cream cone — but we do have to say he really can eat and completely digest leather. He once ate half of an entire red Chanel ballet flat, then he pooped red leather for a week. I can laugh about it, now but this used to be a sad story.
Are you involved in any pet organizations or philanthropies?
Before we opened the Pizzeria, Ashley used to volunteer at the Humane Society of Miami
We follow a lot of dog social media accounts like Doug the Pug and Menswear Dog. Do you? Which are your favorites?
We love Great Danes of Instagram, Bearcoat Tonkey, Huskies, Loki the Wolf Dog, and Tuna Melts My Heart.
See past editions of Wag Wednesdays here.