Mother's Day is just around the corner. If you need a little help figuring out where to take Mom, we have you covered. Below, we've rounded up some Mother's Day suggestions to make sure her special day is a great one.
Since specials are subject to change, make sure to call the restaurant in advance to confirm details. Now that we got that disclaimer out of the way, here's the list.
Bocce
This Mother's Day, we're inspired by Sofia Loren (or as her mamma knew her, Sofia Villani Scicolone), a woman who balanced beauty, brains and love for her bambini with grace and style!
On Sunday, May 8th from 11 a.m.-4 p.m., Bocce will offer its signature brunch menu with special entrées moms can indulge in. Our mixologists have also created a special cocktail just for <om.
Mother's Day Brunch Menu
$13 Dolce Anguria featuring Ketel One, St. Germain, fresh watermelon, soda
$15 unlimited prosecco
$34 per adult / $15 per child (children under 10)
[tax & gratuity additional]
Enjoy our fresh, authentic antipasti table, omelettes made-to-order and unlimited house-made Italian pastries and assorted dolci!
Choose one main entrée:
RICOTTA PANCAKE nutella, whipped cream
RIGATONI BOLOGNESE angus beef sauce
MELANZANE PARMIGIANA wood oven baked eggplant parmigiana
POLPETTE AL FORNO oven-baked meatballs,
poached eggs
PIZZA AL BRASATO white pizza, gorgonzola cheese, braised short rib
POLENTA E SALSICCIA fried creamy polenta,
house-made sausage ragú, poached egg
LASAGNA PRIMAVERA white lasagna, spinach, English peas, fava beans, asparagus
ZUPPA DI PESCE cod, salmon, mussels, clams, lobster broth, ginger
Reserve your table now! Call 786.245.6211.
Bachour Bakery + Bistro
The recently opened Bachour Bakery + Bistro, will honor mom with a special all-day brunch. Miami's famed pastry chef and 2016 James Beard Award semifinalist Antonio Bachour, and former Eating House Chef/Partner Henry Hané, will combine forces to put forth a delectable menu of savory and sweet delicacies ($9-$15). Menu is as follows:
Granola Bowl
Ginger yogurt – stewed fruits – house granola
Quinoa Cereal
Cooked and crunchy – dried fruit – almond milk
Egg Jar
64' egg – pomme puree – hollandaise foam – bacon
Truffle Bun
Scrambled – cheddar – truffle aioli – arugula
Spicy Tuna Toast
Ahi – pickled cucumber and scallion – grilled nori puree
Croissant Cuban Sandwich
Smoked ham – Swiss cheese – Dijon aioli – dill pickle
Pastelito Pancakes
cream cheese mousse – house made guava preserve – puff pastry crumble
Falafel Waffle
tzatziki – herbs – pickled cabbage – feta – shredded carrot
Shaved Brussels Caesar
tzatziki – herbs – pickled cabbage – feta – shredded carrot
Bachour Bakery + Bistro, located in the southwest corner of the Brickell World Plaza building at 600 Brickell Avenue, serves breakfast and lunch, Monday through Friday from 7 a.m.- 7 p.m. and weekends from 7 a.m. – 5 p.m. Telephone: 305-330-6310 Website: www.bachourbb.com
Eating House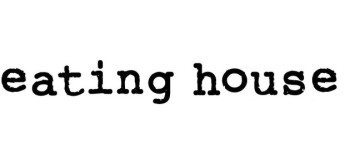 Eating House owner and three-time James Beard nominated chef Giorgio Rapicavoli presents a special Mother's Day edition of his ever-popular Wakin-N-Bacon brunch on Sunday, May 8 from 11:00 a.m – 5:00 p.m, featuring complimentary chocolate for the lady of the hour, created by premiere chocolatier, Tierra Nueva Fine Cocoa.
For the celebration, chef will be serving up his staple brunch items that have made Wakin-N-Bacon one of South Florida's most sought-after brunches, even requiring reservations weeks in anticipation. Savory options include chicken 'n' foie-ffles with maple bacon and spicy ranch; perfectly sweet Cuban bread French toast and the standout Cap'n Crunch pancakes, among others.
Eating House, located at 804 Ponce de Leon Boulevard in Coral Gables, Florida, is open for lunch Monday- Friday, from 11-3 p.m.; dinner Tuesday through Thursday, from 6pm – 11pm; Friday and Saturday, from 6pm – midnight and for Sunday brunch from noon – 5 p.m. Telephone: 305.448.6524 www.eatinghousemiami.com
The Local Craft Food & Drink
Executive Chef Phil Bryant and his team at The Local Craft Food & Drink are honoring mom in true southern style with all-day specials offered during brunch and dinner on Sunday, May 8, 2016. Available until they run out, specials include a mouthwatering Brisket Benedict Casserole with burnt ends, rosemary biscuit, smoked tomatoes and hot sauce hollandaise; and the MA!! Meatloaf!! – chorizo, ground flank steak, vaca frita, escabeche onions, potato gratin and bbq demi glace. Cocktail master Will Thompson and his talent bar team will be whipping up drink specials that mom is sure to love as well.
During brunch, guests can also feast on their weekly offerings such as The Next Morning – a perfect melding of toasted cornbread, seasonal fruit, tropical honey and cornbread streusel over a buttermilk panna cotta; Egg In A Basket – a perfectly poached egg, with crispy Virginia ham, fresh micro greens, parmesan gravy and cured egg on a house baked Sally Lunn roll; Hog's Head Scrapple served alongside fresh greens, deviled egg, cured egg and pimento vinaigrette; Fried Chicken & Pancakes – parmesan corn pancakes, green tomato chow chow and hot sauce honey; Sally Lunn French Toast with seasonal preserves, bourbon maple syrup, brown butter whipped cream and pecans; and Pulled Pork & Grits – basted egg over smoked tomatoes, grits, hot sauce and peanut pot likker.
And to wash it all down, cocktail master Will Thompson offers a Morning Booze menu featuring The Local Mimosa – grapefruit, lime, agave and sparkling wine; as well as $50 pitchers of Sangria Blanc – gin, cynar, lemon, honey, house made autumn bitters, white wine, tonic; The Saint – Disaronno, Manzanilla sherry, orange bitters and chocolate bitters; and The Best Part Of Waking Up Old Fashioned – bourbon, Ramazotti, ginger maple and cold brew coffee.
Call (305) 648-5687 for more information on the brunch as well as dinner details.
Pinch Kitchen
Pinch Kitchen has announced a special Prix Fixe Mother's Day Menu which will be available on Sunday, May 8th. The restaurant will also be offering extended hours that day from 10:30 a.m. to 6:30 p.m.
The Mother's Day prix fixe menu will be available for $55 per person. Aside from the special menu, Pinch's regular a la carte brunch menu and bottomless mimosas, wine, and beer options will also be available throughout Mother's Day.
The Mother's Day Prix Fixe menu will offer the following:
1st course
Pinch Salad
Little river greens, shaved seasonal vegetables,
Ted's aged cheddar, cucumber-oregano vinaigrette
or
Mushroom Thai Spring Roll  
abalone mushroom, asparagus with a ponzu sauce
2nd course
Risotto al Telefono
arborio rice, asparagus and stractiatella cheese
or
Organic Airline Chicken Breast
with sautéed spring vegetables
Dessert
Home-made Baba aux Rhum
Buttery dark rum sauce and a scoop of thyme gelato
or
Orange-chocolate soufflé…
with crème anglaise
Reservations may be made by visiting www.pinchmiami.com or by calling 305.631.2018.
Drunken Dragon
South Beach's favorite Korean Barbecue restaurant will open Sunday May 8th for a very special day, Mother's Day. Drunken Dragon will be giving a sneak peak of what they have in store for their highly anticipated brunch launch coming soon.
Chef Xavier Torres has dedicated the last few months to perfecting the menu and making sure it exceeds the expectations of patrons who have long awaited the launch of this extraordinary brunch menu. Highlighted dishes like the "Pain Perdu" are sure to leave a lasting impression on guests. This featured dish includes; French toast, house-made smoked bacon, banana crème, strawberry stew and Gochugaru Maple Glaze.
Another savory dish which is also a must-try is "The DD Waffle" which has Drunken Dragon's special twist to it. This classic brunch dish is a warm delicious waffle topped with caramelized Asian pears, candied walnuts and maple glaze.
In addition to introducing a new brunch menu featuring breakfast delights, Drunken Dragon will also be highlighting a new cocktail program called "Blame it on the Brunch". The new menu of libations will feature six refreshing cocktails made by one of Miami's top female mixologist, Carla Rivera, as well as an exclusive bloody mary made by Chef Xavier Torres. "The Bloody Dragon" is sure to amaze guests as it is a one-of-a-kind cocktail made with Drunken Dragon's homemade kimchi and red dragon sauce.
To make brunch even more decadent, Drunken Dragon will be highlighting a $20 bottomless mimosa special during brunch hours. Brunch is set to launch shortly after their exclusive Mother's Day preview and will be available every
Drunken Dragon is open Sunday through Thursday from 6pm to 12am, Friday and Saturday from 6pm to 1am and special hours for Mother's Day 11am to 3pm. For reservations, please call 305.397.8556.
Spasso
Break out of flowers and chocolates rut for Mother's Day. Mom will forever remember an experience cooking and learning behind-the-line with master Chef Gaetano Ascione of the new Spasso restaurant in Coconut Grove. Ascione launches his cooking academy Wednesday, May 18th.
All of the classes will start with tips to increase your ingredient knowledge and move on to hands-on prep of some savory classic Italian dishes showcasing the key ingredients learned in the class. The class will come to an end at the Chef's Table where students will savor the food they've cooked and enjoy a glass of delicious Italian wine.
For a limited time, purchase a class for mom for Mother's Day and receive half-off a second class so you can enjoy the experience with mom! Just enter the code MOTHERS when purchasing at spassomiami.com/cook.
Bagatelle

For the Brunch Party Mom, Bagatelle Miami is planning to merge festivities of Cinco de Mayo with Mother's Day. The "Mama de Mayo" brunch experience will include guests and staff dressed in theme with exquisite servings of Bagatelle's Le Pain Perdu (homemade French toast with fresh berries, Chantilly and Nutella) and the Bagatelle Mega Sundae.
Mothers will be treated to a complimentary specialty cocktail as they party to vibrant sounds by DJ Vincent Daubas. Vivan las madres!
Seaspice
For the Grand Dame Mom, a Miami riverside feast fit for a queen with Seaspice's Mother's Day Suckling Pig or the Mother's Day Seafood Carnival is in order.
Carved and served tableside with yuca gratin, crispy green plantain fries and pickled beets, the Suckling Pig is a "4 person minimum" dish which must be pre-ordered 2 days before the reservation to ensure the proper marinade and cooking time.
For the mothers with a penchant for seafood, the Seafood Carnival offers two 2lb lobsters, 8 jumbo prawns, 24 oysters, Alaskan king crab, Florida stone crab, tuna sashimi, salmon sashimi, Hamachi sashimi, salmon coconut ceviche, 2oz. sevruga caviar.
All mothers will receive a complementary Mangollini (Champagne and Fresh Mango Pureé) or Mimosa.
SUGARCANE Raw Bar Grill
This Mother's Day join us a for special brunch celebrating MOM! SUGARCANE raw bar grill will offer scrumptious specials in addition to the full signature brunch menu.
BRUNCH SPECIALS
bread basket: lemon cream filled crêpes, dulce de leche mini éclair, buttermilk and parmesan scones, blueberry jam, herbed butter  7
avocado toast charred corn, whipped goat cheese  12
rock shrimp adobo creamy boniato, ripped herbs  21
english pea & shaved spring vegetable risotto  18
peach & raspberry tiramisu trifle   10
Call 786.369.0353 to reserve mom's table!
O'Lima
The Peruvian restaurant in the Bay Harbour Islands will offer an all-day lunch and dinner menu this Mother's Day from 12 p.m. – 5 p.m. Families can dine in style with a wide selection of ceviche, fresh salads and entrees, plus celebrate mothers with a complimentary rose and glass of prosecco, Bellini or mimosa. Call 305-864-4392 for more details.
Tanzy + The Tuck Room
What better way to ring in Mother's Day than with a little bubbly? Let the most important lady in your life revel in the "mom-mosa" of her dreams with the Ultimate Mimosa Bar at Tanzy in Boca Raton and The Tuck Room in North Miami Beach. Prep and personalize your beverage by picking a puree or fresh juice — options include: fresh orange, strawberry, passion fruit, blood orange and yuzu. Continue to customize by topping off your flute with a variety of garnishes.
A Pair of Trips to the Mimosa Bar: $16
Unlimited Mimosas: $24
-SPOIL MOMMA-
Champagne Piper-Heidsieck Pair of Trips to the Mimosa Bar: $20
Unlimited Champagne Mimosas: $30
Available at Tanzy & Tuck Room:  Mother's Day, Sunday, May 8, from 11 a.m. to 3 p.m. Brunch available at Tanzy; light bites available at Tuck Room. Call 561-922-6699 (Tanzy) or 786-563-7061 (The Tuck Room) for details and directions.
SUSHISAMBA Miami Beach
From 11 a.m. to 4 p.m., SUSHISAMBA Miami Beach will present their special Bossa Nova Brunch in honor of Mother's Day featuring a 4-course menu featuring Quinoa Pancakes, Acai Bowl and Lobster Eggs Benedict priced at $35 per person (tax & gratuity additional). Call the restaurant at (305) 673-5337 for more information.
Jungle Island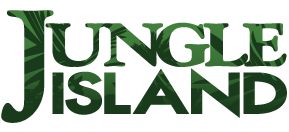 Treat mom to a fashion-forward brunch experience at Jungle Island. South Florida's favorite landmark attraction invites guests to savor a specially curated Mother's Day feast in the Treetop Ballroom, sip on mimosas and preview this season's most sophisticated Moroccan-inspired designs and swimwear cover-ups from Le Beau Moroc.
Brunch options include a seafood station displayed on an artistic ice sculpture where guests can delight in fresh Key West Shrimp Cocktail and Snow Crab Cocktail Claws, in addition to gourmet Chorizo Chicken Potato Soup, fresh salads and Momma's Fresh Baked Rolls to start. Cross over to the action station for made-to-order farm-raised eggs omelets, Grilled Sausage, Seared Line Caught Wild Salmon with Vermont Maple Butter, Char Grilled Skirt Steak Churrasco with Cuban Style Chimichurri sauce, Carved Pig and Guava Glazed Turkey, Sweet Plantains and Hawaiian Rolls, among other brunch favorites such as applewood bacon, Cinnamon Crunch French Toast, Potato Hash and much more.
Jungle Island's scrumptious Mother's Day brunch concludes with an exotic seasonal fruit display and an assortment of decadent sweet treats. From 10:30 a.m. – 2:30 p.m. on Sunday, May 8, 2016. The cost is $59.95 per adult and $34.95 per child, which includes brunch, tax, live entertainment, one mimosa each and one-day park admission into Jungle Island.
American Social
American Social Bar & Kitchen is serving up Mother's Day appreciation in style. Moms will receive one complimentary glass of bubbles or champagne, a festive flower crown and entry into a luxury prize raffle at both locations on Sunday, May 8th.
Las Olas:­ From 10:30 am to 2:30 pm, guests are treated to endless buffet of brunch staples including made-to-order omelets, fresh pressed Belgian waffles, prime rib, chilled snow crab legs and more. The Mother's Day brunch special is priced at $26.95 per person and bottomless Mimosa and Bloody Mary packages start at $12. For reservations, please call 954-764-7005.
Brickell:­ From 11 am to 4 pm, American Social Brickell celebrates mom with a choice of endless Belvedere Bloody Marys or Moet Mimosas for $39.95 per person (with the purchase of any brunch entrée), American comfort food classics and a scenic view of the sparkling Miami River. Unique a-la-carte menu options include Chicken and Waffles, Steak Benedict, Duck Confit Hash and more. For reservations, please call 305-223-7004.
National Hotel
National Hotel (Miami Beach) ­ The National Hotel will roll out the red carpet with a lavish Mother's Day brunch complete with complimentary bottomless mimosas for mom and live performances by the renowned cast of The Cabaret South Beach.
Brunch guests will enjoy Tamara Bistro's contemporary cuisine with pricing at $49 per adult and $19 per child. For the cost of brunch, families can enjoy a full day of stylish dining and poolside pampering. The brunch buffet includes breakfast staples such eggs and omelets, apple wood bacon, chicken apple sausage, home-style potatoes, waffles and fresh fruits.
The buffet also offers specialties including eggs benedict with hollandaise sauce, salad and vegetable displays, charcuterie and imported cheeses, a dessert table; a savory bread station filled with croissants, raisin rolls and pastries; a selection of mini desserts; a carving station featuring Prime Rib; other specialties such as Rack of Lamb, Atlantic Salmon, Tuna Tataki, Joyce Farms Chicken and one complimentary Mimosa or Bloody Mary. While bottomless mimosas are included for moms, a bottomless mimosas package is available for all other guests at an additional $25 per person. For reservations, please call (305) 423-7211.
Wok Star

Watch your mom become a Wok Star at Eleanor Hoh's special cooking class to celebrate Mother's Day, Saturday, May 7 from 12-2:30pm at BOFFI, a beautiful kitchen showroom located at 3800 NE 2nd Avenue, Miami Design District, FL 33137.
In this class, mom will learn tons of tips and tricks and Eleanor's fun and easy style of cooking in a wok without recipes or measuring.  With a few fresh ingredients and only 4 seasonings, she'll be able to make delicious, healthy and quick dishes. She may even get a chance to stir fry like a pro beside Eleanor.
Surprise mom with the purchase of a WOK STAR KIT after the class, so she'll have everything she needs to concoct her own masterpieces at home!  A perfect Mother's Day gift that's sure to make her a STAR and the whole family gets to enjoy.
To sign up for the class, visit http://eleanorhoh.com/miami-wok-cooking-classes/
STK Miami Beach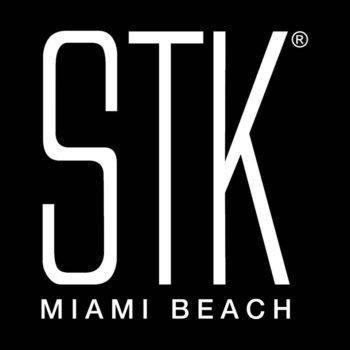 The ONE Group's STK Miami Beach is pleased to announce its very first brunch in honor of Mother's Day this year. Miami's favorite steakhouse, usually open for dinner only, will be open from 11 AM until 4 PM offering an exciting and ultrachic brunch destination where families can celebrate moms from all over the Magic City.
An unlimited brunch buffet including a carving station, omelet station, desserts and more is available to guests for $50 per adult and $20 per child (10 and under). Select a la carte steak options will also be available at an additional cost; and because brunch isn't complete without bubbles, guests may choose to enjoy bottomless mimosas for $25.
For more information or reservations, please call STK Miami Beach at 305.604.6988
Juvia
James Beard award winning restaurant, Juvia Miami, will feature their $23 pre-fixe regular lunch menu for Mother's Day, which also includes unlimited champagne cocktails. Items on the menu include watermelon salad, seared codfish and rib eye steak frite. Guests are invited to enjoy the indoor and outdoor bar and dining room and panoramic views of Miami.  Reservations are recommended. To book your table, please call, 305.763.8272.
The Continental
In celebration of Mother's Day, The Continental has lined up kid-friendly activities and a mom-approved brunch beginning at 10:00 a.m. In addition to the fabulous brunch menu, moms will appreciate bubbly cocktails in a variety of flavors, from traditional mimosas and bellinis to passionfruit and guava, and an activity station where coloring sheets and supplies will be provided for kids to create cards for their mothers and grandmothers. Additionally, moms and grandmoms will receive a sweet parting gift of The Continental's homemade caramelized popcorn. Call 305-604-2000 for more details.
KYU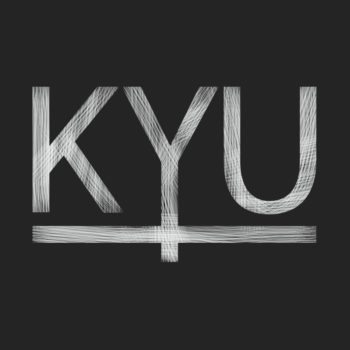 Celebrate Mother's Day Wynwood style at KYU. Mother's and grandmothers can sip on rosé and enjoy a variety of KYU's favorite brunch dishes including Crispy Kale Eggs Benedict and Buttermilk Pancakes with local fruits. Save room for the amazing "Mom's Coconut Cake" based on Lewis' mother's own recipe. KYU will also feature a kiddies pack where children can decorate planters and actually pot an herb for their loved ones. Call (786)-577-0150 for more details.
Driftwood Room at Nautilus

Driftwood Room at Nautilus, a SIXTY Hotel, in South Beach is treating all mothers on Sunday! Mothers can indulge in the Rosé Sunday brunch which includes a special menu prepared by Chef Alex Guarnaschelli and Chef de Cuisine Lucas Marino. Guests can enjoy items from the appetizer buffet, the savory cavery and dessert platter in addition to choosing one entrée for $55 per guest. The entrée selections include signature dishes such as the Cuban Benedict, Avocado Toast, Guava & Tamarind BBQ Ribs, Lobster 'Mac & Cheese' and Prime Steak Tartare. As a special treat from Driftwood Room, mothers can also enjoy a complimentary glass of rosé!
To make reservations, please call 305.503.5700 or email reservations@driftwoodroom.com.
Jaya at The Setai
Jaya at The Setai, Miami Beach is celebrating Mother's Day with an elaborate and lavish brunch featuring live Jazz music. Jaya will host two seatings at 11:45 a.m. and 2:00 p.m. Priced at $115 per adult and $58 per child, guests will indulge in an array of different options and Pan-Asian delicacies, including a rotisserie station with Roasted Strip Loin Au Jus and Caramelized Leg of Lamb; a seafood station with Alaskan King Crabs Legs and Snow Crab Claws; an Indian station featuring Butter Chicken and Fish Curry; and Asian station with Pad Thai Goong Sod, Gaeng Ped Moo (Red Pork Curry), and Chai Kway Teow (fried flat noodles). Patrons can also savor limitless Louis Roederer Champagne and Bloody Mary's. Reservations are recommended. To book your table, please call 855.923.7899 or email dining@thesetaihotel.com. All mothers will receive roses and a giftwrapped lemon cake takeaway.
Midtown Oyster Bar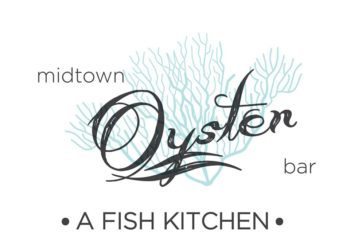 Midtown Oyster Bar, located in the bustling Midtown Miami restaurant alley (3301 NE 1st Ave), has aggregated the best deals in town for an over-the-top Mother's Day celebration on Sunday May 8th. Specials include oysters Rockefeller, a whole Branzino, seafood paella, half off select oysters, bottomless Syltbar sparkling rosé, and more drink specials. Call 786-220-2070 for full details.
WHOLE BRANZINO:
A beautiful Mediterranean white fish marinated overnight in Italian herbs, grilled, served filled with head and tail on and accompanied by sautéed carrots (in butter and wine wine) and roasted rosemary fingerling potatoes for $30.
BOTTOMLESS SPARKLING ROSÉ
Syltbar sparkling rosé is known for its low calories (63 per 6-oz glass) and elegant, complex, and refreshing flavors. All that for $25, unlimited refills package.
OYSTERS ROCKEFELLER:
Half a dozen of the best oysters topped with spinach, shaved bacon bits, flavored bread crumbs and parmesan, au gratin to perfection for $18.
SEAFOOD PAELLA:
A taste of Spain, for two, with the best seafood available for only $32. The rice-based dish is cooked slowly with amazing seafood such as mussels, clams, shrimp and calamari.
HAPPY SUNDAY:
Happening every Sunday, special occasion or not: half off select oysters and select glasses of wine, $5 mimosas, and $7 Bloody Mary's.
TiramesU
Located at 101 Washington Avenue, TiramesU, the 25-year old South Beach landmark restaurant, is offering a special a la carte menu to please the most demanding of moms. Chef Pintus curated dishes for mothers who are looking to stay on point with a light meal but also for those who want to take this special day to indulge. And then there are the bottomless mimosas for $25.
For seafood lovers, the Tartare di Tonno ($18) comes with a Sardinian twist served between layers of pane carasau, a crispy flat bread from Sardinia, while the saffron risotto is topped with succulent shrimp and seasonal zucchini flowers ($22). But the show-stopper will be the traditional Grigliata di Pesce ($38), an assortment of grilled scallops, head-on prawns, salmon, tuna, served with pureed peas and roasted corn.
The ravioli dish ($16) will incorporated the best of spring vegetables available, ricotta and served in a sage butter sauce. For a taste of the land, the lightly breaded veal chop ($38) is served with arugula, cherry tomatoes and topped with Grana Padano cheese.
Finally, the Panna Cotta All' Amarena ($8). The signature Italian homemade dessert brings closure to the meal with its creamy sweetness. TiramesU's special twist: black berries.
The lunch and dinner menus will also be available. Call (305) 532-4538 for details.
Cypress Tavern
Chef Michael Schwartz welcomes mothers to his American Grill & Cocktail Bar in Miami's Design District to set a new Jazz brunch standard beginning on Mother's Day.  With smooth tunes and a delicious family-style set menu, Cypress Tavern's Jazz Brunch includes 3, multiple dish courses to share, with an optional bottomless Bloody Mary or sparkling cocktail supplement.  The restaurant's a la carte menu will also be available.
Sunday's festivities kick off a weekly Saturday Jazz Brunch featuring live music beginning the following week, on May 14. Reservations are always recommended at reservations@cypresstavern.com or 305.520.5197.  Sunday's Mother's Day menu is subject to change as follows:
First
Lobster Avocado Toast
Citrus-Endive Salad – pistachio, aged goat cheese
Second
Crab Benedict – dill hollandaise
Grilled Hanger Steak – fingerling potato & ramp hash, fried egg
Wild Mushroom Rice Cake – herb aioli, shaved summer truffle, fried egg
Third
Kulfi – confit citrus, pistachio
French toast – fig compote, pistachio, crème fraîche                      
$49.00 plus tax and gratuity per person (half price for children under 12). Endless Bloody Marys or sparkling cocktail – $20 additional
The Little Chalet
Mothers hold their child's hands for a moment and their hearts for a lifetime… Make a toast to the lifetime of love your mom has given you with the Blooming Champagne Cocktail at The Little Chalet.  Made with Strawberry Rhubarb Marinade drizzled on the bottom of a champagne glass, a drop of St. Germaine Elderflower liqueur topped with a glass of the finest Nicolas Feuillatte Brut Champagne & garnished with our unique Wild Hibiscus edible Flower. All Mothers receive a complimentary Blooming Champagne Cocktail only on May 8th, 2016. Call 561-325-8000 for more information.
La Mar
On Sunday, May 8, La Mar will offer a sumptuous Peruvian brunch including unlimited champagne and brunch cocktails with savory entrees such as Egg-topped Lomo Saltado and Pescado Chorrillana with Catch of the Day and Bacon Mashed Yuca. Guests will also delight in an elaborate seafood station with cebiches, causas, tiraditos, and Peruvian-style sushi rolls, as well an Anticucho Grill station providing grilled skewers, empanadas, sliders and whole fish.  A decadent dessert carousel will complete the meal and all mothers will receive a sweet surprise gift to take home.
Brunch will be served from 12pm to 3:30pm. Cost is USD 85 for adults and USD 35 for children ages 6 to 12. Children under 6 years old are complimentary.  For restaurant reservations, please contact (305) 913 8358.
Wild Sea Oyster Bar and Grille
Wild Sea Oyster Bar & Grille, located in the illustrious Riverside Hotel on Las Olas Boulevard, is serving up an extended Mother's Day Brunch on Sunday, May 8, from 11 AM – 4 PM.
Delight in the restaurant's airy seaside setting while enjoying Wild Sea's imaginative and exceptionally fresh cuisine priced a la carte, such as the eponymous Wild Sea Lobster Omelet with Maine Lobster, caramelized onions, gruyere, heirloom tomatoes, and toasted red potatoes ($22); or the equally appetizing Local Fish of the Day Sandwich, a neighborhood favorite plated with almond coleslaw, lemon herb aioli, avocado, heirloom tomato, and house fries ($16).
If your taste buds are craving something sweet, then look no further than the Caramelized Banana Brioche French Toast created with Kahlua and cinnamon French toast, caramelized bananas, and brown butter whipped cream ($15). Wild Sea Oyster Bar & Grille is located at 620 East Las Olas Boulevard in Fort Lauderdale, inside the Riverside Hotel.
Lunch is served daily 11AM – 3PM; and the full dinner menu is served from 5 PM – 10 PM, Sunday – Thursday and 5PM – 11PM on Friday and Saturday. For reservations, please call (954) 467-2555.
SLS South Beach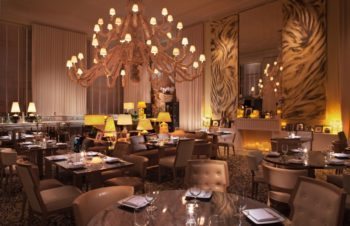 This Mother's Day, award-winning restaurant The Bazaar by José Andrés, located inside the SLS South Beach, has created an exceptional brunch menu that will pamper moms through an unbelievable culinary experience. Full menu can be found here.
Already a destination for local guests and travelers looking to enjoy world-class cuisine in its two gorgeous Phillipe Starck-designed dining rooms, The Bazaar's specialty Mother's Day menu will make for an even more memorable meal.  The all-inclusive feast stays true to the restaurant's Spanish-inspired roots and includes a decedent "Brunch Table," including a selection of Spanish cured meats and cheeses, Iberico porchetta, smoked salmon, caviar, omelet station, fresh fruits, pastries and assorted yogurt parfaits.
Also included in $75 meal (and $35 for children 12 and below) is an à la carte entrée of choice to enhance the occasion even further, with signature items such as the SLS Eggs Benedicto, olive oil mini pancakes, wild Alaskan salmon Veracruzana and Torrijas served with mango and honey among others.
Though we expect it to be hard to save room, The Mother's Day Brunch Sweet Table is not to be missed and is guaranteed to make moms' sweet tooth happy. South Florida staples like Key Lime Pie are featured alongside confections including strawberry short cake, guava cheese cake and egg parfaits, among other sinful treats.
Quattro
Quattro Gastronomia Italiana, Lincoln Road's upscale Northern Italian eatery, is commemorating Mother's Day with special a la carte dishes in addition to the regular dinner menu on Sunday, May 8. Celebrate a day dedicated to moms by treating your mother to authentic Italian cuisine made with the freshest ingredients. Menu follows:
Insalata Mista Di Crostacei
Seafood Salad with Maine Lobster, Shrimp, Scallops, Clams, Mussels, & Lemon Dressing
26
Paccheri Con Polpo
Paccheri Pasta with Octopus, Cherry Tomato, Taggiasca Olives, & Light Red Sauce
31
Filleto Di Manzo Avolto Con Prosciutto Di Parma
Seared Beef Fillet Mignon wrapped with Prosciutto served with Purple Mashed Potato, Asparagus, &
Truffle Demi-glace sauce
55
Seabass Con Polpa Di Granchio
Chilean Seabass seared with Crab Meat, Lemon, Saffron sauce, Asparagus, & Potatoes
49
Millefoglie Di Noce Di Cocco
Coconut Millefoglie with Strawberry Sorbet
12
Quattro is located at 1014 Lincoln Road. For reservations, please call (305) 531-4833 or visit www.quattromiami.com.
BLT Prime Miami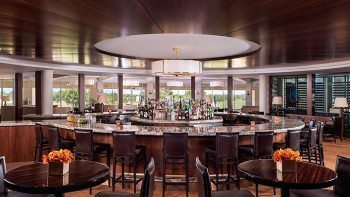 BLT Prime Miami, the acclaimed New American steakhouse in Doral, is offering a special Mother's Day menu on Sunday, May 8, 2016, with a range of delicious options. The restaurant will feature a three-course Sunday prix fixe dinner menu priced at $65 per person (excluding tax and gratuity). Diners can also order à la carte. Appetizers include a choice of Tempura Soft Shell Crab topped with smoked tomato and preserved lemon salsa ($14) or Prince Edward Island Mussels with speck ham and garlic confit cream ($15).
The main course is a selection of either Wagyu NY Strip topped with roasted garlic and watercress ($42) or Grilled Prawns with tempura oyster and elderflower saffron espuma ($36).  Sides include Fiddlehead Fern with olive oil and garlic ($12) or Crushed New Potatoes with saffron butter and fine herbs ($12). For dessert, a choice of Chocolate Crème Brulee topped with raspberries and mint ($10) or Fruit Tart with seasonal fruit, napoleon cream, and vanilla anglaise ($10).
BLT Prime is located at The Trump National Doral Miami at 4400 NW 87th Avenue. Valet parking is available. For reservations, please call (305) 591-6606 or visit www.e2hospitality.com/blt-prime-miami.
Caviar Russe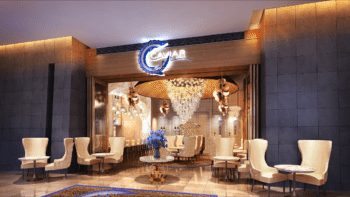 The newly opened Caviar Russe, at the Four Seasons in Brickell is offering Memorable menu for all mom's this year with a 3 Course Prix Fixe for $95/per person which includes a signature mimosa or Bellini from Noon- 4PM.
With only 35 seats in the entire restaurant, Caviar Russe is the most intimate place to celebrate this special occasion in luxury with your loved ones.  The decor is opulent, offering an inviting, luxuriously appointed space in which to savor and imbibe the celebratory offerings of Caviar Russe. It is a jubilant environment of sophisticated lavishness best befitting the caviar from which the restaurant derives its name.
The restaurant's renown chef David Valencia's has curated a divine Mother's Day menu in which all caviar selections will also be offered. Menu includes:
First – SMOKED SALMON: Beets, Herbs, Sourdough or LOBSTER SALAD: Heart of Palm, Black Truffle, Apple
Second – EGG: Crispy Potato, Poached Egg, Brioche or STEAK AND EGGS: Dry Aged Ribeye, Truffled Potato, Quail Egg or for an additional $20 guests can order FOIE GRAS TORCHON: Quince, Pistachio, Sunchoke.
Third – BERRIES AND CREAM: Shortbread, Mascarpone, Mint or SORBET: Seasonal Selection or for an additional $15 guests can order CHEESE: White Chocolate, Blackberry, Cherry.
For Reservations, call 305 902 6969 or email reservationsmia@caviarrusse.com.
Monty's Sunset

Take mom by the water and treat her a day of great food, delicious drinks and a breathtaking view at Monty's Sunset. Start her off with unlimited mimosas just for Mom for $15! And the meal is not complete without finishing it off with Monty's Award-Winning Key Lime cheesecake on the house for your special lady. For reservations, call (305)-672-1148; 300 Alton Road, Miami Beach, FL 33139.
Nikki Beach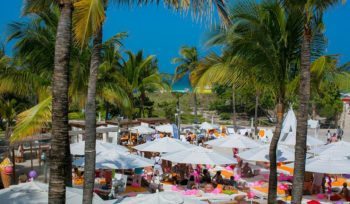 On Sunday, May 8th, Nikki Beach will host the ultimate Mother's Day Brunch with a special gift that's twice as nice – all mothers receive a complimentary brunch to redeem at a future date of their choice. Every mom deserves a delectable array of dishes and libations in a tropical floral setting with over the top bouquets and designs. Nikki Beach's brunch, long considered one of the best brunches on South Beach offering a myriad of stations and dishes ranging from savory prime rib and whole roast pork, live paella stations teaming with fresh seafood, handmade pasta made to order on site, custom omelettes, nutella waffles, crepes, decadent deserts and dozens of other options is $49.99.
A South Beach landmark since 1998, Nikki Beach continues to delight guests with their South of France-style joie de vivre, lively DJs and dancers, and iconic white daybeds and teepees that makes Nikki Beach instantly recognizable anywhere in the world.
Shake Shack
Show your mom some sweet love this Mother's Day and take her to Shake Shack on May 8 for a single cup of custard on the house. You read that right, it's on us! Not all offers are too good to be true! Your mom is special, so you should treat her to something delicious. Available at both Coral Gables and South Beach locations.