May 13, 2016
Each Friday, we compile South Florida food-related news and events that we couldn't fit on the site earlier in the week, as well as other local news that piques our interest. Want to be included in next week's roundup? Shoot us an email at bark@miamifoodpug.com.
Here's your weekly dose of nom.
COYO Taco Opens in Brickell
National Hummus Day at Gyroville
Spasso Launches Happy Hour
Miami.com and INDULGE Team Up for Fontainebleau Dinner
Ortanique on the Mile Hosts Cooking Class
Novecento Launches Special Lunch Menu
Concrete Beach Brewery Social Hall Turns 1
Quality Meats + Taquiza Team Up for Pig Roast
Campton Yard Opens at the Hall South Beach
La Fiesta Loca at Wynwood Yard
COYO Taco Opens in Brickell
COYO Taco is pleased to announce the official opening of its second location in the heart of Miami's burgeoning Brickell neighborhood. On May 11, 2016, the trendy Mexican taqueria opened on the ground floor of residential building, Axis Brickell, bringing locals and visitors alike, a fresh new option for delicious Mexican fare in a casual atmosphere. The new Brickell location boasts a larger restaurant space, with 74 seats inside, and an additional 74 seats outside.
Founders Alan Drummond, Sven Vogtland and Executive Chef/Partner Scott Linquist are overseeing the project from an operations and culinary standpoint, ensuring that the product, vibe, and overall experience maintain the standards that COYO aficionados have come to know and love in the Wynwood location. "This is the heart of the financial district and is attached to so many different cultures. It's a bustling, hot neighborhood and the right fit for COYO," states partner Alan Drummond, originally from Mexico City's Coyoacan, known as the Bohemian arts district of Mexico.
The menu at the Brickell outpost is similar to the one at COYO Wynwood. "We're going to start with our current menu and add some items from the Shore Club pop-up, like the grouper taco and the lobster taco," says Linquist.  The menu still features signature items such as the popular carnitas de pato, and quinoa tacos for vegetarians, but adds exclusive and traditionally Mexican sandwich item known as "Tortas" as well as reinvents COYO's signature octopus tacos. "We were just in Peru doing a pop-up, and we did a lot of food tasting. I'm going to do a crispy octopus with an ají amarillo aioli," says Linquist. "We'll also have some more new and exciting stuff that we're adding to the menu," adds Linquist.
COYO Taco Brickell is located at 1111 SW 1st Ave, Miami, FL 33130. The restaurant is open seven days a week, with daily hours of operation from 11am-11pm from Sunday to Thursday and 11am-3am Friday and Saturday.
National Hummus Day at Gyroville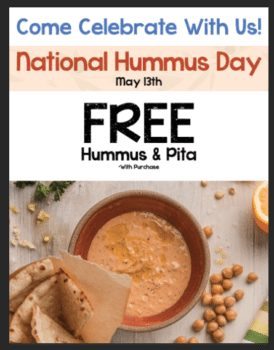 In honor of National Hummus Day, Gyroville – a healthy Mediterranean fast-casual concept with nine locations in South Florida – is offering customers a FREE hummus & Pita side at all of their locations with any purchase today. Gyroville is a build-your-own concept that starts by using the freshest ingredients and prepares them using recipes that combine traditional Greek recipes with a modern twist. The eatery allows customers to follow their choice of protein from the grill or vertical spit through an assembly line process where they choose from fresh ingredients and homemade sauces for their pita sandwich, wrap, rice bowl, or salad.
Signature Gyroville sandwiches include the Zeus – the most popular sandwich with gyro meat and chicken, or the Pita Melt with gyro meat, tomato, feta and white cheddar grilled between two fresh pitas. Locations are in Ft. Lauderdale, Plantation, West Pembroke Pines, Pembroke Pines, 17th Street, Miami Lakes, Doral & Kendall.
Spasso Launches New Happy Hour
Come spend the Happiest Hour(s) of your day at Spasso, Coconut Grove's newest Italian restaurant gem!
Every day, from 4 to 8 p.m., enjoy a 5 for $5 happy hour menu, which includes five Napolitan-style Pizzetta, and select cocktails including the fresh Sorrentino (Rum, Limoncello, lemon juice, orange juice) and wine by the glass for only $5 each. See menu enclosed.
Need a cure for the Monday blues? Stop by Spasso at lunch or dinner for 2-for-1 Pizzas. Guests can order any two house-made pizzas on the menu and receive the lowest priced pizza for free. Order the classic Margherita with tomato, mozzarella and fresh basil. Try the Prosciutto pizza. Or savor the earthy Wild Mushroom pizza topped with goat cheese, basil pesto and white truffle oil.
For a full restaurant menu, visit www.spassomiami.com. Spasso is located at 3540 Main Highway in Coconut Grove.
Miami.com and INDULGE Team Up for Star-Studded Dinner at the Fontainebleau

On Wednesday, June 1, join INDULGE & Miami.com at Fontainebleau Miami Beach for a truly one-of-a-kind culinary experience. World-recognized celebrity chefs Michael Mina and Scott Conant will be present to guide guests through a progressive evening of food and drinks in their Fontainebleau restaurants. 
The uniquely VIP, behind-the-scenes night – never before offered to the public – includes stops at Michael Mina 74, Scarpetta, StripSteak by Michael Mina and a special sweet send off from Fontainebleau's Chez Bon Bon.
The evening event, which runs from 7 p.m. to 9:30 p.m., includes six luxurious dishes, three signature cocktails (including a housemade limoncello tasting at Scarpetta and the famed Japanese whisky ceremony at StripSteak), a take-home dessert, INDULGE gift bags, and the chance to meet and interact with two of Americas best chefs. INDULGE Editor in Chief Evan Benn will host the evening.
Tickets cost $150 per person and include tax and gratuity. To purchase, visit the event website.
Ortanique on the Mile Hosts Cooking Class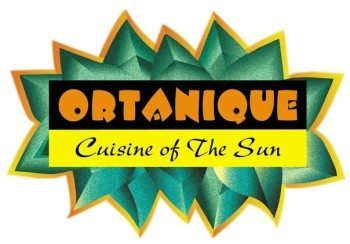 This Saturday at 11:30 a.m., Miracle Mile staple Ortanique on the Mile will host a cooking class with Chef Cindy Hutson. The event, which costs $108 per person, will feature the following menu:
CHARRED OCTOPUS PANZANELLA   
Cherry Tomatoes, Shaved Red Onion, Herb Croutons, Avocado & Mixed Greens in a Kalamata Olive Vinaigrette
JERK CHICKEN FRICASSEE PAPPARDELLE   
Jerk Chicken Breast, Vine Ripe Tomatoes & Scallions Tossed in an Aromatic Spiced Piquant Brown Stew Sauce
GLUTEN FREE BROWNIE
With Salted Caramel Ice Cream 
To reserve your seat, please e-mail Ashley@ortaniquerestaurants.com or call 305.446.7710.
Novecento Launches Special Lunch Menu
In celebration of Novecento's 25th Anniversary, the restaurants will be offering a 3-course lunch menu for $25 or a 2-course lunch menu for $19.91 (the first Novecento opened in 1991). A glass of house wine can be added for $5. Offer is valid from May 2 – July 31 and is available at all 3 locations
¨     Brickell, 1414 Brickell Ave. Miami, Florida 33131 – 305.403.0900
¨     Aventura, 18831 N. Biscayne Blvd. Aventura, FL 33180 – 305.466.0900
¨     Midtown, 3201 Buena Vista Blvd. Miami, Florida 33127 – 305.576.7447
Options include ceviche con tostones, spaghetti caprese, fish of the day and flan casero. For a full list of offerings, call the restaurants at their respective numbers.
Concrete Beach Brewery Social Hall Turns 1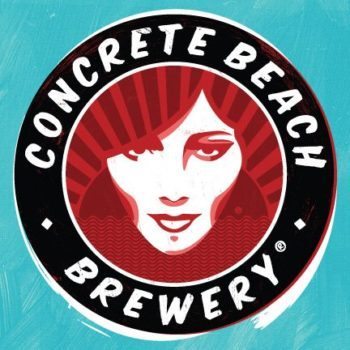 Concrete Beach Brewery will be celebrating the Social Hall's first anniversary on Tuesday, May 17th by recreating the day they first opened with a free cook-out and special treatments of Stiltsville Pilsner, Rica Wheat IPA and Concrete Common., the Brewery's three original beers.
After many months of anticipation, the Concrete Beach Social Hall, the brewery's public house and tap room, opened last May and began serving their critically and publicly-acclaimed beers, which are brewed on site in their state-of-the-art, twenty-barrel brewery.
It's been a year of many memorable moments, including rocking events like the Magic City Hippies' performance during Sola's Birthday Bash, Miami Gras, the brewery's own spin on Mardi Gras, and Blocktoberfest, the brewery's take on Oktoberfest, which set the Social Hall's one-day attendance record for the first year.
During the first year, the Social Hall staff worked tirelessly to fulfill its mission to create new craft beer drinkers through education and great beer. The goal was to provide a warm, inviting environment for seasoned craft beer drinkers and neophytes as well. Programming, such as the on-going, monthly educational series Brew House Rock, has gone a long way in achieving that goal.
"When I speak with most of our regulars, the impact is crystal clear. We've shown people another side to beer. Most of the people visiting us for the first time have never had a craft beer before, and we take that responsibility very seriously," said Jesse Morris, the Concrete Beach Social Hall manager and Certified Cicerone®. "Now when those same people see a new face at the Social Hall, they jump at the chance to recommend their favorite beers and describe the character of each in a passionate and informed way. It's really thrilling."
One of the early tenets of determining which beers to distribute outside of the Social Hall was to allow the public to decide which beer was the so-called "flagship." Concrete Beach Brewery's founder Alan Newman recently reflected on how that has played out:
"Out in the market, Stiltsville, our tropically hopped pilsner, is the most popular, with Tropic of Passion coming on strong. At the brewery, where there is more variety available, we see a greater range in customer favorites, from our Mas Hops Double IPA to our Helles Lager. The current leading style at the Social Hall is our new brown ale."
As for what's next for the Miami craft beer scene, Newman added, "Today all rules have been thrown out the window – craft lagers have grown, ciders are significant, and most recently, craft hard sodas have become huge. Big, bold IPAs have been dominating the craft scene, but session-able IPAs and sour styles have also become popular. What's next? Only when one of the brewers creates the next great Miami beer, will we really know. And that's one of the treats of the industry."
Quality Meats + Taquiza Team Up for Pig Roast
On the heels of last month's sold-out whole steer weekend, award-winning steakhouse, Quality Meats will be hosting festive, themed cook-outs all summer long. Next up, Quality Meats is partnering with its next door neighbor and Mexican locale, Taquiza, to host a backyard BBQ paying homage to the Florida Heritage Pig on Thursday, May 19, 2016.
Carnivores can enjoy a four-course feast for $60 per person with beverage pairings (excluding tax and gratuity) prepared by Taquiza's Steve Santana and Quality Meats' Executive Chef Patrick Rebholz, as they prepare and smoke a whole pig on the restaurant's expansive outdoor terrace.
As anticipation builds for the main course, guests will be treated to passed snacks including Crispy Pig Ears tossed in chile, salt and lime; Chicharrón "Popcorn" with a zesty lime seasoning; Jamon and Cheese; and Ember Roasted Corn "Elote" dipped in rendered pig fat and coated in chiles, Cotija cheese and chicharrón crumbles, as the first course.
The main course will be a smoked Whole Red Wattle Pig served with a stack of fresh tortillas and hearty sides including Ember Roasted Potatoes and Spring Onions; a Charred "Wedge" Salad tossed in a Tajin blue cheese crème fraiche vinaigrette; BBQ Baked Beans; and Queso Mac with ancho, lime and cilantro.
It doesn't end there – guests are encouraged to leave room for the dessert bar which will include sweet and savory indulgences such as Horchata Ice Cream; Birthday Cake Ice Cream Sandwiches; Bourbon Caramel Cracker Jacks; and a Compressed Mango Salad sprinkled with lime and chile.
Guests can wet their whistles all night with beer poured by MIA Brewing Co., and cocktails from Quality Meat's inventive beverage program including a Bourbon Iced Tea and PB&J Old Fashioned.
The backyard BBQ will begin at 7PM cocktails/7:30PM dinner. To reserve your spot please call the restaurant at (305) 340-3333.
Campton Yard Opens at The Hall South Beach

Star chef Spike Mendelsohn of Top Chef acclaim is pleased to announce the debut of Campton Yard, an outdoor hangout located at South Beach's bohemian boutique hotel, The Hall. Opening Friday, May 6th, 2016, Campton Yard will bring to South Beach a unique food and beverage concept, offering backyard bites, fresh, Florida-inspired cocktails, an impressive selection of Caribbean and local beer, and all-around chill vibes. An essential addition to the South Beach landscape, Campton Yard's laid back, casual ambiance and friendly staff will make for an ideal al fresco hangout, in the midst of all the action.
"We wanted Campton Yard to feel like guests are stepping into their favorite backyard party," said Spike Mendelsohn. "So, we'll have everything needed for the best outdoor get together, including tiki string lights, Giant Jenga, ping pong tables, Mojitos on tap and strong cocktails. Campton Yard is going to become the place local friends and visitors meet to kick-back and enjoy summer all year long."
The opening menu will feature delicious munchies such as a 'Big Ass Pretzel' served with a 305 Golden Ale mustard from MIA Beer Co. and chipotle cheese sauce, Chicharron with lime and chili, and a Classic Poutine featuring fresh-cut French fries, white cheddar curds, and classic brown gravy. Executive Chef Michael Colletti has worked collectively with Babe Froman Fine Sausages to create a hot dog and sausage menu, including the locally-inspired Three O' Five Dog with fried egg and maduros, and the Tiki Dog with Smoked turkey sausage, pickled red cabbage, and grilled mango, for the full Island experience.
Campton Yard will also feature an assortment of Florida-focused cocktails, with drinks like the Batida de Maracuja (passion fruit) with Cachaca and condensed milk, the Sandilla Picante with Corralejo Blanco Tequila and watermelon juice, as well as Mojitos on draft. The list continues with an even larger selection of imported Caribbean brews, and Mexican and local beer on draft. Highlights include Banks Beer from Barbados, Red Stripe from Jamaica, and the Rica Wheat IPA from Wynwood's Concrete Brewery.
Campton Yard will open at The Hall under the culinary direction of Mendelsohn who is best known for his appearances on Top Chef All Stars, Top Chef Chicago, Iron Chef America and The Next Iron Chef: Super Chefs. Mendelsohn's expanding list of restaurant concepts includes Sunny's – also located at The Hall – Béarnaise, Good Stuff Eatery, and We, The Pizza.
Campton Yard is located at 1500 Collins Avenue at The Hall in South Beach. Hours of operation will be 11am-1am Sunday through Thursday and 11am to 2am on Friday and Saturday. For more information, visit www.thehallhotel.com.
La Fiesta Loca at Wynwood Yard
We're celebrating La Fiesta Loca at The Wynwood Yard on Friday! This recurring monthly Fiesta is a themed night featuring unique, live social musical experiences with food from new Spanish-Japanese fusion concept Kuenko, COYO, della test kitchen and Mr. Bing, specialty cocktails and of course, Miami's best live music by Locos por Juana, Elastic Bond, DJ Main Event and other super special guests! May 13th is the "Tacos & Tequila" edition. Free giveaways at the door will get you ready to party, just bring your swag and grab your tickets here.
Food specials for the night will include:
della test kitchen:  Black corn tortilla tostaguac with refried black beans, cashew queso, charred jalapeño salsa verde, guacamole, tomato, cilantro cabbage slaw.
 Dim Ssam a Go Go:  Korean fried shrimp tacos with kimchi slaw, sprouts, and flour tortilla
Other vendors:
Kuenko, a Japanese-Spanish fusion concept just arrived in Miami, offering temaki and donburi for summer weekends at The Wynwood Yard. The exciting addition to The Yard's food concept roster will be serving up their singular style cooking Fridays from 

5 P.M. – 1 A.M.

, Saturdays and Sundays all day.
COYO Taco makes a cameo from 

10 pm to midnight

 for that perfect late-night snack!
 Mr. Bing, an innovative shaved ice cream concept