Each Friday, we compile South Florida food-related news and events that we couldn't fit on the site earlier in the week, as well as other local news that piques our interest. Want to be included in next week's roundup? Shoot us an email at bark@miamifoodpug.com.
Here's your weekly dose of nom.
JoJo Tea Unveils Tasting Room
Taste of the Islands Comes to the Hyatt Regency
Angler & Ale Opens at Hawks Cay
Batch Launches High-Speed Lunch Menu
DIRT Debuts Seasonal Summer Menu
Byblos Miami to Open New Lounge
Il Mulino New York South Beach Launches Daily Happy Hour
The Salty Donut Brings National Donut Day to 'LYFE'
Suviche to Host Live Mural Painting Event
Movie Nights With Sugar Factory at Hotel Victor
Kuenko Joins The Wynwood Yard
Chef Jeremiah Bullfrog Presents Duck Duck Goose
Cam Con Closing Party at E11EVEN
JoJo Tea Unveils Tasting Room
JoJo Tea has unveiled The Tasting Room, an intimate eight-seat private tasting room born from JoJo Tea's mission to spread and elevate Miami's tea culture. Through a traditional Omakase-style tea experience, The Tasting Room will introduce patrons to the 'Way of Tea' and the art of selecting, brewing and drinking from a carefully curated menu of teas from across the globe.
"The original vision of JoJo Tea was actually a teahouse—somewhere people could go to experience authentic teas in a gong-fu tasting environment. After studying teas at origin and building our brand over the past four years, we're now positioned to pioneer meaningful evolution in the new American tea culture," said Michael Ortiz, Co-Founder and Creative Director of JoJo Tea.
Founded in 2011, JoJo Tea has become a reputable name within Miami's booming food and beverage scene. With over 100 wholesale clients, including The Genuine Hospitality Group, Panther Coffee, Zuma, 50 Eggs INC, Eating House, Zak the Baker and Alter, JoJo Tea aims to continue revolutionizing the tea-drinking experience in South Florida and beyond.
"It's about building community. As we've built our tea family across Miami and around the world—from India to China, Nepal and Taiwan—so many have warmly opened their doors to us. As we open The Tasting Room and the next chapter of our story along with it, we're thrilled to have the opportunity to do the same," said Tico Aran, Co-Founder and Director of Operations.
Located at 951 South LeJeune Road, Suite 305, Miami, FL, the Tasting Room opened its doors on May 23rd, 2016. Hours of operation will be 4 p.m. to 9 p.m. Mondays, Wednesdays and Fridays, and 2 p.m. to 9 p.m. on Saturdays. Seating is by reservation only. To schedule your reservation, please visit sipjojo.com and book through Resy.
Taste of the Islands Comes to the Hyatt Regency
Each year, top chefs from all over the Caribbean travel to Miami to participate in Taste of the Caribbean, a culinary tour de force where they battle for the chance to be crowned the best in the region. This exclusive industry event opens its doors to the public for a one-night-only festival, titled Taste of the Islands, which welcomes the Miami community to celebrate and sample the finest in traditional Caribbean dishes, cocktails, and craft brews. Taste of the Islands takes place at the Hyatt Regency Miami on June 9, 2016, from 7:00 p.m. to 9:00 p.m.
A total of 13 competing teams will bring the heat to Taste of the Islands, each preparing savory and sweet dishes along with a signature cocktail to represent the flavors of home. Having competed at the national level to represent their islands in Miami, teams are composed of two senior chefs, one junior chef, one bartender, one pastry chef and one manager. Participating teams include Anguilla, Bahamas, Barbados, Bonaire, Curacao, Jamaica, Puerto Rico, St. Lucia, St. Maarten, St. Martin, Suriname, Trinidad and Tobago, Turks and Caicos, and the U.S. Virgin Islands.
In addition to the 26+ dishes served on-site, guests will also delight in the cultural offerings of all participating islands through Caribbean music and performances as well as presentations by the tourism board of each destination. For those looking to visit the Caribbean, this is the perfect opportunity to sample sights, sounds and tastes of the islands – all in one night!
Tickets are $60 per person and are on sale now and can be purchased at www.chtataste.com. Guests are encouraged to take an active part in the festivities by voting for their favorite culinary team, entering to win prizes, and share the experience in social media using #CHTATaste2016.
Taste of the Islands is presented by Sandals Resorts and the Caribbean Hotel and Tourism Association. For more information, please visit the website and follow us on Facebook and Twitter.
Angler & Ale Opens at Hawks Cay Resort
Hawks Cay Resort, a destination resort in the middle-Florida Keys, completes its renovation with the highly anticipated opening of Angler & Ale, a classic Florida Keys-inspired restaurant located at Hawks Cay Marina. Creating a new entertainment destination, Angler & Ale is the focal point of the resort's Marina Walk.  Guests and locals alike can now stroll down the docks and enjoy local art, weekly 'Rock the Docks' nighttime programming and other entertainment.
Built-up to provide panoramic views of the waterways, Angler & Ale features 230 indoor and outdoor seats for dining plus lounge areas around two fire pits.  The traditional Florida Keys architecture is complemented by a fresh coastal casual design that celebrates the nautical location and inspiration of the restaurant.  Maritime touches can be found throughout, from a light fixture made with anchor lines to the "Fresh Catch this way" neon sign by the kitchen. Then at night, the restaurant comes alive with a retro-looking red neon sign, enticing guests driving on the famed Overseas Highway to stop in for a drink or meal.
The new menu concept pays tribute to Angler & Ale's Florida Keys home by focusing on the quality and freshness of its locally sourced ingredients while incorporating New American influences.  Classic menu items such as Broiled Florida Lobster and Whole Roasted Snapper are complemented by dishes that have a unique spin like the Lobster Ruben, Crispy Grouper Cheeks and Tuna Nachos.  The restaurant also features a 'Hook N Cook' option where guests can bring in their fresh catch and have the chef cook it up.  A Florida Keys dining experience is not complete without a drink, and Angler & Ale delivers an impressive craft cocktail menu with an extensive beer selection that includes a signature Angler's Ale brew.
Angler & Ale is open seven days a week for lunch, dinner and drinks. For additional information and reservations visit www.anglerandale.com or call 305-209-9991. Follow Angler & Ale on Facebook and Instagram.
Batch Launches High-Speed Lunch Menu
Batch Gastropub is introducing a new high-speed lunch menu tailored to busy professionals in the neighborhood.  Now you can grab a quick and delicious bite to eat with entrees starting as low as $8. Batch will also offer daily social media giveaways and $4 personal starters.
Batch's new approach to the Brickell lunch experience is meant to streamline the lunch hour with simple yet bold price points at the top of each section. Guests can choose from an $8, $10, and $12 entrée section that includes an $8 Egg & Cheese Biscuit Skillet made with one of Pope's homemade buttermilk biscuits, béchamel sauce, pecanwood smoked bacon and a sunny-side up egg. Craving sliders? Batch has you covered with their new $10 slider section adorned fried chicken, blackened grouper, BLT, and root beer BBQ pulled pork. For guests with larger appetites Batch offers Hanger Steak Skewers and Fries, a hearty Pulled Pork Shepherd's Pie, Prime Brisket Burger, and signature Mac Attack for only $12.
Batch Gastropub even caters to Miamians watching their figure with their array of healthy options . Try the vegan Quinoa Grain Salad made with cucumber, tomato, radish, red pepper, rum raisins, red onion, arugula, and batch citrus vinaigrette or the flavorful Spinach Salad made with apple, goat cheese, candied pecans, rum raisins, and balsamic vinaigrette. Social media lovers who check in or take a photo while enjoying their lunch receive a unique daily promo such as Mac Attack Mondays with unlimited add-ons for $12, free chocolate chip cookies on Tuesdays, a glass of wine on Wedesdays, starters on the house on Thursdays and a rotating craft beer pint on Fridays!
Batch Gastropub is located at 30 SW 12th St, Miami, FL 33130. Hours of operation: 11:30 a.m to 5:00 a.m daily. Brunch served everyday Saturday and Sunday 11:30 a.m. till 4 p.m. Metered street parking and validated garage parking are available. Learn more about Batch Gastropub at www.batchmiami.com or call (305) 808-5555 for information and reservations.
DIRT Debuts Seasonal Summer Menu
Miami Beach's "fine food fast" casual eatery and wellness bar, DIRT, debuts a new Summer menu with the warmer weather of the Summer months in mind. The menu is rooted in seasonality, using many local ingredients to create light yet satisfying dishes filled with crisp refreshing flavors and vibrant colors.
Featured breakfast items on the new menu include the Seasonal Breakfast x Harpke Farms, a collaboration between DIRT and the local Harpke Family Farms. Inspired by Spring's bounty of green vegetables and mushrooms, pasture-raised eggs are cooked over easy and served over your choice of quinoa or farro, along with fresh peas, asparagus, local mushrooms, and aged Parmigiano Reggiano. Guests who order the cult favorite Avocado Toast may gravitate to the new Goat Cheese + English Pea Toast; a thick slice of multigrain bread from Zak the Baker is grilled to perfection and topped with whipped goat cheese and lemon-scented peas, then sprinkled with toasted pumpkin, sunflower, and hemp seeds.
The Seasonal plate is always a favorite at DIRT, and the Spring Plate does not disappoint. Crisp broccolini is grilled and tossed with a touch of lemon and chili flakes, then served on the side of roasted red and Yukon gold potatoes which are smashed with Greek yogurt, olive oil, and fresh herbs. The dish is offered with your choice of protein and garnished with more vegetables in the form of shaved carrots and radishes.
A unique offering on the new menu is the DIRT x JoJo Tea Salad by Tico. Local greens from Sun Fresh Farm & Ranch are tossed with broccolini, English peas, asparagus, heirloom carrots, and sautéed mushrooms. The salad is then lightly tossed with JoJo's fresh matcha green tea and lemon vinaigrette and spiked with a blend of toasted pumpkin, sunflower, and hemp seeds. A topping of Parmigiano Reggiano finishes the salad off on an earthy note.
Proteins can be added to any dish, making them ideal for recharging after a workout. Options include butcher's cut steak, quinoa-crusted fish of the day, free-range orange basil chicken, sprouted chickpeas and lentils, or cage-free eggs.
New beverages on the menu include the Matcha Green Tea Latte and Lavender Latte, flavored with Sonoma lavender syrup and inspired by Chef Nicole's visits to Napa Valley. Colorful, refreshing additions also include a Blueberry + Orange Blossom + Mint Soda, made with DIRT's house-made simple syrup; a DIRTy Palmer, DIRT's take on a traditional Arnold Palmer, with a blend of grapefruit juice, Madagascar vanilla, and chamomile and rooibos teas; and a Dragon Fruit Lemonade, with fresh-squeezed lemon juice, house-made vanilla simple syrup, dragon fruit, and alkaline water combining to make a bold, magenta-colored lemonade for summer.
DIRT is now open for service and delivery Monday through Friday from 10 a.m. to 10 p.m., and Saturday and Sunday from 9 a.m. to 9 p.m.
Byblos Miami to Open New Lounge
Set to open its doors Wednesday, June 1, Byblos Miami will introduce The Lounge at Byblos – a nightlife destination that will extend the Byblos Miami dining experience into late night revelry. The intimate 2,300-square-foot lounge will feature weekly resident DJ's and entertainment, signature cocktails and bottle service.
With the opening of The Lounge, Byblos Miami offers an exotic escape for travelers and locals alike to enjoy the mystique of the Mediterranean and Middle Eastern nightlife. The Lounge at Byblos marks the last chapter of Byblos Miami's complete renovation for INK Entertainment and ICON Legacy Hospitality.
Designed by award-winning international firm, Studio Munge, guests will be met with the restaurant's sense of comfort and privacy, and enticed by its touch of glamour. The Lounge at Byblos is a jewel of intimacy mixing soft textures and reflective surfaces. Centrally located in the room is the statement bar, a focal point designed with alternating gold and silver mirrors in a zigzag pattern. The cozy velvet sofas are paired with lounge chairs and ottomans offering comfortable seating accessorized with cushions in vibrant Mediterranean textiles. From the wide plank oak flooring finished in shimmering champagne hues to the sensual leather accents, everything in The Lounge at Byblos will enhance the sultry and seamless transition from dining to late night.
In addition to late night events, The Lounge will offer a creative bar program, with specialty cocktails and tableside bottle service. Based on the traditional tea rituals of the Middle East, Byblos' signature tea cocktail service is spiced and spiked to enjoy with a party. Along with weekly resident DJ's, The Lounge will also feature an expertly curated soundtrack, featuring an open format music program. The Lounge at Byblos will be open Monday-Sunday from 6 p.m. to late.
For more information please visit www.byblosmiami.com. For reservations and booking inquires please contact (305) 508-5041 or email reservations@byblosmiami.com.
Il Mulino New York South Beach Launches Daily Happy Hour
Il Mulino New York South Beach, the chic Italian hotspot located in the South of Fifth neighborhood in South Beach, is launching a new daily happy hour starting today. With summer approaching, patrons can enjoy a refreshing selection of specially priced wines, beers and cocktails including $6 Chianti, Pinot Grigio, Rosé and Prosecco; $4 Peroni, Coors Light, Grolsch, Amstel Light, and Heineken, and half off the cocktail list and well drinks.
Cocktail menu highlights include Something with Cucumber ($8.50 happy hour price) with Atlantico Private Cask Rum, Bianco vermouth, cucumber-mint cordial and fresh lime, In Love with Coco ($8 happy hour price) with Avion silver, honeydew melon and Malibu coconut rum, and The Woman in the Red Dress ($9 happy hour price) with Elyx Vodka, Perrier Jouet Champagne, Campari, fresh lemons and raspberries.
Guests can grab a seat at the beautifully designed marble bar for an after work libation and order from the new Bar Bites menu featuring Calamari Fritti, Ricotta Meatballs (4 pieces), Ravioli ai Porcini (2 pieces), Mussels, and an assorted cheese plate. All these delectable bar snacks are available for $10 each.
For reservations, please call 305.372.1221 or visit http://www.ilmulino.com/south-beach/.
The Salty Donut Brings National Donut Day to 'LYFE'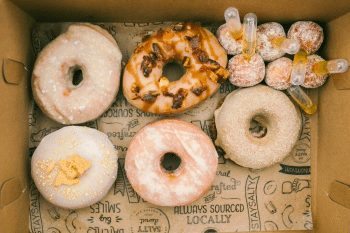 National Donut Day will become everyone's favorite holiday this year. Miami's first artisanal donut shoppe, The Salty Donut, is hosting an exclusive release party in celebration of its partnership with LYFE Brand in the making of a limited edition t-shirt for National Donut Day.
The event will take place on Friday, June 3 at 150 NW 24th Street, next door to J.Wakefield Brewery from 7 PM until 10 PM. Guests are invited to enjoy savory bites and drinks from some of The Salty Donut's loyal partners including J.Wakefield Brewery and Miami Smokers. Favorite locals neighborhood bar, The Anderson, will have a pop-up bar, serving their signature cocktails throughout the event. Most importantly, guests will have the chance to get their hands on a never before seen or tasted National Donut Day donut, exclusively available at the event.
There are a limited number of tickets available for purchase, and those who have waited in The Salty Donut's wrap-around-the-block lines know the tickets won't last very long, so think fast!
Tickets to the event are $52 per person and are available for purchase at Mixstir.com. Must be 21 or older to attend.
Tickets include:
A limited edition LYFE Brand + The Salty Donut collaboration t-shirt in various sizes

An individually wrapped, secret 'National Donut Day' donut by The Salty Donut

Bites from Miami Smokers

Brews from J. Wakefield brewery

Donut sampling from The Salty Donut

Cocktails by The Anderson Bar

Good tunes

Special guest appearances

… And a few surprises!
The official afterparty for the event is open to the public and will take place at The Anderson Bar in Miami's burgeoning MiMo District. This is a party not to be missed. The Salty Donut has worked in collaboration with The Anderson to create a unique donut and cocktail pairing special for one night only. Yes, you read it right, donuts and drinks.
Suviche to Host Live Mural Painting Event
SuViche will host a live mural painting by local artist Daniel Fila, also known as Krave, at its Wynwood location on Saturday, June 11th. From 5-8 pm, guests will have the opportunity to watch Fila bring together ocean-inspired imagery with elements of modern urban culture as he paints two murals on SuViche's outdoor walls. A Miami native, Fila is a multifaceted artist whose work can be found in various neighborhoods throughout the city including Wynwood, the Miami Design District and most recently as part of Little Havana's growing art scene. He has been commissioned to create art for the Ritz Carlton Palm Beach, MTV, Greyhound, SLS Hotel Miami Beach, The GMCVB and one of his murals was featured in the film "Pain & Gain" starring Mark Wahlberg.
The live mural painting will coincide with the monthly Wynwood Art Walk and is part of SuViche's mission to support local artists by building creative partnerships and promoting their art through its restaurants. Throughout the evening, guests will enjoy SuViche's Happy Hour Specials, available from 3 p.m. – 7 p.m. as well as tunes by a live DJ.
Movie Night With Sugar Factory at Hotel Victor
Monday nights just got a whole lot sweeter with Hotel Victor and Sugar Factory this summer. Introducing a monthly movie night series where the second floor terrace of Hotel Victor will be set up with a giant outdoor screen and seating and complimentary popcorn and half off candy bags by Sugar Factory.
Bring your appetite and indulge in the following candy-themed movies every second Monday of the month from June through August:
June 13

– Willy Wonka and the Chocolate Factory

July 11

– Chocolat

August 8

– Sweet Home Alabama
Movie nights are free and open to the public. Seating opens at 7:30PM with movies starting at 8PM.
Kuenko Joins The Wynwood Yard
Kuenko, which just arrived in Miami, has joined the outstanding roster of culinary concepts at The Wynwood Yard. Spanish chef Ricardo Sanz, whose most well-known restaurant is the Michelin-starred Kabuki in Madrid, created the menu and oversees the menu, techniques and training at Kuenko.
He has partnered with Anthony Ricci (a former pro player for the Argentino Juniors and Miami United), Matias Ricci and Amado Rodriguez to bring his food to the United States, starting in Miami.
The simple menu celebrates and fuses Japanese simplicity and Spanish boldness with a variety of donburi or rice bowls. Butterfish donburi brims with pristine fish, special rice, nori, white truffle pate, a delicately fried quail egg, Japanese lettuce, crispy fried onion and secret sauce.
Or try the donburi bowls with spicy tuna, eel kabayaki, shredded Angus beef, vegetables, or shrimp tempura. The dishes are prepared fresh, right before your eyes. (See the full menu.)
The Kuenko pop-up will be open at The Wynwood Yard (56 NW 29th St.) during these hours: Tuesdays 5 to 9 p.m.; Wednesdays and Thursdays noon to 9 p.m.; weekends noon to 3 p.m., and 7 p.m. to midnight.
Kuenko joins The Wynwood Yard's exploding roster of innovative culinary concepts, including della test kitchen, Myumi, Richard Hales' Bird and Bone (opening very soon), Mr. Bing and Mortar & Pistil bar.
Chef Jeremiah Bullfrog Presents Duck Duck Goose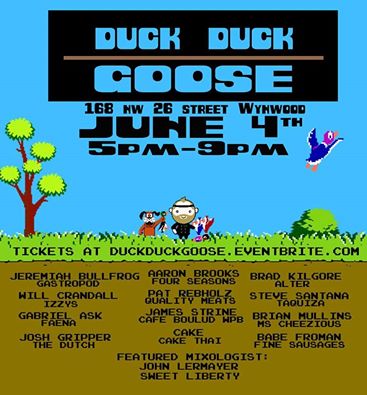 Chef Jeremiah Bullfrog, chef/owner of gastroPod Miami and creator of the popular PIG (Pork is Good), presentsDuck Duck Goose (DDG), a new culinary event taking place Saturday, June 4, 2016 from 5pm-9pm. For the event, Bullfrog and his cadre of knife-slingers are taking it to the birds with DDG, featuring 12 of Miami's top chefs showing off their creativity and skill with locally raised and pastured fowl from Lake Meadows Naturals in Ocoee, Florida.
For six years running, Chef Jeremiah brought together some of Miami's most exciting chefs to showcase the power of the mighty pig putting out tasty tid-bits such as chicharrónes, smoked pork butt bao buns, a porchetta-rolled whole pig, and bacon ice cream. Now he and his friends are turning their creativity to all things winged. "PIG has more of a rock 'n' roll and whiskey vibe," says Bullfrog. "But Duck Duck Goose is going to be a lot more Champagne and bossa nova. We look forward to fattening your livers!"
For its inaugural run, DDG is bringing a star-studded lineup of South Florida's most inventive purveyors of haute cuisine, gourmet street food and craft cocktails, with familiar faces from PIG, new additions, and lots of live fire cooking of poultry on strings. Participating chefs include Brad Kilgore of Alter, Will Crandall of Izzy's Fish & Oyster, James Strine of Cafe Boulud in West Palm Beach, Patrick Rebholz of Quality Meats, Phuket Thongsodchaveondee (Cake) of Cake Thai, Gabriel Ask of Faena Hotel, Aaron Brooks of Edge Steak and Bar,Steve Santana of Taquiza, Brian Mullins of Ms. Cheezious, Babe Froman of Babe Froman Fine Sausages, Josh Gripper of The Dutch, and of course Jeremiah Bullfrog of gastropod. Mixologist John Lermayer of Sweet Liberty will be slinging the libations. In addition to a mouthwatering selection of all-you-can-sample food and drinks, guests of all ages will groove to a live jazz trio and surprise special guests. Tickets are $59 and can be purchased athttps://www.eventbrite.com/e/duck-duck-goose-tickets-24992462127.
Duck Duck Goose will be held on Saturday June 4, 2016 from 5 to 9 PM at the newly expanded gastroPod lot, located at 168 NW 26th Street in Wynwood.
Cam Con Closing Party at E11EVEN
E11EVEN MIAMI will once again serve as the home of Cam Con's official closing party on Thursday, June 2. Alongside the 24/7 Ultraclub's famed THEATR11CS, aerialists, and exotic acts, the Official Closing Party will feature a special celebrity host, plus live afterhours DJ set by Obscene.
Now in its third year, the Cam Con Worldwide Conference continues to flourish, bringing droves of guests into the Miami Beach and surrounding areas. Geared toward models, websites, fans, influencers and studio partners, the annual networking convention represents all the business in the social media landscape.
Advanced sale tickets to the Official Closing Party are available for $20 online. Guests with a convention badge will receive complimentary admission to E11EVEN MIAMI. 21+ for entry.
VIP table reservations can be made by emailing tables@11miami.com or calling 305.305.6611.