May 6, 2016
Each Friday, we compile South Florida food-related news and events that we couldn't fit on the site earlier in the week, as well as other local news that piques our interest. Want to be included in next week's roundup? Shoot us an email at bark@miamifoodpug.com.
Here's your weekly dose of nom.

The Fat Ham Pops Up at Harry's Pizzeria
Batch Launches New Menu
National Burger Month at ROK:BRGR
Taste of the Nation Moves to Wynwood
Swyngwood Celebrates All Things Swing
Brickell City Centre Launches "Trucks and Tunes on the Lawn"
La Côte Announces New Look and Menu
Sprint Unveils Sculpture to Deter Distracted Drivers
Smooshies Teams Up With Ohh My Sweetness
Stripsteak by Michael Mina to Host Wine Dinner
Cream Opens First Florida Location
The Fat Ham Pops Up at Harry's Pizzeria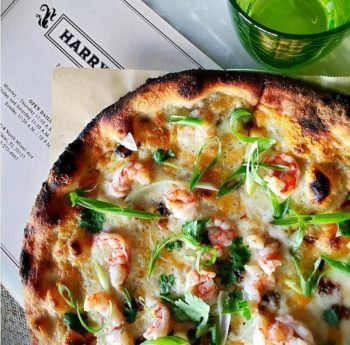 Philadelphia Chef Kevin Sbraga is bringing his "Southern charm" to Miami for one night only at Harry's Pizzeria. On May 17, Chef Sbraga will introduce his restaurant concept, The Fat Ham, and share his take on Southern ingredients, cuisine, and culinary traditions with Harry's Pizzeria at a family-style dinner.
Making new friends is encouraged and easy when attendees have a welcome cocktail in hand with four passed snacks, four courses, and four free-flowing wines for the evening selected by The Genuine Hospitality Group beverage manager Amanda Fraga to play well throughout the menu. Each guest will take home a bottle of Kevin's hot sauce, too. All that and tax and gratuity are included in the ticket price of $150, sold exclusively at harryspizzeria.com/fathampizzeria. Seating is first come, first served.
Batch Launches New Menu
With a new season comes Batch Gastropub's new mouth-watering menus, filled with tastes and delights sure to please any and every one. From appetizers, large plates, to cocktails and housemade sodas, Batch's additions are guaranteed to have you in the door as soon as you can to try them!
Kick off your experience at Batch with the return of Pope's Buttermilk Biscuits, now bigger, better, and made with Pecan Jameson Bacon Butter and Green Tomato Jam. Move onto shareable dishes like Fried Chicken, Pulled Pork, or Grilled Garlic Shrimp Sliders or new pizzas such as the vegetarian-friendly Wild Mushroom and Goat Cheese. Batch's large plates are bound to please everyone with their new southern-inspired Boneless Nashville Hot Fried Chicken and the clean and healthy Grilled Chicken Paillard. If you're looking for something gluten free or vegan, never fear- Batch has you covered with their new GFV Roasted Cauliflower & Charred Carrots, a satisfying, aromatic dish cooked with coconut curry, quinoa, fresh herbs and crushed peanuts.
Batch Gastropub continues to push the envelope with their housemade cocktails and sodas. Guests can enjoy new options such as the Blood Orange Fizz, made with Grey Goose, housemade blood orange tart shrub, Aperol, and macerated lemon peel. New craft cocktails include the Cucumber Cooler made with Hendricks Gin, coconut-lemongrass-infused sake, lemon juice, and cucumber, and the Peach-Mint Smash prepared with Herradurra Silver Tequila, peach, mint Syrup, and housemade pomegranate grenadine. Alcohol-free housemade sodas are perfectly refreshing on a warm day, like the Honey Ginger Beer made with spicy ginger root, honey, and citrus Peel and the Sparkling Blueberry-Mint Lemonade, a concoction of muddled blueberries, lemon, and fresh mint.
National Burger Month at ROK:BRGR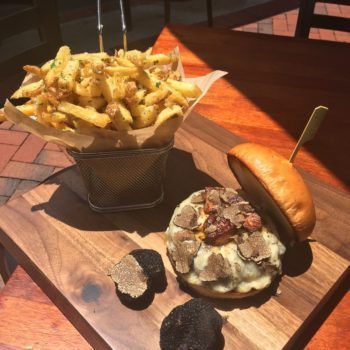 Being that it is National Burger Month, of course, ROK:BRGR  is offering a special $50 American Wagyu Kobe Burger with foie gras, and a special blend of truffle cream brie cheese, available for the month of May.
ROK:BRGR offering the extravagant burger at all of its restaurant locations. ROK:BRGR's 10 oz. American Wagyu Kobe Burger features a blend of Kobe brisket and chuck with foie gras, truffle cream brie cheese  and blood orange marmalade on a brioche bun.  Then it will be topped off with summer truffles shaved table-side. The burger is served with a side of large truffle fries and will be on the menu throughout the month of May. Visit their website for more details.
Taste of the Nation Moves to Wynwood
South Florida residents can enjoy the most celebrated food in the area on Friday, June 17, 2016, when South Florida's Taste of the Nation for No Kid Hungry returns, this time to Soho Studios in Wynwood. The annual tasting event will feature the area's top chefs, sommeliers and mixologists united for a cause: making sure all children in this country get the healthy food they need, every day. Proceeds from the event benefit No Kid Hungry's work to end childhood hunger in America.
The 28th annual tasting event will take place from 7PM to 10PM, at Soho Studios, followed by an exclusive after party for VIP ticket holders at Midtown's Apeiro Kitchen & Bar from 10:30PM to midnight.
Led by Founding Event Chairman Allen Susser and Restaurant Co-Chair Timon Balloo, South Florida's culinary tastemakers will provide guests with scrumptious bite-size fare, craft cocktails and the sweetest desserts. The benefit will also feature a silent auction with exclusively curated packages, a mystery wine grab, a Citi lounge helmed by a soon to be announce featured mixologist, a No Kid Hungry lounge, an LG kitchen activation and a Plinko game board with tons of great prizes! The party will continue just a mile away at Apeiro Midtown, where Executive Chef Anthony Sitek will treat guests to Mediterranean bites late into the night.
General admission tickets are priced at $125 per person. VIP tickets are priced at $250 per person and provide access to the event one hour before the doors open as well as admission to the after party. For additional information and to purchase tickets, please visit: http://nokidhungry.org/miami.
Swyngwood Celebrates All Things Swing
Step back in time for a vintage-inspired cultural immersion at Swyngwood in Miami's cultural arts epicenter, Wynwood on May 20, 2016. Swyngwood's mission is to inspire social change by bringing people together for deeper human connections through vintage swing dance and its culture.
In the 1940s, racial segregation was commonplace, but several Historians credit swing dance and music for leading the way to integration, bridging the gaps between communities. South Florida Lindy Collective (SFLC)aims to bridge gaps that continue to exist today. Swing dance instruction will encourage attendees to meet their neighbors, rotate partners, and make new friends to build a stronger sense of community.
Also on Swyngwood's jam-packed agenda:
– The Pitbull of Blues Band / thepitbullofblues.com performing blues and rockabilly to keep the party hopping.
– Burlesque performances by Miss Jenna Beth showcasing the class and sass of yesteryear.
– Rat rodders can enter Swyngwood's Inaugural Rat Car Show to win a custom trophy*
– Swyngwood's Pomp Station will help attendees rock retro rockabilly hairstyles*
– Vintage fashion and treasures available from the LA Boudoir's pop-up shop.*
– Mini pin-up photography sessions with Erika Nelly Photography, Pin-Up Photographer featured in Delicious Dolls Magazine, Teased Pin Up Magazine, and Vintage Affair Magazine.*
– Bring a t-shirt for a $5 Swyngwood screenprint from The FINE PRINT Shoppe or purchase a t-shirt for $15.*
*additional cost for participation

Swyngwood will take place at the exclusive Toejam Backlot. Doors open at 8:00PM. Pre-sale tickets are available online for $15 at https://swyngwood.eventbrite.com/ or at the door for $20.
Brickell City Centre Launches "Trucks and Tunes on the Lawn"
Brickell City Centre has introduced a new weekly entertainment program called "Trucks and Tunes on the Lawn," which kicked off yesterday. Located at the REACH and RISE sales gallery lawn (700 Brickell Avenue), the events take place every Thursday from 5:00 p.m. – 8:00 p.m. through June 9, 2016.
The unique program will feature rotating special guests, food trucks, live music and DJs (which will change on a weekly basis). As part of Brickell City Centre's commitment to the community and in support of its neighbors, the event will offer Brickell-based businesses, restaurants and programs a platform to showcase special offers and promotions.
Food Trucks Line-up:
Mr. Bing Miami (Shaved Ice Cream)
Ms. Cheezious (American Classics)
Nacho Bizness (Tacos + Tapas) 
Sweet Daddys BBQ (Traditional BBQ) 
Myumi (Sushi Handrolls)
Local Business Partners:
"Brickell City Centre was designed to be the ultimate urban destination for residents and visitors looking to shop, dine, live, work, and feel a sense of community all in one central location," said Stephen Owens, President of Swire Properties Inc. "To stay true to our vision for the area, we see these events as a way to collectively come together to embrace, promote and develop relationships with our neighbors and showcase all the great attributes that come with urban living"
Redefining urbanization, diversity and sophistication in Brickell, stay tuned for weekly updates and join in on the fun by posting and following the official event hashtag, #TrucksandTunes.
La Côte Announces New Look and Menu
Inspired by the Côte d'Azur, La Côte at Fontainebleau Miami Beach is a chic, two-level beach club and Mediterranean restaurant with breathtaking panoramic views of the Atlantic Ocean and the iconic poolscape. One of the closest restaurants to the Atlantic on all of Miami Beach, this open-air oasis offers guests the flavorful cuisine of the French Riviera, a lively bar scene with refreshing cocktails, live DJs and, unlike many oceanfront properties on Miami Beach, beach access from the boardwalk for non-hotel guests.
Now, in its 8th year, La Côte has a fresh new look and menu. Executed by Chef Michael Hawk, under the direction of Fontainebleau Miami Beach Vice President of Culinary, Thomas Connell, the extensive new menu is perfect for those looking to dine casually in style. The cuisine artfully blends the fresh flavors of Florida with Mediterranean cuisine.
Cocktails, as well as wine and beer selections, claim center stage in this trendy setting, with Fontainebleau's acclaimed mixology team's delicious new libations the perfect complement to the restaurant's al fresco setting. Two unique additions are La Côte exclusives; direct from Provence comes Domaine Sainte Foy La Côte, a rosé bottled exclusively for La Côte, while local craft beer mavens M.I.A. Brewing, have created a special brew – La Côte Hefeweizen, a refreshing quaff with tangerine orange blossom notes.
Guests can also partake in bottle service or kick back with cool cocktails including the Strawberry Miami Mule with Rebel Yell, strawberries and ginger beer; Watermelon Basil Margarita with Corralejo, Cointreau, basil, watermelon and hand pressed lime; or the "Bleauberry" Mojito with Stolichnaya Blueberry, blueberries, mint, sugar and prosecco. Signature pitchers of Côte de Provence rosé sangria or white sangria, made with St- Germain Elderflower, are ideal for group gatherings.
The menu begins with shared plates such as Grilled Brie with peach chutney, toasted baguette and lavender honey; House-Smoked Bacon Pissaladiere with farmer's cheese and caramelized onions; and Garlic Shrimp with confit octopus, green olives, artichokes and lemon. No seaside hotspot would be complete without a sumptuous raw bar, and La Côte's does not disappoint. The hotel's fresh-from-the-sea offerings include espelette cured salmon, oysters on the half shell, tuna tartare, fruits de mer, shrimp cocktail and king crab; like many of Fontainebleau's restaurants, La Côte enjoys live caught selections from Bleaufish, the hotel's innovative live catch fishing program.
More options at this outdoor escape include salads and sandwiches such as the heirloom tomato salad with burrata, balsamic semi gel and micro basil and the roasted Mahi sandwich with saffron aioli and marinated tomato on a Viennese roll. Grilled seafood selections include Maine lobster, Florida grouper and Florida snapper. Rounding out the menu selections are Mediterranean staples from tournedos de beef with fingerling potato hash and provencal roasted chicken.
La Côte is open daily for lunch from 11 a.m. to 7 p.m. Reservations aren't accepted and walk-ins most welcome, from both the boardwalk and hotel. Find more information at fontainebleau.com/lacote.
Sprint Unveils Sculpture to Deter Distracted Drivers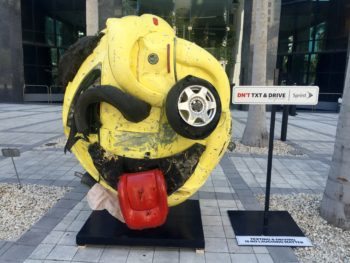 Ed. Note: This isn't food-related, but we thought it was cool. ::tongue-out emoji::
Last month was Distracted Driving Awareness Month, and Sprint did its part to encourage cell phone users to drive safe with "The Last Emoji", a sculpture made from a crashed junkyard car (crashed while the driver was texting). Its purpose is to share the "DN'T TXT & DRIVE" message by encouraging them to post a sculpture pic or selfie tagged #SprintDriveSafe. Sprint customers can also commit to safe driving by downloading the company's free "Drive First" app, which sends calls to voicemail and silences email and text alerts when a vehicle reaches 10 mph.
"The Last Emoji," which can be seen at 1200 Brickell Avenue, was only supposed to stay through April. But because the sculpture has generated so much buzz, its Brickell residency has been extended another week. Check it out while you can!
Smooshies Teams Up With Ohh My Sweetness
Things just got sweeter at Smooshies, your neighborhood novel toy and nitrogen ice cream oasis. At its location across from The Shops at Sunset Place, Smooshies proudly unveiled a rainbow of colors at its inviting new storefront, a fully energized team and a decadent display of desserts from local baked goods sensation, Ohh My Sweetness. On Saturday, May 21 from 10 a.m. to 11 p.m., Smooshies invites locals for buy one, get one free on nitrogen ice cream and other goodies by signing up for the store's e-newsletter.
Thanks to Smooshies' new partnership with Ohh My Sweetness, customers can further satisfy their  cravings with delicious custom baked goodies that come in all forms, including cupcakes, pies, cake balls, cookies and more. While the menu changes regularly, signature desserts such as vanilla and red velvet cupcakes, chocolate chip cookies and chocolate-dipped Oreos, are among the regular finds at Smooshies. Ohh My Sweetness makes everything from scratch and uses no preservatives. In addition, Ohh My Sweetness caters to a number of celebrity clients including Miami Heat players and makes an excellent addition for kids' birthday parties and events booked at Smooshies.
With a location across from The Shops at Sunset Place (5738 Sunset Dr., South Miami), in Key Biscayne (260 Crandon Blvd., Unit 27, Key Biscayne), and a flagship store opening soon in Coconut Grove (3413 Main Highway), Smooshies was recently tapped by Yellow Pages as one of ten innovative new businesses to watch in the U.S. It offers a memorable experience and several opportunities for families to spend quality time together. A lively calendar of events, along with events space, gives families more reason to return to Smooshies time and again.
To visit the nearest Smooshies or for more information, visit www.smooshies.com and follow @SmooshiesCandy on Facebook, Twitter and Instagram.
Stripsteak by Michael Mina to Host Wine Dinner

Paying homage to Fontainebleau Miami Beach's opening in 1954, Cellar 1954 Wine & Dinner Series pairs the world's most prestigious wines and winemakers with the award-winning cuisine of Fontainebleau Miami Beach's signature restaurants. The 2016 season continues with a lavish dinner on Thursday, May 19, 2016 at StripSteak by Michael Mina with world renowned Wines of Rioja, presented by Dhane Chesson, the US National Director for Wines of Rioja.
On May 19th, diners will enjoy a decadent four-course menu with passed hors d'oeuvres, prepared by StripSteak's chef de cuisine Derrick Roberts, complemented by wines of Rioja. Located in north-central Spain, along the Ebro River, the Rioja region is about 210 square miles in size. Comprised mostly of red wine, Rioja categories of wine include Crianza, Reserva and Gran Reserva. The reds are gentle and elegant in flavor and mainly fruity in nature when young and more velvety when aged.
Each of the four courses and hors d'oeuvres will be paired with different varietals from the region. Priced at $200 per person, inclusive of tax and gratuity, the evening will begin at 8 p.m.
For menu details and further information, please call 877.326.7412.  Reservations are required and can be made by visiting https://www.nightpass.co/e/np/scUQ7YZmat.
CREAM Opens First Florida Location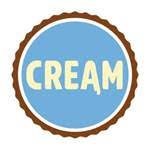 CREAM, the San Francisco Bay Area-based dessert franchise that specializes in high quality ice cream sandwiches using fresh, oven-baked cookies, is bringing the nostalgic dessert to Florida, opening its first location on May 7, 2016.
 To celebrate the very first Florida CREAM, the store will be giving away free ice cream sandwiches, plus enjoy live entertainment and activities for the whole family. CREAM's openings are known for long lines of customers and a massive crowd is expected with the giveaway of over 2,000 ice cream sandwiches. The festivities will take place from 2 p.m. – 9 p.m.