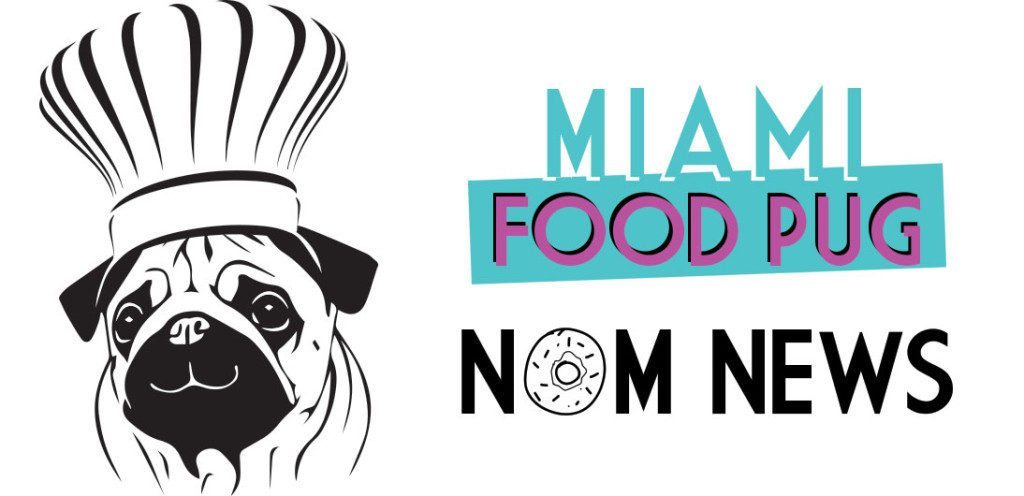 June 10, 2016
Each Friday, we compile South Florida food-related news and events that we couldn't fit on the site earlier in the week, as well as other local news that piques our interest. Want to be included in next week's roundup? Shoot us an email at bark@miamifoodpug.com.
Here's your weekly dose of nom.
The Seven Dials Offers Soccer Specials
Juvia Introduces New Brunch and Desserts
The Raleigh Celebrates National Martini Day
Refreshing Summer Cocktails at The Drawing Room
New Frozen Sangrias at Dolores, But You Can Call Me Lolita
Quattro Turns 10
Paella y Vino at The Dutch
Cool Off With The Continental's Rum Punches
Tacocraft Opens This Month in South Miami
The Sarsaparilla Club Launches Ladies Night
Scarpetta Announces New Menu Items
Jardin Debuts Chef's Grand Tasting Dinner Series
The Seven Dials Offers Soccer Specials
The Seven Dials invites soccer fans from all over South Florida to experience a proper footie celebration for this year's tournaments. The Seven Dials will be showing all USA, England, Ireland, Northern Ireland and Wales games (even the 9AM ones!) with beer and food specials throughout. "As one of the few British-owned pubs left in South Florida, we are so excited to be able to share in the celebrations this year," says owner Andrew Gilbert. "As a massive football fan myself, there is nothing better than cheering your team on with your fellow countrymen!"
A special football menu will be offered during the games which includes a Proper Tikka Sausage Roll ($8), showcasing the amazing Tikka Banger from fellow British-American locals Proper Sausages, as well as Chicken + Ham Pot Pie ($12), Stilton, Mushroom + Leek Croquettes ($8), Cheddar, Bacon + Baked Bean Loaded Wedges ($8), a variety of Special Wings ($12), Mini Cornish Pasties ($3), and, of course, The Seven Dials' famous Fish + Chips ($15). With a rotating selection of local beers on tap, plus a bunch of British imports, The Seven Dials is THE place to cheer your team on.
Extended hours, game schedules and beer and food specials will be posted on sevendialsmiami.com, as well as on Facebook, Twitter and Instagram (@sevendialsmiami).
The Seven Dials is located just a few blocks north of Miracle Mile, in The Minorca condominium at Douglas Rd. and Minorca Ave. (2030 S. Douglas Rd., #102) in Coral Gables, FL.
Juvia Introduces New Brunch and Desserts
Juvia Miami, the stunning 10,000 square foot indoor/outdoor restaurant featuring a harmonious blend of the regional cuisines of Asia and French classics, has introduced new brunch-inspired items and desserts to its Saturday and Sunday lunch menu.
Guests have the option to choose from new items by Chef Sunny Oh including:
King Crab Eggs Benedict made with Alaskan king crab with yuzu hollandaise sauce served on a toasted English muffin $32
Egg White Frittata combining shiitake mushroom, spinach, tomato, onion, served with mixed greens $22
And if those two new brunch items aren't delicious alone, Juvia's Pastry Chef Gregory Gourreau introduces new desserts to the $23 pre-fixe lunch menu incorporating the freshest summer ingredients just in time for the season including:
Fennel Lemon Macaroon served with apricot sorbet for a refreshing and tangy zest
Basil Peach Melba served with berry syrup for the perfect amount of sweet and mint flavors
Raspberry Tart served with coconut sorbet for a unique balance of sweet and savory
Juvia is located at 1111 Lincoln Road, Miami Beach, FL 33139.
The Raleigh Celebrates National Martini Day
In honor of National Martini Day, The Raleigh South Beach will be helping you enjoy your weekend festivities a bit longer with its refined take on Sunday Funday. On June 19th from 6 p.m. to midnight, the iconic property's Martini Bar will offer an exclusive martini menu, evoking modern twists on the classic cocktail available at $10. 
Purist patrons can enjoy The Classic with the go-to combination of Gin, Dry Vermouth and Orange Bitters. Those that prefer a sweeter take, can enjoy the Martinez, a smooth serving of Gin, Sweet Vermouth, Maraschino Liqueur and Aromatic Bitters. If you're a 'not too bitter, not too sweet' kinda drinker, the 50/50 is the perfect choice, made with Gin, Cocchi Americano and Orange Bitters. Those looking for a softer, shaken, never stirred martini, The Vesper combines Gin, Vodka and Cocchi Americano.
There is no better place to enjoy a well chilled martini than on the national holiday than at this 70-year-old standby, the Martini Bar at The Raleigh South Beach!
Refreshing Summer Cocktails at The Drawing Room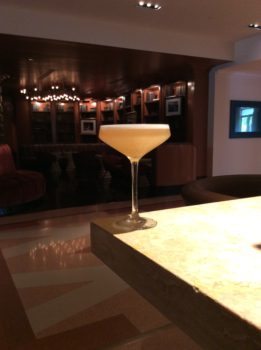 The Drawing Room Bar & Lounge at the Shelborne Wyndham Grand South Beach invites guests to experience their new summer cocktail menu. The liquid artists at the popular South Beach bar have stirred up several unique combinations using The Drawing Room's in-house made liqueur, artisanal Florida spirits, local ingredients and botanicals to create exceptional cocktails.
Along with the new cocktail menu come two champagne-based summer cocktails. "Pineapples in Champagne" gives guests a refreshing savor of fresh pineapple, St. Augustine pure cane vodka and prosecco while "…The Talking Melon" is crafted withhoneydew, fresh picked mint and served with The Drawing Room's infused melon liqueur.
New Frozen Sangrias at Dolores, But You Can Call Me Lolita
Dolores, But You can Call me Lolita is now serving up a frozen sangria just in time for summer. There is no better way to cool off this summer than with their new frozen sangrias. These big kid slushies come in four different flavors: strawberry, passion fruit, mango and regular sangria, which are sure to refresh you and your tastebuds. Grab a friend or two and head on over to Dolores. These frozen sangrias are so good you wont even mind the brain freeze. Available every day during operating hours.
Quattro Turns 10
For 10 years, Quattro Gastronomia Italiana, one of the longest running successful restaurants on Lincoln Road, has been serving up authentic Italian cuisine to locals and visitors alike. The restaurant has just renewed its lease and promises to remain a South Beach staple for those seeking sophisticated regional Italian food in a stunning indoor-outdoor setting. With a new Executive Chef, Dario Bellofiore, and an array of new dishes, Quattro continues to bring genuine Italian fare to Miami Beach's premiere pedestrian corridor.
In tandem with the re-signing of the lease, Executive Chef Dario Bellofiore has been tapped to helm the kitchen and bring his personal touch to Quattro's already outstanding menu.
Chef Bellofiore has just introduced several new seasonal items that expand on the award-winning restaurant's mix of Italian favorites and inventive dishes. The Italian toque's seafood expertise is apparent in new plates such as Polipo del Mediterraneo con Farro Legumi Pomodorini – grilled Mediterranean octopus with farro, legumes, cherry tomatoes and a lemon dressing; Insalate di Mare – a refreshing shrimp, squid, bay scallops, and octopus salad; and the perfect-for-sharing Fritto Misto di Mare – a selection of fried fresh seafood.
New primi piatti showcase complex flavors with traditional techniques and include Gnocchi alla Sorrentina – handmade gnocchi with buffala mozzarella, fresh tomato sauce and basil then baked in the oven – and a personal favorite of the chef's, Paccheri con Polpo Pomodorini E Olive Taggiasca – paccheri pasta with Mediterranean octopus, taggiasca olives, and cherry tomatoes. Originating from Southern Italy, paccheri is tube shaped pasta that pairs well with seafood.
Quattro fans will be happy to see beloved signature plates remain on the menu, such as the Parmigiana di Melanzane in Forma – baked eggplant layered with mozzarella and parmesan cheese, the Agnolotti Alessandrini alla Stufato – braised beef ravioli with Piedmontese sauce, the Preparazione Casalinga del Ravioli di Casa Savoia Tartufati – fontina and taleggio cheese ravioli drizzled with white truffle flavor and the Branzino Intero in Crosta di Sale Marino – whole Mediterranean sea bass baked in salt crust.
Quattro Gastronomia Italiana is located at 1014 Lincoln Road in South Beach.
Paella y Vino at The Dutch
The Dutch at W South Beach will kick off summer with the restaurant's first-ever "Paella Y Vino" dinner on Thursday, June 16 from 6:30PM – 10PM. This must-attend feast de España is being held exclusively in The Grove, The Dutch's fun, casual outdoor terrace – the perfect place to celebrate the start of summer in Miami Beach.
For only $40 per person (plus tax and service charges), diners can enjoy a myriad of delectable Spanish creations by Executive Chef Adonay Tafur and the talented team at The Dutch. Traditional plates with a modern twist will include Octopus A La Brasa, Patatas Bravas, Gazpacho, Padron Peppers, and the star of the night, a scrumptious Paella Valenciana. Pastry Chef Josh Gripper will showcase his critically-acclaimed dessert prowess with a duo of inventive meal-enders, Vanilla Crema Catalana and Sangria Sorbet with Candied Orange.
Speaking of sangria, nothing pairs better with tapas than the classic Spanish beverage. The Dutch has the vino portion of the evening covered with $8 glasses/$24 pitchers of sangria, perfect for sipping while listening to live music on the restaurant's backyard patio.
Cool Off With The Continental's Rum Punches

As the summer approaches, we look forward to longer days. The Continental's Rum Punches are served in a punch bowl for three or more guests, perfect for lingering over with a great group of friends.
Each Rum Punch bowl offers a unique element of versatility, as many of the restaurant's signature cocktails can be featured. From the Dominicana Old Fashioned to the Dragonfruit Mule, transport yourself into an island of flavors in The Continental's mid-century modern dining room or out on the shaded patio with oversized yellow fans.
Tacocraft Opens This Month in South Miami
South Florida restaurant industry leader, JEY Hospitality Group, is pleased to announce the launch of its new TacoCraft Taqueria & Tequila Bar location, slated to open its doors this month at 5829 SW 73rd Street in South Miami across from its sister restaurant, ROK:BRGR. The taqueria and tequila bar concept will feature similar menu items, weekday specials and Happy Hour deals as its flagship location in Fort Lauderdale. The restaurant will be open for lunch, dinner, late night bites and will also serve Sunday Brunch.
The menu will feature TacoCraft's already popular Mexican street food inspired dishes created with the best of local, seasonal and sustainable ingredients. All-new menu items include appetizers such as Oxtail Empanadas with braised oxtail, manchego, pineapple chimichurri and habanero aioli as well as Chef's Seasonal Guacamole, a daily creation prepared with fresh seasonal ingredients. Entrees include the Ahi Tuna Taco, featuring blackened ahi tuna, mandarin oranges, avocado, Asian slaw, crispy rice noodles and spicy mayo and a Kale & Sweet Potato Taco, made with braised kale, roasted sweet potato hash, refried beans, avocado, and cilantro-lime crema. Lighter options are available, like the Quinoa Bowl, prepared with avocado, charred-corn, radish, black beans, red onion and tomato chili citrus vinaigrette.
The restaurant will offer a 2-for-1 Happy Hour Monday through Friday from 3 p.m. to 8 p.m., where tequila lovers can indulge with a selection of more than 150 types of tequila and mescal, and a Taco Tuesday special featuring $3 tacos, $4 beers and $6 Margaritas. Brunch will be served on Sundays from 10 a.m. to 3 p.m. and will feature snacks, Mexican breakfast favorites like Huevos Diablos, Hangover Burrito and Dulce de Leche infused French Toast.  The Brunch will offer free bottomless Sangria and Mimosas for ladies, as well, live music. The Taqueria's late night taco window will be open on weekends until 4 a.m. The JEY Lunch Club Card will also be available at this location, offering guests the opportunity to collect stamps for any lunch meal purchased at JEY Hospitality Group restaurants between 11:30 a.m. and 3 p.m. Upon collecting 10 stamps, guests may redeem the card for a complimentary lunch at any of the restaurants in Miami or Fort Lauderdale.
The restaurant will be open Sunday through Thursday from 11:30 a.m. to 2 a.m.and Friday and Saturday from 11:30 a.m. to 4 a.m. with a late night taco window. For more information, please visit www.tacocraft.com. For updates on menus, parties and special events, follow TACOCRAFT Taqueria & Tequilla bar on social media:facebook.com/tacocrafttaqueria, twitter.com/tacocraftftl, Instagram/tacocrafttaqueria.
The Sarsaparilla Club Launches Ladies Night
The Sarsaparilla Club announces their signature Ladies Night starting Wednesday, June 15th.  Every Wednesday, ladies' will receive $25 worth of Sarsaparilla Bucks to indulge at the newly open American Dim Sum restaurant at The Shelborne Wyndham Grand South Beach.
With options to order dishes off Chefs Jeff & Janine's popular dim sum and dessert carts, craft cocktail menu and their a la carte medium and large plates menu, ladies can use their Sarsaparilla Bucks as they wish and choose between a variety of sharing plates including the popular Rock Shrimp Laska, Grilled Graffiti Eggplant and Green Curry Fried Chicken, to name a few.
In addition, The Sarsaparilla Club also offers their Dim Sum Happy Hour featuring beat the clock prices Monday through Friday from 5 p.m. – 7:30 p.m. for dim sum and cocktails. When the restaurant opens at 5 p.m., dim sum cart items including dishes such as – Carrot & Beet Tartare, Black Pepper Pork Dumplings, Spring Peas & Carrots Chilled Soup and Drunken Deviled Eggs will be $5. As the clock strikes 6 p.m., the price will go up one dollar and will continue its steady rise until 7:30 p.m. Draft beers, select wines by the glass, and The Sarsaparilla Club's cocktails using house made sarsaparilla soda will be available during the happy for $5, $6, and $7 dollars depending on where the clock lands.
Scarpetta Announces New Menu Items

Fontainebleau Miami Beach's highly acclaimed AAA Four Diamond Award-winning restaurant, Scarpetta, welcomes a lineup of new dishes. Named for the Italian expression that means "little shoe," or the shape bread takes when used to soak up a dish, Scarpetta recalls the pure pleasure of savoring a meal down to the very last bite. Created by celebrity chef Scott Conant and executed by chef de cuisine Neil O'Connell, the new menu is loaded with farm-fresh ingredients and coastal influences. New items will tempt, but not to be missed classics, such as Conant's simple signature Spaghetti with tomato and basil and Creamy Polenta with fricassee of truffled mushrooms, remain menu staples.
Scarpetta's newest primi piatti (small plates) include Crispy Fritto Misto with seafood, vegetables, herbs and lemon, while new paste (pasta) dishes, including Ricotta Raviolini with sweet corn, hazelnuts and Honshimeji mushrooms; Squid Ink Tagliolini with seafood ragu, lemon and parsley; and Pici with Maine lobster, tomatoes and tarragon, are the perfect dishes to soak up Scarpetta's sumptuous sauces with its famous bread basket.
New piatta (entrees) gracing the menu include Fennel Dusted Black Cod with concentrated tomato, fennel and mantecato; Roasted Branzino with artichokes, sea beans, anchovy and tomato dressing; Pancetta Wrapped Atlantic Halibut with cauliflower, asparagus, Barolo grapes and hazelnut; and Herb Crumbed Lamb Loin with fresh chickpeas, fennel and semi-dried tomatoes. New contorni (sides) range from Roasted Corn with piquillo, scallion, parmesan and bread crumbs and Marble Potatoes with guanciale and herb crumbs to Seared Wild Mushrooms with lemon and herbs.
For more information, please visit www.fontainebleau.com.
Jardin Debuts Chef's Grand Tasting Dinner Series
Jardin, the hot new global restaurant in downtown West Palm Beach, is unveiling an intimate and exclusive "Chef's Grand Tasting" summer dinner series beginning Monday, June 20, 2016 and continuing every Monday until August 29, 2016. Ticketed guests will have the opportunity to dine at the Chef's Counter, overlooking Jardin's open kitchen. There, they will be able to observe the action as owners Jordan Lerman and Stephanie Cohen prepare an imaginative fifteen-course dinner. Determined to make Monday nights much less of a drag, Lerman and Cohen will offer a culinary adventure that the gourmands of Palm Beach County and beyond will be hard-pressed to find anywhere else.
The fifteen-course tasting menu, which will change weekly, is priced at $100 per person, excluding gratuity; a $40 wine or cocktail pairing is also available. Menus are created taking advantage of the freshest local ingredients available and will be revealed to guests upon arrival. There will be one "Chef's Grand Tasting" seating every Monday at 7PM, open to only eight guests. Those in attendance will have a front row seat at the Chef's Counter, watching as Lerman, Cohen and the rest of the Jardin team meticulously create, plate, and serve each one of the tasting menu's inventive dishes. The rest of the dining room will be closed on these nights so that the chefs can devote all of their attention to the evening's diners, adding to the highly personalized and intimate nature of the evening.
With only eight seats available at these excusive tastings, guests are required to make reservations in advance at bit.ly/jardintix. The premiere dinner on Monday, June 20 is already sold out. Jardin will do its best to accommodate dietary restrictions or allergies; however, it is important that guests who have any issues call (561) 440-5273 to discuss prior to purchasing tickets.
The multi-course meal takes its inspiration from Michelin-starred restaurants like Eleven Madison Park, where Chef Jordan Lerman trained. Dim lighting and an otherwise empty restaurant will set a mysterious mood for the evening. Although guests will not be privy to the menu before seating, they can expect to see variations of Jardin's signature dishes, like the sweet-yet-savory madeleines, brigadeiros, and crispy hummus. Bread service, amuse-bouches, an intermezzo, and several enticing dessert plates will be included, along with many surprising and captivating innovations.
Jardin is located at 330 Clematis Street in downtown West Palm Beach.