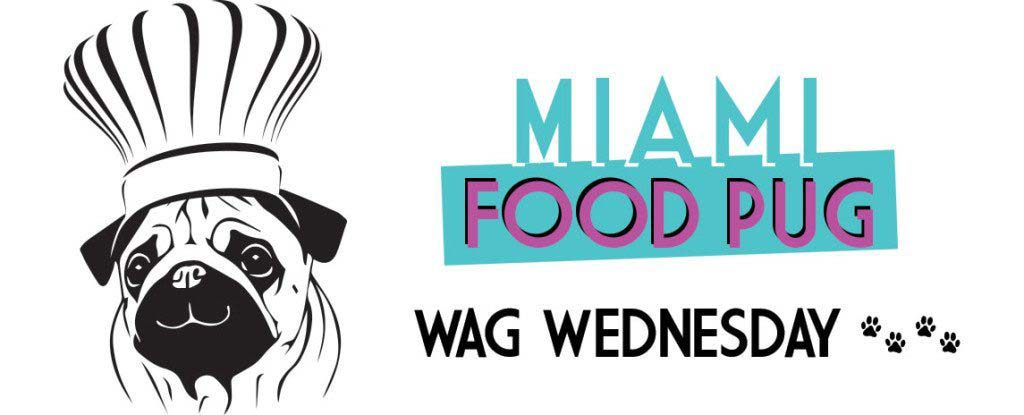 Over the past year, we've interviewed many members of the hospitality industry, and one constant among the interviewees has been a profound love for their pets. We thought it would be great to share this love with our readers. That's why we launched an ongoing feature called "Wag Wednesday" to showcase industry peeps and their pets. Know someone who wants to be featured? Email us at bark@miamifoodpug.com.
This week, we're featuring Jessica Sanchez, Owner and Chef at LOBA, and her "wolf" puppy, June. 
Your Name: Jessica Sanchez
Your Pet's Name: June
Sex: Female
Age: 5 months
Breed: Husky/Terrier Mix
How did you come to own your dog? What drew you to them?
I was tagged in an Instagram post from artist Otto Von Schirach. He mentioned he was soon going to be needing to give away "wolf" puppies. It was only fitting for me to investigate. 🙂
It was a litter of 8 beautiful puppies. Otto's dog (a full husky) had mated with a stray terrier mix.
As I walked in, there was one that immediately got my attention; all the puppies were running around rambunctiously, and June was sitting on the edge of the kiddie plastic pool, looking at me with those soulful eyes that spoke louder than anything else I had seen. Immediately, I knew that I needed her.
What's the story behind your dog's name?
I named June after June Carter, Johnny Cash's wife; she was his saving grace. June also happens to be the month that I was strong enough to open up my first passion project, LOBA.
How would you describe your dog's personality?
If I could mix the adventuresome of Curious George, the spunk of Calvin from Calvin & Hobbes, the ambition of Max from Where the Wild Things Are, and the selfless love of the Giving Tree …
That's my June.
How has owning a pet made your life richer?
I had always seen my other friends have this strong connection with their dogs that cannot be described … only felt. It made me question if I was ever going to feel that way about a dog. It seemed a little too extraordinary for this type of requited love to happen to everyone who has a dog. June has given me something I desired very much: a love that would not vanish — only grow. She has given me perspective on how to live happier. Enjoying simple things in life. It's through her eyes that I am able to learn so much more … which is strange saying, but it's the truth. We don't need much to survive. Happiness is all about perspective.
It's said that dogs reflect their owners and vice versa. How does this apply to you and yours?
I completely believe in this. I hope I resemble June and vice versa. She is super playful, loving, and funny; she just wants to be liked/loved by everyone she encounters. I do the same.
A lot of my friends and family say we have the same eyes. <3
Tell us a funny story about your and your dog.
My neighborhood Publix is relatively new and modern. Before I had June, I would always see some people do groceries with their dogs by their side. Sure, the pups were smallish. But still, the premise was dogs at Publix.
When June was about 2 months old, I decided to take her with me to get some things for the house. She was a little bigger than a normal puppy at that age, so I placed her in the cart where babies usually go. She was facing me the whole time. I can't begin to explain the amount of people staring at me and then looking around thinking, "Where the H*LL is the manager?" We kept strolling with confidence and stopped in the deli section haha. At this point, I was really getting into it and just ordered all the ham and cheeses for us. Taking our sweet time, acting like everything was normal and trying to blend in. 🙂
After this adventure, I called my best friend and asked her, "Hey, is it bad etiquette or frowned upon to bring in your dog to Publix?"
Her response: "YOU BROUGHT JUNE TO PUBLIX?! ARE YOU CRAZY! SHE ISN'T A BABY NOR A SMALL DOG!"
Then I said, " So I guess I shouldn't mention that we went to the deli section and had a blast sampling."
Are you involved in any pet organizations or philanthropies?
As of right now, I am not. I am working on a front patio for LOBA, which will have some dog-friendly components. Once I get a little bit more free time from work, I would love to join some pet philanthropy efforts.
We follow a lot of dog social media accounts like Doug the Pug and Menswear Dog. Do you? Which are your favorites?
My friends @barkhaus do an amazing job with pups.
Also: @wolfgang2242 / @hamiltonbarkley / @ loki_the_wolfdog / iamjustinsilver / meet_june
See past editions of Wag Wednesdays here.