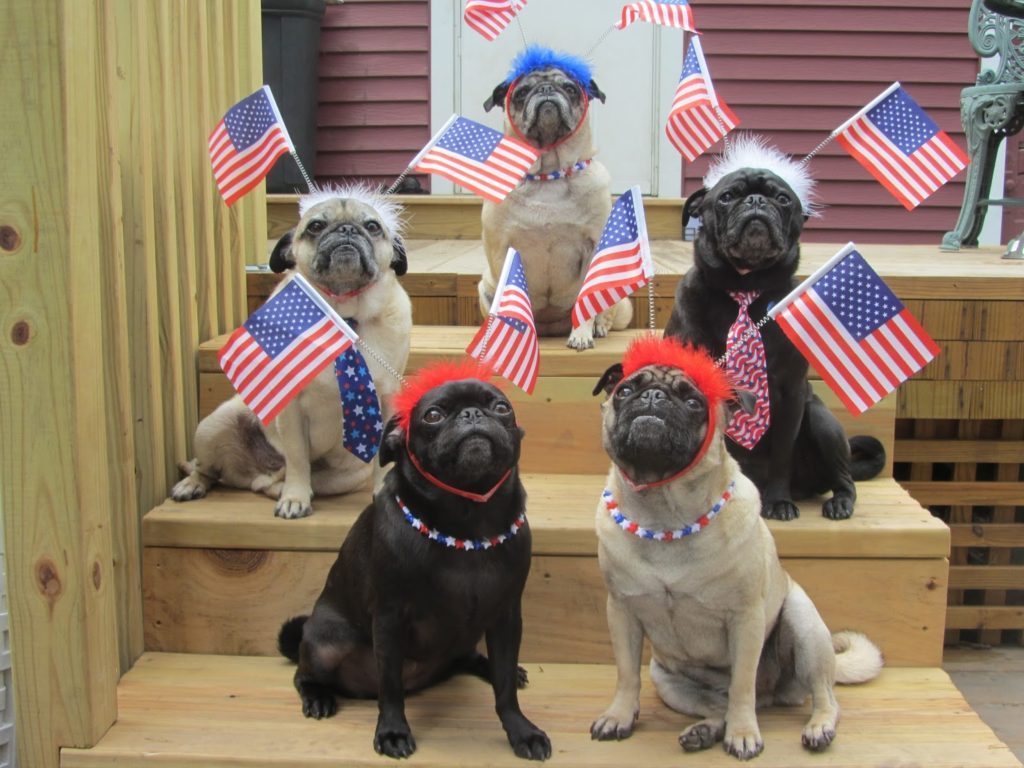 Need plans for the long holiday weekend? Our Fourth of July roundup will help you find the perfect party or restaurant for Independence Day. These special events are subject to change, so make sure to contact the venue in advance to confirm the details. Happy 4th!
Delano South Beach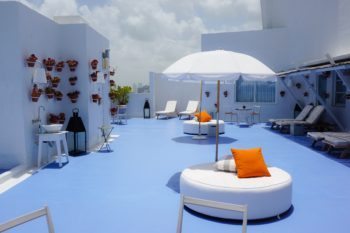 On Sunday July 3rd, Delano South Beach invites guests and party goers to enjoy the first Night Swim Pool Party of the summer in conjunction with a 4th of July Weekend BBQ. With BBQ served all day, including during the Privileged Sundays Pool party starting at 2pm as usual, guests can enjoy fun activations including giant beach balls, red/white/blue lighting, ice cream, colorful floaties, and sounds by DJ Tito, Nate Ryan and Dave Sol. Come swim with us!
After the pool party, FDR is the go-to for late night celebrations. In honor of its namesake, FDR Lounge at Delano offers a chic ambience where guests can enjoy signature cocktails such as the Eleanor (Bombay Sapphire Gin, Muddled Strawberries, Lemon Juice), the Presidential (Grey Goose Cherry Noir Vodka, Red Bull, Fresh Lime, Mint) and more. Perfect for July Fourth!

The Atlantic Hotel and Spa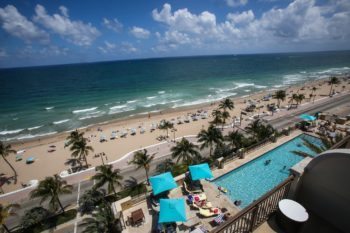 On Fourth of July, view the spectacular Fort Lauderdale Beach Fireworks Show from the 5th Floor Oceanfront Terrace of The Atlantic Hotel & Spa. Enjoy listening to the hottest tunes, dancing under the stars and indulging in an All-American Gourmet BBQ provided by Beauty & the Feast Bar | Kitchen.  The BBQ will feature delicious southern-style favorites including Ribs, Brisket, Pulled Pork, Chicken and Fresh Homemade Corn Bread. Cruzan Rum and drink specials will be available to keep the festivities lasting well into the night!
Bar opens at 4 p.m. First seating is 5:45 p.m. and second seating is at 8 p.m., with fireworks scheduled to begin at 9 p.m. Tickets are $49 per person (includes tax and gratuity). RSVP is required and limited space is available. Once the first seating concludes, guests are invited to stay for the fireworks and lounge at the bar area. Tickets can be purchased at www.Society8.com.

The Continental
Typically relegated to Saturdays and Sundays, The Continental will be open for brunch Monday, July 4, 2016, from 11 a.m. – 4 p.m. in celebration of Independence Day and will resume regular Happy Hour and dinner hours. The restaurant will be offering 50% discounts all day on a favorite dish — the Philly Cheesesteak Eggroll — in honor of July 4th and Philadelphia where the declaration was signed. The catch? Guests must use a password to unlock the discount. The password is the name of any original signer of the Declaration of Independence.
Guests are encouraged to study up on history and enjoy cheesesteak eggrolls with a variety of The Continental's holiday-appropriate items including rum punch bowls and backyard burgers. Cheers!

Nikki Beach Miami
Nikki Beach Miami, the quintessential South of France style beach club known for it's joie de vivre and larger than life celebrations does 4th of July the good, old American way – with explosive beats, over-the-top BBQ, and a massive fireworks display across the South Beach sky. Celebrated at each of the twelve Nikki Beach locations across the world, Fourth of July Nikki Beach-style has become legendary. This year, IndepenDance DJ's include Victor Calderone, Chus +Ceballos, Behrouz, Rafa Barrios, Vanjee, ALX, Patrick M, Debby Coda, MD and surprise guests take to the decks, featuring 17 hours of non-stop dance music.
Beachside, guests can feast on the ultimate BBQ to kick off Nikki Beach's Weekly Saturday BBQ to include Baby Back Ribs, the 'Meeerrrica' Burger featuring American cheese and pork belly bacon smashed between two glazed donuts – and many more. Also on the menu are a variety of sides like Chef Frank's famous truffle fries, fried macaroni and cheese balls and many more. The night is complete with a massive fireworks show – one of only two that take place directly on South Beach – exclusively for Nikki Beach guests who can recline on the beach club's luxurious day beds or sit with their toes in the sand teepee-side while watching the night sky.
IndepenDANCE takes place July 4th with doors staring at noon and is 21+. Tickets start at $15.00 and BBQ features start at $9.00. For more information visit: www.independance.com. Nikki Beach is located at One Ocean Drive, Miami Beach FL. www.nikkibeach.com.

Radio Bar
Radio Bar will be celebrating America's independence with events and drink specials all weekend long. Stop by on Sunday, July 3rd for karaoke beginning at 9 p.m. (Born in the USA, anyone?), $7 Jameson shots and Radio Bar Picklebacks, and $10 Jameson Caskmates cocktails. The fun continues on Monday, with beer pong beginning at 4 p.m. Drink specials that day include $7 Avion Tequila shots, $10 Avion Cadillac Margaritas, and $5 hotdogs and grilled cheeses. On Tuesday, July 5th, join Radio Bar's own Teddy Collins from 7 – 8 p.m. for an Avion mixology class and learn to craft two tequila cocktails. Tickets for the mixology event can be purchased here.

River Yacht Club
Join River Yacht Club (RYC) for its first annual 4th of July celebration. The venue, typically open Wednesday-Sunday,  will open its doors to the public on Monday, July 4th to celebrate America's Independence Day. Patrons will enjoy an array of festivities, including musical performances, activities and a special menu offering American-cuisine favorites, infused with River Yacht Club's signature European techniques.  Special menu items will include lobster rolls, sliders, coleslaw, watermelon salad and corn on the cob, among others. The evening will conclude as guests watch the sky light up above the glistening Miami River with fireworks displays from surrounding locations. River Yacht Club is located at: 401 SW 3rd Ave, Miami, FL 33130

Mondrian South Beach

Known for spectacular views and an outstanding bay-side pool deck, Mondrian South Beach is the place to be for the Independence Day. Hotel guests and locals alike are invited to celebrate in style with a special barbecue menu prepared by Chef Dustin Atoigue, a DJ and Holiday themed cocktails including the American Beauty, frozen strawberry rosé with rose petals and rose mist; and Stars & Stripes, gin, Blue Curaçao, lemon, and honey, garnished with an American Flagged Cherry and classic frozen torpedo. Daybeds and cabana rentals will be extended through the evening for front row seats to the fireworks display. Festivities take place from noon to 9:30 p.m. on July 4. For cabana reservations: mondrianpoolclub@meninhospitality.com 
The Gale
On Monday, July 4th guests are invited to celebrate at The Gale Rooftop with the biggest rooftop party on South Beach for 4th of July. From 3-10pm guests will enjoy a decadent BBQ, drinks sponsored by Jack Daniels, Budweiser and Tito's Vodka with live music by Patrick & The Swayzees and DJ Tom_Tuna throughout the day and into the starry night.
Guests can purchase their tickets on www.mixstir.com.