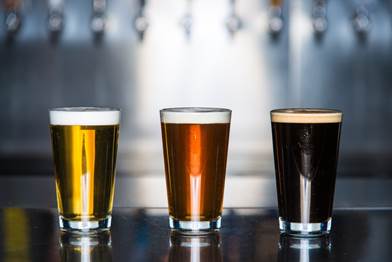 Your Tuesday nights just got a lot more fun. From 10 p.m. to close every Tuesday through August 30, Yard House at The Shops at Merrick Park in Coral Gables is hosting Pint Night, a weekly series dedicated to two of our favorite things: burgers and beers.
Last week, we had a chance to check out the location's first-ever Pint Night, which gives guests a chance to chow down on even the most basic budget. During the promotion, any of the restaurant's 130 taps are yours for just $4 a pint. That includes everything from Bud Light, er, America to IPAs and Lambic beers. SO. MANY. OPTIONS.
As for the burgers, you can order any of them (minus the Surf 'n' Turf) for just $8, which includes fries; truffle fries are available for a small upcharge. These burgers are monsters and an absolute steal at this price. We ordered the Pepper-Crusted Gorgonzola Burger (crimini mushrooms, caramelized onions, arugula) and the BBQ Bacon Cheddar Burger (applewood smoked bacon, rum bbq sauce, garlic aïoli), which were more than enough to fill us up; we ended up taking leftovers home.
And don't think about visiting just any Yard House location for this deal. The Merrick Park location is the only location in Florida offering this promotion at the moment.
"Summer is a time when people tend to go out more often and stay out later," said David Campo, general manager of Yard House, in a press release.  "We've always been a hub for late-night dining, and Pint Night is certainly a great reason to get out of the house on a Tuesday for a burger and beer."
We agree. Pint Night is the perfect reason to turn up on a Tuesday. While the beer selection is too long to list in this post, here's a closer look at the other burgers available for just $8 every Tuesday:
PASTRAMI BENEDICT BURGER
roasted tomatoes, fried onions, Swiss, béarnaise sauce, fried egg, fries
CLASSIC CHEESEBURGER
lettuce, tomato, red onion, garlic aïoli, choice of cheese, fries
PEPPER JACK BURGER
roasted poblano pepper, pepper jack cheese, chipotle mayo, fries
TURKEY BURGER
roasted tomatoes, arugula, mozzarella, garlic aïoli, fries
LAMB BURGER
feta cream cheese, arugula, caramelized jalapeño shallot relish, fries
BLACK TRUFFLE CHEESEBURGER
house-made truffle cheese with tomato bacon onion jam served with fries
Contact Yard House at The Shops of Merrick Park at (305) 447-9273 for more information on this and other weekly promotions.