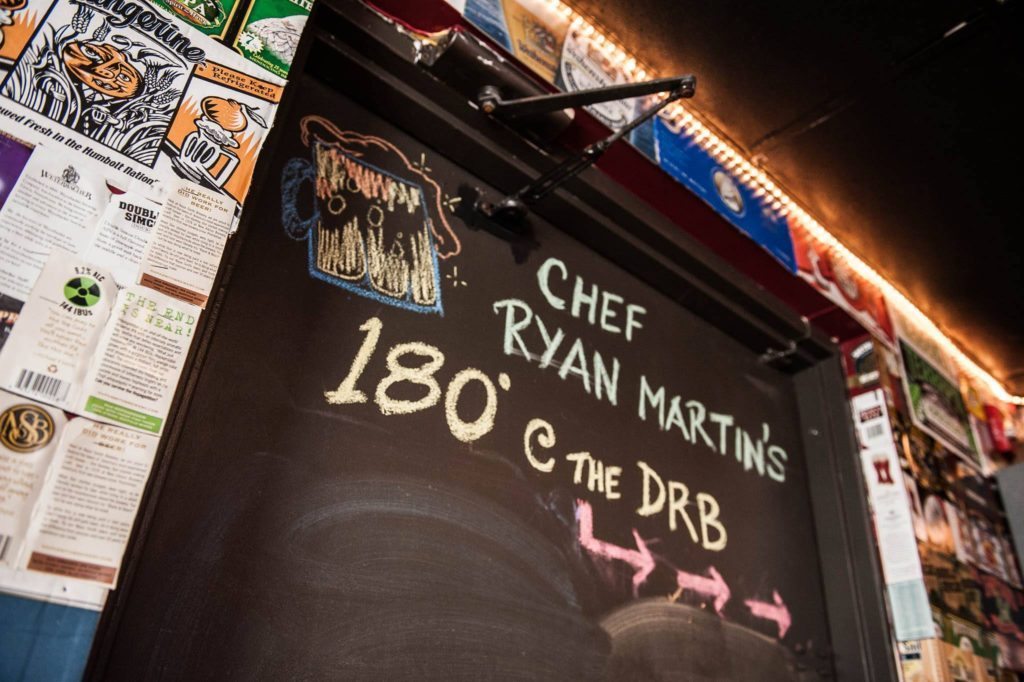 180° at the DRB is a breath of fresh air in Downtown Miami. Amidst the upscale hotel restaurants, fast-casual lunch spots and obvious money-laundering fronts in the area, the beloved gastropub sticks out like a sore thumb for all the right reasons. At 501 NE 1st Avenue, Chef Ryan Martin and his crew execute a diverse, delectable menu of global cuisine and pairs it with over 170 craft beers for good measure.
We had a chance to interview Chef Martin about the concept last year, and we're happy to say that little has changed since then: the food is as tasty as ever, as is the beer selection (much to our diet's detriment). With that said, there has been one noticeable change: a new menu.
Not one to rest on his laurels, Chef Martin has recently introduced a bevy of delicious items, including a burger to rival his award-winning 50/50 creation (chorizo, prime beef, queso frito, maduros, fried egg and spicy lime aioli). And yes, they're worth your while.
Our outing kicked off with a few starters, including a new favorite: the fried avocado. One bite, and we found love in the creamy center and the crunchy breading. Candied bacon and a spicy lime aioli gave the dish more depth; it was a salty, sweet combo that we'd order over and over again. The scallop carpaccio was as fragrant as it was flavorful due in part to a lemongrass coconut ginger espuma. It's the first time we encountered something like that, and it's hopefully not the last time.
After the apps came the highlight of the evening: deep fried duck confit. If the name hasn't sold you, one look at the dish will. First of all, it's a beast. You might think its size is compensating for something, but nope. It talks the talk and walks the walk with a carrot turnip puree that had us almost licking the plate. If there's one dish to order off the menu, it's this one — or the burger.
When 180 Degrees touts their 50/50 Burger as the best one in town, they aren't exaggerating; local media has lavished such praise upon it since its inception. Those who have tried the burger know that it's a tough act to follow, but the new Lamb Burger is giving it a run for its money. Deep fried to perfection, this latest burger is topped with a two-cheese shrimp truffle Mac that will almost make you forget about the 50/50's signature egg. While a few dollars more than the 50/50, the small difference in price is negligible compared to the big difference in taste.
Liquid nitrogen is a trademark of 180's top-selling desserts, and the new Sour Patch Kid Ice Cream continues that trend. As the name implies, the decadent treat features the childhood candy in their full form as well as in crumble form. Once you swirl everything together, the mix of sour and sweet will have you grinning from ear-to-ear like a little kid again. Fun fact: the ice cream changes weekly, so you may or may not come across this version. Regardless, ice cream at 180° is a must.
180° at the DRB has come a long way since opening almost two years ago, and Chef Martin has continued to raise the culinary bar with innovative cuisine that's both fun and approachable. Don't just take our word for it — stop by the restaurant and experience these new additions for yourself.
180° @ the DRB is located at 501 NE 1st Ave in Downtown. For hours of operation and more information, visit their official website or call 305-809-7564.