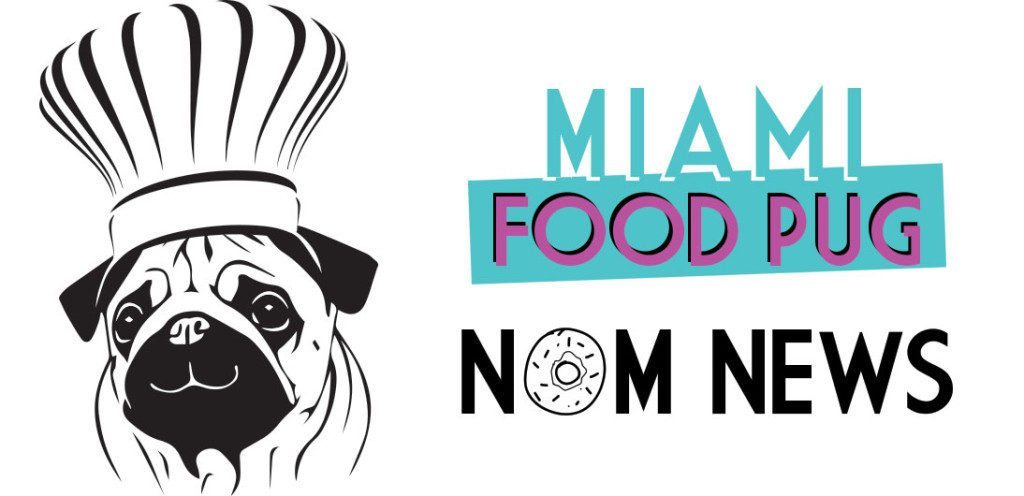 July 8, 2016
Each Friday, we compile South Florida food-related news and events that we couldn't fit on the site earlier in the week, as well as other local news that piques our interest. Want to be included in next week's roundup? Shoot us an email at bark@miamifoodpug.com.
Here's your weekly dose of nom.
The Salty Donut Pops Up at The Confidante
Employees Only Opening in Miami Beach
Pinch Kitchen's Craft Collab 3.0
Bar Centro Unplugged at SLS Miami Beach
Ghee Indian Kitchen to Open in Downtown Dadeland
Yappy Hour at The Brass Tap
The British Garden Joins The Wynwood Yard
A Night of Scotch and Cigars at The Rooftop at E11EVEN
Macchialina Hosts Kaiseki Dining Experience
Nibble + Squeak Debuts in Miami at Mignonette
Miami Rooftop Flicks at the Langford Hotel
Bastille Day Celebration at Seaspice
The Salty Donut Pops Up at The Confidante
Miami Beach's new mid-century modern hotel, The Confidante (formerly Thompson Miami Beach), along with Miami's first artisanal donut shop, The Salty Donut, announce a pop-up of the shop within the hotel's backyard area this summer. Launching Saturday, July 16, The Salty Donut at The Confidante will be open to the public, offering locals, hotel guests and visitors a second outpost for decadent hand-crafted donuts and coffee. The Wynwood pop-up location will be operating as usual.
Guests will have the opportunity to choose from a variety of The Salty's offerings including some of their staples, like the "Traditional" Glazed Buttermilk, Maple Bacon, and Brown Butter Salt, their seasonal/weekly specials and a more elaborate coffee program than ever before! Surrounded by the hotel's lush tropical gardens and two pools, The Salty Donut at The Confidante pop-up will be located in the hotel's Spanish-inspired beach house hideaway; the pop-up entrance will be at the end of 41st Street, east of Collins Avenue. Visitors are invited to indulge and relax inside or outside the hotel's historic freestanding den, with donut and coffee in-hand.
The Salty Donut at The Confidante pop-up will be open Thursday through Sunday, from 8:00am until 2:00pm, starting Saturday, July 16th. The Confidante hotel is located at 4041 Collins Avenue in Miami Beach, FL. 33140; the entrance to The Salty Donut pop-up will be off 41st Street. Valet parking is available; limited street parking is also available.
Employees Only Opening in Miami Beach
Employees Only, widely recognized as one of the top cocktail bars in the world, and largely credited in the revival of prohibition era cocktails, is slated to open a Miami Beach outpost in September 2016 as part of a domestic and international brand expansion plan.
Situated in the historic Coral House at the Washington Park Hotel, the new location will bring key elements of Employees Only New York to Miami Beach. The design will closely resemble the warm and inviting setting of the original, modified to complement the existing architectural elements of the historic art deco building. Managing partner, Billy Gilroy, will carefully curate vintage and commissioned artwork, with rich, warm tones and prohibition era details. Lush landscaping and hammocks will surround the exterior, accessible to South Beach visitors and hotel guests alike as the hotel's signature restaurant and bar.
The dinner menu will feature Employees Only classics – tableside steak tartar; bone marrow poppers; bacon wrapped lamb chops; caviar service and a seasonal selection of fresh oysters served with Employees Only's signature Bloody Mary Mix. The food and drink menus also will include items unique to South Florida and inspired by Miami's culture and cuisine. The cocktail menu will offer popular Employees Only's mainstays, such as the Amelía – Aylesbury Duck Vodka and St. Germain Elderflower Liqueur shaken with puréed blackberries and fresh lemon juice – and the Billionaire Cocktail – Knob Creek Single-Barrel Bourbon shaken with fresh lemon juice, EO Grenadine and absinthe bitters.
Housed unobtrusively under a simple, green, New York City awning marked with the bold block letters "EO" since its opening in the West Village in 2004, Employees Only rose to prominence as a bar and a cultural phenomenon. Known for outstanding craft cocktails and in-house traditions such as daily psychics, burlesque shows and complementary chicken soup to nourish night owls near closing time, Employees Only has built and cultivated a reputation as a non-pretentious, nightly destination for hospitality professionals, top chefs, the creative class and food and beverage industry insiders.
Located at 1030 Washington Avenue in Miami Beach, Employees Only will be open 7 days a week from 5 p.m. – 4 a.m., serving dinner from 6 p.m. – midnight and offering a late night menu until 3:30 a.m. For more information on Employees Only, please visit http://www.employeesonlynyc.com/ or follow Employees Only Miami on Instagram @employeesonlymiami.
Pinch Kitchen's Craft Collab 3.0
Pinch Kitchen will host its quarterly beer and food pairing series, Craft Collab, on July 11th. For the third installment Pinch Kitchen will once again be teaming up with M.I.A. Brewing Co.
"Given the recent loss of their lead brewer, Piero Rodriguez, the Pinch family feels it is only right to dedicate Craft Collab 3.0 in his honor," says John Gallo. "Piero was really looking forward to this dinner," added Reyes, "so on July 11th we will be raising a pint in his honor."
Craft Collab will be held on Monday, July 11th from 7 p.m. to 9:30 p.m. adn will be hosted by Evan Benn, Editor of Idulge Miami Magazine. Guests attending Craft Collab will be welcomed with an amuse-bouche and beer from M.I.A. followed by a 5-course beer and food pairing.
Tickets for Craft Collab are $75 inclusive of tax, gratuity, and fees. Pinch Kitchen will be donating 50% of proceeds from Craft Collab 3.0 to the Piero Rodriguez memorial fund. Tickets may be purchased by visiting Eventbrite.
For questions regarding Craft Collab email food and beverage manager, Alex Coello, at alex@pinchmiami.com or call 305.631.2018.
Bar Centro Unplugged at SLS South Beach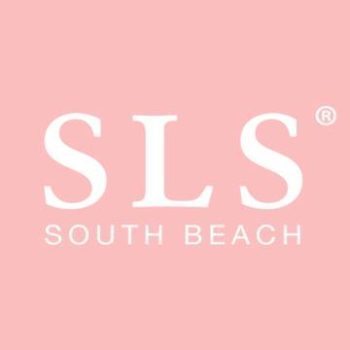 Last month, SLS South Beach's Bar Centro launched Bar Centro Unplugged, a Barcelona style experience.  Every other Wednesday evening beginning at 9:30pm, guests can experience of taste of Barcelona's cuisine and culture with a roaming caipirinha cart featuring the restaurants acclaimed liquid nitrogen caipirinhas,  Padrón Cigars, and specialty tapas by famed Chef José Andrés' for the table with purchase of cocktails or wine. The unplugged sessions will include a rotation of surprise musical guests.
Let Bar Centro be your guide and transport you to the sites, sounds and tastes of Barcelona, airfare free.
Ghee Indian Kitchen to Open in Downtown Dadeland
Revitalized urban hotspot Downtown Dadeland continues solidifying its place as a culinary destination with the launch of Ghee Indian Kitchen, a chef-driven restaurant concept expected to open in December 2016.  Owned and operated by Chef Niven Patel and wife Shivani Patel, the farm-to-table establishment will encompass traditional Indian home cooking while using locally sourced ingredients from artisan purveyors along with a variety of fresh produce from the couple's 2-acre Homestead farm.
"Ghee means pure and has a symbolic meaning both spiritually and in the kitchen of an Indian home," said Chef Niven Patel. "I want to share with my guests true Indian cuisine with dishes that incorporate modern techniques with traditional Indian-style cooking."
The restaurant will feature a seasonal menu printed daily depending on what crops are ripe and ready to be picked. Among the ingredients that will frequent Ghee's menu are Indian vegetables such as: colocasia leaves (elephant ears), purple potato, ivy gourd, fenugreek leaf, curry leaf and a variety of homegrown herb blends and spices. One of the restaurant's signature staples will be Patra, a vegetarian dish made with elephant ears, chick pea paste, lemon juice, dried chilies, sesame seeds and a variety of other spices, which are then rolled and fried.
Ghee will also feature a beverage program in which handcrafted sodas are made by blending fresh pressed sugar cane through a circular cylinder press with a variety of other ingredients creating a diverse selection of flavors.
Ghee is the newest establishment to be added to Downtown Dadeland's culinary lineup through a joint venture between Pebb Capital and Duncan Hillsley Capital established in 2014.  Downtown Dadeland is in the process of adding a number of new retailers to its 127,635 square feet of retail space with the most recent additions including: The Brick, Faith & Pizza, Barley an American Brasserie, Nanndi Frozen Cream & Pastry Shop and Orangetheory Fitness. Downtown Dadeland provides a vibrant urban destination with its diverse roster of dining, shopping, and health and fitness tenants.
For more information about Downtown Dadeland, please visit www.downtowndadeland.com or follow Chef Niven Patel on Instagram at https://www.instagram.com/chefniven/.
Yappy Hour at The Brass Tap
The Brass Tap – Fort Lauderdale will host a dog-friendly happy hour on July 15 from 6 p.m. to 8:30 p.m. The restaurant has teamed up with Tito's Vodka to help benefit Abandoned Pet Rescue.
Bring yo kids, bring yo wife, bring yo pup, and enjoy an evening of delicious drinks with a purpose. $20 at the door gets you 2 hand crafted cocktails while benefiting this awesome organization. For more information and to RSVP, email apr954@aol.com.
The British Garden Joins The Wynwood Yard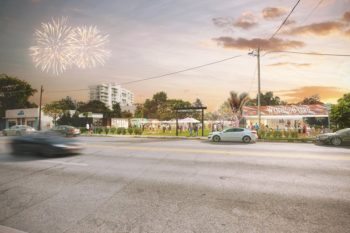 The British Garden, the newest food concept to join The Wynwood Yard, sets new standards in popular British fare in a magical garden setting.
Under a cascade of evening lights and the Miami sky is the quaint garden setting where Maldon-born chef Christopher Davey delights us with traditional British comfort foods like:
*  "The Codfather"–shatteringly crispy fish and chips
*  traditional Scotch eggs on a bed of peppery rocket (arugula)
*  or homemade potato chips (French fries to you and I) lightly drizzled with truffle oil and freshly grated cheddar cheese.
*  Weekend specials include jerk chicken and curry celebrating India's influence in English food and culture.
Traditional tea time is offered too, naturally. Settle into comfort sipping cream tea and savoring Queen Victoria sponge cake with raspberry filling, tea sandwiches or scones in a beautiful garden setting.
With just a handful of restaurants offering proper British fare in South Florida, and none other in such a beautiful setting, The British Garden has filled our craving for perfectly prepared savory and sweet dishes while decidedly changing our views of one of the most misunderstood cuisines!
A Night of Scotch and Cigars at The Rooftop at E11EVEN
Whether you drink Scotch, rye, or bourbon, you are in the company of some of the world's finest minds and characters. On Saturday, July 16th will be no exception as guests are invited to downtown Miami's ultimate hotspot, ROOFTOP at E11EVEN, for A Night of Scotch & Cigars. Hosted by the official taster/CEO/ambassador of Single Malt Daily®, from 7:00 p.m. – 10:00 p.m. guest will enjoy the finer things in life, celebrating the proper drinking of Laphroaig® Scotch Whiskies with a tasting of their five rare selections including the "Cairdeas 2015 200th Anniversary" paired with Aging Room Cigars "La Bohéme Encantandor", the perfect blend for any pallet.
The RESTAURANT at E11EVEN will provide passed lite bites. Ocean Drive Magazine and Cigar Snob Magazine will be on site at the open-air venue for event coverage. This event is open to the public. Advanced tickets start at $50 and may be purchased at http://bit.ly/11scotch1
Macchialina Hosts Kaiseki Dining Experience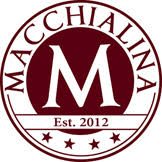 Beloved Miami Beach eatery, Macchialina, will be hosting a unique dining experience fusing the flavors the restaurant has been highly-regarded for with the bold accents of Asian cuisine in a one-of-a-kind Kaiseki dinner on Wednesday, July 13, 2016 at 9:30PM.
Chef Mike Pirolo in collaboration with acclaimed mixologist, William Rivas, will host an intimate multi-course dinner, limited to eight seats, that celebrates elevated cuisine while showcasing artfully plated dishes. Gastronomists will enjoy a carefully curated tasting menu of Italian-style delicacies rich with Asian influences as well as bold drink pairings. Chef Pirolo will guide diners through the preparation methods and flavor profiles of each course, in a rare opportunity for guests to be immersed in their dining experience.
Hosted at the restaurant's bar, the evening will be limited to eight seats only. Priced at $175 per person (including tax and tip), each Kaiseki dinner promises to be unique.
The restaurant is located at 820 Alton Road on Miami Beach. Call (305) 534-2124 for ticket information.
Nibble + Squeak Debuts in Miami at Mignonette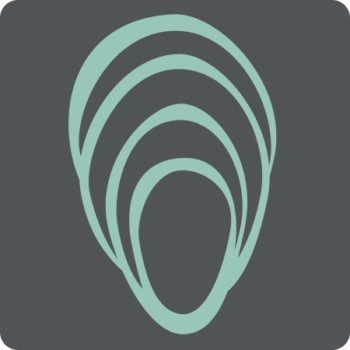 The successful NYC and London fine dining club for parents and their little ones is now launching in Miami. A unique dining club for "parents with pipsqueaks-in-tow," Nibble+squeak's first Miami area event will launch next month at Mignonette, an oyster bar and seafood spot in Miami's up-and-coming Edgewater neighborhood.
Nibble+squeak hosts small private dining events for parents with young children. The events give parents a chance to get out and revisit their fine dining days while meeting other area families without needing a sitter or worrying if the restaurant is kid-friendly. Working with new and critically acclaimed restaurants in Miami, Nibble+squeak strives to create a comfortable and fun haven for families by reserving private rooms or renting out entire restaurants, setting custom menus, and arranging meals for both stay-at-home and working-parents alike.
Nibble+Squeak was founded earlier this year by Melissa Elders, and has held events in popular NYC restaurants including Upland, Cosme, Maialino and Wassail, attracting coverage in The New York Times and Zagat, among others. Building on this success, the brand's first Southeast expansion is now coming to Miami.
The first Miami event will take place on Wednesday, August 24 at Mignonette in Miami's Edgewater neighborhood. As a father of two, chef and restaurateur Danny Serfer has experienced the challenges of dining out with young children himself. "I am so glad Nibble+squeak came to Miami and we thrilled to be hosting the first event at Mignonette. It's a great opportunity to expose kids to dining out in a positive and accepting environment."
All kids will eat free thanks to Mommy Nearest, a parenting app and website that helps moms and dads find the most family-friendly places across the country. To order tickets for the Miami event click here: Tickets for the 3-course meal are now available.
For more information, please visit http://www.nibbleandsqueak.com/.


Miami Rooftop Flicks at The Langford Hotel

Spend a night amongst the stars and Downtown Miami's famous skyline snuggled up with box of popcorn and a great flick. The Langford Hotel invites guest and locals on Tuesday, July 12 at 7:30PM for the launch of Miami Rooftop Flicks, a new monthly series of rooftop movie screenings at The Langford Hotel with Miami Film Festival.
The Langford and The Miami Film Festival will present a showing of The Birdcage. In this remake of the classic French farce "La Cage aux Folles," a gay cabaret owner and his drag queen companion agree to put up a false straight front so that their son can introduce them to his fiancée's right-wing moralistic parents starring Robin Williams, Nathan Lane and Gene Hackman. The film will be accompanied by popcorn and light bites provided by the hotel's very own Pawn Broker, priced at $20 per person. Cocktails and additional bar bites can be purchased for an additional cost at Pawn Broker.
Tickets can be purchased the day of the event at the front door.
Bastille Day Celebration at Seaspice
On Thursday, July 14, 2016 at 6:00 PM, The French community of Miami will get together to commemorate France's National Day with an evening of music, entertainment and exquisite French Riviera-inspired cuisine at Seaspice. French Tuesdays Miami invites all Miamians to join them as they celebrate France, French culture and joie de vivre in this extraordinary waterfront brasserie.
A worldwide social networking phenomenon, French Tuesdays offers their members festive and exclusive events in the world's most beautiful venues. Bastille Day is the most iconic celebration for French nationals. It's a well-­known celebration in the USA with events being held in over 50 cities nationwide.
With the sponsorship of The French American Chamber of Commerce of Florida, XL Airways, Canard Duchêne, Bulldog Gin, Jade Associates, FIPA, UFE and F&F Agency, French Tuesdays Miami will once again surprise their guests with memorable displays and performances with an extraordinary evening. Guests will experience the elegance of the Monte Carlo Casino, join the starlets on the red carpet of the Croisette and be carried away in a wild St Tropez-style soirée.
The very chic and select restaurant, Seaspice, located on the Miami River, is a natural fit for the "French Riviera" theme of the event. Known for its ballet of mega yachts, celebrities and jetsetters, Seaspice can compare without blushing with the most famous restaurants in Cannes or St Tropez. For the occasion, the executive chef, Angel Leon, will create a delightful preset menu with the savors of Provence.
If you feel to party like Brigitte Bardot and Alain Delon in the golden age of St Tropez, here is your opportunity!
Tickets are available online at: https://www.eventbrite.com/e/bastille-day-celebration-2016-french-riviera-edition-tickets-26237876194?aff=ebapi