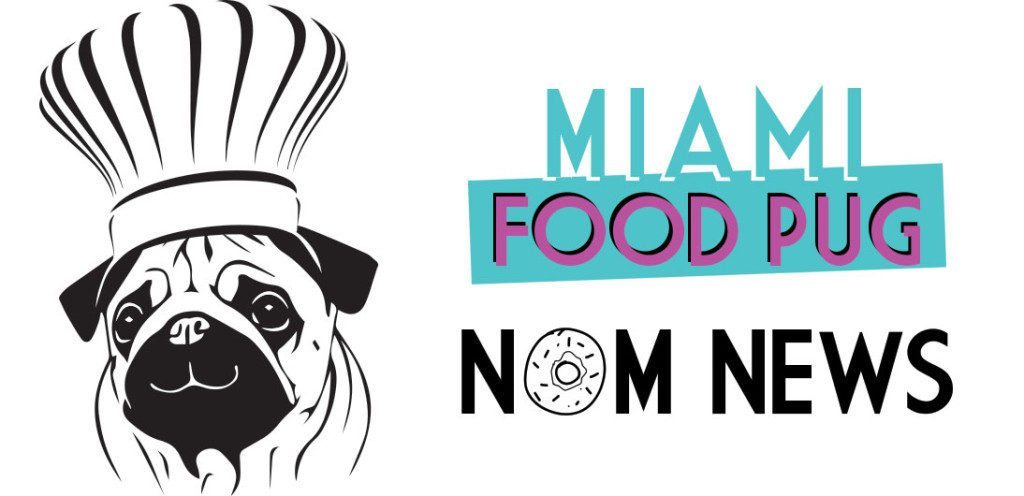 Each Friday, we compile South Florida food-related news and events that we couldn't fit on the site earlier in the week, as well as other local news that piques our interest. Want to be included in next week's roundup? Shoot us an email at bark@miamifoodpug.com.
Here's your weekly dose of nom.
DIRT to Open Second Location in Brickell
Regent Cocktail Club Hosts Cocktail Class + Debuts New Tapas
Pisco y Nazca Now Offers Daily Lunch
Beach Bar @ Newport Pier Rolls Out Free Sushi Every Thursday
Flavors of Miami Returns in September
Tap 42 Launches Taco Tuesdays
The Wynwood Yard Reopens
Hyde Beach Announces Taste: Celebrity Chef Edition
DIRT to Open Second Location in Brickell
Miami Beach's favorite farm-to-counter eatery and wellness bar, DIRT, is pleased to announce the opening of its second location in the heart of Miami's burgeoning Brickell neighborhood. Slated to open in early 2017, the highly anticipated Mary Brickell Village location will combine high-quality seasonal ingredients and chef-driven cuisine in a fast casual environment, central to DIRT's "fine food fast" mission.
Co-founder Jeff LaTulippe and Executive Chef and Director of Operations Nicole Votano will oversee operations and culinary development, ensuring the product, vibe, and overall experience maintain the standards that DIRT aficionados have come to know and love in the South of Fifth neighborhood on Miami Beach.
The menu at the Brickell outpost will stay true to DIRT's seasonal, handcrafted menu, offering crowd favorites such as the Chimayo Chili Bowl, the Curried Cauliflower Bowl, and the DIRTy Steak + Cheese; a daily rotation of fresh traditional, gluten-free, and vegan pastries; and creative, colorful, and seasonal house-made sodas, lemonades, and teas.
In addition to these popular mainstays, guests "will definitely see a few new additions to both the food and beverage categories on the menu," explains Executive Chef and mastermind behind DIRT's creative menu, Nicole Votano. "We'll also have a much larger grab-and-go area filled with lots of great options that will completely eliminate your wait. Of course, we will continue to support as many local farmers and purveyors as possible (now more than ever with two restaurants to service!)"
DIRT's Brickell outpost will be located within Mary Brickell Village. The restaurant's planned operating hours will be Monday through Friday from 7 a.m. to 10 p.m., and Saturday and Sunday from 8 a.m. to 11 p.m. Delivery will be available throughout the Brickell / Downtown area shortly after opening. For more information, please call 305-239-3000.
Regent Cocktail Club Hosts Cocktail Class + Debuts New Tapas
Today, August 12th, LDV Hospitality's Regent Cocktail Club invites guests to its monthly cocktail class with Bulleit Bourbon. From 7:00 p.m.– 9:00 p.m. guests will experience what it's like to work behind the bar with a premium spirit and learn how to craft signature cocktails at one of Miami's most cultured bars.
Cocktail enthusiasts will enjoy light appetizers provided by Chef Paolo of Dolce Italian to compliment the tastings and leave with a greater knowledge of cocktail recipes, methodology and history behind Bulleit Bourbon.
Regent Cocktail Club's exceptionally talented team of bartenders will offer a comprehensive introduction to fundamental bartending techniques and etiquette. Each class will feature a different spirit and special guests from the select brand will join to share first-hand insight and knowledge.
Guests can purchase their tickets priced at $65, at http://www.regentcocktailclub.com.
In other Regent news: Beginning on Monday, August 15th, LDV Hospitality's Regent Cocktail Club invites guests to enjoy their all-new cocktail bites menu, crafted to complement their signature cocktail recipes. The tapas-style dishes will be a complimentary chef's selection curated by Chef Paolo of Dolce Italian every Sunday and specially priced $8 menu items on Mondays. Menu items will vary daily and are chosen based on their pairing qualities with Regent Cocktail Club's traditional cocktails, prepared by their exceptionally talented team of bartenders.
The Monday night debut menu will feature the following items:
•Bibanesi
Italian breadsticks wrapped in Prosciutto
•Deviled Egg
with marinated salmon
•Sliders 
with swiss cheese and onion marmalade
•Mini Crab Cakes 
served with honey mustard and chives
•Shrimp Skewer 
shrimp, potato, zucchini and romesco sauce
•Chicken Fingers 
•Mozzarella in Carrozza
mozzarella, bread and tomato, fried and served with eggplant puree
Pisco y Nazca Now Offers Daily Lunch
Pisco y Nazca's Kendall location now offers lunch every day of the week, making workdays easier and delicious. In addition to their tasty lunch options, Pisco y Nazca has introduced new Peruvian Bento Boxes to its menu starting at just $15.
Guests can choose from three delicious options including:
Tranquilo Broder – $15
Aguadito – chicken, cilantro soup
Chaufa Blanco – stir fried rice, asparagus, sesame oil, egg whites
Milanesa Chi Jau Kai – panko breaded chicken thigh, asian sauce
El Regularon – $16.50
Ensalada Bacán – pulled chicken, mixed greens, cucumber, avocado, tomatoes, shoestring potatoes, house vinaigrette
Empanada Mushroom – mushroom pisco flambé, huacatay, ricoto aioli, chalaquita
Arroz Chaufa – shrimp, calamari, chifa fried rice, pickled vegetables, salsa criolla
El Papeadito – $17
Cevichín cremoso – mahi, shrimp, creamy leche de tigre, celery, habanero, sweet potatoes
Anticuchos de Pollo – chicken skewers, yukon potatoes, choclo, antichucera sauce
Papas a la Huancaína – yukon gold, huancaína sauce, botija olives, boiled eggs
Beach Bar @ Newport Pier Rolls Out Free Sushi Every Thursday
Beach Bar @ Newport Pier will kick off Sake Sushi Thursdays: This is How We Roll featuring a combination of dinner and drink specials beginning Thursday, August 11th. From 7 p.m. to midnight each Thursday, guests can enjoy complimentary all-you-can-eat sushi and live entertainment while basking in the stunning waterfront views at Dade County's only pier restaurant, located in Sunny Isles Beach.
Parties of one or two can enjoy an unlimited selection of the restaurant's classic sushi rolls, select creative rolls from Sushi Mike, seaweed salad and miso soup for free with a minimum $50 purchase of select bottles of liquor, champagne or sake.
Parties of three to six guests can take part in the all-you-can-eat sushi special with a minimum $100 purchase of select bottles of liquor, champagne or sake. Featured $100 spirits include Jose Cuervo Gold Tequila, Zignum Mezcal Silver, Tanqueray Gin, Ketel One Vodka, Black Label Scotch, Jameson Irish Whiskey or Jim Beam Whiskey. Featured $50 spirits include Veuve de Vernay Champagne and TY KU Sake.
For reservations, please call 305.957.1110 or visit http://beachbarnewportpier.com/ for more information.
Flavors of Miami Returns in September
The American Liver Foundation's second annual Flavors of Miami is a unique culinary experience, in which each table is hosted by one of our talented local chefs as he or she prepares a five-course meal for twelve guests.  Unlike a traditional gala, this distinct set up allows diners to interact with the chefs in an intimate way, putting an unequivocal emphasis on the food preparation and presentation.  There will even be a contest amongst the chefs, based on table decoration as well as the dishes, making for an eccentric and ornamental environment, and a lot of fun.
This year, the event takes place September 8 from 5 pm to 10 pm at the Loews Hotel in Miami Beach. Scott Linquist, partner and head chef at Coyo Taco, is the chef chairman for the second year in a row, and other chefs joining him include Frederic Joulin from Semilla Eatery and Bar, Gordon Mayburry from Corsair Kitchen and Bar, and Bryan Rojas from Fooq's.
The "Flavors" gala was created in 1991 by James Beard Award winning chef, Christopher Gross in Phoenix, Arizona.  Chefs around the country gained interest supporting the mission of the American Liver Foundation in such a proactive way, that today the event is hosted by the organization in more than 20 cities and raises millions of dollars annually to support the American Liver Foundation.
The 2016 Flavors of Miami Presenting Sponsor is Miami Transplant Institute, a unique affiliation between Jackson Health System and UHealth – University of Miami Health System. The National Silver Sponsor is Gilead Sciences; the National Bronze Sponsor is AbbVie Pharmaceuticals; and the media sponsor is Digest Miami. Tickets and and a complete list of participating chefs can be found here: go.liverfoundation.org/flavorsofmiami.
Tap 42 Launches Taco Tuesdays

As a preview of the highly anticipated concept, Bar Rita, Tap 42 Fort Lauderdale is launching Taco Tuesdays at Tap 42 on Tuesday, August 9th featuring exclusive Bar Rita inspired items. This menu is available every Tuesday throughout the rest of the summer from 4pm to close. Brought to you by the founders of Tap 42, the Bar Rita Taco Tuesday menu features tacos, guacamoles, salsas, and of course, margaritas!
"We are thrilled to introduce a preview of Bar Rita's menu during Taco Tuesday at Tap 42 with items that truly embrace the flavors we will highlight at Bar Rita," says Chef Lyndsey Waters of Bar Rita. "Each week we will rotate items so guests have an opportunity to experience various items Bar Rita has to offer leading up to the grand opening in the Fall."The rotating menu highlights dishes such as Korean Shortrib Cheesesteak Tacos, BBQ Pork Carnitas Tacos and Crispy Chicken Tacos. Tap 42 also introduces Bar Rita's Strawberry Margarita Guac featuring tequila, mint and cilantro that pairs perfectly with the Te-Kill-Ya Margarita crafted with Don Julio Blanco and Patron Citronge.
The Wynwood Yard Reopens
After closing in response to the recent Zika infections in Wynwood, The Wynwood Yard has now reopened. The Yard had been closed since Tuesday, August 2nd, 2016, in order to make sure it is providing the most prepared, comfortable and secure environment possible to its team and guests.
Upon notification of possible Zika infection in the area, The Wynwood Yard immediately closed and contacted the Department of Health in order to offer voluntary Zika testing for all team members.  The management of The Wynwood Yard has since learned that one team member was confirmed positive for Zika.
The Department of Health has declared that the decision of The Wynwood Yard to re-open is a business decision, just as the decision to close was left up to the Yard's team. The Department of Health has not issued any instructions to The Wynwood Yard to close at any point in time. Once the CDC restrictions to Wynwood were announced, The Wynwood Yard took further steps to ensure the safety and comfort of guests, including stringent new mosquito mitigation measures, the installation of a state-of-the-art Mosquito Nix system, and further employee training. A FAQ on The Wynwood Yard website (http://www.thewynwoodyard.com/faq-1/) offers more information on these steps.
With new measures in place, The Wynwood Yard management decided to reopen the doors to its team members and to the public again.
The Wynwood Yard has taken every measure possible in order to ensure the well-being, health and comfort of our guests, community and team members.  Most importantly, The Wynwood Yard's leadership team is deeply committed to being forthright with team members, guests and community.  It is a 100% outdoor venue and The Wynwood Yard advises everyone to follow current CDC guidelines, including restrictions on women who are pregnant or plan on getting pregnant, as well as their partners. However, aside from this particular population set, The Wynwood Yard is safe for guests and team members.
The Wynwood Yard team continues to work closely with the City of Miami and Department of Health in order to follow CDC recommendations on Zika and to assure the well-being of all who work and play at The Yard.
The Wynwood Yard FAQ (http://www.thewynwoodyard.com/faq-1/) will be updated periodically with more information.
Hyde Beach Announces Taste: Celebrity Chef Edition
Hyde Beach, the premier oceanfront nightlife destination at  SLS South Beach, today announces a celebrity chef edition of its monthly boutique food festival, Taste. On Thursday, September 22 guests are invited to indulge in this unique culinary experience with some of today's hottest named celebrity chefs. And in support of Hunger Action Month, Hyde Beach will partner with Feeding South Florida and donate a portion of the proceeds to help raise awareness about the issue of hunger and take action to help end it.
"sbe is excited to unveil the first ever celebrity Taste," says Simon Sorpresi Managing Director of SLS South Beach. "As a leader in the hospitality industry, we are thrilled to bring this exciting, diverse, all star chef line-up to our Miami foodies."
The inaugural event will bring together a selection of top restaurants including sbe's The Bazaar by José Andrés, Cleo South Beach, Katsuya South Beach, K Ramen, and The Restaurant at The Raleigh and chefs such as;
Katsuya Uechi, the internationally chef of the Katsuya brand in Southern California, Miami and the Middle East
Dale Talde, chef and owner of TALDE Miami Beach, cheftestant on Top Chef, Chopped, Iron Chef America, and Knife Fight
Michael Schwartz, The Genuine Hospitality Group owner and James Beard Award Winning chef of Michael's Genuine, Harry's Pizzeria and his newsest concept, Fi'lia at SLS Brickell
Makoto Okuwa, chef and owner of Makoto, James Beard outstanding contribution award winner and Iron Chef America competitor
Susur Lee, owner of five restaurants in Toronto and oversees the prestigious TungLok Heen in Singapore's Hotel Michael, travels the world as guest chef and consultant having competed on Iron Chef America and Top Chef Masters , currently a judge on  Food Network Canada's Chopped Canada judge
Paul Qui,opened Pao restaurant located in the Faena hotel Miami Beach, winner of Top Chef and James Beard Foundation 'Best Chef'
Jose Icardi, Area Executive Chef at Katsuya South Beach and visionary behind The Restaurant the Raleigh's menu
Michael Pirolo, chef at Miami's Macchialina, former chef de cuisine of Scarpetta New York and Miami
Steve Rhee, former Executive Chef at Milos, and Executive Chef of the anticipated opening of Kiki on the River
Jose Mendin, partner and Executive Chef of The Pubbelly Restaurant Group
Josh Elliot, Chef de Cuisine atThe Restaurant at The Raleigh
Tito Vargas, Chef de Cuisine at The Bazaar by José Andrés
Arturo Paz, Executive Chef at Cleo South Beach
Utilizing the swanky SLS Guest Pool, expansive Hyde Beach grounds, and intimate VIP area, the interactive spaces will be transformed into restaurant pop ups and one-of-a-kind food parties from 8pm until 11pm. Following the culinary experience, guests are invited to party and celebrate alongside the culinary masters for an evening of Japanese drummers, music and dancing, and surprise guests.
Tickets are on sale now. VIP Golden Tickets ($125) provide early (7pm) admission, a private sashimi demonstration from Master Sushi Chef Katsuya Uechi and additional VIP area with dedicated bar. General Admission ($75) includes a selection of dishes from renowned celebrity chefs and hosted cocktail, craft beer and sake bars.
Taste Celebrity Edition will take place on Thursday, September 22 from 8pm-11pm at the SLS Hotel South Beach at 1701 Collins Ave in Miami, FL. To purchase tickets, please visit CelebrityTaste.com.