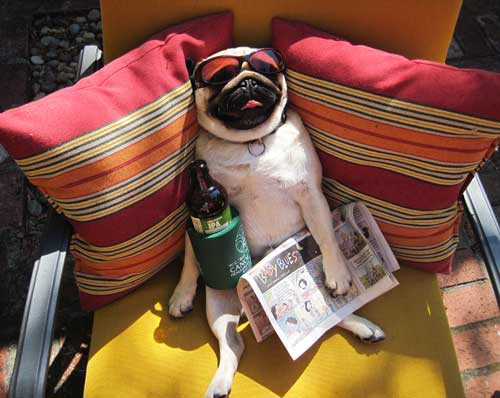 Labor Day is almost here! If you're staying in town for the 3-day weekend, check out our list below to see what your favorite local spots are up to. Details are subject to change, so be sure to contact the restaurant before heading out.
Tap 42
The end of summer is near, but there's one more weekend left to savor the sweet sunshine and party it up. South Floridians can celebrate Labor Day all weekend long at Tap 42 with Bottomless Brunch! Tap 42 will feature their infamous bottomless Mimosas, Bloody Mary's and Funky Buddha Floridian for just $15 during brunch on Saturday, Sunday and Monday from 11am-3pm. Tap 42 brunch favorites such as the Chicago Style Steak and Eggs, as well as White Chocolate Strawberry Pancakes will be available in addition to burgers such as The Prohibition Burger, The Drunken Goat, and more Tap 42 favorites.
Guests can also enjoy Happy Hour Saturday, Sunday and Monday from 4pm to close featuring $3 off select beers from local breweries such as Funky Buddha and Due South Brewing. This weekend-long brunch and Happy Hour special will be offered at all three Tap 42 locations!
Tap 42 continues to host one of the most talked-about and visited brunches in South Florida that caters to hundreds of guests every weekend. Tap 42 has also recently announced their newest location in Midtown Miami at 3252 NE First Avenue and will continue to expand throughout Florida and beyond.
STK Miami Beach
STK Miami Beach's All White Affair, which is a special edition of STK's Magnum Mondays aka Miami's favorite Monday night dinner party, will begin at 8 PM on September 5, offering the first 100 guests a complimentary glass of Moët Ice. Specials on Magnum bottles will begin at 9 PM as usual, and there will be a DJ, photo booth and entertainment in true STK fashion. They don't call it Miami's Favorite Steakhouse for nothing …
Mondrian South Beach
Join us at Mondrian South Beach for a weekend extravaganza like no other. Starting Sunday, September 4th at 1:00 pm, guests can enjoy a Carnival-themed party complete with jugglers, a big top, stilt walkers and more. Specials include $100 rose magnum bottle specials, a $700 food and beverage minimum for cabanas and a waived dock fee for boats (must RSVP in advance for the boats).
General admission  includes a $50 food and beverage minimum. The festivities continue into Monday, September 5th with an end of summer pool party. Beginning at 1:00 pm until sunset, guests can enjoy $100 rose magnum bottles, a live DJ, $500 F&B minimum for cabanas with waived dock fee for boats (must rsvp in advance for the boats), paddle boarding, jetskis, and kayaking available (additional cost). A $50 food and beverage minimum is required. Contact 305-514-1500 for more details.

River Yacht Club
With the Summer coming to an end and Labor Day right around the corner, River Yacht Club is thrilled to announce their first ever Labor Day Soiree at the Van Dutch Lounge. Featuring champagne  specials and an impressive waterfront yacht lineup with RYC's partners VanDutch, Tecnomar and Axopar. Take in this last Summer beat with the amazing waterfront views RYC has to offer! The soiree takes place September 3rd from 2 p.m.- 6 p.m.
The Gale Rooftop
On Sunday, September 4th LDV Hospitality invites guests to enjoy 'Bubbles & BBQ' – sure to be one of the hottest Labor Day parties in town – this full LDV Experience will take place at The Gale Rooftop.  From 6 p.m. – 11 p.m. Regent Cocktail Club bartenders will be creating handcrafted cocktails and featuring Veuve Clicquot and Belvedere Vodka. Both champagne and vodka bottle specials will be available. Guests can also indulge in BBQ cuisine by Dolce Italian while enjoying breathtaking views of South Beach.
Ketchy Shuby will bring their 'downtown soul' to the rooftop with a live performance while Miami-based DJ Duo Paperwater will be spreading their sound and classic remixes throughout the night – taking this LDV experience full circle with music, drinks and food from the hospitality group's top-tier venues. Tickets are $15 and guests receive a complimentary Veuve Clicquot cocktail upon arrival, as well as preferred admission to Rec Room later that night when HALF/FULL presents special dj performance by Damaged Goods, Paperwater and Sean Bang. Purchase tickets here.
City Tap House West Palm Beach
CityPlace's newest addition will be extending their newly-launched brunch to include the Monday holiday. Make your long weekend great at their bloody mary and mimosa bars or try something new with one of City Tap's exciting beer flights. Don't forget to order their signature Ten Spice Wings – you won't be disappointed! Contact 561-508-8525 for more information.