September 2, 2016
Each Friday, we compile South Florida food-related news and events that we couldn't fit on the site earlier in the week, as well as other local news that piques our interest. Want to be included in next week's roundup? Shoot us an email at bark@miamifoodpug.com.
Here's your weekly dose of nom.
The Seven Dials Launches Sunday Brunch
Pinch Kitchen Announces Craft Collab 4.0
Quattro Offers Support for Italy Earthquake Victims
O'Lima Debuts Weekday Happy Hour
Indian Cooking Class at Ortanique on the Mile
Fan Favorite Spicy Korean Q Returns to Wingstop
TacoCraft Hosts Inaugural Margarita Festival
Estrella Damm Gastronomy Congress Returns
Rose Bar at Delano Launches Cocktail Hour
Spris Hosts Honeybee Doughnuts Pop-Up
BARU Latin Bar to Open in Kendall
The Seven Dials Launches Sunday Brunch
Miami, get ready for the Full English Breakfast! As they celebrate their 2-year anniversary, The Seven Dials is excited to announce the launch of Sunday Brunch.
The brunch menu includes snacks for the table such as Homemade Granola ($8) with fruit and nuts, served with crème fraîche, and House Banana Bread ($7). Scrambles include Chorizo ($14), with chorizo from Proper Sausages, queso blanco and roasted red peppers and Kedgeree ($14), a British-Indian dish that includes St. James smoked salmon, shrimp, eggs and curried basmati rice.
Mains include Bacon-Pineapple French Toast ($14), with Nueske bacon and served with Vermont maple syrup, Steak & Eggs ($20), Korean chili-marinated hanger steak served with kimchi, a classic French Omelette ($13), with truffled rarebit sauce and shoestring fries, and the pièce de résistance, The Full English ($20), which includes Proper Sausages' British-style banger, Nueske streaky bacon, fried eggs, baked beans, roasted tomato, marinated roasted mushrooms, home fries, fried bread and Zak the Baker toast, with an optional black pudding. Yes, it's a big giant breakfast!
Special brunch drinks include the Black Velvet ($9), cava and Guiness Stout, Snakebite ($8), IPA, cider and blackcurrant cordial, Marmichelada ($8), pilsner, lime, spicy tomato juice and Marmite, and the UK's version of a mimosa, the Buck's Fizz ($9), cava, fresh FL OJ and grenadine.
All eggs served are from the lovely folks at Sun Fresh Farm & Ranch in Davie, FL, sausages are from our buddies at Proper Sausages in Miami Shores and bread is from our friend, Zak the Baker.
It's no accident that the launch of Sunday Brunch coincides with the start of the English Premier League soccer season and there will, of course, be a game on every sunday.
Brunch is served on Sundays, from 11:30AM-3PM, with the last seating at 2:30PM. Reservations are available for parties of 4 or more.
The Seven Dials is located just a few blocks north of Miracle Mile, in The Minorca condominium at Douglas Rd. and Minorca Ave. (2030 S. Douglas Rd., #102) in Coral Gables, FL.
Pinch Kitchen Announces Craft Collab 4.0
Continuing off the success of what started as a quarterly Craft Collab featuring local breweries, Pinch Kitchen has announced Craft Collab 4.0, a wine and food pairing dinner series for wine lovers, on September 13th. For Craft Collab 4.0 Pinch has partnered with Hidalgo Imports, a family owned and operated distributor and producer of wines. Craft Collab 4.0 will highlight Hidalgo's wines from Spain – Bodega Hidalgo La Gitana, Hidalgo's own line of wines found in Sanlucar de Barrameda, Spain; and Bodega Aljibes, also a Spanish wine producer.
"The idea behind expanding our Craft Collab series beyond beer is to allow our guests to experience the different craft wines we bring in from the importers we work with at the restaurant. Just like with the beer version of Craft Collab, we will develop a unique menu based on the flavor profiles of the wines," says John Gallo, chef and partner at Pinch Kitchen.
Craft Collab 4.0 will will be held on Tuesday, September 13th from 7 p.m. to 9:00 p.m. Guests attending Craft Collab will be welcomed with an amuse-bouche and a glass of wine, followed by a 5-course wine and food pairing. Both wine makers will also be present that evening talking about the various wines that guests will be tasting throughout the night.
"Like our beer menu, all of our wines are handpicked to feature small, boutique wines that you may not come across very often," says Rene Reyes, chef and partner at Pinch Kitchen. "Our wine menu is also constantly changing because some of them are produced in such small quantities, so our customers may try something one day that may not be available the next time they come in," added Reyes.
Tickets for Craft Collab 4.0 are $75 inclusive of tax, gratuity, and fees. They may be purchased by visiting Eventbrite.
For questions regarding Wine Collab, email info@pinchmiami.com or call 305.631.2018.


Quattro Offers Support for Italy Earthquake Victims
On Wednesday, August 24, 2016, a Magnitude 6.2 earthquake hit Central Italy, killing at least 290 people and devastating the town of Amatrice. To assist those affected by this terrible disaster, Quattro Gastronomia Italiana will be offering Amatriciana pasta for the entire month of September, with proceeds from the dish going to the victims of the earthquake.
Amatriciana is a famous pasta sauce originating from the town of Amatrice, the site of the earthquake's epicenter. Guests can order the pasta plate, made with tomato sauce, onions, guanciale and Pecorino Romano cheese, knowing that proceeds will go towards providing earthquake relief for the victims and their families.
"Our prayers go out to Italy and the victims of the earthquake. We encourage guests to order the Amatriciana pasta so that we can assist with relief efforts and create awareness for the affected region," said Quattro general manager/partner Roberto Sanso.
O'Lima Debuts Weekday Happy Hour
We wanted to share that the Peruvian fusion neighborhood hot-spot, O'Lima, located in Bay Harbor, will launch "Hora O'Lima" (weekday happy hour) next Tuesday, September 6. Hora O'Lima will take place from 5 pm to 7 pm, Monday through Friday.
During Hora O'Lima, guests can also enjoy a range of lower priced dishes and cocktails; highlights below:
$7 house wines & prosecco, $4 beers, $8 classic cocktails, $10 specialty cocktails
Hot and cold appetizers range from $10-$15; entrees range from $15-$26
To celebrate the launch, the new Hora O'lima Cucumber Mule will be complimentary* during launch week, September 6 through September 9. *One per customer.
Indian Cooking Class at Ortanique on the Mile
On September 10 at 11:30 a.m., join Ortanique on the Mile's Cindy Hutson for an Indian cooking class. During the event, diners will enjoy a meet and greet followed by three tasty dishes cooked up by Hutson, all of which will be paired with wine. Tickets for the event cost $108 and include tax and gratuity. Call 305-446-7710 or email Ashley@ortaniquerestaurants.com to RSVP.
Fan Favorite Spicy Korean Q Returns to Wingstop
Wingstop (NASDAQ: WING), the award-winning wing concept with more than 900 locations worldwide, today announced the long awaited return of its fan favorite flavor – Spicy Korean Q – available now through November 26. Spicy Korean Q is a spicy and sweet sauce flavored with ginger and garlic, accented with Sriracha chile sauce and crushed red pepper for a fiery kick.
In the fall of 2015, Spicy Korean Q was available as an exclusive flavor for a three month period and quickly turned into one of Wingstop's top sellers. When the limited-time window closed, Wingstop fans across the nation took to social media in an effort to bring the flavor back. Fans tweeted and posted numerous messages, including milk cartons with a "Missing: Spicy Korean Q" message as well as fans declaring the day it was pulled as "the worst day of my life."
To support the relaunch of Spicy Korean Q, Wingstop is introducing a new hashtag that allows fans to order the flavor directly on social media. All fans need to do is tweet @Wingstop #CraveSKQ and they will be taken to a private ordering process to get at their favorite flavor. Throughout the limited-offering, Wingstop will also be giving away surprise gifts to fans who use the #CraveSKQ hashtag as a way to show love to fans who crave Spicy Korean Q the most.
Spicy Korean Q is a limited time offering available now until November 26 on classic and boneless wings, which are always cooked-to-order and sauced and tossed to perfection by The Wing Experts. The Wingstop menu also features 11 original flavors, including fan favorites Mango Habanero, Lemon Pepper, Garlic Parmesan, and Original Hot. Sides are made fresh daily, including hand-cut seasoned fries, made from #1 Idaho potatoes.
Fans can order Spicy Korean Q and all their Wingstop favorites in-restaurant, online and across their favorite social media channel by simply direct messaging Wingstop via the latest version of Facebook Messenger or tweeting "order," "#order" or "#CraveSKQ" to @Wingstop.
TacoCraft Hosts Inaugural Margarita Festival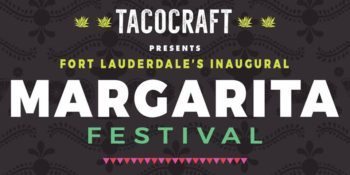 TacoCraft is pleased to bring a new tradition to Downtown Fort Lauderdale with it's first-ever Margarita Festival on Saturday, September 24 from 5 p.m. to 8 p.m. At this boozy festival, guests will have the opportunity to sample unlimited specialty margaritas from more than 20 different tequila vendors. As a fun bonus, guests will receive a token upon arrival, which they can use to vote for their favorite margarita.
Live performance by local funky reggae band, Bushwood, and music by DJ Supreme 1.
Guests can purchase a selection of TacoCraft's tacos streetside.
A portion of the proceeds will benefit the Peanut Butter & Jelly Project, a grassroots organization that provides food, clothing, and assistance to local Homeless & Veteran communities and implements long-term solutions that lead them to be self-sufficient.
The event will be sponsored by Avión Tequila and Modelo Especial. Additional sponsors include; 1800, Ancho Reyes, Apothecary 330, Baron, Blue Nectar, Casamigos, Casa Noble, Corazon, Corralejo, Don Julio, Exotico, Florida Kush, Herradura, Himmarshee Public House, JEY Hospitality Group, Jose Cuervo, Lunazul, Maestro Dobel, Margaritaville, Mezcal Amaras, Olmeca Altos, Partida, Pizza Craft, ROK:BRGR, Sauza, Tijuana Sweet Heat, and many more.
Tickets can be purchased in advance online at Eventbrite.com or at tacocraft.com/MARGARITA2016 for $20. Tickets can be purchased on the day of at $25.
Estrella Damm Gastronomy Congress Returns
The acclaimed Miami Culinary Institute (MCI) at Miami Dade College (MDC) will again welcome world-renowned Spanish chef Ferran Adrià alongside an all-star lineup of international chefs for the second annual Estrella Damm Gastronomy Congress on Monday, Sept. 26.The event will kick off with other chefs conducting a private demonstration with MCI students at noon followed by the Congress at 6 p.m.
The Congress will include a live cooking demonstration as restaurant insiders learn the latest culinary trends and techniques from other influential chefs from Spain.  Adrià rose to fame as the head chef of elBulli, a three-star Michelin restaurant that has been rated No. 1 among the world's best restaurants for a record five times by Restaurant Magazine. His avant-garde, deconstructionist cuisine changed culinary history. He is the world's most awarded chef and winner of "Chef of the Decade" in 2010. Chef Adrià is the brand ambassador for the Barcelona-based brewery Estrella Damm.
Joining Adrià at the Congress to explore the topic of "The Challenge of Contemporary Cuisine" is Jorge Muñoz, head chef at Michelin starred Nikkei restaurant Pakta, part of Albert Adrià's elBarri Group in Barcelona; Aaron Mulliss, head chef at The Hand and Flowers, which is the first Gastropub to receive two stars in The Michelin Guide and holder of four AA rosettes; and Nick Beardshaw, head chef at The Coach, Tom's Kerridge's second venture holding Michelin Bib Gourmand, three AA Rosettes and voted No. 3 Gastropub in the UK.
Estrella Damm will donate a $5,000 scholarship to MCI during the student demonstration at noon.
A selection of Miami restaurants will prepare a culinary experience paired with Estrella Damm from 6 p.m. – 7:30 p.m.
MDC's Miami Culinary Institute has been a regular stop for the world's top chefs, from the Roca brothers and Juan Mari Arzak to Lidia Bastianich, Scott Conant and many others.
Tickets to the Estrella Damm Gastronomy Congress will be available for purchase at www.gilt.com
Rose Bar at Delano Launches Cocktail Hour
Beginning Monday, September 12, Rose Bar at Delano South Beach will introduce an exciting new special called Cocktail Hour. Available Monday through Friday from 4 – 7 p.m., this is the first program of its kind to be offered by the iconic bar. Cocktail Hour will feature three new craft cocktails created especially for the occasion, each priced at $10, along with a selection of beer for $5 and wine for $8. The bar will also showcase a selection of new light bites from Chef Jason Bamford for $10 each. With the launch of this irresistible Cocktail Hour, Rose Bar at Delano is sure to become everyone's favorite after-work or post-pool gathering place. #MeetAtRoseBar
Spris Hosts Honeybee Doughnuts Pop-Up
Spris Pizza will be hosting South Miami's newest doughnut sensation, Honeybee Doughnuts, for a one-weekend only pop-up.
Guests can expect delicious best-selling doughnuts hand-selected by Karen Muirhead, founder of Honeybee Doughnuts, to be showcased at each of Spris Pizza's locations: Lincoln Road, Downtown and Midtown. Flavor selection will vary but will include: Pokémon/Emoji, Smore's, Honeybee Caramel, Guava & Cream Cheese and Oreo Filled.
The partnership came about after synergetic conversations and both brands finding shared core beliefs in the way their ingredients are chosen, products are made and guests are taken care of.
Spris Pizza and Honeybee Doughnuts share the same passion for high quality ingredients from flour to honey. In addition, Honeybee Doughnuts is a favorite around town, often with a line out the door, while Spris is also a favorite in the world of pizza, making thousands of pizzas each day. With its shop located in South Miami, Honeybee Doughnuts will expand its reach with the pop-ups at Spris' locations. On the same token, Spris Pizza will offer an added treat to its loyal customers.
The pop up schedule is as follows:
– Thursday September 8th, 2016 from 3pm to 7pm (or until doughnuts run out!) @ Spris Lincoln Road (731 Lincoln Road, Miami Beach FL 33139) www.spris.cc
– Friday September 9th, 2016 from 11am to 2pm (or until doughnuts run out!) @ Spris Downtown (Southeast Financial Center – 200 S. Biscayne Blvd #500 Miami, FL 33131) www.sprispizza.com
– Saturday September 10th, 2016 from noon to 3pm (or until doughnuts run out!) @ Spris Midtown (3201 N. Miami Ave. #102 Miami, FL 33127) www.sprispizza.com
BARU Latin Bar to Open in Kendall
Barú Latin Bar is excited to announce that it will celebrate its sixth anniversary this year with the opening of its biggest location yet. Barú Kendall will open its doors this October at The Palms of Town & Country, bringing its distinctive and vibrant ambiance to the area. Barú has become a local nightlife staple since its Brickell debut in late 2010.
Located on 8268 Mills Drive, Barú Kendall will measure 5,000 square feet and feature two terraces, three bars and urban avant-garde decor. The interiors designed by Andrea Mejia highlight local artists including Barú artist veteran GWIZ, also known as Jorge Viera. Locally recognized for bringing la rumba to Miami, the Latin bar is ringing in its newest location in classic Barú style with paper napkin wars and La Hora Loca included. To celebrate its arrival, the bar will be offering free agua ardiente all night and surprise entertainment guests. More details on the celebration to come as we get closer to the grand opening.