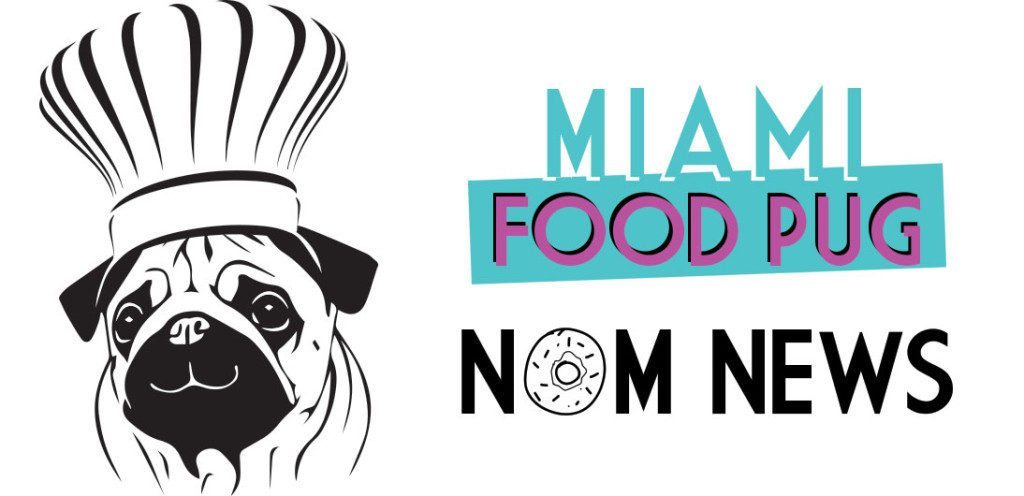 September 23, 2016
Each Friday, we compile South Florida food-related news and events that we couldn't fit on the site earlier in the week, as well as other local news that piques our interest. Want to be included in next week's roundup? Shoot us an email at bark@miamifoodpug.com.
Here's your weekly dose of nom.
National Lobster Day at Izzy's
Bennys and Bellinis Menu at Ms. Cheezious
Barley to Open at Downtown Dadeland
Celebrate Oktoberfest at Pawn Broker
Yappy Hour at W Miami
The Drawing Room Hosts "Art Talk Series"
Kuro Hosts 5-Course Sake Pairing Dinner
Blue Collar Turns Pink for Breast Cancer Awareness
Hardy Park Bistro Hosts Aussie Wine Dinner
Elle Taco Opens at Dadeland Mall
Dr. Smood Debuts Hangover Remedy Kit
Seaspice Brasserie and Lounge Launches Seaspice Live  
National Lobster Day at Izzy's
The stars have aligned! This Sunday, it's National Lobster Day AND Izzy's Fish & Oyster's One-Year Anniversary. In celebration, Izzy's will be offering all-you-can-eat lobster rolls and Narragansett beer for $25 on Sunday, September 25. The celebrations begin right when they open their doors at 11 a.m. and will last throughout the day.
Bennys and Bellinis Menu at Ms. Cheezious
This weekend, Ms. Cheezious will be launching a Bennys and Bellinis menu at their MiMo location. Guests can choose from items such as the Frita Benedict, Braised Pork Benedict, Black Bean Benedict and Lobster Benedict. Each Benny comes with a mimosa, which is available in flavors like pineapple mango, mixed berry and rosemary pear. Bennys and Bellinis will take place every Sunday from 11 a.m. to 3 p.m.
Barley to Open at Downtown Dadeland
Barley an American Brasserie, the latest culinary venture by Chef-owner Jorgie Ramos, is set to open doors at the urban lifestyle center Downtown Dadeland on Tuesday, Sept. 27.
The gastropub will serve rustic Americana comfort food with Latin and Asian influences and will feature a raw bar and Sunday brunch. Some of the eatery's culinary staples include: charred octopus served with seaweed and miso aioli and a farro salad; braised beef tongue served with yucca mofongo and sofrito salad; lamb neck filet doused in a horseradish tzatziki and topped with marinated cucumbers; and a Latin burger topped with chorizo cantimpalo, sweet plantains, manchego and chimichurri aioli. Barley will also feature a daily mac 'n' cheese rotation and a specialty craft beer, cocktail and boutique wine menu.
Barley is the second Downtown Dadeland establishment operated by Ramos. He launched the Faith and Pizza pop-up restaurant in May and has committed to donating proceeds from the first three months to three South Florida charities.
The opening of Barley comes on the heels of a number of recent and soon-to-be openings at Downtown Dadeland, with tenants including: The Brick, which will work with James Beard Award-winning chef Allen Susser to create a seasonally inspired menu; Nanndi Frozen Cream & Pastry Shop; Orangetheory Fitness; and the recently signed Ghee Indian Kitchen, which is owned and operated by Chef Niven Patel, the former executive chef at Michael's Genuine Food & Drink. With a number of new chef-drive concepts opening soon, Donwtown Dadeland is becoming a premier culinary destination.
DHPI LLC was established through a joint venture between Duncan Hillsley Capital and PEBB Capital and has been revitalizing Downtown Dadeland's 127,635 square feet of retail space since 2014.  Located on 7250 North Kendall Drive, Downtown Dadeland offers a fresh urban vision, bringing together dining, shopping and health & fitness establishments to create a dynamic and vibrant destination.
Celebrate Oktoberfest at Pawn Broker
Next Thursday, Pawn Broker and Miami Smokers are teaming up for an epic Oktoberfest celebration. The event will take place from 8 p.m. to 11 p.m. and feature a variety of bites and brews:
Beer Pork Brat served with German potato salad $9*
house made sauerkraut, beer mustard, caramelized onions
The Floridian Sausage served with German potato salad $9*
orange segments, pickled peppers, guacamole puree
Mini Pork Schnitzel Sandwich $6
butter fried pork shoulder, apple coleslaw, warm roll
Pigs in a Blanket $6
smoked mozzarella, Miami Smokers speck, pretzel roll, sweet mustard
Head Cheese Corn Dog $7
butter corn bread, smoked ketchup
*Beer Brat Sausage & The Floridian Sausage can be purchased together for $16
Beers:
– Ayinger Celebrator (Doppelbock)
– Ayinger Bräu-Weisse (Hefeweizen)
– Due South Oktoberfest (Marzen)
Cocktails:
– Katharine Lee Bates (LoDo) with HopHead Vodka, Myschyf Pistachio Absinthe, Grapefruit Juice, Hoped Agave, Peychaud Bitters, IPA Foam
– Beer & Shot
Yappy Hour at W Miami
After a successful, pup-filled launch last month, Yappy Hour at W Miami is back for the second installment on Friday, September 30. From 6 PM until 8 PM, this month's host, @Thug_the_Frenchie (pictured above), invites all Miami dogs and their owners to the terrace of 15th & Vine to enjoy fab $5 happy hour deals on cocktails and bites for the humans, and complimentary happy hour treats, games and toys for the pups. Start off the weekend right and steal the scene with your furry friend while listening to beats by DJ Sasha Lauzon, and overlooking unparalleled views of Biscayne Bay.
The Drawing Room Hosts "Art Talk Series"
The Shelborne Wyndham Grand South Beach together with Conde Contemporary will host the second exhibition in its popular monthly series of art exhibitions and talks; 'Long Live the Queen: A Celebration of Barbara Hulanicki's Fashion Illustration' on Thursday, October 6th. To take place in the hotel's iconic lobby bar and lounge, The Drawing Room Bar & Lounge, from 7-9 p.m. guests will receive a complimentary cocktail and passed prosecco upon arrival as well as 25% off food from The Sarsaparilla Club menu.
Guests will be able to view never before seen original fashion illustrations by Barbara Hulanicki, along with unique prints, a video installation and a collage of handwritten notes and drawings. Beginning at 8pm, Cristina Favretto, Director of the University of Miami Library's Special Collection Department will interview Hulanicki on her distinguished career.
This new Art Talk series will take place every first Thursday of the month from 7-9 p.m. in The Drawing Room Bar & Lounge inside the Shelborne Wyndham Grand South Beach. For more information please visit,www.shelbornewyndhamgrand.com and www.condecontemporary.com.
Kuro Hosts 5-Course Sake Pairing Dinner
The Sake Dinner will feature a five-course dinner crafted by Kuro's Creative Culinary Director and Executive Chef Alex Becker. The dinner is paired with a sampling of sake selections presented by guest speaker and sake expert Midori Roth. Tickets cost $175 per person plus tax and gratuity. The dinner will kick off at 6:30 p.m. with a welcome reception, followed by the seated dinner at 7 p.m. Space is limited and reservations are required. For more information, please call 954-316-2900.
Full menu follows:
Welcome Reception
SALMON with cucumber, fennel
KINMEDAI with almond, dates
Paired with Plum Sake Bellini
Omakase Chef's Tasting
KATSUO TATAKI with fennel, grapefruit, ponzu
Paired with Hakkaisan Junmai Ginjo
WAHOO NITSUKE with chanterelle mushrooms, sweet potatoes, leek confit
Paired with Chokaisan Junmai Daiginjo
SCALLOP TEMPURA with spiced edamame, chickpeas, yogurt
Paired with Suigei Tokubetsu Junmai
WAGYU ROBATA with pumpkin, sunchoke, persimmon
Paired with Rihaku "Dreamy Clouds" Nigori
YUZU MOCHI with carrot cremeux, miso meringue
Paired with Tatenokawa Kodakara Yuzu                 
Kuro is located at Seminole Hard Rock Hotel & Casino at One Seminole Way in Hollywood, Florida. Dinner is served nightly, beginning at 5:30 p.m. Lunch is served Saturdays from noon to 3:00 p.m.
Blue Collar Turns Pink for Breast Cancer Awareness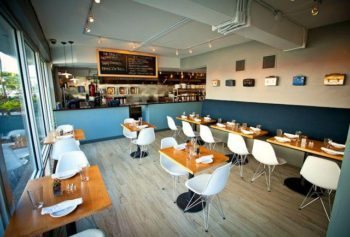 Chef Daniel Serfer honors his mother every day.  But throughout the month of October, the chef/owner of Blue Collar Restaurant, one of Miami's most popular spots revises his menu and the servers' uniforms to honor his mother, Marsha, who died of breast cancer.  Serfer has made an annual commitment to help raise awareness for breast cancer each October.
"My mom died from breast cancer 12 years ago on October 22nd," Serfer shares.  "When I learned of my mother's breast cancer diagnosis it was devastating. I'll never forget curling up in the fetal position in the middle of my dorm room hallway and crying for a couple hours. I was a 19-year-old college kid who knew everything about everything.  Yet, I still couldn't come to grips or understand this. As I got older it became more apparent to me how many families can be shattered from breast cancer. As a result, every single October since we opened Blue Collar we have done as much as possible to raise money and awareness in the hopes that one day another kid won't have to go through college without his dear mother."
The Blue Collar team will be selling (and sporting) pink tuxedo shirts all month. They'll be for sale at $22 each to mark October 22nd.  All of the proceeds will be donated to Gilda's Club South Florida, Marsha's preferred organization.  Blue Collar hopes to honor the fighters, survivors and their families of the devastating disease.
Pink Collar's menu will feature Marsha's favorites dishes and a portion of the sales of these items will be donated to Gilda's Club as well.  The Pink Collar menu features four dishes; her namesake, Marsha's Salad romaine, cucumber, carrot, radish, bacon, parm and grain mustard vinaigrette, Duck Confit Quesadilla with smoked gouda, caramelized onions and fig jam, Colorado Lamb Chops with harissa chickpea stew and kale, and Key Lime Pie for dessert. Serfer reminds us all – – "Eat up – it's for a good cause!"
Hardy Park Bistro Hosts Aussie Wine Dinner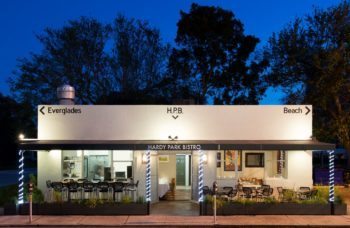 In Australian, a corroboree is "a party or social gathering…especially a lively one." In that spirit, Hardy Park Bistro is excited to present The Corroboree by Hardy Park Bistro, a nod to Executive Chef & Owner, Philip Darmon's, homeland. This authentic 5-course Aussie dinner will feature delicacies specific to the region paired with Australian wines from Stacole.
The Corroboree by Hardy Park Bistro will take place on Monday, September 26th and will feature dishes such as Kangaroo, Barramundi, the traditional Australian dessert, Pavlova, and more.
On his inspiration for The Corroboree menu, Chef Darmon explains, "Although Hardy Park is inspired by a global palette, we rarely get to feature Australian dishes, because the ingredients are not easy to come by. We're thrilled to be able to bring a taste of Australia to our regulars and introduce them to new flavors and experiences."
Tickets for The Corroboree are $75 per person plus tax and gratuity and are available through the restaurant or via phone at 954.652.1475. Space is limited, and for this night only reservations will be taken.
Elle Taco Opens at Dadeland Mall
Simon, a leader in retail real estate, is pleased to announce that Elle Taco, a Mexican taqueria concept that boasts a diverse menu of organic, authentic and homemade ingredients, has opened at Dadeland Mall.
Named for the daughter of one of the founders, Elle Taco was born from a love of family and tradition.  Based in Miami by way of New York, this first-to-market eatery will offer Floridians an unparalleled dining experience in a casual and inviting atmosphere that captures the spirit of a family-run, roadside Mexican taqueria.
The Elle Taco experience includes innovative talent behind the scenes. Culinary Director and Michelin-starred Chef Derrick Styczek brings inventive yet traditional dishes to the menu, while Executive Chef Andres Torres and Chef de Cuisine Eloy Balbuena add the heart and soul of authentic, time-honored recipes learned while growing up in Mexico. Their combined experiences conceived a lengthy menu of organic options that includes tacos, starters, sides, dips, salads, Mexican classics, kid's meals and more. Additionally, the menu offers a robust tequila list, mezcal, cervezas, cocktails and coffee from South Florida's Panther Coffee.
All Elle Taco products are organic, sustainable, hormone and antibiotic-free and created from locally-sourced ingredients when available. Fresh, never frozen ingredients include farm fresh vegetables and eggs, hormone-free chicken and pork, line-caught fish and ocean-caught shrimp that come together with handmade corn and flour tortillas to create an elevated dining experience.
For more information about Elle Taco, please visit www.elletaco.com or follow us on Instagram @elletaco, Twitter @mb_taco, or Facebook @tacosporvida.
Dr. Smood Debuts Hangover Remedy Kit
We've all had those rough mornings trying to wake up after a long (but fun!) night of excessive drinking and cannot get out of bed. Well, the Doctor is in. Dr Smood is launching their first Organic Hangover Remedy Kit. The kit is part of a new extension of products that not only tastes great but is also organic and healthy. The Organic Hangover Remedy Kit focuses on benefiting your performance, body and mind. The rollout of the new product line launches October 3rd, 2016 in all Dr Smood locations. The kit was created to help kick-start your recovery by providing you with energy and stamina found in two fresh bottles: Damage Control and Replenish.
Damage Control, is the first bottle you consume upon waking up in the morning. This is to aid in reducing the absorption of alcohol into the blood stream and minimize liver damage, while helping the liver remove the toxins we accumulated the night before. The bottle contains Grapefruit, Ginger, Activated Charcoal, Milk Thistle, and Zeolite.
Replenish, is the next bottle, which you consume 30 minutes after taking Damage Control. This is used to continue hydrating and nourishing your body with electrolytes, antioxidants and trace-minerals. This bottle contains Coco Water, Lemon, Honey, and Schisandra. The kit includes one bottle of Damage Control and one bottle of Replenish. The retail price for the Organic Hangover Remedy Kit is $20 and has a refrigerated shelf life of five days. The kit will be available in both Dr Smood locations, Wynwood (2230 NW 2nd Avenue) and South Miami (5801 Sunset Drive).
Seaspice Brasserie & Lounge Launches Seaspice Live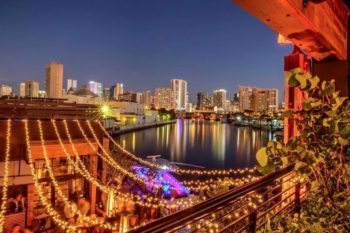 Seaspice Brasserie & Lounge is proud to announce the launch of Seaspice Live, a lineup of live musical performances by some of the most promising artist in the industry. During the upcoming season, every Friday and Saturday at 10:30 pm, the exclusive venue, located on the banks of the Miami River, will host in its new sound engineered, state of the art stage, an array of internationally acclaimed musicians.
Jump starting Seaspice Live, in collaboration with Art House Records, from eight time Grammy award winning producer, Julio Reyes Copello, Seaspice is ready to announce its lineup for September and October:
Brika
September 30 & October 1
R.LUM.R
October 7 & 8
Magic City Hippies
October 14 & 15
Brika
October 21 & 22
Juan Pablo Vega
October 28 &29
For reservations, please call (305) 4404200 or email live@seaspicemiami.com.