September 9, 2016
Each Friday, we compile South Florida food-related news and events that we couldn't fit on the site earlier in the week, as well as other local news that piques our interest. Want to be included in next week's roundup? Shoot us an email at bark@miamifoodpug.com.
Here's your weekly dose of nom.
Dolce Italian Updates Drink Menu and Specials
Shooters Waterfront Launches Doggy Menu
Pisco y Nazca Debuts New Happy Hour Specials
Nisi Restaurant Opens in Ft. Lauderdale
Down N' Dirty Tacos Celebrates Mexican Independence Day
Novecento Hosts Kitchen Takeover and Cooking Class
City Tap West Palm Beach Launches Weekend Brunch
Whole Foods Partners With Recycle Across America
Free Queso Day at Moe's
B Square Burgers and Booze Arrives on Las Olas

Dolce Italian Updates Drink Menu and Specials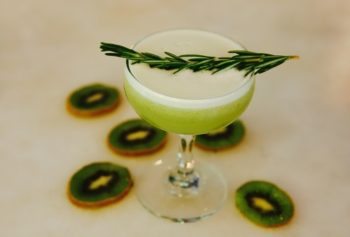 Located inside The Gale South Beach and winner of Bravo TV's first season of 'Best New Restaurant' in 2015, LDV Hospitality's Dolce Italian provides a welcoming surprise with an escape from the ordinary lunch dining experience. Linger over a bottle of Pinot Grigio or Pinot Noir Rose for $29 while sharing a freshly fired pizza from the wood-burning oven for lunch at Dolce Italian. Guests are invited to dine during lunch where they can choose from a selection of bottled wine including a Zonin, Prosecco Brut, Berselli & Olivieri, Pinot Grigio or an Ambo Rosa, Pinot Noir Rose for $29.
The warm Italian hotspot also has some new cocktail additions ($9) to their menu for guests to sip & savor during lunch and dinner.  New cocktails include the Scotch & Love cocktail featuring Hilhaven Lodge Whiskey, strawberry puree, agave nectar and lemon juice; Kiwi Elyx mixing Absolut Elyx Vodka, muddled kiwi, rosemary syrup and lemon juice; and the Summer Watermelon cocktail containing Hendricks's Gin, Armaretto di Saronno, fresh watermelon, agave nectar and lemon juice.
Shooters Waterfront Launches Doggy Menu
Shooters Waterfront will usher in canine cuisine with a Yappy Hour to kick off the launch of its Doggy Menu today, September 9th from 6 p.m. to 9 p.m. The restaurant will partner with 100+ Abandoned Dogs of the Everglades to host the special event and donate a portion of the proceeds back to the non-profit organization.
With a $20 donation at the door, pet parents will enjoy two complimentary cocktails and light bites on the Fido-friendly waterfront lawn while their four-legged companions sample the restaurant's new bark bites.
Shooters Waterfront's Scooby snacks, with items ranging from $6 to $12, include savory, veterinary-approved meals carefully prepared for man's best friend. The puppy platters, which are offered in regular and large sizes, include Rest and Digest Chicken with Rice, USDA chicken leg and thigh served with basmati rice, pumpkin, carrot, and peas seasoned with oregano and moistened with extra virgin olive oil and flax oil; Basil Beef with Peas, Pears and Pearls, USDA ground beef and beef liver paired with organic pearled barley, pigeon peas, tapioca pearls, organic pear and papaya flavored with organic safflower oil and fresh basil; and Herb Roasted Turkey and Sweet Potato, USDA ground turkey, turkey heart and turkey liver prepared with organic sweet potato, yellow squash, peas, blueberries, kale and yellow bell pepper seasoned with fresh rosemary and thyme.
Each pet plate was crafted by Dishes For Dogs, a wholesome pet nutrition company in Wynwood that strictly uses USDA certified ingredients following AAFCO standards. Dr. Justin Shmalberg, a Board-Certified Veterinary Nutritionist from the University of Florida, has formulated each doggy dish using a whole foods approach to the latest science regarding pet health.
Pisco y Nazca Debuts New Happy Hour Specials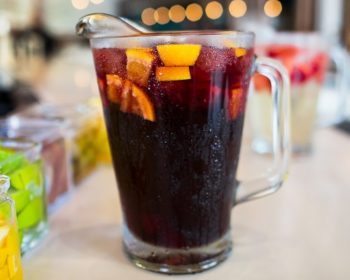 Pisco y Nazca Ceviche Gastrobar, the friendly neighboorhood Peruvian experts, recently introduced new additions and specials to its "Hora Loca" happy hour menu. Among its rich and distinctly Peruvian cocktails, guests can now enjoy the Peruvian Sangria Pitchers including El Shandy, Sangria Peruana, and Sangria Brava, during weekend brunch. Guests can also order the new sangria pitchers, wine, beer and house liquor drinks for half price in celebration of Hora Loca, also known as happy hour. In a space that's packed with personality and soul, guests are encouraged to sip libations brilliantly crafted to complement the crazy good ceviche!
Nisi Restaurant Opens in Ft. Lauderdale
Nisi Restaurant brings a new concept to a familiar spot. Located in the former Thasos space at 3330 East Oakland Park Boulevard in Fort Lauderdale, the cuisine at Nisi, under the auspices of Chef/owner Joshua Wahler, is a contemporary mix of Greek influences and global flavors. It comes by way of one of the most dynamic duos around: Chef Wahler and hospitality pro Andy Tsavos, who together led the front-and-back-of-the-house at Estiatorio Milos in Miami Beach and, in addition to Nisi, now co-own and operate children's health food delivery service BORN FOODY.
Chef Wahler, a former Hell's Kitchen contestant and veteran of restaurants such as Gramercy Tavern, Spice Market, and Nobu, has crafted an ambitious menu for Nisi. Meze selections – appetizers in Greek cuisine – include mouthwatering enticers such as Grilled Mediterranean Octopus served with gigante bean puree; addictive lightly fried Zucchini Chips accompanied by tzatziki; and Feta Sticks – feta cheese wrapped in phyllo dough, fried then drizzled with honey and sesame seeds. Entrees with modern Greek touches include a Wild Icelandic Cod Filet, pan fried and served with organic quinoa tabbouleh and a quintessential-yet-polished Moussaka – ground lamb, béchamel sauce, potato, and eggplant.
Nisi boasts an impressive selection of Daily Catches on display; guests would be prudent to order their fish with a salt crust supplement. Chef Wahler bakes a whole fish encased in a salt shell, and then carefully removes the crust tableside for all to see. This baking method allows the salt to seal in moisture and create even more succulent flavors – a unique option that will no doubt become a popular feature at the restaurant.
Since no meal is complete without dessert, Nisi delivers an abundance of traditional Greek sweets with a modern spin. A delicious Baklava with chopped almonds, pistachios and cinnamon sugar is a must-have, in addition to Galaktoboureko – orange-vanilla semolina custard wrapped in phyllo dough – and Loukoumades – fried Greek donuts soaked in syrup and topped with chopped walnuts.
For reservations, call (954) 200-6006.
Down N' Dirty Tacos Celebrates Mexican Independence Day
The Mexican taqueria, Down N' Dirty Tacos and Tequila Bar, invites guests to celebrate Mexican Independence Day with a full day of specials and an exclusive happy hour event. On Friday, September 16, guests can indulge in all-day specials including a prix-fixe menu and beer and shot specials from 11am-midnight. The happy hour event runs from 4-6pm with an evening filled with Partida Tequila, a live DJ, sombreros, piñatas and more!
Novecento Hosts Kitchen Takeover and Cooking Class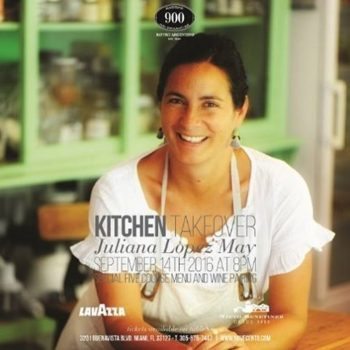 As part of Novecento's 25th Anniversary Kitchen Takeover Dinner Series, celebrated Argentinian chef Juliana Lopez May will take over Novecento Midtown on Wednesday, September 14 with a one-night-only dinner event at 8 p.m. She will also help kickoff a new Novecento Cooking Class series at the Aventura location on September 13.
At age 19, Juliana Lopez May started working with world-renowned Argentinean and International chef, Francis Mallman, with whom she trained with for seven years. She has had experience working in Argentina, London, France, Brazil, Chile and Uruguay. May also worked at the acclaimed River Café, in London, where she worked with Rose Gray and Ruth Rogers.
For tickets to the Kitchen takeover series, visit the official Eventbrite and Table8 pages. Tickets for the demo can also be purchased on Eventbrite or Table8.
City Tap West Palm Beach Launches Weekend Brunch
It's a known fact that South Floridians love to brunch on the weekends, so the brand new City Tap® in West Palm Beach has launched a brunch that is far beyond bacon and eggs and your basic bloody mary. Every Saturday and Sunday they invite weekend warriors to indulge in an unlimited build-your-own mimosa and bloody mary bar. Select from more than 25 delicious ingredients including fresh squeezed juices and seasonal fruit, ginger beer, sweet and sour candy, multiple bloody mary mixes, bacon, veggies, and gourmet hot sauces, plus an assortment of peppers and spices to make your own custom libations.
City Tap® has truly updated the gastropub brunch experience. Executive Chef Brian Stevenson puts his twist on the menu with signature dishes like the Braised Bacon Benedict, buttermilk biscuits, maple glazed pork belly, smoked paprika hollandaise, poached eggs ($15), Chicken & Waffles, fried chicken, buttermilk waffle, honey-thyme
butter, Pennsylvania maple syrup, red pepper jam ($19) and the Georgia Peach Waffle, toasted pecan Belgian waffle, bourbon peach compote, molasses syrup, chantilly cream ($13). Since City Tap House hails from the Northeast, there are also several Philadelphia influences on the menu including the Philly Cheesesteak Omelet, shaved rib-eye, cherry peppers, caramelized onions, American wiz, breakfast potatoes ($14), and the Shaved Roast Pork Sandwich, garlic broccoli rabe, pepper shooter relish, seeded roll, hand cut fries ($13). The brunch menu also features City Tap House's irresistible wood oven-fired pizzas, including the fan favorite Sweet Corn, raclette, oven roasted tomatoes, pickled jalapeños, cilantro pesto ($15).
Brunch is served Saturdays and Sundays from 11am – 3pm. The build-your-own mimosa and bloody mary bar is available for $18 per person with the purchase of an entrée. If mimosas and bloody marys aren't your style, choose from a vast selection of draft, cask, and bottled craft brews from local, regional and specialty breweries.
Whole Foods Partners With Recycle Across America
Whole Foods Market Miami stores will team up with nonprofit organization Recycle Across America (RAA) for a metro wide five percent donation day on Tues., Sept. 13. All six Miami area Whole Foods Market stores (Aventura, Coral Gables, Downtown Miami, North Miami, Pinecrest and South Beach) will donate five percent of the day's net sales in an effort to bring standardized recycling labels to 542 schools in Miami-Dade County.
In an effort to streamline environmental progress, RAA created the first and only society-wide standardized labeling system for recycling bins, displaying easy-to-understand images and instructions in a consistent format that helps prevent confusion at the recycling bin.
As a result of misplaced garbage in recycling bins, millions of valuable recyclables are being contaminated. This contamination is costly to remove from the recyclable materials and is harming the profitability of recycling. According to RAA, the leading recycling hauler in the U.S. has shut down 25 percent of their recycling processing plants throughout the country.
Since April 2016, RAA's clearly defined standardized labels have been displayed on recycling bins at Whole Foods Market stores throughout Florida. The bins can be found in the stores' Cafés and seated areas, providing a simple way to educate and improve the public's recycling habits.
Each quarter, stores host Whole Foods Market's Five Percent Days in which they donate five percent of their day's net sales to benefit a local educational or nonprofit organization.
For additional information about Recycle Across America, please visit: http://www.recycleacrossamerica.org/
Free Queso Day at Moe's

Moe's Southwest Grill® is known for three things: its famous Queso, love of music, and awesome fans. On Thursday, September 15, Moe's will honor this awesome trifecta with its own holiday: Free Queso Day. To celebrate this momentous occasion, loyal Moe's fans will be treated to a free six-ounce cup of Moe's Famous Queso and complimentary chips at more than 650 participating locations, no purchase necessary.
Queso lovers are encouraged to share photos and posts to spread the love for Moe's Famous Queso using the hashtag #FreeQuesoRocks on their favorite social platforms. Better yet, three lucky fans who use the hashtag will be randomly selected to receive FREE QUESO FOR A YEAR. In addition to free queso, limited edition Free Queso Day t-shirts will be available at select locations.
"Free Queso Day is our way of saying thank you to our awesome fans whose loyalty to Moe's Famous Queso is unmatched while also introducing our most beloved menu item to guests who have never tried it before," said Dominic Losacco, Moe's VP of Global Marketing. "For the seventh year in a row, we're giving away a ridiculous amount of queso and look forward to hosting a celebration unlike any other."
Visit www.moes.com/find-a-moes to find a restaurant nearest to you and connect with Moe's on Instagram, Twitter, and Facebook by tagging your posts and pics with #FreeQuesoRocks. Also, find Moe's on SnapChat @moes_hq and check out the custom Free Queso Day geofilter available at select locations.
B Square Burgers & Booze Arrives on Las Olas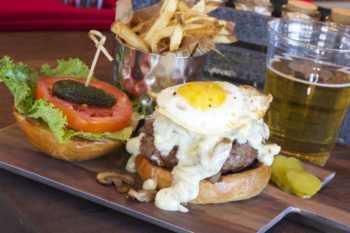 BRO Management Las Olas is pleased to announce the opening of its new concept, B Square Burgers & Booze, located at 1021 E. Las Olas Boulevard. Now open, B Square Burgers is a cutting-edge, casual concept bringing creative burgers, fresh salads and much more to South Florida. This innovative culinary hot spot will attract foodies and families alike with its one-of-a-kind take on burgers, bites, a salad bar and unique dishes. The concept was developed by restauranteurs and culinary experts Thomas Febbraio, Marc Katzenberg and Rafael Palomino, all hailing from the New York/Connecticut area. Together, they bring forth more than five decades of combined experience in the industry.
B Square's menu features an eclectic array of more than a dozen burgers made with a proprietary blend of all-natural, antibiotic and hormone-free beef, fresh seafood, produce and other specialty ingredients. Burgers include The Dad Bod, topped with melted Maytag blue, truffle mushroom, purple caramelized onions and a sunny-side up fried egg, and the Phat Boy, a burger sandwiched between American and cheddar grilled cheese with bacon, lettuce and tomato. "B"-Dogs– the restaurant's very own take on hot dogs, are made exclusively from American Kobe beef. These include The Decadent Dog, a foot-long Kobe beef hot dog with truffle oil, sautéed lobster and garlic butter served with parmesan fries, and the Hot Dogma, a foot-long Kobe beef hot dog topped with hot pastrami, sauerkraut, melted cheddar and chopped pickles. Guests also have the option to top their burgers and dogs with B Square's homemade ketchups featuring original and pomegranate flavors or with homemade spicy mustard or honey mustard. The classics are also available.
The restaurant's crispy Jumbo Chicken Wings feature unique flavors such as PB + J, made with creamy peanut butter & jelly, and jack'd up with Jack Daniels, Horseradish and BBQ sauce. Its selection of salads includes flavorful combinations such as the Crackling Calamari Salad with frisée, radicchio, endive, toasted cashews, diced bananas, lightly-fried calamari and orange poppy dressing. Guests can also put together their own creation from the "Make Your Marc" salad bar menu, which offers an endless variety of combinations. Additional items include "B"-Licious Bites such as the Szechuan-Style Shrimp & Calamari lightly dusted with sweet & spicy Thai chili glaze, soy caramel, candied peanuts, radish sprouts. Main Plates such as the 22-Minute Pork Chop, a 14-ounce pork chop roasted with sweet & hot cherry peppers, sun-dried tomatoes, exotic mushrooms, balsamic reduction with potato lasagna and charred asparagus, showcase the menu's hearty entrée options.
One of B Square's main attractions is its bar, which seats up to 28 and serves as the focal point of the restaurant with its chic design and aesthetics. The bar offers a vast selection of micro-brew craft beers, specialty cocktails, made with fresh-squeezed juices, boozy shakes and an extended selection of wines by the glass or bottle. Guests can enjoy weekly specials such as live music, Happy Hour, offered Monday through Friday from 4 to 7 p.m., and a soon-to-come weekend brunch.
For more information, visit www.bsquareburger.com.