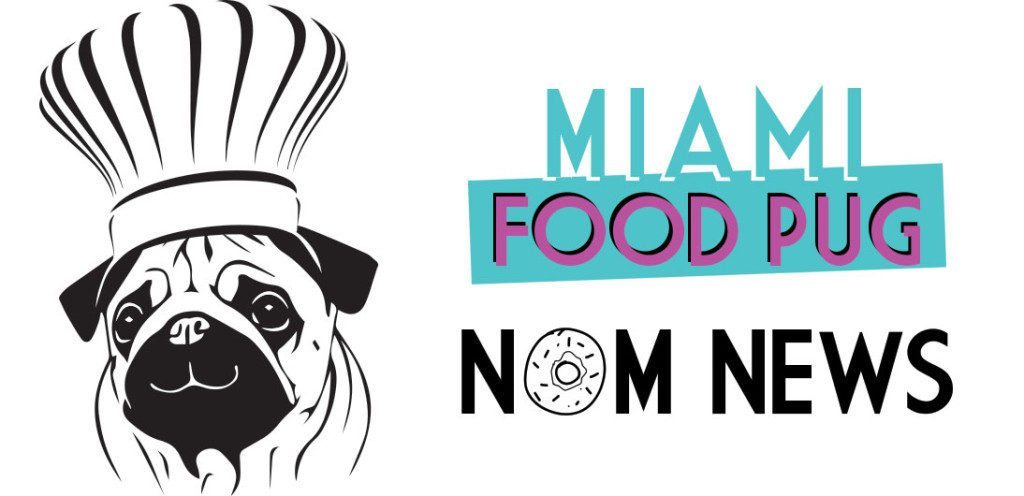 October 7, 2016
Each Friday, we compile South Florida food-related news and events that we couldn't fit on the site earlier in the week, as well as other local news that piques our interest. Want to be included in next week's roundup? Shoot us an email at bark@miamifoodpug.com.
Here's your weekly dose of nom.
Pinch Kitchen's Oktoberfest Celebration
BLT Prime Hosts Iron Fork Champs Dinner
Saffron Supper Club at The Sarsaparilla Club
db Bistro and Wynwood Brewing Company Team Up for Beer Pairing Dinner
Mendin & Friends Dinner Series Returns October 12
New Brunch Menu at Spring Chicken Coral Gables
Fontainebleau Goes Pink for Breast Cancer Awareness
Bulla Debuts Venezuelan Market Menu
DIRT Stands Up to Breast Cancer
Pinch Kitchen's Oktoberfest Celebration
Pinch Kitchen will be celebrating Oktoberfest the entire month of October with a prix-fixe two-course dinner menu paired with a glass of Weihenstephaner Oktoberfestbier (16.9oz, 5.8% ABV), considered one of "the world's oldest breweries."
The menu will include the following:
1st course – Flammekueche – homemade flatbread with Pinch ricotta, caramelized onions, house-cured duroc pork belly
2nd course – Kalbsschnitzel – all natural veal schnitzel with house-made coleslaw and a small arugula, tomato salad.
The Oktoberfest menu will be available Tuesday through Saturday during dinner service.
For reservations or group events, please email inquiries@pinchmiami.com or call 305.631.2018. For more information, visit www.pinchmiami.com.
BLT Prime Hosts Iron Fork Champs Dinner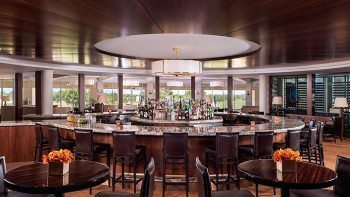 The Miami Spice Restaurant Program may almost be over, but the two talented toques who claimed victory at the official Miami Spice kickoff event – the Miami New Times Iron Fork cook-off are re-uniting for a special collaborative dinner to celebrate that big win.
On Friday, October 14, chef de cuisine Dustin Ward of BLT Prime will welcome Chef Sean Brasel of Meat Market into his kitchen for a four-course prix-fixe dinner inspired by the "Dynamic Duo's" triumph over Via Verdi's "Wonder Twins" Fabrizio and Nicola Carro earlier this year.
Now, discerning diners can judge for themselves: The four-course menus features a dish from each talented chef inspired by the ingredients they used during the cook-off, as well as one of the winning dishes they created together to win the Fork Off – a sure-to-be memorable Short Rib Duo made with Clear Creek Farms Wagyu Short Rib, Red Wine Short Rib Marmalade and Brown Butter Braised Spinach.
The dinner is priced at $75 per person, exclusive of tax and gratuity, and includes a welcome cocktail; guests can add an optional wine and spirits pairing for $25 per person, featuring quaffs from the Vintage Wine Estates portfolio.
Seating is at 7:30 pm; reservations are required. Call 305-591-6066 or email lukas@bltprime.com for menu information and reservations.
Saffron Supper Club at The Sarsaparilla Club
On Sunday, October 9th The Saffron Supper Club will host their popular traveling dinner series event at The Sarsaparilla Club featuring a three-course dinner with wine pairings by Zonin Wines and a welcome signature cocktail. Chef Jeff McInnis has created a special menu with dishes including dishes from the dim sum cart that include: Persian Short Rib Dumplings,Grilled Eggplant, Persian Fried Chicken, Spiced Carrot Farro and more.
Priced at $65 per person, the culinary journey includes:
Welcome cocktail reception
Three-course dinner with wine pairings
Just-right amount of music and poetry
And of course, as is the case with all Saffron Supper Club dinners, guests can expect poetry, culture, music and even some sparkler-festooned platters (they've been known to get a little festive).
Saffron Supper Club is a nomadic culinary series that explores the food and culture of the Middle East founded by Sara Liss and Maude Eaton. Each event is a unique experience with a one-time-only menu that the culinary team works with the restaurant to curate. Previous events have taken place at the Miami Beach Botanical Garden, Paradise Farms and The Wynwood Yard.
To reserve, guests must purchase a ticket at https://mixstir.com/events/Persian-Dim-Sum-Pop-Up-116. For more information, please visit www.facebook.com/SaffronSupperClub.
db Bistro and Wynwood Brewing Company Team Up for Beer Pairing Dinner
On Tuesday, October 18th, db Bistro's chef Clark Bowen teams up with neighbor Wynwood Brewing Company for a four-course dinner presenting seasonal dishes including Florida Figs, Burrata, Rocket Coulis, Focaccia Tuile and Local Pompano, Confit Fennel, Blistered Tomatoes, Lemon, paired with exciting craft beers.
Tickets are on sale for $60 per person, plus tax and service charge. Buy tickets and view the menu here.
Mendin & Friends Dinner Series Returns October 12
Mark your calendars for the next installment of the all-star chef series, Mendin & Friends. On Wednesday, October 12 Chefs Jose Mendin, Sergio Navarro and Maria Orantes will come full circle, cooking a 10-course tasting menu alongside their mentor and Master Chef Angel Palacios of the famed La Broche.
Discover Spain's rich culinary traditions and enjoy as the team at Pubbelly shares in this proud moment. Tickets can be purchased for a 7 p.m. or 9:30 p.m. seating for $85 per person plus tax and tip by visiting http://www.pubbellyboys.com/index.php/2016/09/01/mendin-friends-angel-palacios.
New Brunch Menu at Spring Chicken Coral Gables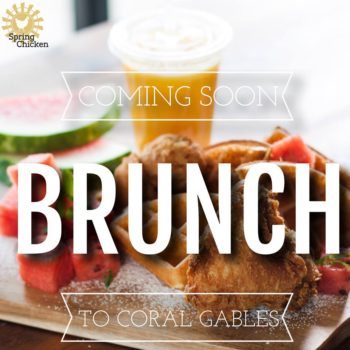 This Saturday, October 8th, Spring Chicken Coral Gables will be hatching a brand new brunch menu. Available on Saturday and Sunday from 9am – 3pm, the new menu will be inclusive of Spring Chicken fan favorites like Mama's Chicken Biscuit, as well as Chicken & Waffle as made popular at Yardbird.
The brunch menu also includes new menu items like BLT served with a fried egg on a whole wheat bun and Bacon, Egg & Cheese served with two fresh fried eggs and two slices of American cheese on a fresh baked biscuit. Guests also have the choice to add avocado to any brunch sandwich and enjoy specialty iced cold brew and hot coffee.
Fontainebleau Goes Pink for Breast Cancer Awareness
In honor of National Breast Cancer Awareness Month, Fontainebleau Miami Beach has joined forces with Sylvester Comprehensive Cancer Center at the University of Miami Miller School of Medicine, South Florida's leader in breast cancer diagnosis, treatment and care, to host the eighth annual Bleau Goes Pink campaign.
To raise both awareness and funds for the cause, the iconic Miami Beach property is offering month-long dining promotions at StripSteak by Michael Mina and Scarpetta. The proceeds will benefit breast cancer research at Sylvester.
On Friday, September 30, the hotel will kick off this year's Bleau Goes Pink initiative by illuminating the historic Chateau building in pink during a joint event with Modern Luxury MIAMI Magazine and Sylvester. The event will honor Sylvester breast cancer survivors, philanthropists and a community of cancer fighters.
Each night, throughout the entire month of October, the lighting will resume from dusk to 10 p.m. Southern Audio Visual is executing the lighting with over 100 high-powered lighting fixtures.
Delectable three course, prix-fixe dinner menus priced at $55 per person, excluding tax and gratuity, will be offered throughout October at two of the resort's signature restaurants, StripSteak by Michel Mina and Scarpetta. Each menu will include an appetizer, entrée, dessert and a glass of Conde de Valdemar Rosé.
For every dinner ordered, five dollars will be donated to Sylvester.
In addition to delicious dining options throughout the iconic hotel, Chez Bon Bon, Fontainebleau's coffee and patisserie shop, will offer a line-up of pink pastries and specialty sweets such as raspberry eclairs, mille feuille and rose lychee macarons all month long.
For more information about Bleau Goes Pink and to view menus, visit the official page. For more information, call 877.326.7412.
Bulla Debuts Venezuelan Market Menu
With Doral having a strong Venezuelan influence, Bulla Gastrobar invites guests to enjoy special Spanish menu items created by Executive Chef Miguel Rebolledo. For two weeks, the restaurant offers the menu seven days a week. Guests are invited to indulge in signature items like the Arepitas Ibéricas and Tequeños paired with the Paso Fino cocktail.
COCKTAIL
Paso Fino
UN TOQUE CRIOLLO
Arepitas Ibéricas
Bocata Recuerdos de Hallaca
Tequeños, Versión Española
Tagliatelle Que Quiso ser Hallaca
Arroz en Coco, Pescado Isla Larga
Nuestro Vuelve a la Vida
DIRT Stands Up to Breast Cancer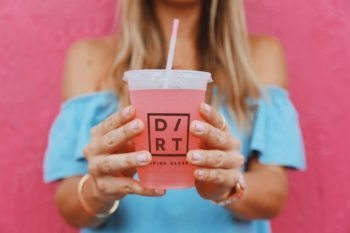 DIRT, the popular Miami Beach hotspot that combines clean eating and great tasting food, is taking a stance against breast cancer by partnering with Susan G. Komen, the only organization that addresses breast cancer on multiple fronts, such as research, community health, global outreach, and public policy initiatives, in order to make the biggest impact against this disease.
Throughout the month of October, DIRT will donate $1 from each sale of the restaurants new delicious Rosewater Greek Yogurt Parfait, a vibrant pink breakfast option or snack created for Breast Cancer Awareness Month, and its popular BLUSH juice – a refreshing blend of watermelon, pineapple, lemon and mint – to the charitable organization.
The flavors prominent in the parfait are inspired by the Middle East, and the yogurt spiked with rosewater, as well as the almond coconut topping, are made with gluten-free oats and spiced with cardamom. Between each layer of the heavenly parfait, Chef Nicole adds dried blueberries and goji berries, both filled with antioxidants believed by doctors to be one of the best ways to prevent breast cancer through diet.
"Regular exercise and a healthy diet are essential when standing up to breast cancer," says Chef Nicole. "That is why it is so important for us to create innovative, delicious, healthy cuisine that you feel good about putting in your body."