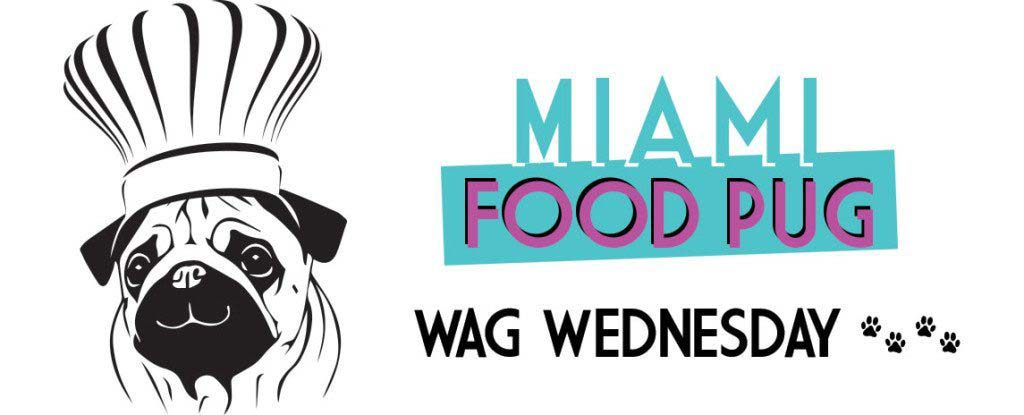 Since starting the blog, we've interviewed many members of the hospitality industry, and one constant among the interviewees has been a profound love for their pets. We thought it would be great to share this love with our readers.
That's why we launched an ongoing feature called "Wag Wednesday" to showcase industry peeps and their pets. Know someone who wants to be featured? Email us at bark@miamifoodpug.com.
This week, we're featuring Cari Garcia, Editor In Chief & Founder of Fatgirl Hedonist, and her mutt, Bailey.
Your Name: Cari Garcia
Your Pet's Name: Bailey
Sex: Male
Age: 8-9ish (no one knows, and vets can't tell because he has a serious underbite)
Breed: Mutt (Humane Society said he was a Havanese/Poodle mix, but veterinarians have told me everything from Wheaten Terrier to Chow Chow)
How did you come to own your dog? What drew you to him?
I had been wanting a golden retriever, but didn't want to go to a puppy mill so I decided to go to a midnight adoption fair at Tamiami Park hosted by the Humane Society. After seeing dozens of dogs, I saw this blond furball in his crate, and he looked terrified. When I asked about him, another family was already in the process of adopting him.
Disappointed, I kept looking at other dogs and couldn't find any I "clicked" with. About an hour later, the volunteer that told me Bailey was adopted tracked me down to tell me the family had changed their mind. I didn't even blink and said, "I'll take him!"
By the time everything was signed, it was 2 a.m., and I had no dog supplies at home. A part of me didn't really think I was going to actually adopt a dog at the fair. So at 3 a.m. with my best friends in tow, we went to Walmart to buy all sorts of supplies.
What's the story behind your dog's name?
The Humane Society had his name listed as "Woody"and I hated it. It just didn't seem to fit. Not sure how I got to the name, but Bailey just felt right.
How would you describe your dog's personality?
Before having a baby, my dog was high strung, really friendly and loved to cuddle. He's always been pretty obedient yet mischievous the minute you turn your back on him. He's always been a bit of a creeper and a chismoso that loves spying on the neighbors.
Now that I'm a mom and there's a baby in the house, Bailey has mellowed out a lot. He still loves to be cuddled and struggles with no longer being the center of attention, but he's really protective of his human little brother. When my son cries, he automatically runs to the baby to see what's wrong and then runs to find me. Other times when my son is fussy, he'll run and grab his doggie toys and bring them to the baby in an attempt to cheer him up.
How has owning a pet made your life richer?
I adopted Bailey at a time when I was really depressed and getting over a break-up. Having a dog gave me a reason to get up out of bed every day. He provided unconditional love and snuggles in exchange for belly rubs. I always say that I may have adopted him, but he rescued me.
It's said that dogs reflect their owners and vice versa. How does this apply to you and yours?
He's stubborn, protective and very sweet.  Those are all attributes I completely identify with, especially the stubbornness.
Tell us a funny story about you and your dog.
A couple of years back, I was all about "workin on ma fitness" and I would bring Bailey along. I would jog 2-3 miles and usually on the way back home Bailey was exhausted. He was not having it and by the 5th day of jogging, Bailey would play dead when he'd see me in my workout clothes.
Are you involved in any pet organizations or philanthropies?
Unfortunately, no. Between work, baby and sometimes blog, there is just no time for it.
We follow a lot of dog social media accounts like Doug the Pug, Rocco's Contemporary Life, and Menswear Dog. Do you? Which are your favorites?
So. Many. Dog. Accounts! I follow @harlowandsage, @kelly_bove, @hollyupnorth, @jiffpom, @norbertthedog, @loki_the_wolfdog, @marutaro, @maruhusky, @pumpkintheraccoon (okay not a dog, but close). @mommasgonecity and @andrewknapp are two blogs that aren't solely about their dogs, but they regularly feature their awesome pups in their Instagram feeds.
See past editions of Wag Wednesdays here.