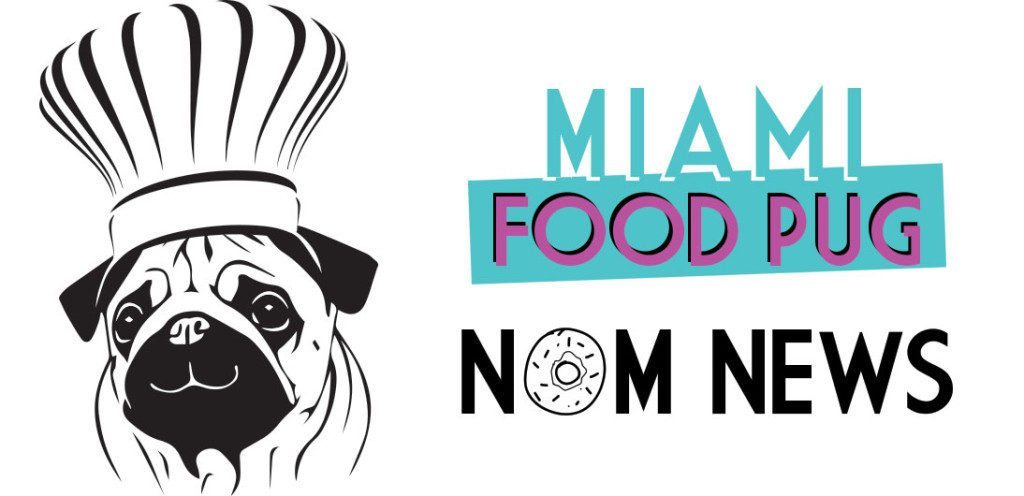 November 11, 2016
Each Friday, we compile South Florida food-related news and events that we couldn't fit on the site earlier in the week, as well as other local news that piques our interest. Want to be included in next week's roundup? Shoot us an email at bark@miamifoodpug.com.
Here's your weekly dose of nom.
Chipotle Cultivate Festival Comes to Bayfront Park
La Petite Maison to Open First U.S. Location in Miami
La Moderna Debuts New Happy Hour Menu
Get Lei'd at Campton Yard
Full Moon Party at The Confidante
Zest Relaunches Brunch Menu
Soul Tavern to Open This Fall
Coco Asian Bistro Unveils New Menu Items
The Wynwood Yard Adds New Tenants
'Ladies Who Brunch' at Terrazza
Shake Shack and Harry's Pizzeria Team Up
Chipotle Cultivate Festival Comes to Bayfront Park
On Saturday, November 12, the Cultivate Festival is coming to Miami's Bayfront Park to celebrate music, food and ideas. Chipotle Mexican Grill's annual summer event series brings together chefs (locally and nationally renowned), brewers, wine makers and musicians to create an engaging environment and inspire conversation about food and sustainability.
Here are just a few of the things you can expect:
Celebrity Chefs – Amanda Freitag (Co-host of Food Network's "American Diner Revival," judge on "Chopped" and author of "The Chef Next Door"); Richard Blais (Chef, Restauranteur, James Beard nominated cookbook author and TV personality); Michelle Bernstein (James Beard Award-winning chef overseeing food & beverage program at Thompson Miami Beach): Michael Schwartz (James Beard Award-winning chef and owner of The Genuine Hospitality Group); and Adrianne Calvo (Author, TV personality and Owner of Chef Adrianne's Vineyard Restaurant and Wine bar).
Concerts – Guests can expect six free concerts by Capital Cities, St. Lucia, Clean Bandit, Phases, Sam Feldt and Lunchmoney Lewis.
Food – Chipotle will serve freshly-made burritos and tacos, including the brand new Chorizo!
Drinks – Chipotle has partnered with Boulevard Brewing Company of Kansas City, Mo.; Arizona Wilderness Brewing Company of Gilbert, Ariz.; and Cigar City Brewing from Tampa, Fla., to brew an original Mexican Lager that will be served exclusively at each of the Cultivate Festivals.
For more information, visit the official website.
La Petite Maison to Open First U.S. Location in Miami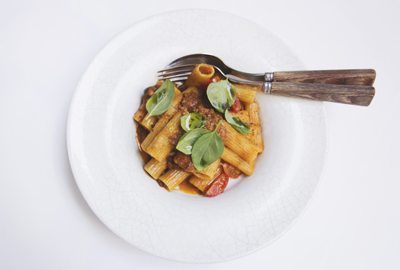 Restaurateur and principal shareholder, Arjun Waney, of the celebrated Zuma and Coya concepts, along with operating Bob Ramchand and Chef Patron Raphael Duntoye, have announced the opening of the first United States location of their world-renowned, London-based restaurant, La Petite Maison. Slated to open in December, La Petite Maison Miami will span 4400-square-feet, will offer indoor and outdoor seating, and will be located in the heart of Miami's business district at 1300 Brickell Bay Drive.
Chef Duntoye, a three Michelin-star pedigree, helms the kitchens of La Petite Maison. He has crafted an extensive menu of popular dishes that are a combination of original menu items created by the Nice founders, recipes he has reinterpreted and several new and lighter-fared dishes that honor the principles of this Nicoise micro-cuisine. Cuisine Niçoise's origins are rooted in the old style of Genoese cooking and have evolved to embrace an approachable cross section of French-Mediterranean cuisine with Italian influences. The menu pays no compromise to ensure the very best, fresh ingredients adorn the menu with changes made to reflect the season.
Begin the meal with ingredient-forward dishes that are clean and void of richness with dishes like the Crevettes Tièdes à l'Huile d'Olive, warm prawns in olive oil, and Carpaccio de Coquilles St Jacques, scallop carpaccio, to Poivrons Marinés à l'Huile d'Olive, sweet peppers in olive oil and the Salade Niçoise, Nicoise Salad.
Journey into main entrees and find typical Niçoise ingredients like artichokes, tomatoes and lemons in dishes like the Turbot aux Artichauts Barigoule, turbot with artichokes, chorizo, white wine and olive oil; Daurade au Citron, whole sea bream baked en papillote with lemon, herbs and olive oil; and the best-selling Poulet La Petite Maison, whole roasted black leg chicken with foie gras, which must be pre-ordered 24 hours in advance. Signature pastas reign supreme and house-favorites among all locations are the Couarde, creamy scrambled eggs with truffle (served when in season), and their famously light cheesecake.
La Petite Maison Miami is a dine-in only establishment that will be open for lunch and dinner. Décor will reflect the charismatic and casual atmosphere of its sister locations.
La Moderna Debuts New Happy Hour Menu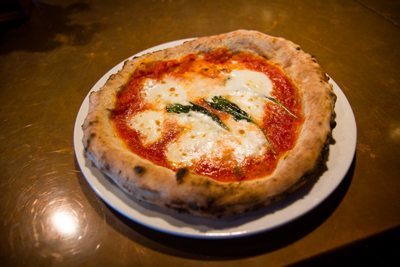 As people of Miami are constantly on the go, it's easy to assume not all happy-hour goers have spare time for a one hour sit-down dinner. Luckily, La Moderna, the authentically Italian restaurant and one-of-a-kind craft cocktail lounge, has just launched a new Happy Hour Bites Menu to compliment their unique cocktail program.
Located in Sunset Harbour's burgeoning food scene, La Moderna's menu is designed to bring patrons on an adventure through Italy. Guests can now enjoy these well-rounded flavors without leaving the bar stool.
The miniature portions of their menu items include dishes ranging from a savory Rissoto Porcini to miniature pizzas like their Pizza Margherita and Pizza Fiori Di Zucca. Guests can enjoy these dishes alongside signature cocktails including a chocolate negroni and refreshing Aperol spritz.
Additionally all Happy Hour drinks come with two complimentary mini margherita pizzas. The bar bites are available during La Moderna's happy hour from 5 p.m. – 7 p.m.
Get Lei'd at Campton Yard
In honor of Supermensch Shep Gordon's book launch, "They Call Me Supermensch: A Backstage Pass to the Amazing Worlds of Film, Food and Rock 'n Roll," Top Chef star and celebrity chef, Spike Mendelsohn, alongside Miami Beach nightclub owner, David Grutman, and nightlife guru, Tommy Pooch, will host a not-to-be-missed Hawaiian luau.
The Hall's Campton Yard will be transformed into a Hawaiian oasis on Monday, November 14, from 7PM until 10PM. Chill, backyard vibes will take over the 1940s Art Deco hotel, as guests engage in conversations with Gordon about his fascinating career and new book. Games including beer pong, flip cup, ping pong, and giant jenga will be available for guests to enjoy while listening to beats by DJ Sasha Lauzon
Tickets are priced at $55 per person and include unlimited food inclusive of a whole roasted pig and Hawaiian inspired bites by Mendelsohn, and unlimited specialty cocktails by Casamigos Tequila and TOAST Vodka at the backyard Tiki Bar. The ticket also includes a signed copy of Gordon's book, which gives a behind-the-scenes look at the worlds of music and entertainment from a Hollywood insider.
A proceed of all ticket sales will benefit artist Marcus Suarez.Tickets may be purchased HERE. Campton Yard at The Hall South Beach, is located at 1455 Washington Avenue, Miami Beach. For more information, please call (786) 605-2011.
Full Moon Party at The Confidante
The Confidante Miami Beach introduces its first Full Moon party in conjunction with Backyard Saturdays on Saturday, November 12. Going from day to night, guests will have the opportunity to welcome the full  moon in full spirit with fire dancer performances, tunes by DJ Tavin, food for purchase from Nina's House and 2-for-1 cocktail specials sponsored by Bulldog Gin.
Cheers to the night and to many full moon parties to come! To RSVP to the event, please visit: https://www.facebook.com/events/1010183332461021/
Zest Relaunches Brunch Menu
Zest by Chef Cindy Hutson is re-launching their brunch this weekend on Sunday, Nov. 13 from 11:30 a.m. – 3 p.m. Zest will be offering a 4-course menu for $45 per person, or an a la carte and a children's menu will also be available.
Menu highlights include: Huevos Rancheros Skillet ($10), with chorizo potato hash, tortilla chips, sunny side up egg, tequila queso, pico de gallo & cilantro crema, Stuffed French Toast ($10) with homemade brioche filled with almond orange cream cheese and Eggs Benedict ($10) with poached egg, Caribbean conch hash, country ham, English muffin & mike's hollandaise. Bottomless Bellini's, Bloody Mary's and Mojitos are available for an extra $25.
Call 305-374-9378 for more information.
Soul Tavern to Open This Fall
With a dash of Fleeceflower root, a smidge of Lily Bulb and a pinch of Mulberry bark, Soul Tavern, Miami's first vegetarian gastropub, is revealing the power of herbal potions at its new elixir bar. Soul Tavern's alchemists have been hard at work in their plant-based lab, creating concoctions meant to restore, balance and harmonize the mind, body and spirit.
Don't know exactly what an elixir is? At Soul Tavern, it's a beverage meant to "move" you in some way, whether through taste, smell or energetic properties and nutrients. Practitioners in China have prescribed blends of medicinal plants and herbs for centuries to ward off ailments and elevate our consciousness.
Now, Soul Tavern owner Jason Gordon, who has a doctorate degree in Chinese Medicine, is tapping into that revered practice at the bar. Gordon and the Soul Tavern herbalists have created 37 tea elixirs that uniquely feature the five elements of Wood, Fire, Earth, Metal and Water. According to the ancient Chinese, it is important to balance these elements on the inside and outside for optimal health.
At Soul Tavern, elixirs can be taken hot as a tea or cold with sparkling water along with one of the bar's five element functional syrups. There are six to 12 different herbs in every formula, and each ingredient used in the elixirs is sourced from its native habitat in the Far East.
The liquid remedies are broken into the three categories of five element formulations, spiritual cultivation formulations and "The Name Says It All" formulations. From the five element herbal elixirs, guests can choose to DETOX, NOURISH and BALANCE.
The three spiritual formulations utilize herbs meant to cultivate our consciousness and target each of the mind and body's three spiritual centers. Among the "The Name Says It All" elixirs you can find Calm, Focus, Energy Upper, Lower Back Massage and Upper Back Massage.
Soul Tavern also offers cold pressed juices, which are formulated to taste great and optimize a specific function. The bar will launch with 10, five element juice elixirs and eventually roll out a total of 25 formulations. Some of the top juice elixirs include the DETOX FIRE made of tomato, habanero pepper, strawberry, celery, green pepper, parsley; the DETOX METAL, made of pear, watercress, lettuce, radish, fennel and ginger; and the NOURISH WATER made of red apple, beet greens, mixed berries, lettuce, celery and ginger.
Concentrated wellness shots are also available for toasting to good health, all of which are plant-based and aimed at reducing inflammation, boosting immunity or improving digestion. Guests can expect shots such as Ginger, Turmeric, Garlic and Cucumber, Probiotics and Digestive Enzymes. While Soul Tavern boasts a full bar and craft beer on tap, for those who enjoy "the hang" with their friends at a local tavern but don't want to have alcohol, Soul Tavern also offers locally brewed Kombucha on tap.
Coco Asian Bistro Unveils New Menu Items

Coco Asian Bistro, a fixture in Fort Lauderdale for the past ten years, has revamped their menu with exciting new additions from Executive Chef/Owner Mike Ponluang.
New menu items exclusive to the happy hour menu include: Steamed BBQ Pork Buns; King Salmon Sashimi Flatbread, King Salmon, cream cheese, chili paste, arugula, fish eggs, wasabi-mayo; Almond Crusted Florida Keys Snapper, mixed vegetables, Thai green coconut milk curry; and Kobe Sliders, tomato, caramelized onions, bacon, arugula, American cheese, pickled cucumber and homemade Thousand Island dressing served with sweet potato fries, as well as traditional Thai dishes like Mee Krob (crispy noodles in tamarind sauce) and Nam Sod (Thai-style chicken salad).
These menu items are available during Coco Asian Bistro's new happy hour, offered Monday through Friday 3:00 p.m. – 7:00 p.m. and Saturday from 11:30 a.m. – 7:00 p.m. This menu can also be found during Sunday Brunch from 11:30 a.m. – 3:00 p.m. alongside delicious, unique brunch dishes like Matcha Mochi Waffles and Pandan Pancakes.
Coco Asian Bistro's tried-and-true lunch and dinner options remain in place. The carefully curated menus feature traditional Thai cuisine mixed with other Asian dishes and an extensive sushi and nigiri selection. Signature dishes include:
Crispy Duck – fried half duck topped with choice of red curry sauce, basil sauce, mango sauce or tamarind sauce
Lobster Pad Thai – 6 oz. Maine lobster tail, large shrimp, egg, rice noodle, garlic, bean sprouts, ground roasted peanuts, and scallion wrapped in egg net
Southern Thai Curry Beef Short Rib – Stewed beef short rib with turmeric, coriander seed, and five spice served with garlic curry rice and roti
Pan-Fried Snapper Fillet – pan-fried snapper with roasted sliced almonds, pineapple, shrimp tempura with pineapple curry sauce
Lemongrass Creme Brulee
Opened in 2005, the 200-seat restaurant offers both indoor and outdoor dining. Inside, six semi-private curtained booths line the walls while mod-style starburst lights set the mood. Coco Asian Bistro also features an open sushi bar where guests can watch chefs freshly prepare sushi and nigiri with fish flown in daily from all over the world, as well as a separate cocktail bar.
The Wynwood Yard Adds New Tenants
The Wynwood Yard welcomes new food concepts Shnitz n' Fritz, Radiate Apothecary and Steelcity Coffee to the growing family of food and culture catalysts redefining Miami.
Brothers Bernard and Alan Klinger are the creative force behind Shnitz n' Fritz's scrumptious collision of cultures, creating dishes that celebrate the worldly schnitzel. Inspired by their Argentine and Israeli heritage, the Klinger brothers created a menu of strictly kosher delights that explodes with flavor.
Try the El Gaucho sandwich ($15), stacked with chicken schnitzel, sunny side egg, tomato and onion salad, and chimichurri aioli or the Holy Shnitz sandwich ($14), chicken schnitzel with Israeli salad, cabbage, house pickles, house spicy sauce and tahini or tehina. House-made, hand-cut fritz (french fries, $4 – $5 per order) dressed with your choice of classic salt and pepper, Middle Eastern spice mix with za'atar or "Provenzal" with fresh garlic and parsley.  House-pickled items as well as vegetarian and vegan offerings are just a few more of the options at Shnitz n' Fritz, all made with select ingredients and a whole lot of passion.
Sip on coffee and have a chat with the engaging duo behind Steelcity Coffee. Anela Hrnic and Michael Holaschke, who opened award-winning Die Brüher coffeehouse in Austria, have chosen The Wynwood Yard to introduce their unbeatable coffee brews to America. The Austrian city where their original coffee shop is based is nicknamed "Stahlstadt" or "Steelcity." Michael, who is the head barista, also spent a lot of time in Pittsburgh so the name is a nod to many of the founders' roots.
Soon, you'll be able to sit in the (brand new!) garden at The Wynwood Yard and sip  cappuccinos, cortados, espressos and flat whites, ($3 – $3.50) available with regular or nut milks. Steelcity Coffee will be open from noon to 6 P.M.  at The Yard.
Revive and invigorate yourself at Radiate Miami a new five-seat counter created by nutritionist and certified holistic health coach Susan Duprey and her team, who will always be on site to offer nutritional support and customize your own personal wellness plan. Radiate Apothecary seeks to cultivate culture, care and community!
Savor innovative flavors of live cultured beverages like kombucha, cold-brew coffee kombucha and traditionally fermented drinks such as root beer, coconut kefir, ginger beer and kvass on draft along side other live fermented foods like kombucha popsicles and raw vegan kefir Ice cream! The Holistic Apothecary will offer a beauty bar stocked with edible beauty products including shampoos, toothpastes, deodorants, oil blends and more.
Take Radiate home too with their thoughtfully prepared Healing Food Community offering members weekly boxes of raw vegan foods such as ferments, raw bread, fruit roll ups, nut mylk, raw crackers and more to compliment your healthy or not-so-healthy lifestyle.
'Ladies Who Brunch' at Terrazza

Each Sunday from 11 am – 4 pm, ladies (and gentlemen) can enjoy a special brunch at Terrazza at Shore Club. Served buffet style, it's $44 for ladies and includes bottomless mimosas and bellinis. It's also $44 for guys, but an additional $20 for bottomless mimosas, bellinis or bloody Marys.
Among the "Ladies Who Brunch" offerings:
ANTIPASTO ITALIANO – Antipasto station, assorted imported cheeses and cured meats, pickles, almonds, honey
DOLCI DELLA CASA – Assorted desserts and tarts
UOVA E FRITTATE – Live omelet station prepared for you to your specifications
For more information, call 305-695-3226.
Shake Shack and Harry's Pizzeria Team Up
Calling all starving artists! Coinciding with Miami Art Week, Shake Shack® and Harry's Pizzeria® will each offer a collaborative limited-edition menu item from Monday, November 28th to Sunday, December 4th at their respective South Florida locations.
Harry's Shorty Burger ($6.89), available at Shake Shack's Coral Gables (1450 S Dixie Hwy) and Miami Beach (1111 Lincoln Rd) locations, will feature all the toppings of Harry's signature Short Rib Pizza – juicy slow roasted beef short rib, caramelized onions, arugula and gruyère cheese – all stacked on Shake Shack's 100% all-natural, antibiotic-free Angus beef burger.
The Shack-cago Pizza ($17.00), available at Harry's Pizzeria's Coconut Grove (2996 McFarlane Rd) and Design District (3918 N Miami Ave) locations, will feature the classic flavors of Shake Shack's Shack-cago Dog® with a fire-roasted Vienna beef hot dog, mustard-mornay cheese sauce, sport peppers, pickles, tomatoes and onions all tied together with fontina cheese and Harry's tender, blistered pizza crust.
"We've never collaborated with a restaurant in this way, and we're so psyched to be doing it with Harry's Pizzeria," said Mark Rosati, Shake Shack Culinary Director. "Chef Michael and I both share an appreciation for the artistic and whimsical elements of food, so it's only appropriate to debut this menu swap during the biggest week for art – and the busiest of the year – in Miami."
"As a chef, the best – and most fun – part of the job is getting to create in the kitchen," said Michael Schwartz, Chef and Owner of The Genuine Hospitality Group and Harry's Pizzeria. "When we get to do it with people like Mark that we genuinely enjoy being around, it's all the more rewarding. As a restaurateur, these kinds of opportunities to learn from brands we respect and look up to in the business are key for us to become better as we grow."