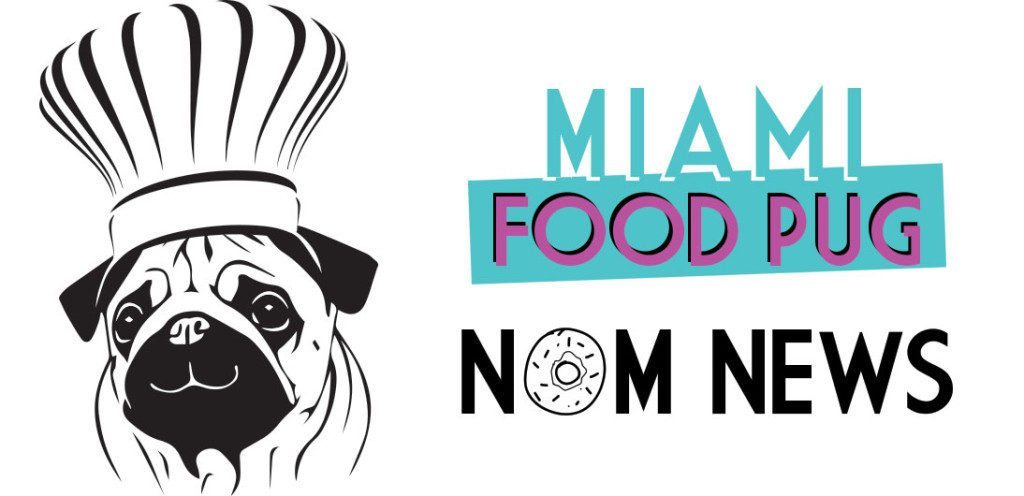 January 13, 2016
Each Friday, we compile South Florida food-related news and events that we couldn't fit on the site earlier in the week, as well as other local news that piques our interest. Want to be included in next week's roundup? Shoot us an email at bark@miamifoodpug.com.
Here's your weekly dose of nom.
Live Music at Regent Cocktail Club
Pinch Kitchen Announces Craft Collab 5.0
Via Emilia 9 Launches Happy Hour
Bistro @ Tuyo to Start Serving Lunch
Bàcaro Opens on Miami Beach
50 Shades of Romance at The National
Olla Debuts Lunch Service
Truffle Week at Made in Italy
Fooq's Introduces New Grower Champagne Menu
South Pointe Tavern Now Offers Happy Hour
Grand Opening Celebration at The Halal Guys
La Moderna Hosts Prosecco Happy Hour
Live Music at Regent Cocktail Club
LDV Hospitality's Regent Cocktail Club celebrates their first live musical act of 2017 with a night of themed cocktails and a performance by the nine-piece electronica band, Spam Allstars, on Friday, January 13th. Spam Allstars will provide a unique blend of improvisational electronic elements alongside other Latin, funk and hip hop rhythms that they've originally dubbed electronic descarga. The Latin Grammy nominees currently thrill crowds across the nation and will now perform at the lounge for the first time ever.
To enhance the lively evening of Latin funk, Regent's skilled mixologists have developed a specially handcrafted cocktail menu inspired by the music stylings of the talented musicians. Guests can expect a night of jams as the Spam Allstars perform live at the intimate space. Entrance and performance are free and open to the public. For more information, guests can visit regentcocktailclub.com.
Pinch Kitchen Announces Craft Collab 5.0
Pinch Kitchen is partnering with Chef Niven Patel of the highly anticipated Ghee Miami, slated to open early this year, for Craft Collab 5.0! The food and wine pairing event will be a collaboration among the three chefs offering a six-course Indian cuisine dinner. The dinner will include two wine pairings as well as a chai tea pairing. 
The dinner will take place Monday, January 30 from 7 p.m. to 9 p.m. Tickets for Craft Collab 5.0 are $100 inclusive of tax, gratuity, and fees and must be purchased in advanced via Eventbrite. Tickets to this event are limited. 
Via Emilia 9 Launches Happy Hour
South Beach's hidden gem, Via Emilia 9, is known for it's authentic northern Italian cuisine served by Chef Giancarlo "Wendy" Cacciatori in a cozy, welcoming setting. Now diners have even more reason to love Via Emilia with the launch of their nightly happy hour. Offered from 4:00 p.m. – 6:30 p.m., happy hour includes 50% off bottles of wine, which perfectly complement the Selezione di affettati e formaggi, also 50% off.
With a wide and ever-changing selection of red, white and sparkling wines including prosecco and Lambrusco, Via Emilia 9 is the perfect place to relax and escape the hustle and bustle of South Beach.
Bistro @ Tuyo to Start Serving Lunch
Tuyo's amazing international cuisine will now be available day and night. Located atop Miami Dade College's (MDC) acclaimed Miami Culinary Institute (MCI), the new Bistro @ Tuyo will begin serving lunch Monday, Jan. 23, offering a unique lunch experience with breathtaking views of the city and Biscayne Bay.
The lunch menu will include Grilled Skirt Steak, Grilled Vegetable Sandwich, Miso Glazed Salmon, The Tuyo Burger, Carnaroli Risotto, and a variety of fresh salads topped with free-range chicken breast or grilled shrimp; among other dishes. Satisfy your sweet tooth with Crème Brulee and Valrhona Chocolate Mousse for dessert.
The Bistro @ Tuyo will also serve as a training lab for MCI students, who will staff the kitchen and help serve under the supervision of Tuyo's professional staff.
Lunch will be available Monday – Friday, 11:30 a.m. – 1:30 p.m.
Reservations can be made for parties of six or more by calling 305-237-3200 or emailing reservations@tuyomiami.com.
Bàcaro Opens on Miami Beach
Bàcaro Miami, a new wine and tapas bar in the tradition of Venetian "Cicchetti," announces it is now open, just one block off Lincoln Road in Miami Beach. The creation of acclaimed international chef and Venice native, Carlo Bernardini, Bàcaro offers a distinct and authentic food and wine experience, and a breath of fresh air to the current restaurant landscape in the neighborhood.
The vision of Venice-born Chef Carlo Bernardini, who has previously held stints at renowned restaurants throughout Europe, along with Le Cirque in New York City, Bàcaro celebrates the spirit and flavors of Italy's floating city. The menu features a selection of traditional "Cicchetti," Italians take on tapas, that provide the perfect Venetian backdrop to taste Venice one bite at a time, with specialty cured salami, artisanal cheeses and truffle aromas.
The dimly-lit wine bar provides a cozy and inviting atmosphere, where guests can sip and nibble on delectable wine and cuisine. Menu highlights include fresh burrata, arancini, black truffle risotto and rib-eye tagliata. Bernardini has also curated a special truffle tasting menu that features imported truffles straight from the region of Alba, Italy, paired with hand-selected wine and champagne.
For discerning drinkers, Bàcaro boasts a versatile wine and Champagne menu, offering a well-curated, selection at a variety of price points, as well as an array of wines seldom found elsewhere in Miami. Selections like Super Tuscan Matarocchio Guado al Tasso and Le Ripi "Bonsai" Rosso di Montalcino are exclusive to Bàcaro's wine collection, adding to its authenticity and Italian charm.
Bàcaro is located at 1625 Michigan Avenue in Miami Beach, Florida. Reservations can be made through Open Table at opentable.com/bacaromiamibeach or by calling 305.397.8248.
50 Flavors of Romance at The National
The National Hotel, a quintessential Miami Beach Art Deco luxury hotel with timeless charm, is celebrating Miami Romance Month and Valentine's Day with the launch of their 50 Flavors of Romance hotel package. Couples who stay at the hotel between February 1-28th, 2017, can reserve this romantic travel package by January 31st, 2017. The package includes:
– Signed "contract" upon arrival agreeing that "what happens at The National stays at The National."
– 50 flowers displayed in the room – spread out during the stay.
– 50 strawberries served in different styles – spread out and served during the stay.
– 50 sips of champagne at Blues Bar.
– 50 light bites sampling of different flavors and complimentary vanilla ice cream for dessert, during a poolside dinner in the dark (blind folded) "Experience for two"
– 50-minute couples massage voucher (worth $280). Contact UneedaMassage in advance to book.
– 50 Tones of Blue with a complimentary Ocean View upgrade based upon availability.
– Snuggle in a bit longer with a complimentary 4 pm late checkout.
Olla Debuts Lunch Service
Happy New Year (yes, I will be saying this every day for the month of January). After the recent debut of Chef Scott Linquist's (Chef of COYO Taco) newest passion project, OLLA, the authentic Mexican concept is now serving lunch Monday – Friday. In honor their new lunch hours, the local driven destination will deliver complimentary Guacamole, Chips, Salsa and Margarita Pitchers for an office fiesta.
Starting Monday, January 16th social media followers and guacamole addicts can Tweet or share on Instagram to @OllaMiami on why they deserve a fiesta break (Instagram will raise social user's chances) and use the hashtag #GimmieGuac or #OfficeFiesta. The winner will be announced Friday, January 27 and delivered the following Friday, February 3th.
Among the new menu items:
The following are served in a cast iron skillet, served with tortillas
Barbacoa Cazuelita ($11)
Adobo roasted lamb shoulder, charro beans, pasilla oaxaca, mint salsita,
Tinga Cazuelita ($10)
Pulled chicken, sweet and spicy tomato salsa, queso fresco, cilantro leaves
Sandwiches
Dorado Bollilo ($12)
Beer battered mahi mahi, shaved cabbage, garlic mayo, habanero pickled onions
Relleno Bollilo ($12)
Egg battered roasted poblano chile, Mexican cheese blend, roasted tomato chipotle salsa, pico de gallo
Truffle Week at Made in Italy
After the December preview of "Truffle Week," Made in Italy Gourmet will officially host Truffle Week on a monthly basis starting January 16th. During this week-long event only, fresh black truffles will be available for purchase by the ounce from their fresh market.
The authentic Italian restaurant will offer a special truffle menu of the day throughout the week as well. This menu is made up of the most delicious options truffle connoisseurs are sure to enjoy. Choose to start your meal with a grilled goat and sheep truffle cheese with walnuts, truffle honey and a white truffle balsamic glaze in crostini. Indulge in a short rib ravioli with creamy mushroom sauce and shaved white truffle before enjoying one of Made in Italy's wonderful desserts.
The special menu will be available from open to close on Monday January 16th through Saturday January 21st. For more information, please visit http://www.madeinitalygourmet.com/.
Fooq's Introduces New Grower Champagne Menu
Fooq's, the charmingly intimate bistro in Downtown Miami, is now adding a polished menu of premiere Grower Champagnes to its lineup of cultured eats and savory sips. Curated by owner and seasoned sommelier David Foulquier, the new Champagne program features a variety of premium selections to top Miami's Grower Champagne scene.
A true gem to the area, Fooq's carefully cultivated Grower Champagne list is unlike any traditional Champagne menu found in Miami. Stemming from Fooq's mission to source the freshest produce, fish and meat from local producers, the eclectic eatery champions the same quality and care through its Grower Champagne program. The list of premium bubbles features harvests from the world's best craft producers, growing natural grapes on-site and blending wine in-house to ultimately coin the term "Grower Champagne."
Fooq's Champagne program serves over 25 different labels from over 20 harvesters. Imported outside of the state of Florida and allocated to a select group of accounts, Fooq's is home to the world's most precious harvests. Notable labels include Jacques Selosse, the Initial and the Rosé, as well as Bérèche et Fils, another rare producer to the area. The menu also features bubbles from Paul Déthune, Gaston Chiquet, Pierre Péters, Paul Bara, René Geoffroy, and Chartogne-Taillet, just to name a few.
With a mix of Persian, French and Mediterranean flavors, Fooq's fuses delectable dishes and the perfect wine pairing to create a cultured dining experience. According to Foulquier, "The beauty in Champagne lies in its high acid content, strong fruit character and slight carbonation, that allow the wine to be drank and paired with nearly all flavors, textures, and dishes." Thoughtfully and carefully crafted to showcase the most premium bubbles, the premiere Champagne pairings please the delights of seasoned and aspiring connoisseurs alike.
Fooq's is located at 1035 N. Miami Avenue, Miami, FL 33136. For reservations or inquiries, please call 786.536.2749.
South Pointe Tavern Now Offers Happy Hour
South Pointe Tavern invites guests to relax and unwind at the hottest spot South of Fifth. Starting on Monday, January 16th from 5 p.m. to 7 p.m. Monday–Friday, guests can sip on their favorite beer, house wine or cocktail for 50% off.
Hungry? Grab a bite from their decadent menu that includes some amazing innovative and fresh favorites including a Pastrami Reuben Sandwich with Zak the Baker bread, Local Catch Ceviche, Artisan Meat & Cheese Board, Carnitas Tacos and a Tomato & Mozzarella Flatbread to name a few.
Grand Opening Celebration at The Halal Guys
The Halal Guys, a sensation on the streets of New York City since 1990 have announced that they will celebrate their arrival in South Florida with an all-day Grand Opening Celebration on Saturday, January 21, 2017.  Beginning at 11AM, festivities will include a ribbon-cutting ceremony with local dignitaries expected including Davie Mayor Judy Paul and Councilmember Caryl Hattan.  Then, the doors will swing open for enthusiastic guests, eager to sample the popular gyro and chicken sandwiches and platters that have made The Halal Guys a legend since their start at West 53rd & 6th Avenue in New York City in 1990.
Fun giveaways will mark the opening along with fun tunes by DJ Carsonicboom. The first 100 customers will receive free t-shirts and each customer will have the opportunity to spin a giant game show style wheel for prizes, redeemable on their next visit, ranging from 10-20% off, free fries, free drink, or a free platter! For exclusive access to pre-opening VIP events and other special offers and promotions customers can register for The Halal Guys Rewards card at www.thehalalguys.com/rewardswhere 50 people will be randomly selected to receive their first platter for free!
Franchise owner, Shahmeer Alam, a Davie resident, is excited to bring The Halal Guys fresh, iconic cuisine to South Florida.  He enlisted two restaurant industry veterans, general manager David Miller and assistant general manager, Bruce Newman to launch what will be the first of many – a second Pembroke Pines location is already in the works for later in 2017. "Come early," advises Alam, who has witnessed blocks-long lines at other restaurant openings for The Halal Guys around the United States.
The American Halal Food that South Florida patrons will experience is made using the highest quality sourced meats. The sandwiches and platters will feature beef gyro, freshly grilled, marinated chicken, and falafel. Available toppings include onions, jalapenos, olives, green peppers and sauces are the famous white sauce, hot sauce, and bbq. Side dishes include hummus, baba ghanouj, falafel, and fries with baklava for dessert.  Prices range from $6.99 for a regular sandwich to $8.99 for a combo chicken & gyro platter.
The Halal Guys is located at 2268 S University Drive (Tower Shops) in Davie, Florida. They are open Sunday through Thursday from 11AM to 11PM and Fridayand Saturday from 11AM to 2AM. Telephone: 954-947-1817. The Halal Guys are in the midst of an international expansion with over 450 new restaurants opening (in addition to the two original carts and restaurant locations in New York City).  For more information, visit www.thehalalguys.com.
La Moderna Hosts Prosecco Happy Hour
La Moderna invites guests to join them in an evening of good company, authentic Italian bites and specialty cocktails on Wednesday, January 18th, from 6-8 p.m. The happy hour event will allow guests to enjoy a complimentary round of drinks and light bites courtesy of the night's host – Prosecco Valdo. Grab your friends and take them on a savory adventure through Italy, please RSVP for this event at info@lamoderna.com.
The evening's menu will feature the following cocktails along with signature lite bites:
Valdo Royal – Creme de Cassis, Prosecco Valdo
Valdo  Bellini – Fresh Peach Nectar, Prosecco Valdo
Valdo Sbagliato – Bitter Campari, Vermouth Cocchi Torino, Prosecco Valdo
Valdo Spritz – Aperol, Prosecco Valdo