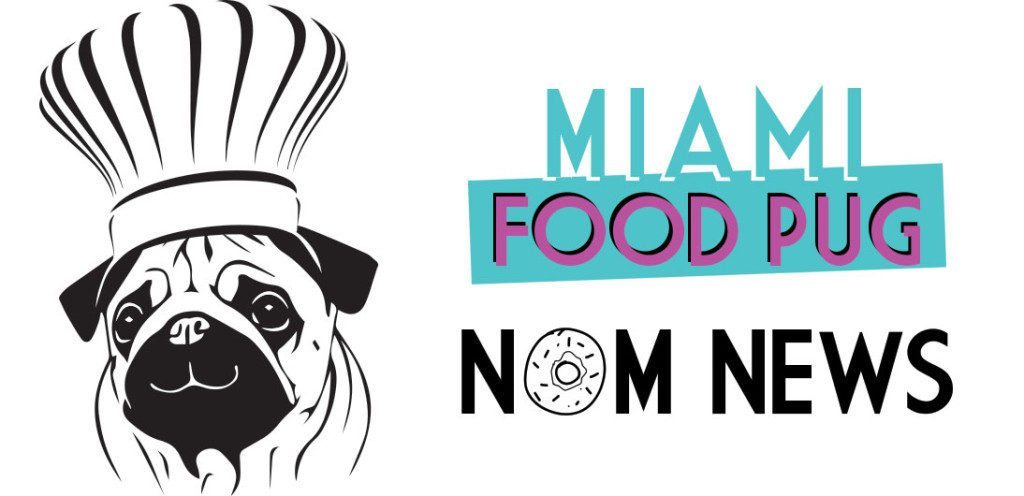 January 20, 2017
Each Friday, we compile South Florida food-related news and events that we couldn't fit on the site earlier in the week, as well as other local news that piques our interest. Want to be included in next week's roundup? Shoot us an email at bark@miamifoodpug.com.
Here's your weekly dose of nom.
Chinese New Year at TALDE
Gin + Collins Launches Late-Night Happy Hour
Cook Like a Wok Star in 2017
New Offerings at Market at EDITION
New Mezcal Cocktails at Cantina Laredo
Jazz Brunch at Bakehouse Brasserie
Guest Chef Series at Izzy's
Pisco y Nazca Introduces New Items
Southernmost Oyster Social at Mondrian
Chilcano Specials at Suviche
Pizza & Burger Host Beer Dinner
Chinese New Year at TALDE
TALDE at The Confidante Miami Beach will ring in the Chinese New Year with a night full of celebrations on Saturday, January 28th. Guests can enjoy a special four-course prix-fixe meal for $49 per person, which includes favorite dishes from Top Chef alum Dale Talde; Hot & Sour Soup, Eggrolls, Fried Rice, Kung Pao Beef and Peking Duck. A special Good Luck Rooster cocktail – Beefeater Gin, Pineapple, Lime, Angostura Bitters – will be available all night for $12 and Chinese New Year giveaways will be offered to the first 50 guests participating in the prix-fixe menu option.


Gin + Collins Launches Late-Night Happy Hour
Miami's newest gin lounge Gin + Collins (2912 Collins Avenue) launched late-night happy hour this past Monday. Head Bartender Nikos Mantzaridis is offering five special happy-hour drinks – each a classic cocktail that highlights a different gin, including the Aviation combining Bombay Sapphire East Gin, maraschino, crème de violette and lime; French 75 with Old St. Pete's Tropical Gin, lemon and cava; Bramble with Bulldog Gin, simple black berry syrup and lemon; Sbagliato with Botanist Gin, Campari and Carpano Antica Formula; and Hendrick's Gin-based Tom Collins. A great option for guests looking for a friendly priced post-dinner pour, each cocktail is $7; available Monday – Friday from 9pm-11pm.


Cook Like a Wok Star in 2017
Wok star Eleanor Hoh's cooking class takes you from zero to Cooking Like a Wok Star. Enjoy an unforgettable experience in unique spaces and learn her no-recipe, no-measuring technique. Her simple technique together with her WOK STAR KIT makes cooking fun and creative for busy corporate executives. Here's a list of her upcoming events:
Sat. 1/21

,

12-3pm

at BOFFI in Design District

Thurs. 2/16

,

6:30-9pm

at Italkraft in Aventura

Sat. 3/18

,

12-3pm

at BOFFI

Thurs. 4/20

,

6:30-9pm

at Italkraft
For more information and to register, visit her official website.
New Offerings at Market at EDITION
Market at The Miami Beach EDITION is introducing its new happy hour and breakfast offerings as a start to the new year. From its Mediterranean-inspired breakfast buffet to the rosé and oyster happy hour special, Market continues to reinvent the classic café-style atmosphere by offering casual gourmet items created by world-renowned chef Jean-Georges Vongerichten.
Enjoy Florida's breezy winter with sweet and crisp Whispering Angel Rosé for $10 classically paired with fresh oysters at $2. Take advantage of the Market's newest happy hour special from 4 to 7 p.m. daily.
Inspired by his recent trip to Israel, Jeremy Ford, Top Chef winner and Executive Chef of Restaurants at The Miami Beach EDITION, created this new take on traditional breakfast buffet with distinct Mediterranean flair now offered at Market from 8 to 11 a.m. every Saturday and Sunday. Begin your weekend with a varied selection of light and healthy breakfast items from the buffet, such as the tabouli salad, rainbow beets salad with basil and house-made Lebanese rosemary cheese with olive oil, or the tomato and basil salad drizzled in red wine vinaigrette — all for $28.
Additionally, guests may choose from a variety of classic breakfast items, like smoked salmon, assorted pastries, baguettes, granola with yogurt and a mixture of fresh fruits.
Market at EDITION is located at 2901 Collins Avenue in Miami Beach, Florida. Hours of operation are Sunday through Thursday from 7 a.m. to 11 p.m. and Friday and Saturday 7 a.m. to 12 a.m., serving breakfast 7 a.m. to 12 p.m., lunch 12 p.m. to 6 p.m., and dinner 6 p.m. to close.
New Mezcal Cocktails at Cantina Laredo
A new year means new drinks at Cantina Laredo.  New cocktails at the restaurant include the Smoky Margarita ($12)–Cantina Laredo's classic 'Rita with a hint of smoke.  The cocktail has Los Amantes Joven Mezcal, 1800 Reposado Tequila and fresh lime juice, served in a Himalayan salt-rimmed glass.
Also new is the Oaxacan Old Fashioned ($12).  This cocktail is a Mexican twist on a classic and includes Del Maguey VIDA Mezcal, 1800 Añejo Tequila, Monin Agave Nectar and Angostura Bitters served over a Luxardo Cherry-Orange ice cube.
Cantina Laredo is located at 501 Silks Run in Hallandale (954-457-7662). For more information, visit www.cantinalaredo.com.
Jazz Brunch at Bakehouse Brasserie
Brunch has never been more saxy! Every Saturday and Sunday at Bakehouse Brasserie, guests can enjoy discounted Premium Champagne bottles and BOTTOMLESS Mimosas with live jazz all day long.
Soak up those mimosas with the restaurant's famous Croissant French Toast featuring a bananas foster filling and creme cheese glaze. Are you jonesing for something more on the savory side? Try the Bakehouse Benedict with wild boar sausage, caramelized onions and peppers, chipotle hollandaise and a muffin. Call (305) 434-8249 for more details.
Guest Chef Series at Izzy's
Chefs Jamie DeRosa and William Crandall of Izzy's Fish & Oyster will be kicking off their "Oh Baby I Like It Raw" guest chef series on Monday, January 23 at 7 pm!
The first two guest chefs on deck will be Miami favorites, Diego Oka and Giorgio Rapicavoli.
– Both the bar and tables are available for guests to dine and drink
– Tickets can be purchased on the day of the event
– Cost is $40 per person (tax not included)
o Includes a selection of raw dishes, each by Diego, Giorgio and William
o Includes bottomless beer on tap


Pisco y Nazca Introduces New Items
After visiting Peru in December and immersing themselves in the culture, the team behind Pisco y Nazca further expanded their passion and pride for the cuisine. Taking note of novel food trends in Peru, Executive Chef Miguel Gomez has introduced fresh dishes straight from his native country and updated the ceviche tradicional. Guests are invited to indulge in new items like the Churrasco Empanadas, Jalea, Tequeños and Causa Tartar. These items are available at both locations for lunch and dinner.
Southernmost Oyster Social at Mondrian
Menin Hospitality is pleased be named the official hotel of Miami Oyster week and to host the inaugural "Southernmost Oyster Social." The Southernmost Oyster Social, which will take place at Mondrian's chic event space with indoor/outdoor access and sweeping views of the sunset over Biscayne Bay and the Miami skyline, will feature a variety of rare and exotic ultra-premium oysters along with craft beer, boutique wine and creative cocktails.
The event in partnership with The Oysterhood™, will be the closing party for the first annual Miami Oysterweek with other events taking place throughout the week. Tickets range $85 – $195. For more information on Oysterweek please visit Miamioysterweek.com.
For tickets, please visit https://www.eventbrite.com/e/southernmost-oyster-social-presented-by-bowmore-whisky-tickets-30912275448. For 20% off room rates during Oysterweek, please visit https://gc.synxis.com/rez.aspx?Hotel=61889&Chain=16500&promo=OYSTER.
Chilcano Specials at Suviche
SuViche has been celebrating Peruvian Heritage in honor of Chilcano Week, which takes place in Peru January 12th – 22nd. Every day during Chilcano Week, guests can enjoy the traditional Peruvian cocktail for $5 during Happy Hour from 3 p.m. – 7 p.m. As a bonus, the restaurant will be offering $18 Bottomless Chilcanos on Saturday, January 21st from 2 p.m. to 6 p.m. Both specials are available only at SuViche's Wynwood and Las Olas locations.
The Chilcano is a staple Peruvian Pisco cocktail, handmade with homemade Macerados, ginger ale and a dash of bitters. Macerados, an infusion made with fresh berries, herbs and spices and then blended perfectly with high quality Pisco, are the essence of every Peruvian cocktail. Guests can choose from a variety of Macerado flavors to create the Chilcano of their choice. Featured flavors include Thai Chile, Lychee, Purple Chicha, Mango and more.
Pizza & Burger Host Beer Dinner
Fontainebleau's newest laidback eatery, Pizza & Burger by Michael Mina, will be hosting an exclusive craft beer pairing and five course dinner featuring two highly respected breweries – local Concrete Beach Brewery and M.I.A. Beer Co. Guests will have the opportunity to vote on which beer pairs best with each course. At the end of the evening winners will be chosen. The menu – featuring specially paired dishes by Chef de Cuisine Timothy Elmore includes – Loaded Potato Skins, Fish Taco, Smoked BBQ Ribs, Dry Aged Burger and S'mores.
Tickets cost $85 per person. For reservations, call 305-674-4636.