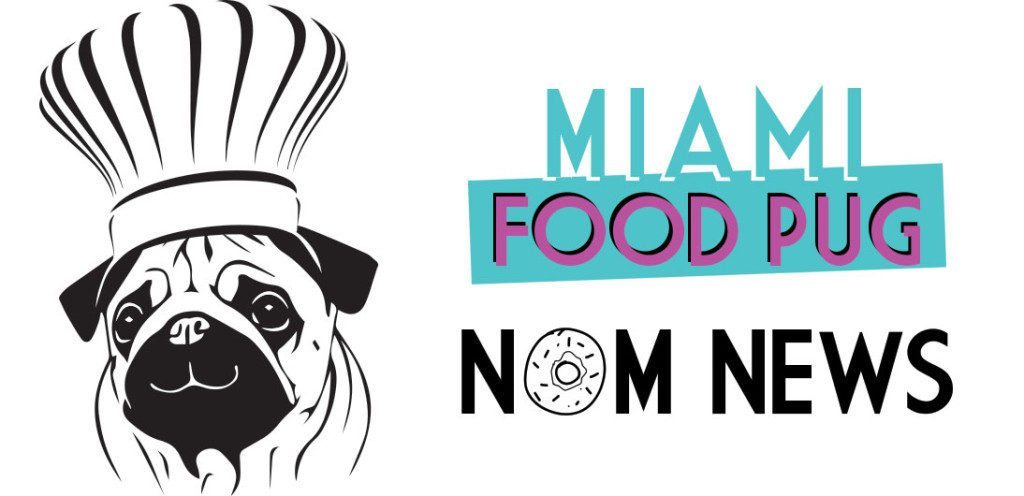 January 27, 2017
Each Friday, we compile South Florida food-related news and events that we couldn't fit on the site earlier in the week, as well as other local news that piques our interest. Want to be included in next week's roundup? Shoot us an email at bark@miamifoodpug.com.
Here's your weekly dose of nom.
Verde Introduces New Happy Hour
Free Burgers From Shake Shack
Pizza & Burger Beer Pairing Dinner
Thursday Night Repeal Party at Burlock Coast
PokéBao Now Open for Lunch
Chinese New Year at Jaya
Tanuki Launches Authentic Dim Sum
Paris 6 Debuts New Menu
Faena Hotel Hosts Outstanding in the Field Lunch
Hard Hat Happy Hours in Downtown Coral Gables
Verde Introduces New Happy Hour
In addition to the popular Third Thursdays, Verde at Pérez Art Museum Miami is introducing a brand new happy hour every Thursday for locals. Guests can unwind with specials including $5 beer, $6 wine and $7 cocktails on the terrace from 5-7pm. That's not all! The terrace will also feature live music by guest DJ Phaxas and Verde's breathtaking views of Biscayne Bay.
*DJ Phaxas will be mixing every Thursday except during Third Thursdays.
Free Burgers From Shake Shack
Let's get app-y! Shake Shack® is proud to announce the first-ever mobile ordering Shack App for iOS is now available nationwide. To celebrate the occasion, Shake Shack is giving away a free single ShackBurger® to each guest who downloads the new Shack App, redeemable at any U.S. Shack ('cept airports, stadiums and ballparks) until Tuesday, February 28th, 2017.
To get a free ShackBurger, guests simply need to download the Shack App, create an account and use the promo code "shackappy" at checkout. For more deets, head to shakeshack.com/app.
The app was developed to elevate the in-Shack guest experience, resulting in shorter pick up times and convenient mobile ordering. Guests can now order Shake Shack when they want it and right from their phone. With the new Shack App, guests can pick their food, choose an available pickup time and it will be cooked-to-order and timed to their arrival. All pickup times are in fifteen minute increments. Check the app for availability throughout the day. More power to ya.
The Shack App features the Shack classics–all-natural beef burgers, flat-top dogs, chicken, frozen custard, crinkle cut fries and more–and includes all of the mobile ordering essentials: guests can find Shacks via a location finder; pick from their favorite orders; keep track of food allergies; access nutritional information; see the latest events and promos; connect to all Shake Shack social media channels and share feedback. What's more? At any time, guests can view the live Shack Cam at the O.G. Shack in New York City's Madison Square Park.
The Shack App was created in collaboration with several key partners including mobile product agency Fuzz, mobile ordering platform Olo, guest engagement platform Paytronix and digital experience testing services from Applause. An Android version of the app is in development.
Pizza & Burger Beer Pairing Dinner
Fontainebleau's newest laidback eatery, Pizza & Burger by Michael Mina, will be hosting an exclusive craft beer pairing and five course dinner featuring two highly respected breweries – local Concrete Beach Brewery and M.I.A. Beer Co. Guests will have the opportunity to vote on which beer pairs best with each course. At the end of the evening winners will be chosen. The menu – featuring specially paired dishes by Chef de Cuisine Timothy Elmore includes – Loaded Potato Skins, Fish Taco, Smoked BBQ Ribs, Dry Aged Burger and S'mores. $85 per person, inclusive of tax and service charge.
Thursday Night Repeal Party at Burlock Coast
Burlock Coast and Venice Magazine invite you to the debut of the restaurant's new weekly, Thursday late night Repeal Party. A brick n' mortar homage to the Fort Liquordale's wild rum running years, Burlock Coast will party like it's 1933, when President Franklin D. Roosevelt announced the repeal of Prohibition. Old school beats will be provided by DJ Carsonicboom. For this kick-off evening only, light bites by chef de cuisine Gavin Pera and craft cocktails developed by beverage manager James Camp, will be complimentary from 9pm – 10:30pm. The party will continue every Thursday starting at 10pm – late. More details to follow.
PokéBao Now Open for Lunch
PokéBao, an exciting new chef-driven, fast-casual eatery located in Coral Gables' growing Giralda Avenue is now open daily for lunch service. Helmed by Chef/Owner Daniel Bouza who enjoys a celebrated culinary career with past stints at Nobu Lana'i and Makoto in Bal Harbour, the menu offers a fresh take on the wildly popular flavors of Hawaiian style poké and bao buns.
The carefully crafted menu focuses on authentic, flavor-forward selections including an array of delectable bowls, buns and bites. Chef's Signature Poké Bowls include DB's Spicy Ahi Tuna Poké – furikake rice, yellow fin, masago, fuego mayo, green onion and Wasabi-furikake Salmon – furikake rice, sake cured salmon, Maui onion, avocado, edamame, wasabi-cilantro aioli, and ikura. Chef's Signature Buns include savory options ranging from DB's Sweet and Spicy Short Rib Bun – braised short rib, hoisin, pickled vegetables, and cilantro to Crispy Chicken Vaca Frita – braised then seared chicken thigh, pickled vegetables, feta-tofu sauce, and sesame seeds.
Those looking to enjoy smaller bites can opt for Chef's Bites including Crispy Rice Tuna, Kona beer-battered Tempura Fries, Yellow Fin Tuna Tacos and Edamame. Catering to all palates, vegetarians can treat themselves to the Vegetarian Volcano – purple Hawaiian sticky rice, two-day pressed firm tofu, red jalapeno, sweet potato, heirloom cherry tomatoes, edamame, ginger-cilantro pesto, coconut shavings; and Vegetarian Mushroom Tofu – crispy tofu, sake seared mushroom blend, pickled onion and daikon. Imported Japanese beer, local brews, and Hawaii-based Kona Brewing Company varieties are available as well as wine and chef's selection of premium sakes.
Chinese New Year at Jaya
Jaya at The Setai is offering a three-course Peking Duck menu to celebrate the Chinese New Year. One dish featured is the Peking Duck Wrapped In Bamboo Leaves with a Tangerine Marmalade and Bok Choy. Executive Chef Mathias Gervais and Executive Sous Chef Vijay Veena also feature desert truffles with Duck Bacon and chocolate. The menu will be available Saturday, January 28- Saturday, February 4th for $95 per person.
Tanuki Launches Authentic Dim Sum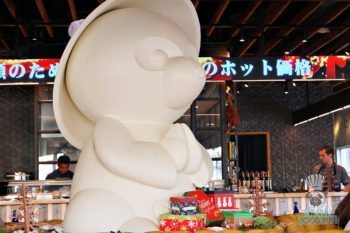 Tanuki, South Beach's newest Pan-Asian hotspot, is excited to introduce over a dozen new menu items including an entirely new dim sum section. Authentic dim sum offerings include Peking duck, crab meat and mushroom dumplings and inventive dishes like the Pumpkin and Duck Puff and Black Cod Rolls. The over-the-top Beef & Foie Gras dumpling is sure to become a fan favorite.
Other additions to the menu include Tanuki Specials like the Tanuki Burger – tuna, crispy rice, avocado, jalapeño and shiso – and the instantly popular Salmon Pizza with avocado, jalapeños and truffle oil.
Tanuki's large and diverse menu has something to please every palette, and is available from 12 p.m. until late, seven days a week.
Paris 6 Debuts New Menu
Learning Miamians prefer more choices in a 24/7 eatery, Paris 6 introduces over 60 new dishes to its extensive menu to satisfy all carvings around the clock.
New appetite whetting options include Beef Carppacio a "Juan Alba", Tuna Nicoise Salad a "Bella Falconi", Gnocchi de Brie Aux Quatre Fromages a "Marina Ruy Barbosa", Wild Salmon Tartare a la Marocaine a "Macros Mion", Shrimp Stroganoff a "Celia Forte", Lapin a L'Ancienne a "Silvo de Abreu", Tournedos Rossini Au Foie Gras a "Romero Britto" and an Oyster Bar featuring West Coast Oysters (served raw with a traditional Mignonette piquant sauce) and New Orleans-inspired East Coast Oysters (prepared with butter, spinach, watercress, green onions and grated parmesan).
Also new to the menu is Paris 6's lunch special, which allows dinners to order a salad or soup of the day plus any entrée for $27. For an extra fee, those with a sweet tooth can add a classic dessert ($5), a Grand Gateau ($9) or a Crème Brulee ($9) to their order.
The myriad of new options are sure to entice guests to revisit and continue exploring the menu any day and time.
Faena Hotel Hosts Outstanding in the Field Lunch
Chefs Jamie DeRosa and Brad Kilgore will be collaborating for the Outstanding in the Field lunch beachside at Faena Hotel on Monday, January 30 at 2 pm. Menu highlights include Cornbread Cupcakes with Smoked Salmon Frosting, Foie Gras Stuffies and a Clam Bake. 
For more information about Outstanding in The Field, or to purchase tickets, click here.
Hard Hat Happy Hours in Downtown Coral Gables
As of this week, restaurants in Downtown Coral Gables will host Hard Hat Happy Hours every Wednesday. This initiative by the Business Improvement District of Coral Gables (BID) aims to keep the community engaged and businesses active during the Streetscape construction.
"The Hard Hat Happy Hours series is about supporting our local restaurants while we are Building Beautiful," said Taciana Amador, executive director of the Coral Gables BID. "With more than a dozen restaurants participating in Downtown Coral Gables, there are plenty of options for bites, drinks and good times."
"Throughout the progression of the Streetscape Project, the BID will continue to market and promote businesses within the district through a series of initiatives," explained Amador.
Hard Hat Happy Hours participating restaurants and their specials include:
Bangkok Bangkok– Sake Mojito and Lychee Martini 2 for 1 @ $7.95, house wine by the glass $5, all day promotion. "Wine I love you": get 20% off wine by the bottle.
Bellmont Spanish Restaurant- Selected tapas at $5 each plus 50% off our wine selection, $4 beers, and $5 sangrias
Benihana-

4-7 p.m.

$3 small hot sake, $4 select beers, $6 premium well drinks and wine, $6.50 specialty cocktails
BrickTop's-

4-7 p.m.

$7 bar snacks, $5 drinks, $3 beers
California Pizza Kitchen- $6 select cocktails, $7 sangria, $5 premium well drinks, $5 wines by the glass $4 beers. Join the Pizza Dough rewards and receive a free small plate.
Cibo Wine Bar- 50% off selected drinks
Delicatessen Patagonia- 2×1 beer and house wine (by the glass)

4 -7 p.m.

Divino Ceviche- $3 local craft beer, $3 house wine, $5 cocktails and $3 ceviche by the spoon
Fritz & Franz Bierhaus- 2 for 1 draft beer, house wine, well liquor
Open Stage Club- Karaoke and Ladies Night on Wednesdays featuring 2×1 drinks

6- 8 p.m.

and free drinks for ladies

9 – 10 p.m.

Seasons 52- 5 small plates, $8 specialty cocktails, $6 select wines and cocktails, $4 beers
Talavera-

4:30-7:30 p.m.

$3 appetizer menu and half-off drinks (well drinks, specialty cocktails, wine & beer), Tacos Al Pastor

5 p.m.

(all-you-can-eat for $12) Live Mariachis starting at

5 p.m.

The Local- 1/2 off well liquors, wine by the glass and craft beer on draft from

4 – 7 p.m.

Vixi Gelateria- Buy one gelato, milkshake or container to-go, get 50% off the second one