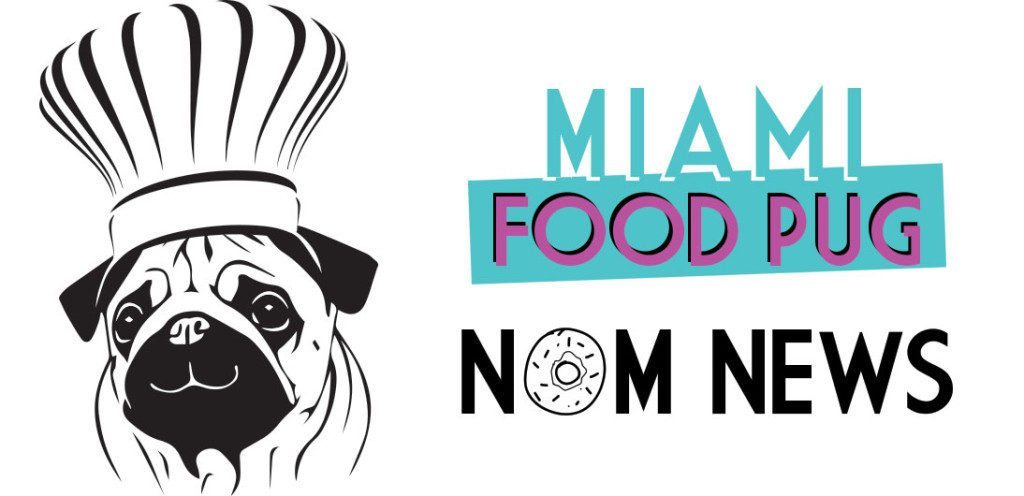 February 17, 2017
Each Friday, we compile South Florida food-related news and events that we couldn't fit on the site earlier in the week, as well as other local news that piques our interest. Want to be included in next week's roundup? Shoot us an email at bark@miamifoodpug.com.
Here's your weekly dose of nom.
Kuro Hosts Johnnie Walker Dinner
1st Annual Locales Festival at Bayside
ZUCCA to Open in Coral Gables
DONUTS! Returns for Round 2
New Executive Chef at Quality Meats Miami Beach
'Fancy Footwork" at Hotel Colonnade
Presidents Day Brunch at Tap 42
Tanuki Launches Dim Sum
Guest Chef Series at Izzy's
Naked Crab Opens on Fort Lauderdale Beach
Kombrewcha O'Clock at The Broken Shaker
Ladies Night at Pinch Kitchen
Providores & Publicans Opens in Brickell
Kuro Hosts Johnnie Walker Dinner
Award-winning new-style Japanese restaurant, Kuro, located inside Seminole Hard Rock Hotel & Casino in Hollywood, is hosting a an exclusive Johnnie Walker Pairing Dinner on Thursday, Feb. 23, 2017. Guests will enjoy a five-course dinner prepared by Kuro's creative culinary team, led by Executive Chef Alex Q. Becker. Each delicious course will be paired with pours of globally renowned Johnnie Walker Whisky.
The night will begin with a welcome reception at 6:30 p.m. with passed hors d'oeuvres, followed by dinner at 7 p.m. All guests in attendance will take home a complimentary bottle of Johnnie Walker Black. The dinner is priced at $175 per person (excluding tax and gratuity). Seating is limited.
Reservations are required and can be made by calling 954-316-2900. Additional information can be found at www.SeminoleHardRockHollywood.com/JohnnieDinner.
1st Annual Locales Festival at Bayside
The first annual Locales Festival by Chef James is a one-day celebration of the Latin American community and Miami's diverse culture, debuting in South Florida at Bayside Marketplace on Sunday, April 2, 2017. Hosted by Chef James Tahhan and produced by Premier Tourist and Landmark Association, the festival will also celebrate Bayside's 30th birthday and shine the spotlight on community accomplishment through the Miami Bayside Foundation (MBF).
Located in the heart of Downtown Miami, families are invited to check out cultural highlights including the arts, vibrant culinary scene with celebrity chefs from Miami's top restaurants, live musical performances by Latin Grammy® nominated artists, film competitions, interactive sports activities and much more!
ZUCCA to Open in Coral Gables
Miamians will soon get a fresh taste of the Italian spirit when Zucca, a ristorante and bar, opens in Coral Gables' landmark Hotel St. Michel. The restaurant will serve authentic Italian cuisine and exclusive mixology by the bar-masters of Cocktail Cartel in masterfully-crafted, modern spaces. Opening this March, ZUCCA is the latest restaurant concept to join the portfolio of Venezuela's leading Da Silva Hospitality Group, as the company's first U.S. venture.
At the start of their dining experience, guests are presented with a selection of antipasti. These light bites include several variations of hand-crafted, traditionally-prepared Mozzarella from the restaurant's Mozzarella Bar, such as Mozzarella di Bufala and Bocconcini, as well as fresh cheeses like, Burrata and Stracciatella. Customizable charcuterie boards feature delectable sliced meats and cheeses, with options that include, Prosciutto di Parma, Mortadella or Bresaola and Parmigiano Reggiano, Pecorino or Taleggio, each from various regions throughout Italy, from Tuscany to Lombardy, and beyond.
Offering plates from both land and sea, additional menu items include, Bistecca alla Fiorentina – a 32 oz. T-bone steak, dry-aged for 21 days and served with two sides of the guest's choice; and Baccala' fresco con Pomodorini, Capperi e Olive Taggiasche – fresh cod filet with cherry tomatoes, capers and a taggiasche olive sauce, served over creamy polenta.
For more information on ZUCCA, please visit www.zuccamiami.com or call (786) 580-3731.
DONUTS! Returns for Round 2
Donuts! is back! South Florida's only donut festival will once again bring the best donut shops together for a night celebrating everyone's favorite sugary treat. Last year Donuts! launched to a soldout crowd featuring 10 of the country's best donut shops serving over 14,000 donuts. Donuts! 2017 will take place on Thursday, March 30th, from 6p.m. – 10 p.m. at MAPS Backlot (342 NW 24th St., Miami, FL 33127).
Donuts! 2017 will be bigger and better! Guests can expect to enjoy delicious traditional and unique donut samplings from a variety of shops. To date, Donuts! confirmed shops include second-time participants, Circus Eats, Dunkin' Donuts, Krispy Kreme, Mojo Doughnuts, and YoNutz – Gourmet Donuts and Ice Cream, as well as newcomers, Jupiter Donuts, The One Donut Company, and Crave Clean.
This year Donuts! has partnered with United Way of Miami-Dade, donating a portion of all ticket proceeds to the organization. Back again as the official media partner is The Miami New Times and adding to a truly delicious experience are beverage sponsors Concrete Beach Brewery, Voss, Deep Eddy Vodka, and Nespresso. Guests can also indulge in the Food Garden with savory options from South Florida's best food trucks, play unique donut-themed yard games, and capture the moment in a donut photobooth!
Attendees will also have the opportunity to cast their vote for their favorite donut, crowning one lucky shop with the "Golden Donut Award." Back to defend their title is Mojo Doughnuts, who placed first in the competition last year, taking home the big prize with their delicious award-winning donuts.
Please note that tickets will not be sold at the door and all interested parties are encouraged to purchase ahead of time! Ticketing details are as follows:
General Admission ($35) – unlimited donuts & two beer tickets. GA doors open at 7PM.
VIP ($65) – GA (unlimited donut samples & two beer tickets) + one hour early entry (at 6PM), complimentary sponsored bar, access to indoor & air conditioned facilities, and small bites
To purchase tickets, visit http://ticketf.ly/2j0TyHs.
New Executive Chef at Quality Meats Miami Beach
Earlier this week, Chef Daniel Ganem was been named executive chef at Quality Meats Miami Beach.
A Miami native, Ganem has worked with some of the country's most acclaimed chefs, including Michael Schwartz at Michael's Genuine Food & Drink, Norman Van Aken at his eponymous Orlando restaurant, Laurent Tourondel at BLT Steak, and Michael Mina at both Aqua and Bourbon Steak.
Most recently, Ganem teamed with Roger Duarte and Sam Gorenstein to open the fast casual Zuuk Mediterranean Kitchen in Brickell.
Daniel is excited to return to his steakhouse roots in the kitchen at Quality Meats Miami Beach where the old-world perspective meets a distinctly modern approach to create a Miami restaurant unlike any other.
'Fancy Footwork' at Hotel Colonnade
In partnership with Fred Astaire Dance Studio, Hotel Colonnade is launching 'Fancy Footwork' – a two-hour class that focuses on the fundamentals of dance, ranging from Salsa to Ballroom to Merengue. The first class will take place February 22 from 7 p.m. to 9 p.m. Complimentary cocktails will be served in the Rotunda upon arrival, followed by a Margarita Happy Hour in the Lobby Bar in celebration of National Margarita Day. The class is complimentary and open to the public.
Space is limited. RSVP to confirm your attendance: rsvp@theworkshopcollective.com.
Presidents Day Brunch at Tap 42
The best way to celebrate Presidents Day is with an extra day of brunch! All three Tap 42 locations are offering Bottomless Brunch on Saturday, Sunday and Monday this weekend. Tap 42 will feature their infamous bottomless Mimosas, Bloody Mary's and Funky Buddha Floridian for just $20 from 11am-3pm. Enjoy Tap 42 brunch favorites such as the Chicago-Style Steak and Eggs, as well as White Chocolate Strawberry Pancakes will be available in addition to burgers such as The Prohibition Burger, The Drunken Goat, and more!
Tanuki Launches Dim Sum
Since its Fall 2016 opening, Tanuki, known for being a friendly, upscale and modern dining experience, has emerged as the quintessential spot for pan-Asian fare on Miami Beach. Adding to its wide appeal, Tanuki recently launched dim sum service with a modern twist.
Utilizing unexpected ingredients including foie gras and shaved truffle, Tanuki joins the exclusive ranks as one of Miami Beach's only dim sum purveyors. Offering a fresh spin on traditional dim sum, the menu is offered at an approachable price point and served in a fun and relaxing environment, making Tanuki a unique dining experience on the beach. On his decision to add dim sum to the menu, executive chef Drew Andrade says, dim sum is traditionally an interactive meal shared amongst friends and family, and we wanted to bring that spirit to Tanuki. We take a classical approach with a bit of a twist, incorporating bolder flavors than you would find in traditional dim sum.
Andrade kept classic dim sum items, like the Shrimp Har Gow, on the menu but updated the traditional Chinese recipes with modern, fresh ingredients.The menu has been carefully curated by Chef Andrade and includes 11 signature a la carte dim sum dishes with highlights like Chicken Truffle Siu Mai, Peking Duck Dumpling, Xiao Long Bao, Black Pepper Beef and Beef & Foie Gras Dumpling starting at $11. For larger groups, Tanuki offers a dim sum platter for $29 featuring a selection of three types of dumplings. In China and Hong Kong, traditional dim sum is offered for lunch and yum cha (afternoon tea); while Tanuki serves dim sum from customary bamboo steamer baskets, the restaurant bucks tradition by offering the delicious bites all day long.
For more information, please visit http://tanukimiami.com or call (305) 615-1055.
Guest Chef Series at Izzy's
Come throw down with Jamie DeRosa on Saturday, February 25 at Izzy's Fish & Oyster's raw bar for their second edition of "Oh Baby I Like It Raw" guest chef series.
The fun starts at 10 pm and the two guest chefs on deck will be Boston favorites, Jamie Bissonnette and Ken Oringer of The Little Donkey.
The Bostonians, Jamie B. and Ken, will be putting their spin on Scallop Crudo and Tuna Tataki. Jamie plans to keep it tropical with his Florida Citrus and White Soy Ponzu inspired dressed oyster #yum
$25 will get you a selection of raw dishes, two (2) signature cocktails from Izzy's and bottomless Rosé. Guest DJ YSL will be spinning her beats throughout the night – what better way to spend your Saturday? For reservations, please call 305.397.8843.
Naked Crab Opens on Fort Lauderdale Beach
Chef Ralph Pagano and his company YES Hospitality Group are thrilled to announce their partnership with the newly-renovated B Ocean Resort in Fort Lauderdale, Fla. for the opening of NAKED CRAB Seafood Kitchen | Cocktail Bar. The signature restaurant is located along the famed coastal highway A1A at 1140 Seabreeze Boulevard in the iconic Yankee Clipper building, which is now B Ocean Resort. Both locals and visitors can relish all things surf or turf, pairing the finest prime steaks with the freshest seafood and highest quality ingredients in a picturesque, beachside setting.
The 150-seat restaurant and curbside patio also include The Florida Bar, a wraparound bar with lounge seating that welcomes guests as they enter the newly-expanded lobby. The sophisticated bar lends an upbeat pre-dining spot to sit and socialize while sipping on handcrafted cocktails by talented bartenders, serving premium spirits, local craft beers, and an extensive wine list as well as a raw seafood and sushi bar display.
NAKED CRAB is open seven days a week, serving breakfast, lunch and dinner from 7 a.m. to 11 p.m. daily. For more information, please visit www.nakedcrabfl.com. To make reservations, call 954.727.7090.
Kombrewcha O'Clock at The Broken Shaker
Health aficionados and social drinkers rejoice! Kombrewcha is now shaking things up in Miami by bringing the health benefits of kombucha out of the grocery aisles and into bars and restaurants.
Join us for 'Kombrewcha O'Clock' at Miami Beach's award winning hotspot, The Broken Shaker, as we celebrate the bubbly brew's Miami debut during South Beach Wine & Food Festival, February 23 & 24 from 2–6PM. Mind-blowingly good food and craft cocktail pairings will be provided by The Broken Shaker to compliment the inventive and ingredient-forward flavor profiles of Kombrewcha. Known for using the best natural and seasonal ingredients, The Broken Shaker is the perfect partner to introduce Kombrewcha to the Miami market.
The Broken Shaker's lush backyard oasis will be transformed into a mind-expanding experience with stimulating good vibes – perfect for photo ops and Instagramable moments (#KombrewchaOClock). For reservations, please email RSVP@workshopcollective.com.
Ladies Night at Pinch Kitchen
Pinch Kitchen has announced the launch of their weekly Ladies Night! Every Thursday from 5pm until close, ladies can enjoy $5 glasses of select beers, house wines, and bubbles. For more information, call the restaurant at 305-631-2018.
Providores & Publicans Opens in Brickell
Brickell now offers a spot to satisfy all your needs. Whether it's to wine and dine with extraordinary food and craft cocktails or lounge until 5am with live music, DJs and upbeat vibes, all Brickell-goers only need to pass by one place: Providores &Publicans.
The concept behind Providores & Publicans lies in the name itself. A "providore" is a person who provides or supplies a specific product, and a "publican" is one who owns or manages a pub. The Providores aspect of the gastrolounge is represented by its chefs. One notable chef in particular, Steve Permaul, is the co-executive chef in the kitchen and a longtime friend of Co-Executive Chef Constantine De Lucia; Chef Permaul has worked with him in several of his past concepts.
The culinary experience at Providores & Publicans is anything but typical. The location has made it their chefs' duty to use the highest quality and freshest organic locally-sourced ingredients and implement them in the most creative and innovative ways. The menu has endless mouthwatering small plates and sharing options such as their Crispy Smoked Paprika Chicken Wings, Karabuto Pork Short Ribs with an apple cider Dijon glaze, and Crudo (raw fish) with chili oil and sesame seeds torched table-side. For those missing the incredible pizza pies from De Lucia's previous concept, Tino's in Brickell, a select few will be added to the menu including Tino's famous Truffle Pizza.
In the realm of cocktails, wine and beer, the location leaves it to its Publicans, AKA mixologists, to deliver impeccable flavor, trendiness and complexity in every drink. And Providores & Publicans' House Cocktails menu, designed by experienced mixologist Javier Garcia Piedra, does just that. Just as the food menu, only fresh ingredients are used to produce these unique boozy creations. With over 20 cocktail options, guests can sip on something savory such as the El Chapo, Bloody Publican, and Prince Roger, or refresh their palate with fruity flavors including the Mango Caipirinha, Colombian Lemonade, and Publican Paloma. For more familiar options, Providores & Publicans offers their Classic Cocktail Menu with well-known favorites such as the Moscow Mule, Black Manhatten, Pisco Sour and much more.
Providores & Publicans is located at 141 SW 7th ST, Miami, FL 33130 and can be contacted at 786-618-2841.