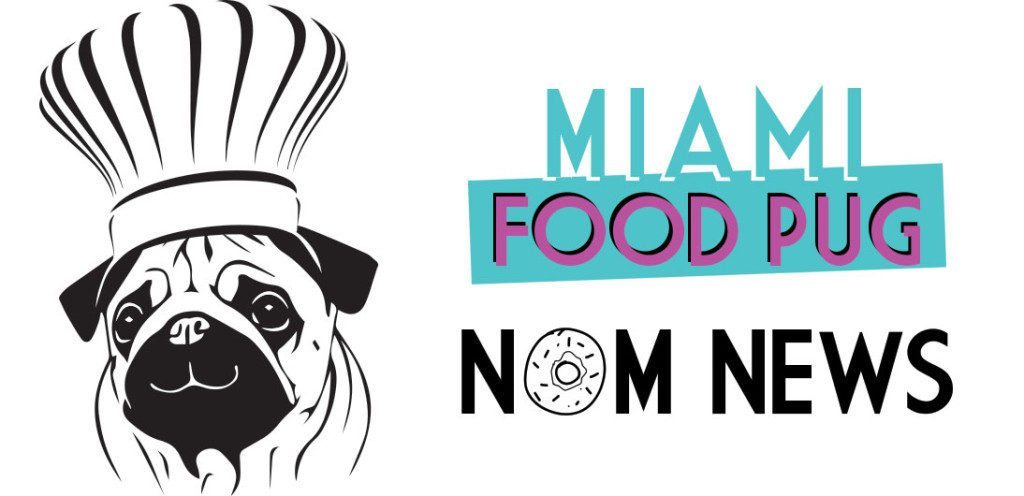 February 24, 2017
Each Friday, we compile South Florida food-related news and events that we couldn't fit on the site earlier in the week, as well as other local news that piques our interest. Want to be included in next week's roundup? Shoot us an email at bark@miamifoodpug.com.
Here's your weekly dose of nom.
Celebrate All Things Cheese at Whole Foods
Noodling Around With Dale Talde
Mykonos Brunch Party at Villa Azur
New Brunch Tasting Menu at Pisco y Nazca
Mardi Gras at Riverside Hotel
South Pointe Tavern Now Serves Coffee and Pastries
Mignonette Uptown Debuts Happy Hour
La Petite Maison Opens 1st U.S. Location
Pizza Tropical Now Open at Gramps
Hotel Bar Now Open at The Diplomat
Celebrate All Things Cheese at Whole Foods
For the retailer's ninth-annual celebration of Parmigiano-Reggiano, the "king of cheese," hundreds of Whole Foods Market stores around the globe will simultaneously crack 80-pound wheels of the Italian cheese on Saturday, Feb. 25, 2017 at 3PM EST. Whole Foods Market locations throughout Florida will offer a fun-filled day celebrating all things cheese.
Cracking the wheels requires an expert hand and usually takes about half an hour using an official five-piece knife set from Italy's Consorzio del Formaggio Parmigiano Reggiano. The traditional cracking method reveals Parmigiano-Reggiano's delectably crunchy crystalline internal structure.
For the past 20 years, Whole Foods Market has offered the finest authentic Parmigiano-Reggiano cheese wheels, sourced from a selection of premium producers. Their cheesemongers travel to Italy to visit the select producers, returning with the top 1 percent of all Parmigiano-Reggiano rated for quality.
An incomparable taste is achieved after 24 months of aging; a delicious "crystal crunch" complemented by a balanced flavor profile of sweet, salty, nutty, grassy, creamy and fruity, appealing to all tastes.
For more information, please visit http://wholefoodsmarket.com/department/cheese.
Noodling Around With Dale Talde
Dale Talde is taking his weekly late-night noodle party to the next level for SOBEWFF! His namesake TALDE at The Confidante Miami Beach will be the scene for this amped up affair, featuring hip hop vibes and his signature Pan-Asian bites. The energy of an Asian street market meets the sophistication and allure of Miami Beach for a Festival collaboration that is sure to be enjoyed by all. Libations will keep the good times flowing long into the night!
Tickets are available for purchase here.
Mykonos Brunch Party at Villa Azur
South Beach gets a piece of Mykonos on Sunday, March 12 at Villa Azur, as the Mediterranean restaurant opens its doors for an exclusive brunch and dinner experience by Mykonos' 2017 James Beard Award featured chefs Chris Athanasiadis (owner and chef at "Nice N Easy Restaurant) and Panagiotis Diamantis (Executive Chef at Rodors Palace Hotel).
Transforming the venue to reflect the idyllic beauty found in the Greek island, guests at the event will be taken on an unforgettable gastronomic journey where they will experience a total of 6 Greek dishes conceptualized by Chef Chris and Chef Panagiotis, all of which will be later incorporated into Villa Azur's menu.
Normally open for dinner only, Villa Azur's brunch experience will feature a preset menu including the special 6 new dishes by the guest chefs and selections by Villa Azur's Executive Chef Erwin Mallet. Those visiting for dinner will enjoy Villa Azur's full new dinner menu, as well as a "specials" menu containing the 6 new dishes conceptualized.
Attendees will stay refreshed with cocktails including Skinos Mastiha Spirit as three rotating DJs provide summer in the Mediterranean vibes in collaboration with globally renowned venues Mykonos' Cavo Paradiso, Super Paradise Beach Club and Tropicana Beach Club.
Nature, design, food, wine and culture all come together at Villa Azur to create the ultimate Mykonian night out in Miami.
For reservations, call 305-763-8688 or visit opentable.com.
New Brunch Tasting Menu at Pisco y Nazca
Pisco y Nazca offers a three-course brunch tasting menu on Saturday and Sunday from noon until 4pm for $40 per person and includes bottomless cocktails. Highlights from the tasting menu includes:
Cholo Benedicto – sweet plantain cakes, pork belly chicharrón, queso fresco, poached egg, rocoto hollandaise
Ceviche Tradicional – mahi, classic leche de tigre, cancha, choclo, sweet potato
Que Bestia Burger – 8 oz. certified Angus beef, pretzel bun, tomato-panda chutney, rocoto pepper aioli, shoestring potatoes
Arroz con Leche Cheesecake – arroz con leche custard, dulce de leche sauce, quinoa crunch
Mardi Gras at Riverside Hotel
The historic Riverside Hotel known for its old Florida charm and award-winning dining destinations is celebrating Mari Gras in true New Orleans fashion on Saturday, February 25, 2017.
From 7PM to 10PM, the property will transform all its public spaces into a full-blown Big Easy style bacchanalia with stops at dining destination Wild Sea Oyster Bar & Grille, Indigo Restaurant, Golden Lyon Vintage Pub and Preston's Wine & Martini Lounge.
Partygoers will begin their journey at Wild Sea with Louisiana-inspired bites by Executive Chef Toby Joseph including an all-you-can-eat crawfish boil with corn on the cob and fingerling potatoes, shrimp gumbo, red beans and rice, beer batter fried catfish and hushpuppies, mini muffulettas, bourbon bread pudding and king cake.
Revelers will be led to stops throughout the property by a traditional Second Line parade, including the hotel's charming garden patio for a Nola showdown including live action stations by Wild Sea and Indigo, refreshing beers by Abita Brewing Company, a special Mardi Gras-inspired punch by Riverside Hotel's newly appointed Beverage Manager Rebekah Pushckor and of course, tons of beads.
The Mardi Gras celebration will be priced at $50 per person. To purchase tickets to the exclusive event, click here.
South Pointe Tavern Now Serves Coffee and Pastries
South Pointe Tavern invites guests to start their morning on the right note! Every day, starting at 8 a.m. grab a cup of coffee, a fresh baked pastry or a delicious Avocado Toast before heading off to start your day.
Staying true to its Hampton's roots, South Pointe Tavern is brewing fresh coffee from a local Montauk brewery, Left Hand Coffee. Offering traditional light to dark roasted espressos, lattes and cappuccinos made to order to every guests liking. Zak the Baker is providing the pastries for The Tavern including croissants, pan u chocolat, danishes and more. In the mood for something a little more hearty in the morning? Try the Avocado Toast on Zak the Baker rye bread, Omelets made to order, Eggs Benedict, Greek Yogurt Granola, or the Smoked Salmon Bagel.
Sit outside in the French bistro-style seating while experiencing Miami Beach's cool ocean breeze with a cup of coffee and croissant in hand!
Mignonette Uptown Debuts Happy Hour
Mignonette Uptown, the new-to-the-neighborhood oyster bar and seafood haven, is shucking up Miamians' week with the launch of Early Bird and Night Owl Happy Hours. Beginning February 27th from 5:30 PM – 7:00 PM Uptown will offer oyster varieties on the marquee for just $2 per as well as other exciting menu items at special prices. Friday, Saturday and Sunday evenings from 9:00 PM to close will feature the same Happy Hour menu AND a late night cheeseburger special with curly fries and a milkshake.
"This Early Bird / Late Night Happy Hour gives our guests a chance to try oysters and special menu items whether they are dining early or late," explains Danny Serfer, Chef/Owner of Mignonette as well as MiMo favorite, Blue Collar.
During Early Bird Happy Hour, Monday – Thursday at the bar from 5:30 – 7:00PM the Mignonette Uptown kitchen is grilling up BBQ Peel 'n' Eat Shrimp |$7| and serving the Smoked Fish Dip |$7|. The staff will also serve Raw Clams |$1| and Raw or Baked Oysters |$2| individually. Late Night Happy Hour on Friday – Sunday nights runs from 9:00 PM to close and features the complete Happy Hour menu as well as The Uptown Burger with curly fries and a milkshake |$20|.
"It's our job to get you appropriately buzzed whether you're pre-dining or pre-gaming," General Manager Matt Dinkel says with a wink. Dinkel will curate a rotating selection of wines and some bubbles (of course) to feature on this special menu; ALL beer $5, wine $9. Mignonette Uptown will offer 25% off all bottles of wine during Early Bird and Late Night Happy Hours as well.
La Petite Maison Opens 1st U.S. Location
The first United States location of the world-renowned, London-based restaurant, La Petite Maison, is now open. Serving lunch and dinner, La Petite Maison Miami spans 4,600-square-feet, offers indoor and outdoor seating, and is located in the heart of Miami's business district at 1300 Brickell Bay Drive.
Chef Duntoye, a three Michelin-star pedigree, helms the kitchens of La Petite Maison. He has crafted an extensive menu of popular dishes that are a combination of original menu items created by the Nice founders, recipes he has reinterpreted and several new and lighter-fared dishes that honor the principles of this Nicoise micro-cuisine. Cuisine Niçoise's origins are rooted in the old style of Genoese cooking and have evolved to embrace an approachable cross section of French-Mediterranean cuisine with Italian influences. The menu pays no compromise to ensure the very best, fresh ingredients adorn the menu with changes made to reflect the season.
Begin the meal with ingredient-forward dishes that are clean and void of richness from dishes like the Crevettes Tièdes à l'Huile d'Olive, warm prawns in olive oil ($22.50), and Carpaccio de Coquilles St Jacques, scallop carpaccio ($25), to Poivrons Marinés à l'Huile d'Olive, sweet peppers in olive oil ($8.50) and the Salade Niçoise, Nicoise Salad ($32.50).
Journey into main entrees and find typical Niçoise ingredients like artichokes, tomatoes and lemons in dishes like the Turbot aux Artichauts Barigoule, turbot with artichokes, chorizo, white wine and olive oil ($38); Daurade au Citron, whole sea bream baked en papillote with lemon, herbs and olive oil ($35); and the best-selling Poulet La Petite Maison, whole roast heritage Green Circle chicken with foie gras, which must be pre-ordered 24 hours in advance ($140). Signature pastas reign supreme and house-favorites among all locations are the Couarde, creamy scrambled eggs with truffle (served when in season), and their famously light cheesecake.
La Petite Maison Miami is a dine-in only establishment. Décor reflects the charismatic and casual atmosphere of its sister locations. For reservations, please call 305.403.9133.
Pizza Tropical Now Open at Gramps
Pizza Tropical, the brainchild of Adam Gersten of Gramps and celebrated pizza Chef Frank Pinello (Best Pizza, Brooklyn) is now open in Wynwood, filling the void of a casual pizza haunt in the area. Hot pizza is served daily by the slice and by the pie out of a traditional "Cuban Ventanita" on the Gramps patio at 176 NW 24th Street.
Pizza Tropical offers Frank's signature Brooklyn style pizza. Simple, classic recipes executed with the finest ingredients are combined to pay tribute to the "greatest hits" pies. Favorites at Pizza Tropical include the classic Abuelita's Square Pie with homemade mozzarella, tomato sauce and basil, the La Hawaiiana with homemade mozzarella, diced pepperoni, chargrilled pineapple, cartelized pineapple, diced pineapple, chili oil, parsley cilantro and the already famous La Blanca with ricotta, mozzarella, Pecorino Romano, caramelized onions, parsley and toasted sesame seeds.
It is the perfect spot for lunch, dinner or late night eats – Pizza Tropical's Brooklyn style pizza combined with the appeal of Gramp's outdoor space result in quirky cool vibes found in no other pizza place. Patrons are encouraged to dance, talk, grab drinks and a slice without missing a beat of the weekly live acts, DJs and performances on the patio. Overstated mantras like: "Hot Slices, Cuban Coffee and Bogus Claims" hang from the Pizza Tropical signage alongside understated proclamations such as "hot pizza from a hot oven" found inside the matchbooks.
Pizza Tropical comes at an interesting time in the career arc of both of these two well respected entrepreneurs. Chef Frank Pinello's popular VICELAND show, The Pizza Show, was recently renewed for its second season and Adam Gersten's Gramps is enjoying its fifth year as the original watering hole in Wynwood.
Recommended: Come by for the epic, "Beer, Shot, Slice for $10" special. And the garlic knots. The garlic knots are good. Real good.
Hotel Bar Now Open at The Diplomat
Hotels and bars and cocktails have always gone hand in hand and The Hotel Bar, which just opened at The Diplomat Beach Resort in Hollywood, celebrates this time-honored tradition.
Celebrated Bartender, Willy Shine, brings his adaptations of iconic signature cocktails from hotels around the globe to this hub of conviviality located in the heart of this re-imagined resort playground.
The indoor-outdoor bar also features cocktails that pay homage to local bartenders and the next generation of iconic drinks. Here are the top three things you need to know:
– The passport cocktail menu transports guests from Havana to Singapore to New Orleans to 1800s New York City
– All cocktails use ingredients from the resort's "juice commissary," one of the first in south Florida
– The 47-seat bar features indoor and outdoor seating in one continuous experience
The passport drink menu pays homage to the cocktails made famous in global hotels, including the Singapore Sling adapted from The Raffles Hotel in Singapore and the Nacional Cocktail adapted from The Hotel Nacional in Havana. In addition, The Hotel Bar celebrates cocktails from recognized bartenders in the surrounding South Florida area, including the Papa Doble adapted from Julio Cabrera and the Toasted Marshmallow Old Fashioned adapted from Elad Zvi. Full menu is available upon request.
Guests can enjoy cocktails day and night, and stay for live musical performances every Saturday night from 10pm – 1am.
The Hotel Bar is the 7th concept to roll out in The Diplomat Restaurant Group, a collection of 10 brand new restaurants, bars, and culinary experiences as part of the $100 million renovation happening at the hotel.