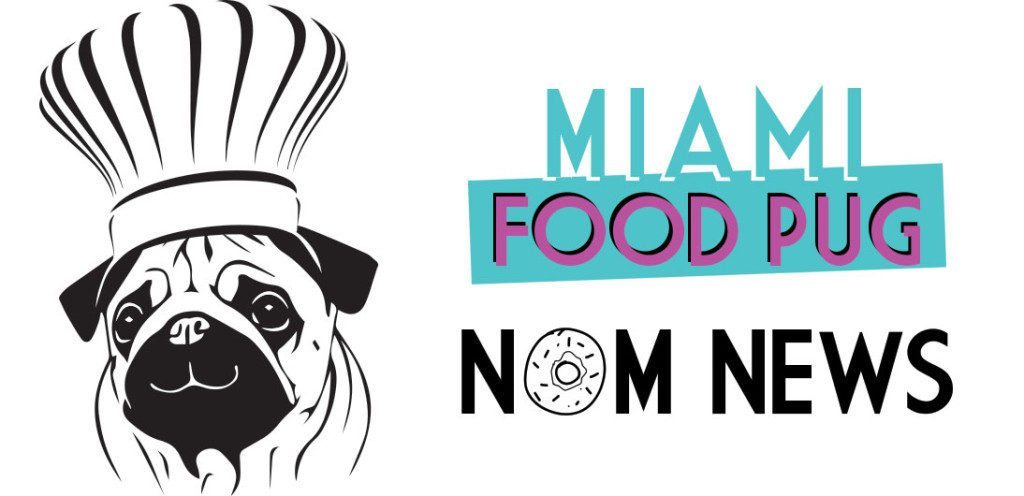 February 3, 2017
Each Friday, we compile South Florida food-related news and events that we couldn't fit on the site earlier in the week, as well as other local news that piques our interest. Want to be included in next week's roundup? Shoot us an email at bark@miamifoodpug.com.
Here's your weekly dose of nom.
Upcoming VeritageMiami Events
Fancy Fridays at Bitter Truth
Black Truffle Tasting Menu at Scarpetta
Service Industry Night at Copa Room
New Brunch at CORSAIR Kitchen + Bar
DFPF Day at J. Wakefield Brewing
Lobster Bar Sea Grille Opens Next Month
Fooq's Launches Pre-Theater Menu
Café Roval Now Offers Brunch
Upcoming VeritageMiami Events
VeritageMiami is celebrating its 21st anniversary with new dates this year, after the original dates were postponed due to Hurricane Matthew. The world-class culinary indulgence began last month with a three-course Interactive Dinner featuring Top Chef Jeremy Ford. The festivities continue with a Craft Beer Tasting on February 9, a Fine Wine Tasting on March 15 and an Auction and Bubbly Brunch on March 26.  Here's a closer look at the upcoming events:
On Thursday, February 9, guests will enjoy a Craft Beer Tasting featuring more than 140 craft beers and micro-brews complimented by delicious bites from dozens of local restaurants amidst the eclectic and vibrant backdrop of Wynwoods Walls.
On Wednesday, March 15, guests are invited to the Fine Wine Tasting, an evening of unparalleled wine and food pairings at the lush Shops at Merrick Park, with more than 65 wine producers and importers pouring 400 wines from around the globe and culinary treats from top dining spots.
On Sunday, March 26, VeritageMiami will culminate with an Auction and Bubbly Brunch at The Ritz-Carlton Key Biscayne. Led by the king of southern fare John Kunkel and his 50 Eggs Inc. team of James Beard-nominated and award-winning restaurants Yardbird Southern Table and Bar, Swine Southern Table and Bar and Spring Chicken. The family-style brunch is paired with free-flowing bubbly, bourbon-infused cocktails and other spirited libations, all kicked off with a lively auction of one-of-a-kind experiences.
W. Allen Morris of The Allen Morris Company is once again VeritageMiami chair, along with his wife, June Morris. This year, Evan S. Benn, editor-in-chief of INDULGE magazine is helping to bring the best of South Florida's restaurants to the Tastings, as VeritageMiami's first Culinary Curator.
VeritageMiami events are led by a group of community volunteers, including: Melinda and Jorge Gonzalez, Sheldon Anderson, Alex Binelo and Claudia Succar Ferre, Matthew Bittel, Barry Goldmeier, Jeff Mihm, Rush Norton, Ani Nuñez, Soledad Picon, Toby Rohrer, Evelyn Torres and Joe Zubizarreta.
For more information or to purchase tickets, visit www.veritagemiami.com. For sponsorship opportunities, contact Mercedes Garcia at 305.646.7029 or info@veritagemiami.com.
Fancy Fridays at Bitter Truth
At the end of the work week, it's time to put your pinkies up and let the stress fall off. Head out to Bitter Truth at The Shops at Midtown to get Fancy on Fridays, Miami!
Your favorite local bartenders are concocting a brand new "Fancy" cocktail every Friday. Each "Fancy" cocktail of the week will be mixed, shaken and stirred with your beloved lavish sprits. Taking this Happy Hour to another level is an hour of complementary oysters from 5pm to 6pm, which helps patrons feel extra fancy. To top everything off is a splash of live music t to entertain guests all night long. Pencil in Bitter Truth on Fridays to unwind with excellent service, nice cocktails, and live music. Fancy Fridays take place from 4 p.m. to 8 p.m.
For more information, visit http://bittertruthmiami.com or call (305) 461-2700.
Black Truffle Tasting Menu at Scarpetta
Scarpetta, the AAA Four Diamond Award-winning Italian eatery at Fontainebleau Miami Beach, is celebrating Black Truffle season with a prix-fixe Winter Black Truffle chef's tasting menu. For $185 per person (excluding tax and gratuity), indulge your senses with a four-course dinner, where each dish is expertly paired with the "black diamond" of the kitchen, while supplies last. An optional wine pairing is available with sommelier's selection.
Menu Follows:
ANTIPASTI
Creamy Polenta
Fricassee of Truffled Mushrooms
PASTA
Short Rib Agnolotti Dal Plin
Parmesan Fonduta
PRIMI PIATTI
Veal Tenderloin
Celery Root, Sage and Prosciutto
DOLCE
Chocolate Crémeux
Olive Oil and Crisp Lavash
Scarpetta is located at 4441 Collins Avenue, within the Sorrento Tower at Fontainebleau Miami Beach, and dinner is served nightly beginning at 6 p.m. For more information, please visit fontainebleau.com/diningevents. Reservations are required and can be made by calling 877.326.7412.
Service Industry Night at Copa Room
Starting on Sunday, February 5, Copa Room invites service industry employees to unwind and let loose with its premium open bar and high energy entertainment shows at its new weekly programming "Just the Tip: Service Industry Night".
Complimentary entry every Sunday is granted where only the tip/service charge is required for entry.
Patrons also showing proof of employment will receive VIP cards, which will always grant access to 50% off discounted tickets after the month of February. Regularly priced tickets are $80 on weekdays and $100 on weekends.
Copa Room is located at 1235 Washington Ave, Miami Beach, FL 33139.
New Brunch at CORSAIR Kitchen + Bar
CORSAIR kitchen + bar at Turnberry Isle Miami is launching an exciting new brunch concept on Saturday, February 11. Appropriately titled "The 52" the brunch affair will be the ideal weekend destination for those that love to brunch and are looking for a delectable dining experience 52 weeks a year.
The 52 will offer a weekly rotation of seven brunch classics, including Eggs Benedict, French Toast, Skillets, Mac n Cheese, Egg Sandwiches, Salads and Açai Bowls. The dishes will have a creative spin every weekend making it possible to enjoy something different each visit anytime throughout the year. Highlights from the unique array include Captain Crunch Encrusted French Toast, Short Rib Eggs Benedict, and a Banana, Orange and Cashew Açai Bowl. An over-the-top "kitchen counter" buffet will also be available to guests with everything from Shrimp & Crab Claws to Waffles and Omelets and spectacular bite size desserts.
Because brunch isn't brunch without drinks, The 52 includes bottomless mimosas, and for just $8 guests can enjoy an eclectic and Insta-worthy Bloody Mary Bar with, yes, you guessed it — 52 different ingredients to spice up your experience, including thick cut bacon, jumbo shrimp, plantain chips, hot sauce, a variety of Vodkas and much more. Guests will enjoy live entertainment and retro games, such as ping pong, foosball, table tennis and cornhole. Additional activities for the kids will be available, including face paint and balloons.
Brunch at CORSAIR kitchen + bar will be available every Saturday and Sunday, from 11:30 AM to 3 PM for $45 ++ per person inclusive of bottomless mimosas. The 52-ingredient Bloody Mary Bar experience is available for an additional $8. Valet is complimentary to guests of The 52. CORSAIR kitchen + bar is located at 19999 W Country Club Dr, Aventura inside Turnberry Isle Miami. For reservations, please call 786.279.6800.
DFPF Day at J. Wakefield Brewing
On Saturday, February 4th, J. Wakefield Brewing will be holding its most-anticipated annual release of the year, DFPF Florida Weisse Sour Ale (ABV: 7%). DFPF is an acronym for Dragon Fruit Passion Fruit, the two key flavor elements in the beer.
DFPF is currently rated the #1 Berliner Weisse in the world by Ratebeer.com with a score of 100, and also holds the #2 spot in the world by BeerAdvocate.com with a score of 98, a rating point behind JWB's Miami Madness.
Dubbed DFPF Day, the annual release of DFPF is dependent on the peak of season for each of the two fruits used in its brewing. Last year's DFPF Day was February 27th, for example.
Sales of 750ml bottles will begin at noon at the bay door at J. Wakefield Brewing, which is located at 120 NW 24th Street in Wynwood. Price per bottle is $20 (two-bottle limit). Cash only. There will be an ATM onsite. Breakfast will be provided by It's A Frita in collaboration with Palomilla Grill, while a late lunch will be served by C. Beef Co.
In addition, JWB will be releasing two bottles from their recent collaboration with Omnipollo (Stockholm, Sweden), one of RateBeer's Top 100 Brewers in the World.
Brush (14% ABV):
An Imperial Stout brewed with marshmallow, vanilla bean, cocoa nibs, coffee, and ancho chilis.
One Trick Pony (7% ABV):
An Imperial *Lassi Gose style German Ale brewed with mango, dragon fruit, passion fruit, sea salt, and lactose. A lassi is a popular traditional yogurt-based drink from the Indian subcontinent and is a blend of yogurt, water, spices and sometimes fruit.
There is a one bottle limit on each Omnipollo beer.
Lobster Bar Sea Grille Opens Next Month
Lobster Bar Sea Grille, located at 404 Washington Avenue in the heart of Miami Beach, is pleased to announce it will begin taking reservations mid-February and will open for dinner early March 2017. The famed seafood restaurant is the newest concept from the national award-winning Buckhead Life Restaurant Group of Atlanta, Georgia, and owners of the popular Chops Lobster Bar and City Fish Market in Boca Raton and sister restaurant Lobster Bar Sea Grille in Fort Lauderdale.
Guests can look forward to a restaurant with a sophisticated atmosphere complete with modern-contemporary nautical touches. The culinary team will be headed up by Executive Chef Arturo Paz, who joins to the company having worked in some of the most prestigious restaurants in Los Angeles and Miami. Most recently, Chef Arturo served as executive chef for Cleo, a Mediterranean restaurant voted "Top Ten Restaurants in South Beach" by Trip Advisor. In the Buckhead Life tradition, he will work directly with Corporate Executive Chef Pano I. Karatassos and be surrounded in the kitchen by "Buckhead Lifers" who will join the team from the company's other locations.
The menu offers four signature categories:
1. Live Lobster Experience- featuring superior Canadian hard shell lobsters from the deep, icy waters of Nova Scotia – considered to be the Rolls Royce of Lobsters. These succulent lobsters are offered with selections of basted butter flavors. For the purest, live lobsters up to 4 pounds, are offered steamed to 145 degrees, fully cracked and served with traditional drawn butter and lemon
2. Whole Fish Experience- featuring whole European and local fish. Expertly prepared in the Mediterranean technique of grilling and basting with lemon, oregano and E.V. olive oil, the fish is served filleted by our staff for the guest's enjoyment
3. USDA Prime Signature Steaks- A full line of USDA Prime signature steaks from Chops Lobster Bar hand selected and custom aged by Allen Brothers of Chicago and Halpern's Black USDA Diamond Prime. Legendary at both the Chops Lobster Bar in Atlanta and Boca Raton, these steaks are the hallmark of our company
4. Unique Seafood Specialties & Appetizers- An array of sharable appetizers kick-off the dining experience and includes a variety shellfish on ice, crudo of pristine fish, sashimi, ceviche, tartares, as well as buttery house-cured salmon, French tarts and other appetizer specialties. Smaller composed seafood entrees round out the menu
At the entrance to the dining room, a white marble ice display showcases each day's catch.  The dining room itself  features soft white herringbone subway tiled walls and arched ceilings, reminiscent of the famous Oyster Bar in New York City's Grand Central Station. Warm custom lighting creates an intimate and inviting ambience. Just off the main dining room is a Honduran mahogany paneled private board room that can accommodate up to 20 guests and a large private dining room for 100 guests.
Lobster Bar Sea Grille will be open for lunch and dinner seven days a week. For more information, please visit buckheadrestaurants.com or call 355.377.2675.
Fooq's Launches Pre-Theater Menu
Fooq's, the eclectic eatery known for its "Feel Good Food" and local comfort, is introducing a Pre-Theater menu to the Downtown Miami arts and entertainment scene. Kicking off during the peak of the entertainment season, Fooq's will launch its Pre-Theater menu with a specially priced three-course dinner, offered exclusively to patrons visiting the Adrienne Arsht Center for the Performing Arts.
Located at the heart of Downtown Miami's Arts and Entertainment District, Fooq's is an ideal dining destination in the flourishing neighborhood. The area is home to classic venues of artistry, such as the Adrienne Arsht Center for the Performing Arts and the Pérez Art Museum Miami, showcasing Miami's finest performing arts and historical collections of our era. In addition to the traditional arts scene, the neighborhood entertains the American Airlines Arena, home of the Miami Heat NBA team as well as other thriving live acts. The diverse elements of these entertainment hubs fall in line with Fooq's culinary craft, all striving to create a memorable experience for the Downtown Miami guest.
The Pre-Theater menu at Fooq's, led by Chef Bryan Rojas, boasts a range of choice cuisine to complete any theatergoer's evening. At $46 per person, the prix fixe dinner combines three courses to include an appetizer, entrée and dessert selection. Among the culinary favorites offered by the Persian-French bistro, the menu includes Fooq's Meatballs, ground brisket and Berkshire pork meatballs, San Marzano tomato sauce, Parmigiano Reggiano, basil, and garlic toast; the Fooq's Burger, a 7 oz patty (short rib, brisket, skirt steak blend), melting Jarlsberg, and special sauce on a toasted brioche bun with house cut fries; and Fooq's famed Date Cake, with pistachio gelato, toffee, and crème fraîche.
To gain access to the exclusive menu, guests must present a ticket from the Adrienne Arsht Center for the Performing Arts prior to seating. The Pre-Theater menu at Fooq's will be available throughout the live arts season.
Fooq's is located at 1035 N. Miami Avenue, Miami, FL 33136. For reservations or inquiries, please call 786.536.2749.
Café Roval Now Offers Brunch
There are few backyard gardens so deserving of a Sunday Brunch than the sprawling veranda at Café Roval. So, after carefully crafting a divine menu that would harmonize with the ambiance, Cafe Roval introduces brunch this weekend. Start off with a Board for the table; the salmon version features smoked pastrami salmon dip, citrus cured salmon, keta butter, whole grain bread, red onion & caper relish, and whipped dill crème fraîche. There is also a Vegan option with Japanese eggplant baba ghanouj, navy bean hummus, spicy smoked parika, roasted carrot dip, citrus mixed olives, roasted cherry tomatoes on the vine, zucchini chips, and zaatar country bread.
Entrée options offer something for everyone; on the more traditional side, the Maine Lobster Cake Benedict is served with locally farmed eggs, watercress, and meyer lemon hollandaise; the Breakfast Sandwich is a croissant with a mini omelet made of locally farmed eggs, artisanal breakfast sausage, Fontina cheese, and young field greens; and the American Platter is served with scrambled locally farmed eggs, mini pancakes, applewood bacon, country toast, raspberry jam, and caramel sea salt butter.
Feeling a little fancier? The Taste of the Sea is offered with seasonal oysters, littleneck clams, wild tiger shrimp & snow crab claws, served with roma cocktail sauce, coconut leche de tigre, champagne mignonette, meyer lemon zest aioli; or how about a Short Rib Grilled Cheese with rye toast, smoked cheddar, young field greens, balsamic fig dressing. A fine selection of salads and sides round out the menu; the Heirloom Tomato with feta, basil, pickled figs and pea shoots is drizzled with champagne vinaigrette, and Sprouted Chickpea Cakes with corona beans, watercress, heirloom tomato, avocado, red onion, blackberry coulis offer a nice vegan option; sides include Berries and Oats, Artisanal Breakfast Sausage, and Applewood Bacon. Entrées range in price from $9.00-$16.00.
Of course, no brunch is complete without cocktails, and mixology master Douglas Beedoo has you covered. He has crafted specialty cocktails for the brunch in addition to his classic creations; the Shrub Fizz is made of a selection of fig cinnamon, strawberry balsamic, celery, raspberry, blueberry or blackberry house made shrub and Mionetto Prosecco; …It Became Bloody Mary takes a spin on the classic with cilantro, radish, lime, Tabasco, smoked agave reduction, and house made cocktail sauce; Our Michelada features house made shrimp cocktail sauce, La Rubia or Double Deco IPA beer; and for something sweet, the Hot Belgian is served with white chocolate flakes, steamed milk, and maldon salt.