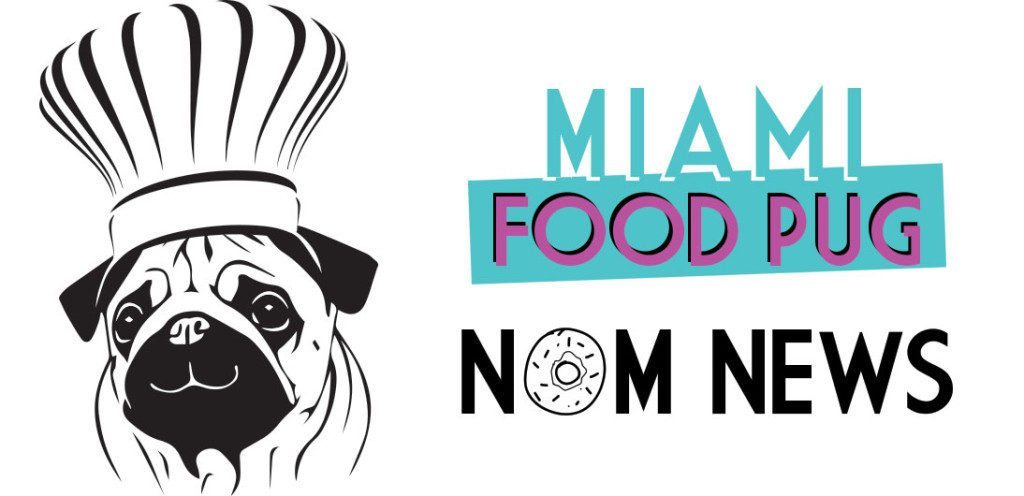 March 31, 2017
Each Friday, we compile South Florida food-related news and events that we couldn't fit on the site earlier in the week, as well as other local news that piques our interest. Want to be included in next week's roundup? Shoot us an email at bark@miamifoodpug.com.
Here's your weekly dose of nom.
Michael's Genuine Extends Happy Hour
Mignonette Uptown Launches Brunch
National Oysters on the Half Shell Day at Izzy's
Kray-Kray Karaoke at K Ramen
#FredStreetFood Tuesdays at Semilla
The National Hotel Hosts Baguette Battle Miami
New Offerings at Suviche
Rock 'N' Baga Tuesdays at Bagatelle
OTL Debuts New Menu Selections
Angelo Elia to Open at CityPlace Doral
Michael's Genuine Extends Happy Hour
Michael's Genuine Food & Drink has extended their happy hour. Guests can enjoy discounted bites and libations from 4:30 p.m. to 7:30 p.m. at the bar from Monday to Friday. Some of the bites you can expect include deviled eggs, crispy pig ears, falafel and shrimp toast "bahn" mi. Visit their official website for more details.
Mignonette Uptown Launches Brunch
Mignonette Uptown, the new-to-the-neighborhood oyster bar, and seafood spot, is launching Uptown Brunch on Saturday, April 1st. No, this is not a prank, we don't joke about yolks (we do rhyme about them). Chef/Owner Daniel Serfer, self-appointed brunch king of MiMo, is bringing his take on the midday meal to North Miami Beach.
"This brunch menu has a little bit of everything; some Mignonette, some McDonald's breakfast, some Blue Collar and some serious sweets," Serfer says, cleverly mentioning his other establishment. "If you do brunch right it can be more luxurious than dinner." Uptown Brunch will be served every Saturday and Sunday from 11:30 AM to 3:00 PM.
In the morning, when all is possible, Mignonette Uptown keeps your options open. Order a Latke Benedict with poached egg and hollandaise |$6|, which comes Clawed (with Maine lobster) |$7|, Pinched (with crab) |$5|, Koshered (with lox) |$5| or Fancied (with caviar) |$9|. Choose a Steak & Eggs, be them Grilled |$23|, Chicken Fried |$23| or Ham |$17|. Do up the Soft Scrambled Eggs Plain |$14|, with bacon & American cheese, or Fancy |$19|, with truffles, caviar, and gruyere. Uptown will debut its Bagel Tower |$49| alongside its shellfish behemoths, featuring Durham Tracklement's smoked salmon, house smoked sable, fish dip, capers, tomatoes, red onion and three locally sourced bagels. Pastry Chef Devin Braddock flexes her brunch muscles with French Fried Chicken Toast |$16|, brioche bread, dipped in egg batter, crisped up a la plancha, stuffed with chicken fingers and drizzled ever-so-gently with miso-maple syrup. Braddock will also anoint the Uptown Brunch menu with Honey Butter Rum Buns |$7|, the ideal sweet for nursing a hangover.
"Brunch is one of the few times during the week where it's totally normal to eat dessert first," Braddock says while rolling out cookie dough with both hands. Brunch can – – NO! – should be the most interesting, inspiring, and delicious meal of the day (followed by a nap).
National Oysters on the Half Shell Day at Izzy's
On Friday, March 31, celebrate National Oysters on the Half Shell Day at Izzy's Fish & Oyster. Enjoy Happy Hour from 4 p.m. – 8 p.m., with bottomless oysters and Narragansett beer for $28. If you can't make the regular happy hour, head to Izzy's for their special late night happy hour from 10 p.m. – 12 a.m. for $2 Oysters or $4 Oyster Sliders.
Kray-Kray Karaoke at K Ramen
Silent Revolution, the local leader in "silent" events, has partnered with SBE Hospitality for some Tuesday sing-along fun at K.Ramen.Burger.Beer, located down in the lower level of the Townhouse Hotel.
Instead of offering the traditional karaoke format with a barely-audible sound system and standard prompter that shows the lyrics on a screen, deejays Myke Dilla and Mike Louis will spin each song live from their turntables, so your readers can pick any track they know by heart and truly love.
Whomever the crowd votes as the most entertaining crooner of the night gets an international beer or glass of Japanese wine, courtesy of the K.Ramen staff and Silent Revolution. Kray-Kray Karaoke Tuesdays take place from 10 p.m. to 2:30 a.m.
#FredStreetFood Tuesdays at Semilla
Semilla Eatery & Bar has launched a new Tuesday night tradition. Every Tuesday, join chef Frederic Joulin at the bar and munch your way around the world with an entirely new and innovative menu of street foods. Playful, casual, and packed with international flavors, this selection of chef-driven creations is sure to please the pickiest palette, and may even induce a little wanderlust.
Enjoy live beats by DJ Yez as you snack on street treats like Sweet and Spicy Pulled Pork Bao Buns, Wagyu Beef Sliders with Caramelized Onion on Brioche, and Organic Chicken Tacos. Fancy a little French flair? How about Escargot with Garlic and Herb Butter? We've got that. See you at the bar!
The National Hotel Hosts Baguette Battle Miami
The National Hotel, Collins Avenue's elegant and cinematic Art Deco hotel, is hosting the second annual Baguette Battle Miami, a "best baguette" competition on April 13th at 7 p.m. Created by French Morning, the first digital French magazine in the United States, the event will gather South Florida's top bakers and over 400 foodies. French Morning hosted America's first "best baguette" contest in New York in January 2016, bringing together hundreds of bread lovers and food enthusiasts with their readers' favorite local bakeries. A culinary hub for international fare, Miami became the second U.S. destination for the "best baguette" contest in April 2016.
This year, South Florida's top bakers and pastry makers will gather once again and present their best baguettes and artisan-crafted breads in front of a panel of judges and a winner will be chosen for the best baguette in this blind-tasting contest.
Baguette Battle Miami is presented by Norwegian and sponsored by Île de France, Cacao Noël, Three Little Pigs and Château d'Esclans. The event is open to the public. Early bird tickets are available for $20 until March 31st, general admission is $40 per person, and VIP tickets, including premium buffet and open bar, are $80 per person, plus taxes and processing fees. Admission price includes the grand tasting of baguettes and assorted breads from local bakeshops, charcuterie, jams and a cheese buffet. One complimentary glass of wine and water per person is also included.
The competing finalists for "best baguette" in Miami include La Parisienne, Grand Prix and Special Jury Prize winner last year, La Provence, returning Special Jury Prize winner, Buon Pane Italiano, Chocolate Fashion, Granier and Rosetta Bakery. The panel of judges is comprised of Sarah Abitbol, Former French Pair Skater, 2000 World Bronze Medalist and seven-time European Medalist; Gregory Gourreau, Corporate Pastry Chef of Juvia Miami and Bonito Saint-Barthelemy; Sean S. Mohammed, Corporate Chef of China Grill Miami, Matthew McDonald, Executive Chef of The National Hotel, Frédéric Joulin, Chef and Owner of Semilla Eatery & Bar Restaurant; Eric Barale, Senior Culinary Director and Executive Chef for The Apollo Group; and Michael Pirolo, Chef of Macchialina.
To purchase tickets, please visit https://www.eventbrite.com/e/best-baguette-of-miami-2017-the-finale-tickets-32119454152.
New Offerings at Suviche
SuViche, South Florida's innovative Peruvian-Japanese concept and Pisco Bar, is pleased to announce the launch of its all-new bar program and its 2017 features menu. As part of its revamped beverage offerings, the restaurant has introduced more than 15 new craft cocktails and shots, available at its Pisco Bar in Wynwood and Las Olas. SuViche has also debuted its 2017 Features Menu, which includes six specialty dishes available for lunch and dinner at all locations.
SuViche's new drink menu offers an ingenious bar experience with a creative lineup of dynamic craft cocktails. Start with "Tragos Coquetos," which features interactive cocktails such as The Prenup, made with coconut macerado pisco, mango, cilantro and OP Rum, then topped with a lime peel, torched and served with a flame.
Other standouts include the Lucid Dream with gin, anise macerado pisco and mint, while the Carajillo caters to coffee lovers with its mix of reposado tequila, Licor 43, coffee and agave. The multidimensional Twisted and Bitter combines reposado tequila, Amaro Lucano, Campari, Lillet Rouge, chocolate and orange bitters to create a complex, yet perfectly-balanced cocktail. Those looking for a refreshing sip will enjoy the Kentucky Sour, featuring bourbon, lemon and passion fruit, or the Jasmine Vine, with house-infused jasmine vodka, yuzu and agave.
SuViche's 2017 Features Menu introduces six new dishes, all inspired by the restaurant's Japanese-Peruvian roots. Specialty sushi rolls include the sweet, savory and spicy Camote Roll made with torched sweet potato, fresh tuna, cucumber and SuViche sauce to finish it off. Meat lovers can indulge in a one-of-a-kind take on sushi – the Butcher's Roll, which features juicy steak with a touch of garlic cream cheese and topped off with SuViche's famous lomo sauce. Larger dishes such as the colorful Causa Saltado, features crispy panko breaded causa paired with choice of chicken, shrimp or steak saltado, while the Salmon Nikkei stacks seared salmon on a bed of mixed quinoa and vegetables with a flavorful rocoto pepper vinaigrette.
The new drink menu is now available at SuViche's Pisco Bar at its Wynwood and Las Olas locations. Guests can enjoy a topline selection of craft beers on draft, wine and sake at the restaurant's Brickell and South Beach locations. The Features Menu is available at all locations for lunch and dinner.
Rock 'N' Baga Tuesdays at Bagatelle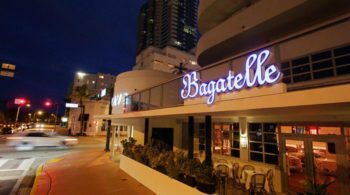 Bagatelle Miami Beach is feeding you your weekly dose of rock and roll with Rock 'N' Baga Tuesdays! It is almost impossible not to sing along to The Weather Girls' "It's Raining Men" or get up on your chair and dance to Madonna's "Like a Virgin". Bagatelle not only encourages its guests to shimmy and shake to the 70's, 80's and 90's hits but makes you an active part of the show!
It's not all about the party though; enjoy Bagatelle's full curated menu featuring favorites including Tartare de Thon Bagatelle, Slider Rossini, Poulet Rôti Entier à la Truffe (truffle chicken) and discounted champagne bottles. So the next time someone asks you what to do on a Tuesday at 11 p.m., you'll know!
OTL Debuts New Menu Selections
Is it even the weekend if you don't have brunch? And did brunch even happen if you don't instagram it? Age-old questions have been answered as OTL welcomes brunch, beer and wine to its already drool-worthy menu.
The hip new spot now serves Prosecco, Pinot Grigio, Rosé Pinot Noir, Syrah and Grenache by the glass or bottle. They also feature two beers: a Wynwood Pale Ale and the OTL Lager that was developed exclusively for OTL by the Wynwood Brewery.
OTL's new weekend-only brunch menu includes the OTL Mollete, the Breakfast Burrito and the French Toast – served all day on Saturday and Sunday. Call the restaurant at (786) 953-7620 for more information.
Angelo Elia to Open at CityPlace Doral
Award-winning, internationally-acclaimed Chef Angelo Elia is pleased to announce the addition of a fifth location of Angelo Elia Pizza, Bar & Tapas, his chain of casual-chic Italian eateries. Opening mid-April in CityPlace Doral (3535 NW 83rd Street Suite 133), the newest Angelo Elia Pizza will feature a menu of traditional Tuscan fare similar to its other locations, plus a few exclusive dishes and the addition of freshly-made Italian pastries from its in-house bakery.
Angelo Elia Pizza's traditional Tuscan menu will feature tapas, entrees, pastas, wood-fired pizza, gelato and baked delicacies. Signature Italian tapas include the Burrata, served with arugula, Parma prosciutto, figs and balsamic, and the Grilled Octopus, served with arugula, garbanzo beans, roasted tomato and lemon. Favorite entrees include the Grilled Salmon and Linguine Vongole. Rustic Wood-Fired Pizza offerings include classics like the Margherita and Quattro Formaggi and the signature Angelo Pizza made with bufala mozzarella, prosciutto, arugula and reggiano.
The bakery portion of the restaurant will serve breakfast with a savory selection of frittatas and paninis and sweet offerings like its daily-made pastries, cookies and cakes. The Bakery will also offer fresh breads and house-made gelato. Angelo Elia Pizza will also feature an extensive bar with seating for up to 14 guests. The restaurant plans to launch daily specials and a weekly Happy Hour.
The 4,770-square-foot restaurant boasts a chic interior with trendy, modern décor offering an elevated-casual feel. The restaurant can seat up to 240 total guests and features a spacious outside patio, a perfect space to hold events. Approximately 70 employees will be hired for the restaurant's opening.
Angelo Elia Pizza in Doral is the ninth establishment that Chef Angelo will add to his impressive roster of dining concepts which includes three Casa D'Angelo restaurants, five Angelo Elia Pizza, Bar & Tapas restaurants and his Italian café, Angelo Elia The Bakery Bar. Chef Angelo has plans to continue expanding his restaurant empire by opening two additional restaurants later this year.
Angelo Elia Pizza, Bar & Tapas will be open Sunday through Thursday from 7 a.m. to 11 p.m. and Friday and Saturday from 7 a.m. to 12 a.m.