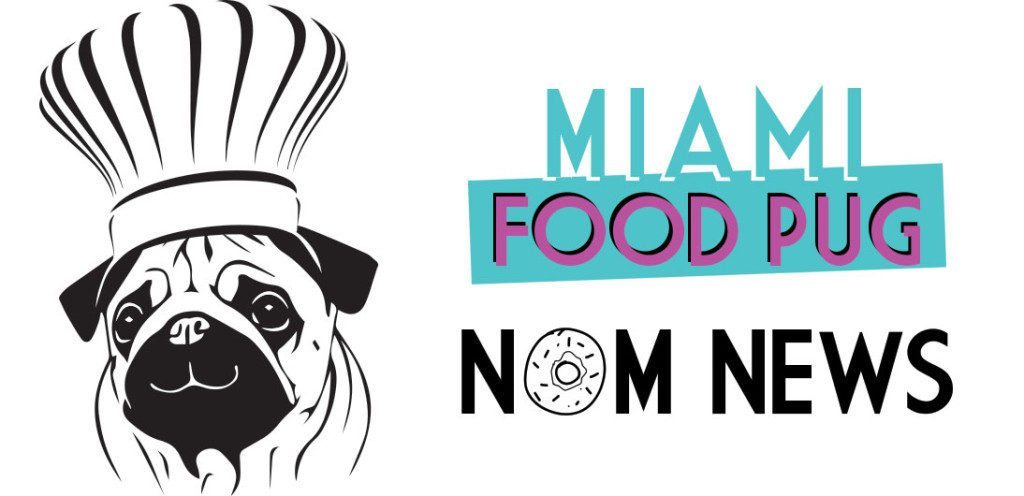 April 21, 2017
Each Friday, we compile South Florida food-related news and events that we couldn't fit on the site earlier in the week, as well as other local news that piques our interest. Want to be included in next week's roundup? Shoot us an email at bark@miamifoodpug.com.
Here's your weekly dose of nom.
Cruise Ship Special at Mignonette Uptown
Gold Celebration Tour at the Adrienne Arsht Center
Soulful Sunday Brunch Series at Spasso
Analog Nights at CHARCOAL
The Avenue Takes Over Midtown Garden Center
Via Emilia 9 Celebrates National Picnic Day
Miami International Mall Hosts Chocolate Show
Cruise Ship Special at Mignonette Uptown
Mignonette Uptown, the new-to-the-neighborhood oyster bar and seafood haven, debuts their Cruise Ship Special today! Chef/Owner Daniel Serfer steers guests through the menu, which is available at dinnertime Sunday – Thursday. The Cruise Ship Special is four courses for $39 per person, exclusive of tax and service.
"I've never been on a cruise so I'm just guessing, but this sounds like the perfect menu to get you back to sipping cocktails on the deck," Serfer says.
The Cruise Ship Special's four-course pre-set menu launches with Shrimp Cocktail, boiled to pink perfection and drizzled with olive oil. Next, Cruisers enjoy the Obligatory Caesar Salad with white anchovies, parmesan, and grilled sourdough croutons. Say "aye aye" to either Fish with That or Meat with This. Guests will have to batten down the hatches for dessert as they're served Serfer's nap-inducing Butterscotch Heath Bar Bread Pudding.
Oh buoy – Uptown's Cruise Ship Special ties up for $39 per person. This menu will be available in addition to the restaurant's regular menu and plenty of grog at Happy Hour.
For more information on the new Mignonette Uptown, please visit www.MignonetteMiami.com.
Gold Celebration Tour at the Adrienne Arsht Center
On the heels of Team USA's historic gold medal win at the Bocuse d'Or, the world's most prestigious culinary competition, BRAVA by Brad Kilgore is partnering with ment'or to host the winning team for the first-ever Gold Celebration Tour. Chef Kilgore will be joined by Bocuse d'Or Gold Medal Winner, Chef Mathew Peters and Assistant Coach Robert Sulatcky for a culinary showcase at the Adrienne Arsht Center's John S. and James L. Knight Concert Hall on Sunday, May 7th from 4 to 7 p.m.
Attendees can sample bites from Miami's most talented chefs, including Giorgio Rapicavoli, Jose Mendin, Sean Brasel, Michael Pirolo, Aaron Brooks, Manuel Echeverri, Gabriel Fenton, Soraya Kilgore and others, at this first-of-its-kind event to honor Team USA's gold medal win. Proceeds from the event will benefit the ment'or BKB foundation, providing educational opportunities for young chefs and Team USA.
The ment'or BKB foundation is a nonprofit that aims to inspire excellence in young culinary professionals and preserve the traditions and quality of cuisine in America. Ment'or is led by founders Chefs Daniel Boulud, Thomas Keller and Jérôme Bocuse, as well as an esteemed culinary council of over 40 renowned chefs. Funds raised go towards educational grants and internships for culinary professionals through the continuing education program, the young chef and competition series that offer opportunities for them to further their careers and also towards the recruitment and training for Team USA in the prestigious biennial Bocuse d'Or competition, held in Lyon, France.
Tickets will be available to Arsht Culturist Members on Monday, April 17 and to the general public on Wednesday, April 19. Tickets may be purchased online at www.arshtcenter.org.
Soulful Sunday Brunch Series at Spasso
Miami queen of Soul Food and celebrity chef Amaris Jones is launching a new Sunday brunch series at Spasso in Coconut Grove, startingSunday, April 23rd. This soon-to-be go-to brunch spot will feature an array of Chef Jones' famous southern, soul and Afro-Caribbean cuisine every weekend.
The soulful brunch spread includes Chef Jones' famous free-range fried chicken, fried catfish, creamy grits, jerk chicken, fresh pasta station, omelets, creole shrimp, spiced skirt steak, vegan options as well as an array of a la carte dishes. To complement brunch, guests can indulge in bottomless bellinis for $15 more as they enjoy live jazz and R&B tunes from local artists. Special guest chef dishes will also make an appearance on the menu, beginning with Chef Irie. The buffet is available for $35 per person and a la carte options start at $12 per person.
Celebrity Chef and lifestyle maven Amaris Jones who launched South Street restaurant in 2012 and helped rap music artist Rick Ross lose over 80 pounds,has spent her lifetime honing the perfect iteration of the modern Soul Food concept based on family recipes.  Jones' creative take on the traditional fried chicken, mac & cheese, and sweet potato pie helped build her private catering business with celebrities, athletes and VIPs. She has received praise from the likes of Martha Stewart, Lenny Kravitz and Lebron James.
For reservations, please contact 305.441.0219.
Analog Nights at CHARCOAL
CHARCOAL invites Miamians to park their phones and take a break for some vibrant food, drinks and conversation. CHARCOAL Garden Bar + Grill focuses on "analog cuisine"–simple but elegantly prepared food fired over a Josper grill. In this vein, CHARCOAL invites everyone to enjoy its new Analog Nights, a dinner under the stars happening weekly on Tuesdays from 6 p.m. to 10 p.m. beginning on Tuesday, April 25th.
Turn back the dial to a time when connections were made through conversation without the help of any mobile devices. CHARCOAL will provide a safe place to store your phone at the table so that you can disconnect and unwind with friends and family over food and drink with live gypsy jazz, bossa nova and flamenco-influenced acoustic tunes dialed down to a gentle, conversation-friendly volume. Keep your device parked for the night and receive a complimentary dessert. In addition, special dishes will be featured on Tuesday nights.
CHARCOAL's menu rotates twice per season and offers Florida-family-farm-raised meats and off-the-industrial-grid sourced fish and seafood fired up on a Josper grill using only real charcoal, resulting in a burst of fully developed flavors. An impressive selection of 12 sauces and condiments like roasted salsa verde, Spanish aioli or Thai curry sauce allows guests to add a personal touch to their meal. A newly-expanded urban garden adjacent to CHARCOAL provides herbs and vegetables for the menu that also will include appetizers like American farmstead cheeses, skillet cornbread baked in the Josper with roasted poblano peppers and drizzled with honey-butter and dill-cured salmon gravlax served with rye toasts, pickled red onions and Swedish dill sauce, in addition to a selection of seasonal charcoal-blistered vegetables.
The newly opened CHARCOAL is one of the country's first-ever full-service restaurants built entirely out of a collection of modified shipping containers. The indoor/outdoor containers surround a central courtyard and give way to a lush urban garden.
CHARCOAL is part of The Wynwood Yard and is located at 82 NW 29th Street. The restaurant is open Tuesday through Sunday starting at 6 p.m., while the bar opens at 5 p.m. weekdays and at 2 p.m. on Saturday and Sunday. In addition, CHARCOAL features an easy breezy happy hour from 5:00 – 7:00 p.m. Tuesdays through Thursdays with specially-priced cocktails and happy hour menu.
Reservations can be made at resy.com.
The Avenue Takes Over Midtown Garden Center
On April 29 and 30, diners can stop by Midtown Garden Center from noon to 9:30 p.m. to enjoy an extended menu from The Avenue Miami. Admission is free, and guests are encouraged to BYOB. Menu highlights include pork scratchings, traditional Scotch eggs, fish n' chips, Banoffee pie and custard tart.
Midtown Garden Center is located at 2600 NE 2nd Avenue.
Via Emilia 9 Celebrates National Picnic Day
In honor of National Picnic Day on Sunday, April 23rd, Via Emilia 9 is kicking off the informal holiday with a charming picnic bag to go, to enjoy with your sweetheart, friends or family outdoors! With beautiful parks and beaches nearby, soak up the sun, enjoy a delicious cheese plate, a bottle of wine and more for only $80.
Picnic Bag to include:
Charcuterie and Cheese Plate
+
Caprese Salad or Burrata with Cherry Tomatoes
+
Panino with Bresaola Regular and Parmigiana or Panino with Mozzarella & Tomato
+
Strawberry Tart or Nutella Tart
+
Choice of one bottle of select wine to go*
Promotion runs through June 2017. Call 786-216-7150 to place an order in advance of pickup.
Miami International Mall Hosts Chocolate Show
Calling all chocoholics! Miami International Mall will host the Second Annual Chocolate Show on Saturday, April 29 from 10 a.m. – 4 p.m. in Sears Court.
Following last year's immense success, the free event will feature the finest chocolate from South Florida's most popular restaurants and artisan chocolatiers. Students from the Miami International University of Art and Design will create chocolate inspired fashions made from chocolate and chocolate wrappers. Local masters of chocolate will also speak about the history of chocolate, its health benefits and how to prepare savory dishes using chocolate.
"We are thrilled to host such a fantastic show that brings together retailers, residents and local businesses," said Sara Valega, Director of Marketing and Business Development at Miami International Mall. "What better way to support the local community than by indulging in an afternoon of chocolate!"
This year's event is sponsored locally by the Doral Family Journal, the Doral Times, Live Doral and the Miami International University of Art & Design. One-hundred percent of the proceeds will benefit the City of Doral Parks and the Police 4 Kids (PP4K) Foundation, a 501 (c) (3) not-for-profit organized to provide child welfare and family services to the community.
Guests will have the opportunity to sample and purchase scrumptious treats from Miami International Mall retailers and South Florida Chocolatiers. Participating retailers include CAO Chocolates, Cacao Art Chocolates, Chocondue Express, Exquisito Fine Chocolates, Italian Chocolate Twister, Lindt Chocolate Shop, Miami Chocolates, Tina's Original Cakes, Romanicos Chocolate, Circus Eats Catering, Mokau Chocolates, Tequesitos, Churromania, Stefano Versace Gelateria & Gourmet and more.