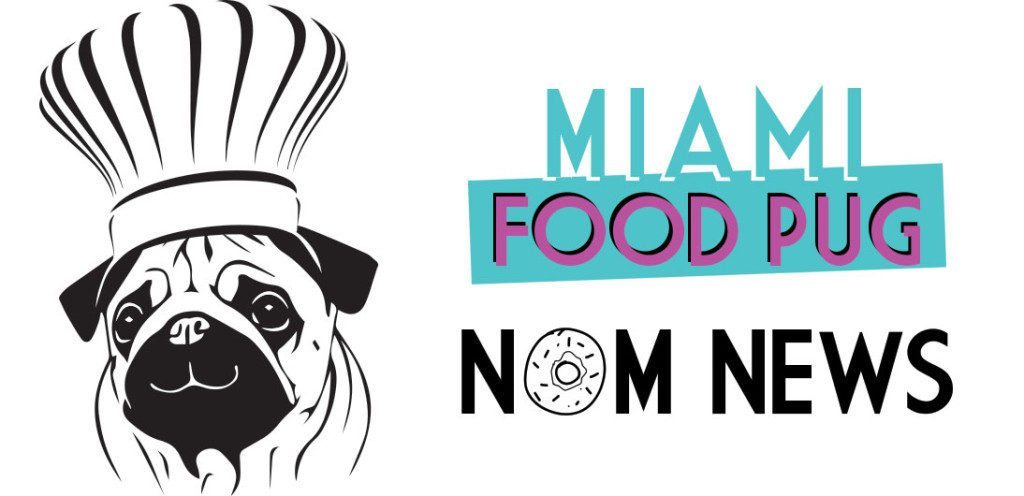 May 19, 2017
Each Friday, we compile South Florida food-related news and events that we couldn't fit on the site earlier in the week, as well as other local news that piques our interest. Want to be included in next week's roundup? Shoot us an email at bark@miamifoodpug.com.
Here's your weekly dose of nom.
Street Food Fight at Semilla
Chef Gastón Acurio Hosts Cebiche Gang Event
New Brunch at Juvia
Sawgrass Mills Adds 3 New Restaurants
Kings Bowl Doral to Open Next Week
Seasonal Happy Hour at Dragonfly
The Citadel Announces More Tenants
Barceloneta Chef Opens New Eatery in Puerto Rico
Lobster Bar Sea Grille Introduces New Menus
Sunday Sessions at Faena Forum
Street Food Fight at Semilla
Coming later this month to Semilla Eatery and Bar is a battle for the ages!  Inspired by its newly released #fredstreetfood menu, Semilla is proud to announce a culinary showdown between some of Miami's most well-loved local chefs- Semilla's own chef Frederic Joulin, as well as guest chefs Ralph Pagano of Naked Taco and Bernie Matz of Bodega. Taking place Tuesday May 23rd at the bar, ticketed guests can look forward to a selection of unlimited #fredstreetfood snacks and cocktails while watching this gastronomic face-off take place just a few feet away.  Semilla's horseshoe shaped bar and open kitchen make for the perfect kitchen stadium venue, meanwhile MC and competition judge Sara Liss will be there to guide you through the chefs' movements as they battle it out for the number one spot.
The event's format was inspired by popular cooking shows, so true to form you will first see the honorary guest chefs battle it out between each other with a special dish they have prepared.  The winner of this phase will then move on to battle chef Joulin one on one.  The competitors' food will be judged by local food lovers and media influencers, Sara Liss (miami.com), Laine Doss (Miami New Times), and Carla Torres (Ocean Drive).
Tickets are $35.00 each and are available for purchase on Eventbrite here.
Chef Gastón Acurio Hosts Cebiche Gang Event
On Sunday, June 11, internationally-acclaimed Chef Gastón Acurio will host a unique collaborative waterfront event on Brickell Beach at Mandarin Oriental, Miami. The special event is set to be the first stop on a three-city summer charity tour to benefit his Peruvian-based culinary school, Pachacútec Culinary Institute, for underprivileged students in Pachacútec, Peru.
Cebiche Gang with Gaston Acurio will feature the talents of renowned Miami-based chef's including Acurio protégé Diego Oka of La Mar by Gaston Acurio, Brad Kilgore of ALTER and Brava, Giorgio Rapicavoli of Eating House and Glass and Vine, Phuket "Cake" Thongsodchaveondee of Cake Thai with dessert crafted by Antonio Bachour of St. Regis Bal Harbour Resort.
The gathering will offer a unique culinary experience featuring the cebiche creations by the talented toques and Peruvian-style BBQ. Cocktails begin at 6 p.m.
Tickets to Cebiche Gang with Gaston Acurio are $120 and can be purchased online by clicking here. Mandarin Oriental, Miami is located at 500 Brickell Key Drive on Brickell Key. Space is limited; tickets are required.
Opened in 2007 as a cooking school for underprivileged students, the Pachacútec Culinary Institute was founded by Acurio to satisfy the growing interest among Peruvian youth in the culinary arts. The school provides classes covering the history of Peruvian cuisine, kitchen techniques, nutrition, and English language. They also learn from great masters of Peruvian cuisine, who are guest teachers at the school.
New Brunch Menu at Juvia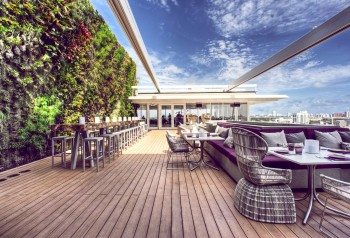 Take your brunch plans to new heights with Juvia's all new prix-fixe brunch menu. Available on Saturday and Sunday from 11:30 a.m. to 3 p.m., Executive Chefs Sunny Oh and Laurent Cantineaux have taken their favorites and Juvia's signature dishes to the menu with highlights like Oh-Granola, Smoked Salmon Eggs Benedict, Shrimp and Wild Mushroom Linguini and Pistachio Pan de Gene from Pastry Chef Gregory Gourreau. The menu is priced at $50 per person and includes bottomless mimosas, bellinis or prosecco. The a la carte menu will also be available.
Sawgrass Mills Adds 3 New Restaurants
South Floridians and visitors have more reason to spend the day at Sawgrass Mills following the spring debut of three new restaurants. The openings of Matchbox American Kitchen + Spirit, Texas de Brazil, and mojito bar & plates by Douglas Rodriguez add to the mall's robust culinary options, providing shoppers with more variety and convenience to include in their itineraries. Sawgrass Mills currently features more than one dozen full-service restaurants and two food halls with several dining options.
As part of The Oasis' recent renovation, the mall's outdoor neighborhood now offers two new dining options, including:
mojito bar & plates by Douglas Rodriguez (2,998 sq. ft.) – Chef-driven, Latin food concept mojito bar & plates by Douglas Rodriguez brings their signature "servertainers" to The Oasis at Sawgrass Mills. Featuring live entertainment with rotating DJs, hand-muddled mojitos and authentic fare, mojito bar combines traditional Cuban flavors with a lively atmosphere for an unforgettable meal, ideal for casual lunch or dinner.
Texas de Brazil (6,500 sq. ft.) – The Brazilian steakhouse features a unique selection of meats along with a curated salad bar for an authentic dining experience in The Oasis. The restaurant can accommodate more than 200 guests with an open-view grill in the dining area, a wine wall, and a cozy lounge area.
The Colonnade Outlets, known for its exclusive collection of luxury stores, has recently expanded as well. Visitors now have a new dining option to enjoy:
Matchbox American Kitchen + Spirit (14,333 sq. ft.) – Popular culinary spot Matchbox introduces the first establishment in Florida for the brand. The Sawgrass Mills venue is the largest yet for the eatery, with seating capacity for about 500 within indoor and outdoor areas. Matchbox features brick-oven pizza, pasta, burgers and contemporary cuisine with an open-floor, modern design.
For more information about Sawgrass Mills, call 954-846-2350.
Kings Bowl Doral to Open Next Week
Kings Bowl America will open its first-ever South Florida location on May 22nd with an expansive dining, cocktail and entertainment venue at the new CityPlace Doral. This will be a landmark opening for the national brand, celebrating its 10th location and continued expansion.
The 20,000-square-foot complex will be its most impressive to date, featuring an executive-chef driven scratch kitchen, inventive crafty cocktails, 14 ten-pin bowling lanes, 4-lane private bowling suite, a full-service upscale lounge and private dining spaces, plus much more.
As part of the debut celebration, Kings will be gifting a free year of bowling (two games each month for a full year), to the first 250 visitors through their doors on opening day. To further celebrate the 10th location, everyone in line at the event will get a raffle ticket and 10 lucky winners will receive $100 in gift cards.
Seasonal Happy Hour at Dragonfly
Dragonfly Izakaya and Fish Market just launched a new seasonal "Happier Hour" menu featuring ½ priced Shōchū including house-made infusions ($6, regularly $12). In an effort to bring the most authentic Japanese cuisine and beverage program to the heart of Doral, Dragonfly is excited to introduce and make Shōchū that more accessible to their customers.
Shōchū is a clear, distilled spirit that can be made from several different raw materials like rice, sweet potatoes, brown sugar, or buckwheat; however, more than half of all shōchūs are made from barley. While sake is consumed more than shōchū in the U.S., shōchū is far more popular in Japan.
Dragonfly's Happier Hour is seven days a weeks: Monday – Friday, 3 p.m. to 7 p.m.; Saturday and Sunday, 5 p.m. to 7 p.m. The HH menu features $1 James River Oysters; a small bites menu including an exclusive happy-hour-only Steamed Bun with braised brisket ($4); Better Wells: $5; Cocktails: $7; Wines and Local Drafts: $6.
The Citadel Announces More Tenants
The Citadel, Miami's food hall and boutique market experience, announces its third wave of culinary concepts that will occupy its diverse food hall concept. The new dining options bring a unique addition to the palette from other confirmed tenants while embracing the food hall atmosphere and experience for hungry enthusiasts.
Embracing the revolution of craftsmanship, The Citadel has curated tenants for a dining experience that will take guests' taste-buds on an adventure. The confirmed tenants that will showcase their own twist of culture and flavor include: Green G Juice Bar, Taquiza and River Oyster.
Green G Juice Bar: Inviting our generation of Miami locals to boost their lifestyle experience. With a variety of Organic Cold Pressed Juices, Smoothies and Acai Bowls packed with Superfoods, Green G strives to help you evolve into a fit and healthy individual. This specialty bar takes you one step closer to nourishing and replenishing your daily routine.
Taquiza: Inspired by the traditional Taquería crafting method of tacos and street fare, Taquiza provides an authentic Mexican experience for Miami's foodies. Recognized for their handmade blue masa tortillas made fresh daily, the menu provides an experience for your eyes and taste buds. Wash down the authentic fare with Mexican beers and rotating craft and local brew selections.
The River Seafood Oyster Bar: Critically acclaimed and committed to bringing fresh seafood to Miami, The River Seafood Oyster Bar, an institution in the Miami restaurant scene for decades, boasts a curated menu of dishes that reflect the city's shining seafood offerings. With over two decades of culinary experience, Chef David Bracha adds a contemporary twist to classic seafood dishes. An advocate of environmentally conscious cooking, the restaurant utilizes local seafood in a way that benefits its partners, the community, and the local environment. Hungry patrons flock to the hotspot for an array of fresh east and west coast oysters daily.
Barceloneta Chef Opens New Eatery in Puerto Rico
El San Juan Hotel is pleased to welcome Puerto Rican native, Chef Juliana Gonzalez, back to Puerto Rico for the opening of the resort's signature restaurant, Caña by Juliana Gonzalez, and Gonzalez's first culinary venture on the island.
Created and co-founded by Chef Juliana Gonzalez, Manuel Suarez-Inclan and Daniella Rezai, founders of Miami's tapas hot spot Barceloneta, Caña reflects Chef Gonzalez's cultural upbringing and international culinary repertoire. Chef Gonzalez has composed a collection of tapas-style dishes that are cooked using seasonal produce scouted locally throughout Puerto Rico. The signature menu conveys a blend of classic Puerto Rican flavors, with touches of international cuisines such as Spanish, Middle Eastern and Asian, which reflect the work of Chef Gonzalez throughout her career.
The opening of Caña will be Chef Gonzalez's first venture in her native Puerto Rico. With the return to her island, Chef Gonzalez fuels a new wave of socially and environmentally mindful ways of eating, working with local farmers, fisherman and small businesses to craft an original concept that bonds Puerto Ricans with their heritage and opens up an entirely new culinary scene for tourists and guests of El San Juan Hotel.
To develop the Caña menu with authentic flavors, Chef Juliana Gonzalez and Chef de Cuisine Pablo Rosas embarked on a culinary tour throughout Puerto Rico. The resulting concept is a menu showcasing bits of every culinary style that the island has to offer. From Longanizas Ahumadas de Naranjito, a smoked sausage from an artisanal sausage maker in the town of Naranjitos, served with ajili mojili, taro root puree and pickled onions, to locally sourced rabbit from the mountain town of Juncos, marinated, deep fried and served with "salsa rosa," Caña offers flavorful, authentic Puerto Rican cuisine served through a tapas-style menu. Chef Juliana Gonzalez brings a touch of home to the Caña kitchen incorporating her mother's Beef Empanada recipe in to the menu.
Caña will offer breakfast, lunch, dinner and pool service at the El San Juan Hotel. Dishes will be served family style, to the center of the table, so that guests can enjoy a shared dining experience with a feeling of community. The menu will feature a selection of signature tapas such as bacalaitos with cilantro alioli, camarones al ajillo and yucca mofongo, chicharron de conejo, arepas de beiques, arroz manposteao, and more. In addition to serving savory Puerto Rican cuisine, Caña will be home to a classic rum bar that is entwined with modern elements, showcasing the new, the old and the forgotten rum cocktails that etched the fiery liquid on to the map.
Lobster Bar Sea Grille Introduces New Menus
Lobster Bar Sea Grille is offering their guests a chance to indulge in a culinary voyage with a carefully created a grand opening Three-Course $39 menu introducing Miami Beach to the restaurant's top, signature dishes. The restaurant is proud to offer guests an introductory menu that is different from the average pre-fixe dinner. Instead, the family-owned restaurant, with a sister location in Fort Lauderdale, has thoughtfully selected their top dishes to give guests a wide variety of their menu's diverse flavors at an affordable value.
The signature menu experience starts with a choice of one of five appetizers including the Maine Lobster Bisque Au Cognac; Jumbo Blue Gulf Shrimp on Ice; Rhode Island Baby Calamari; and its unique version of Caesar and Chopped Salad. The culinary journey continues with a choice between one of six of the restaurant's top entrees including the daily selection of the restaurant's famous Pristine Whole European Fish; Whole "Lobster Stuffed Lobster"; Faroe Island Salmon with Colossal Lump Crab; a Surf & Turf with a Lightly Fried Nova Scotia Lobster Tail and Petite Filet Mignon; or Twin Beef Tenderloin Medallions. Lastly, to end the meal with a sweet tooth the menu features guests a choice of classically house-made Profiteroles served with its own Vanilla Bean Ice Cream: Greek Yogurt topped with Thyme Honey from Greece; and a Tropical Cremeux with Passion Fruit and Tonka Bean Mousse with an Almond Coconut Biscuit.
The grand opening Three-Course menu is available Sunday through Thursday from 5:30 p.m. to close. The restaurant is open for full dinner service late night Sunday to Wednesday until midnight and Thursday to Saturday until 1:00 a.m.
In addition, guests are encouraged to begin their night and enjoy the affordably priced Twilight Menu. Available from 5:30 p.m. to 7:30 p.m. Monday through Friday at the bar, lounge and on the newly opened temperature-controlled patio, the Twilight Menu features select wines and spirits, specially priced signature cocktails and bites with $1.49 Bluepointe Oysters on ice.
Sunday Sessions at Faena Forum
Vibrant culture meets classic roller-skating inside of Faena District Miami Beach's 43,000-square-foot Faena Forum with Sunday Sessions. Kicking off this Sunday (June 11) from noon to 7 p.m., Faena Art invites guests of all ages to groove into the week while roller-dancing over a literal work of art from the creative minds of Brazilian duo assume vivid astro focus.
A free and interactive event for the community, Sunday Sessions will also feature live performances by Miami-based DJ duo Paperwater, along with delectable small bites, beverages and more. No need to bring your skates—they've got plenty for you and your friends. The series will continue to be held on the second Sunday of July and August this summer. Sunday Sessions is free and open to the public.